See How Different Cutting Edge Truly Is
DVD -- "ISRAEL: PAST, PRESENT, FUTURE", Vol 2 of 2
By Mac Dominic, Cutting Edge Films
Regularly $24.99, Now Only $19.99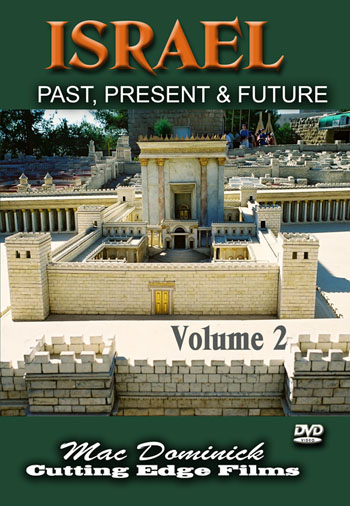 Today's Christians have a very sketchy, superficial, and foggy knowledge of the progress of the Jewish state that has led to the conflict and confusion broadcasted by the current news media.
In Part I of our study, we discussed the origins of Israel from the Abrahamic Covenant up until 1948. Part II of our study of the nation of Israel begins with a look at the modern birth of the nation in 1948 and will discuss events that lead right up to todays headlines.
We will cover the military struggles from the attack on the new Jewish state in 1948 by the surrounding Arab countries, the Suez Crisis, the 6 Day War, the Yom Kippur War, and the later attacks from terrorist organizations such as Hamas and Hezbollah.
Most importantly, Part II will center around the biblical perspective of the modern Jewish state. We will give all sides of the arguments regarding Zionism, Christian Zionism, Christian Palestinianism, and even look into the effects of the Hebraic Roots movement on modern Evangelicalism.
The goal of this study is to equip the individual Christian with a totally biblical perception of the modern nation of Israel, God's biblical plan for the Jewish people, and what we as Christians should do to align our thoughts and actions to the Word of God.
Almost 2 Hours long - https://www.cuttingedge.org/detail.cfm?ID=2880
Salvation Plan given at the end, so this DVD is a soul-winning tool!
Consider also "Israel's Past, Present and Future" - DVD, Volume 1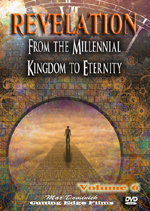 "REVELATION, Volume 6, From The Millennial Kingdom to Eternity" DVD"
From Mac Dominick, Cutting Edge Films - Final Volume in this Series
JESUS CONQUERS ALL!! This video examines Rev 19-22, a most exciting and impactful chapter as Jesus Christ speedily concludes His dealing with wicked, sinful mankind, preparing the world for the purity required for his Millennial (1,000 Year) Reign!
Jesus begins this final segment with His holy angels proclaiming ' Alleluia; Salvation, and glory, and honour, and power, unto the Lord our God' and concluding with Jesus proclaiming to John 'Surely I come quickly'!
During these four chapters, Jesus consummates His 'Marriage Supper of the Lamb', His final judgment - the 'White Throne Judgment' - seizing Satan and binding him and his demons for Jesus' 1,000 year reign, the final battles as Jesus releases Satan for a short while, and the New Heaven / New Earth, and the glorious beginning of Eternity!
A triumphant wrap-up to a glorious book in which Jesus purifies Earth of its sinners and their sin so that He can begin the Eternal reign which He planned far back in Eternity Past.
1 Hour, 15 Minutes, Only $19.99

---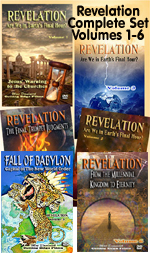 Startling Studies on the Book of Revelation:
by Mac Dominick
SAVE $24 when buying this Combo Offer
Also get Volumes 1 through 5 individually
Welcome to The Cutting Edge
"But none of the wicked shall understand [that the End of the Age is upon them]." [Daniel 12:10b]
---
New DVD s by Mac Dominick
IN OUR GENESIS SERIES - Volume 3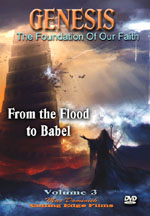 Regularly $24.99, Now Only $19.99
This DVD is Volume 3 of 3 in this Genesis: Foundation of Our Faith series. Mac covers Chapter 6 through Chapter 11.
As we discussed in Volumes one and two of this series, Genesis 1- 11 is the foundation of our faith and it is through these 11 chapters we see the attacks of Satan against God and man and God's response to these problems and His solutions to Satan's attacks
. Mac correctly links the rise of the wickedness of mankind to Nephilim prior to the World Wide Flood. He then covers several current theories about why the tower was built including a way to escape another future flood, a stargate to another dimension or a home for the gods.
Once you can understand this linkage, you will have from Mac's study in the original languages and the current works of Derrick Gilbert and Michael Heiser, a new fresh understanding of these Old Testament scriptures.
As a result of the Satanic attacks at Babel, God chose Abraham as the father of a nation to be His inheritance upon the Earth and a conduit for the coming of Messiah and God's ultimate kingdom whereby he will rule and reign forever.
1 hour 28 minutes long -- Order today
Check Out Genesis Volumes One and Two
Each DVD is Regularly $24.99, On Sale $19.99
---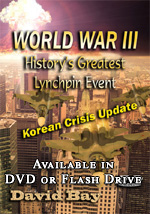 Prophetically Understanding World War III
World War III: History's Greatest Lynchpin Event - NOW WITH NORTH KOREAN CRISES UPDATE
In the minds of most people, two words carry so much emotional baggage that people cringe whenever they hear these Apocalyptic words. 1) 1) Armageddon; 2) World War III.
In the past 20 years, whenever a battle begins in the Middle East or whenever a verbal confrontation breaks out between major powers, 'gloom and doom' scare-mongers immediately begin to shout 'World War III',much like a person yells 'FIRE' in a crowded theater.
Bible prophecy reveals that Antichrist will be produced on the world scene by a number of signs, including 'wars and rumors of wars'. Demonic familiar spirits told the Elite in 1870 that three world wars will be needed to produce Antichrist. Make no mistake about it: Antichrist will be produced by World War III.
Therefore, the question of the hour is, 'when will this global war begin' and 'what are the signs it is about to commence'? Many major events are planned to occur just as World War III begins. Mankind will be systematically hit with unparalleled disasters of every kind as this planned global war unfolds. But, none of these events will occur until the lynchpin called 'World War III' is pulled.
When the Global Elite pulls this lynchpin event called World War III, events are going to be unleashed in such severity and in such great numbers the peoples of the world will not stand in awe, they will panic and run for the hills. Jesus said that 'men's hearts shall fail them for fear', and the Elite is creating just such climactic events which shall not occur until the lynchpin known as 'World War III' is pulled.
We will show you the 12 major disasters the Elite has created and is waiting only for the beginning of World War III to unleash them all, almost at once. No one need fear that any of these disasters will jump across the starting line ahead of time; each awaits the 'pulling of the lynchpin', World War III.
One Hour -- https://www.cuttingedge.org/detail.cfm?ID=2697
This DVD may be the most important you will ever see on End Times events!