Cutting Edge Films Statement of Faith and Purpose

---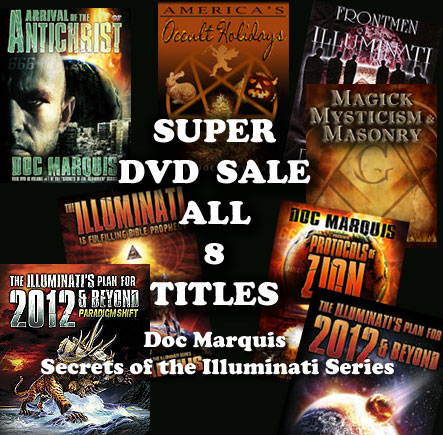 ---
We believe our site represents the most complete, concise and comprehensive source of information available which deals with the Biblical prophecy of The New World Order. Our Christian organization is a fundamental independent Baptist Church outreach ministry. We are dedicated to the Scriptures as the only revelation of God and His Son, Jesus Christ.
Whether you're a fundamental Christian who already has knowledge of the New World Order, and who is seeking a greater understanding of how current events are affecting our daily lives, or someone who is seeking some basic answers, we know you'll find what you are seeking in our carefully organized and presented material.
Our Statement of Faith and Vision Statement
Our Goal
Our mission is three-fold:
To explain the goals and aspirations of the New World Order

To explain how its implementation will affect the average American citizen and family.

To show how families are being influenced now, before we actually move into this system.
Armed with this information, you will learn how you can:
Protect yourself, your children, your family, your loved ones and friends

Live triumphant Christian lives in a most difficult world
How Do We Deliver Our Message
This ministry is dedicated to searching out the news behind the news to provide you with insights which you cannot get anywhere else. No other ministry provides this unique comprehensive service designed to protect you, your loved ones and your friends.
We provide you with this important information and insight in three ways:
By making available approximately 100 transcripts from our extremely popular former radio show
By providing analysis of current news events in a totally different way than any other fundamental Christian ministry.
Through cassette tape versions of our seminars
The most exciting aspect of our ministry is that through our teaching process, we show you that all of the New World Order plans, when completed, will fulfill dozens of Bible prophecies to the letter!
From the beginning of my research, when I felt the Holy Spirit driving me to research the occult side of the plan to produce Antichrist, I realized that Satan is a liar; therefore, how would I recognize when parts of his plan is for real and when they were false? I concluded that the only safe way to proceed would be to adopt the practice of mariner captains in the days before sophisticated navigation.
When they were bringing their vessel in to port, they would select three (3) distinct physical markers they could line up to direct them to the dock. Two markers would not be reliable, because you can incorrectly line up any two points; only lining up three points provided the mariner captain safety as he brought his vessel into the dock.
Therefore, I decided to always line up three (3) points. They are:
1) The specific point of the Illuminati Plan
2) Bible doctrine
3) Bible prophecy
If a specific part of the Illuminati plan does not line up with Biblical doctrine and prophecy, I discard it and never report it. Many such parts of the plan I have rejected on that basis. I have never taken their word for anything!! But, the exciting part was that when I adopted this philosophy, I realized a very exciting truth: the Illuminati plan which does line up, when enacted, very precisely fulfills God's prophecy, in multiple dozens of instances. Their plan is the greatest proof of the Omnipotence and Omnipresence of our Jesus!
In communicating this to you,
Our primary focus is on your children and your family.
We always endeavor to inform you based on knowledge and fact and not by fear.
We do not believe there is a conspiracy behind every bush, nor do teach violence in any situation, nor do we teach any uprising or revolt against any government authority.
We teach based on the premise that once you understand the plans of the New World Order, you will be able to see its progress towards completion in the daily news.
We do not set dates by which things will happen; rather we hold to the Biblical teaching that believers who know their Scriptural prophecy may only know the broad picture, i.e., that we are generally in the time of the End of the Age.
We do not teach that the world is about to end or be destroyed. The Bible does not teach that either. Rather, it teaches that Messiah will return a second time to judge the unbelievers and to set up His Kingdom on earth, and will rule for 1,000 years.
And finally, we do believe this time is close at hand. Israel is back in her land and all the other prophecies are coming to pass.
An Invitation
Please join us now and allow our web site to become one of the most important Christian resources in your daily life.
If this whole concept of the New World Order is new to you, may we suggest that you begin with the selected transcripts from our radio show.
Thank you for visiting and Please feel free to E-mail Cutting Edge Ministries if you have any questions about our outreach ministry.