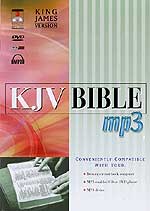 Enjoy Stephen Johnston's powerful narration of the King James Version accompanied by soothing background music—72 hours instantly accessible via MP3 device, computer, or MP3-enabled CD or DVD player.
Get all sixty-six books of Scripture on only three CDs! • Disc 1: Genesis–Kings • Disc 2: 2 Kings–Jeremiah • Disc 3: Lamentations–Revelation A translation as richly poetic as the King James Version deserves a powerful reading and clear audio rendering. The KJV Bible on MP3 delivers!
ABOUT THE NARRATOR Stephen Johnston, with his clear, expressive baritone voice, is one of the foremost narrators of the Bible. He has been involved in many facets of the radio and television industries and has won numerous awards, including an Emmy and a Film Critics Award.

Now Playing a portion The Gospel of John .
Great for listening while in your car, your office, or at home.
Complete Bible

Return to Sacred Music Sampler Listening Area