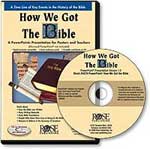 This CD-ROM contains 180 slides so you can create several different presentations. Offers a great overview with attractive graphics easy to use.

Shows the time line of key people and events in the history of the Bible, shows ancient writing materials, such as stone and clay tablets, leather scrolls, papyrus, early hand-copied books, and much more.

Features the Heroes of the Faith who gave their lives for the translation and the printing of the Bible - including William Tyndale, John Wycliffe, King James, Erasmus, and Johann Gutenberg

Perfect for new believers as well as long-term Christians

Reasons presented as to why you should believe in the accuracy of Scripture

Get more information and download samples of Power Point presentations.