Interviews with Prophecy in The News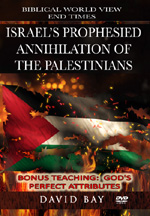 Dr. Kevin Clarkson and guest, David Bay, explain how Obadiah 15-18 foretells the annihilation by fire of an entire nation, the House of Esau, which today are the Palestinians. Israel possesses the "Weapon of Fire" (Fuel Air Bomb) that could fulfill this prophecy precisely! Order the DVD
Dr. Kevin Clarkson, of Prophecy In The News, and David Bay of Cutting Edge Ministries, discuss in depth the process of over throwing Saudi Arabia's brutal dictatorship in the new Cutting Edge Films DVD - 'BRINGING SAUDI ARABIA DOWN
'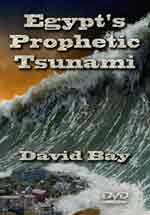 Dr. Kevin Clarkson and guest David Bay of Cutting Edge Ministries discuss the prophetic tsunami unfolding involving the Nile River and the dam that is being built by Ethiopia in her waters.
PITN: Middle East Conflicts
Published on May 1, 2015
Dr. Kevin Clarkson and David Bay of Cutting Edge Ministries discuss some of the recent conflicts proceeding in the Middle East.
---
Interviews on Southwest Radio Ministries
January 11 - 12, 2016
Israel's Prophesied Triumph Over the Palestinians
Israel's Prophesied Triumph Over the Palestinians, Part 2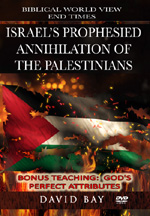 Host: Bob Glaze
Guest: David Bay
How many of you believe the Bible to be inerrant? How many of you believe all prophecy will be fulfilled to the letter? How many of you believe all End Times prophecy will be exactly fulfilled, even if it seems harsh or politically incorrect? Obadiah 15-18 foretells the annihilation by fire of an entire nation, the House of Esau, which today are the Palestinians. Israel possesses the "Weapon of Fire" (Fuel Air Bomb) that could fulfill this prophecy precisely! Understanding how Israel is planning to carry out this annihilation soon is critical to comprehending events in Israel today between the Palestinians and Israel. Consider the somber prophecy of Obadiah 18: 'The house of Jacob shall be a fire and the house of Joseph a flame, but the house of Esau shall be stubble; they shall kindle them and burn them and consume them, and there shall be no more survivor of the house of Esau, for the Lord has spoken it.' [Verse 18] This prophecy states that the nation of Israel [the combined houses of Jacob and Joseph] shall have some kind of a fire build up within them that will suddenly explode outward to consume the House of Esau in 100% annihilation. Since a weapon of fire does not travel outward from its source too far, we can assume that this House of Esau must be living in close proximity to Israel at the moment of this conflagration. Thus, the major question is, 'who is the House of Esau today'? It is the Palestinians, led currently by Mahmoud Abbas. You will be shocked to learn that God's Holy Spirit has been working since 1990 to convince the Israeli leadership of the need to annihilate the Palestinians. You will be further surprised to learn that the huge security fence Israel has erected around the Palestinian towns and cities will prove to be an indispensable tool in their strategy to carry out this complete destruction, as God has foretold 2,500 years ago.
---
Saving Saudi Arabia
Saving Saudi Arabia, Part 2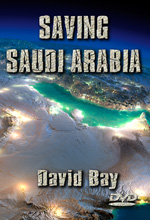 Host: Bob Glaze
Guest: David Bay
Saudi Arabia's brutal dictatorship must be overthrown according to the Pentagon's New Map Strategy. This war strategy -- followed since the 2001 Afghanistan invasion -- is overthrowing every single dictatorship in the Middle East and Africa. Already, Saddam Hussein of Iraq, Ghaddafi of Libya, Mubarak of Egypt, and Saleh of Yemen have been overthrown, while Syria's Assad is holding on to power by a thread. But, how does the Global Elite overthrow Saudi Arabia without destroying the economy of the entire world? Since World War II, Saudi Arabia has been a lynchpin nation viewed as indispensable to the continued prosperity of the Western World.
---
God's Loving Sovereignty of Israel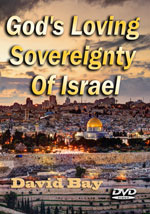 Host: Larry Spargimino
Guest: David Bay
God's Pattern In Dealing With Israel Revealed - From Ancient Israel To Today. Warning to all haters of Israel and the Jews: You are fighting 'Mission Impossible', fighting against Omnipotent God! Many Christians either do not understand the historical miracle of Israel's rebirth or they mistakenly believe that the Jews are no longer God's Chosen People, that the re-establishment of Israel in 1948 has no prophetic significance. Historical fact records that Israel was out of her land for 1,900 years. Israel's land was controlled by a succession of Gentile powers during that long period of time. At this point, Israel should never have been expected to gain her land back, because no people who had ever been out their land for several hundred years had ever regained it. The rebirth of Israel in 1948 was truly an historically unprecedented miracle of God, accomplished against all historic odds. God foretold in many places in both the Old and New Testaments that He would tear Israel out her land if she refused to obey His commandments but then he repeatedly turned around and promised national restoration.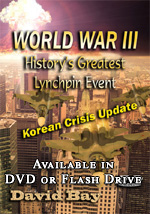 World War III: History's Greatest Lynchpin Event
Host: Bob Glaze
Guest: David Bay
In the minds of most people, two words carry so much emotional baggage that people cringe whenever they hear these Apocalyptic words. 1) 1) Armageddon; 2) World War III. In the past 20 years, whenever a battle begins in the Middle East or whenever a verbal confrontation breaks out between major powers, 'gloom and doom' scare-mongers immediately begin to shout 'World War III',much like a person yells 'FIRE' in a crowded theater. Bible prophecy reveals that Antichrist will be produced on the world scene by a number of signs, including 'wars and rumors of wars'. Demonic familiar spirits told the Elite in 1870 that three world wars will be needed to produce Antichrist. Make no mistake about it: Antichrist will be produced by World War III. Therefore, the question of the hour is, 'when will this global war begin' and 'what are the signs it is about to commence'? Many major events are planned to occur just as World War III begins. Mankind will be systematically hit with unparalleled disasters of every kind as this planned global war unfolds. But, none of these events will occur until the lynchpin called 'World War III' is pulled. When the Global Elite pulls this lynchpin event called World War III, events are going to be unleashed in such severity and in such great numbers the peoples of the world will not stand in awe, they will panic and run for the hills. Jesus said that 'men's hearts shall fail them for fear', and the Elite is creating just such climactic events which shall not occur until the lynchpin known as 'World War III' is pulled. We will show you the 12 major disasters the Elite has created and is waiting only for the beginning of World War III to unleash them all, almost at once. No one need fear that any of these disasters will jump across the starting line ahead of time; each awaits the 'pulling of the lynchpin', World War III.
Watchman on the Wall radio program.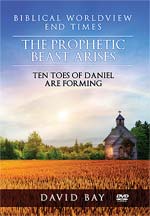 The Ten Toes of Daniel Are Forming With Trailer: Dr. David Schnittger and David Bay
Antichrist can arise only after this global reorganization has been completed. The Club of Rome created a global reorganization in 1972, and it printed the plan in a book entitled, 'Mankind At The Turning Point'.
After many years of moving forward on this plan very slowly, the pace has suddenly jumped forward! Antichrist may be closer to appearing than we had previously believed.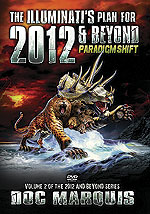 Paradigm Shift: The Illuminati's Plan For 2012 And Beyond, New DVD by Doc Marquis, 2-Disc Set - Volume 2 - Is it possible that the Satanic Paradigm Shift leading to a Universal Mind come in the form of a world-wide Marion apparition? We demonstrate that the Roman Catholic Papacy is anxiously awaiting just such an apparition as it will validate the Catholic Church as the only true worldwide church and will propel the Pope into position as the top world religious leader. Satanists call this event the Paradigm Shift while Catholics would call it a "Marion Apparition", but the result will be the same, the Universal Mindset.

---
More Interviews
David Bay On Why The Illuminati Won't Let The Economy Collapse