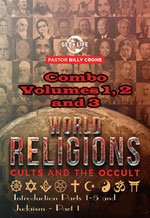 YOU CAN $25.00 WHEN YOU GET THIS COMBINATION PACKAGE!

There's a lot of confusion in the world about religion, and what the right path is. With so many belief systems and the heart of man trying to fill a void that only God can fill, some people find themselves involved in strange spiritual groups that sometimes lead to awful eternal consequences.

Volume 1 teaches the shadowy world of Cults and Satan's Occult. Volume 2 teaches Importance of the Jewish People at the First & Second Coming of Jesus Modern Analysis of Israel, the Kabbala, and how a Christian witnesses to a Jew.

Each Volume has 2 disks, 6 hours of teaching, so this COMBINATION PACKAGE contains 4 disks, 12 hours of teaching, and still saves you $25.00!