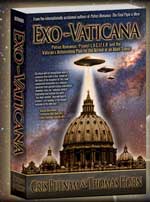 Only days after the election of the first Jesuit pope -- Pope Jorge Mario Bergoglio (Pope Francis) -- Vatican astronomers are developing theological arguments concerning extraterrestrial intelligence that could have a dramatic impact on the faith of the world's 2.3 billion Catholics and Protestants.

The Jesuits and members of Opus Dei have written in the form of official church theology brand new doctrinal papers, which we're publishing, that I think are absolutely going to shock the world," Horn says.

Sometime soon, the Vatican, is going to tell everybody, Its okay and these are our space brothers and not only are they are our space brothers theyre closer to God than we are and they have come to show us the way.

Cutting Edge subscribers should not be surprised because in 1997 we revealed that the Illuminati had chosen the Pope to be their False Prophet and that Aliens are a key part of the staging of the New Age Christ (Antichrist). Read full details in NEWS1052.

Where the Hopi see a blue star and Vatican astronomers see their space brothers en route to guide us into the light, evangelical Christians understand the Antichrist will initially assume the role of a fabricated end-times messiah who mimics the return of Christ with a false second coming that also happens to be attended by heavenly signs and lying wonders (2 Thessalonians 2:8-9).

NOTE: This book might be one of the most important in recent years!