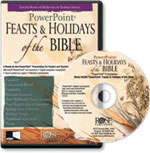 Professional PowerPoint Presentation has over 80 colorful slides! Great for schools, homeschooling, Sunday School, and Church

God commanded Israel to observe these feasts and holy days every year as memorials to the great things that He had done on Israel's behalf

Since Jesus was born, raised, and had His ministry under the First Covenant, He observed all these feasts.

Learn about these feasts: 1) Passover/Unleavened Bread (April); 2) The Feast of Weeks (June); 3) Rosh HaShanah (Sept 13); 4) Yom Kippur (Sept 22); 5) Sukhot (October 27); 6) Simchat Torah (October 5); 7) Chanukah (December 5)

See how these special days point to Jesus as the promised Messiah.

Includes Hebrew lettering, pronunciation, Jewish calendar, symbolism, and Bible references, PLUS the New Testament fulfillment by Jesus!

Get more information and download samples of Power Point presentations.