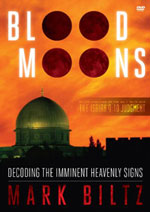 Something remarkable is just on the horizon. God is about to move mightily in the world. Are you spiritually prepared? Are your loved ones prepared?

From the beginning, in Genesis, God declared He specifically created the sun and the moon as 'signs'. God would use these heavenly bodies a signals of coming climactic historical events when the Creator of the Universe was about to intersect human history. But, how do we unlock the code to interpret God's signals?

Mark Biltz very well might have discovered the key, as he documents in this DVD, 'Blood Moons'. Throughout history, God -- the Master Timekeeper -- has used heavenly bodies to communicate to man when significant events will happen.

What are the Feast Days?
What is the difference between the Biblical calendar and the one we use today?
Should you be concerned about eclipses in the heavenlies?

Mark Biltz explains the importance of these Biblical celebrations and milestones, showing how you also can be fully informed as to the 'Signs of Things To Come'.

Has Mark discovered one of the most important prophetic revelations of our day?

This message might be the most compelling prophetic revelation of our time.

Will be shipping Wednesday, March 19.