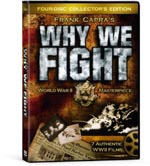 'Why We Fight' is an incredible overview of the events leading up to America's involvement of WWII. Master Filmmaker, Frank Capra, was commissioned by the US Army to produce this documentary series to show the soldiers what they were fighting for, and what evils they were fighting against. This video adds a new dimension to the study of history, a dimension that books and photos cannot match.

Capra provides you a greater understanding of the issues, the battles, heroes, and villains of WWII, as told from America's perspective. The films in this series are as compelling as any war movie, but the battle-weary soldiers are not actors, they are real soldiers fighting a real war, with death menacing at every angle.

Far from perfect, 'Why We Fight' stumbles over ideas like religious pluralism and President Roosevelt's New Deal. Viewers will have to sharpen their worldviews by keeping their minds engaged. The hope is that this video set will enable viewers to learn from the past so they can copy the triumphs of past generations and learn from the past.