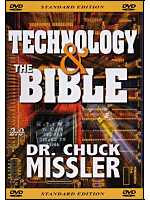 Dr. Missler is a physicist on the one hand and a Bible expert on the other hand. He uses this unique combination of expertise to weave a most interesting, most fascinating DVD about how the advance of technology was foretold in Scripture many thousands of years ago

"Except those days should be shortened, there should no flesh be saved: but for the elect's sake those days shall be shortened:"

If we were reading this in 1860 - before the Civil War - we would have a difficult time anticipating that "all flesh" could wipe itself out with muskets and bayonets! But today a potential nuclear cloud hangs over every geopolitical decision on the Planet Earth.

We take passages in the Bible for granted, often failing to recognize the technological changes that are implied by them. In this briefing we've assembled a small sampling of technology statements, which we hope will reveal a perspective that may surprise many.

Antichrist and his False Prophet could not force the peoples of the world into the cashless economic system controlled by the Mark of the Beast with the world at the general technology level which existed in 1900. Antichrist needed high technology if he was to fulfill this Bible prophecy.

That high technology exists today! This high level technology is, itself, a strong sign of the approaching coming of Antichrist!