I've waited so long to see this video and after watching it I was truly impressed! This is one of the greatest works of "history unraveled" that I've ever seen! And it was extremely credible! Cutting Edge hit a home run with this one. "Secret Mysteries Of America's Beginnings" is an absolute must for everyone's video library.
Please notify me when your next video "Riddles In Stone - The Secret Architecture Of Washington DC" is ready to order. -- Jeff, Burnsville, MN
---
Just wanted to congratulate you on such an excellent production. So well done! Is there any possible way this could be marketed to PBS or to one of the Christian networks? What an intriguing and insightful piece! Can't wait for the next installment.
Thank you so very much for your ministry.
May God bless you richly and lead you always,
---
I've been blessed by watching your latest DVD 'Secret Mysteries of America's Beginnings– Volume one, The New Atlantis'. Congratulations on a most excellent and clear teaching, very professionally done and easy to understand. My Dad, who's not a believer and quite antagonistic to the faith, even sat an watched some of it with interest and that's very unusual for him! I'm certainly looking forward to the next coming three volumes. Any ideas yet when that may be?
---
"I highly recommend that every American, Christian or non-Christian, view this video in DVD format. It will capture your attention right away. If you want to know America's beginnings, this is the video to purchase and view. What makes it particularly interesting is that it is broken down into 9 subjects so that you can view one or more segments at one sitting, and come back later and view the others.
When I received this video, I viewed the entire 9 subjects in one sitting as it totally captured my attention. Much of the history going into the beginnings of America will shock most Christians and non-Christians alike. The filming of this presentation was done very professionally in every detail. I can't emphasize that enough. It is very well documented.
You don't want to miss viewing this video! I highly recommend it, and can't wait for volume 2 to be released. Don't miss out." -- Bob, Lexington, South Carolina

---
After much anticipation, I was finally able to view the new DVD from Cutting Edge entitled "Secret Mysteries of America's Beginnings - Vol I. - The New Atlantis". Having seen the 15 minute preview of the DVD, I knew it was going to be top of the line when finished and I was not disappointed.
The approach to the two-sided coin surrounding the beginning of this nation, reveals so many hidden plans and strategies that many involved from the beginning were not even aware of. The amount of documentation is staggering and I will be viewing it several times in order to glean it all.
The quality of the production is excellent and definitely History Channel caliber. It certainly "wets your appetite" for the addition presentations forthcoming. The only downside is the amount of time we will have to wait
for the next volume to be released. This truly is a masterpiece and very evident that it has been twelve years in the making. This will prove to be a classic for a long time to come. How imperative someone has finally approached such an important documentary of the two sided coin of the beginning of these United States. (Charlene, Pennsylvania)
---
I received my DVD yesterday and I watched it last night. I just wanted to let you know what a wonderful, professional job you did in putting this video together. The writing, the graphics and the interviews are all very informative and laid out in an interesting fashion. I think it is as well done as what the History Channel puts together. I also commend you on putting forth this information in an unbiased fashion. You are letting the viewer draw their own conclusions about these groups and their agenda rather than sounding "fanatical". This approach helps when trying to introduce these ideas to people who are not familiar with this side of our nations history. I am anxious to view the other videos in this series when they are completed. - Karen, Iowa
---
Absolutely loved the first film in your series, "America's Beginnings: New Atlantis." I was not as interested in Bacon and Shakespeare as perhaps I should be, but it serves to show that the arts and media even then, hundreds of years ago, was tainted with the teachings of secret societies and occultism, and that it was clearly a calculated effort, just as our media, arts and music, movements and such, is today.
I'm very eager, no.. extremely anxious! to see the next installment or chapter in this film series.. Are there any anticipated release dates? (Aaron)
---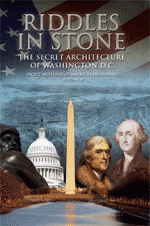 Volume 2 -- "Riddles In Stone: The Secret Architecture of Washington, D.C."
"Every 10 minutes, you present another jaw-dropping piece of information!" - Pastor Joe Schimmel, Blessed Hope Chapel, Simi Valley, California
---
"This video is simply dynamite". -- Larry Spargimino, Southwest Radio Bible Church
---
"After viewing America's First Beginnings, I could not understand how the next volume could top it, but somehow it has. 'Riddles in Stone' presents documentation that is overwhelming. The reality of hidden agendas, symbolism and the design around numbers, the two levels of knowledge for those inside and outside the circle and the plan that has been in place for many hundreds of years, reveals for sure "nothing is as it seems".
"How do you put a price on the opportunity to possess such documentation in one concise volume, is a treasure and will be such a valuable resource for anyone? The quality of Volume II continues to remain at the highest standard and it is so evident the time and effort that has been invested. It is quite evident the Lord's hand has wrought this." -- Charmaine
---
"I have watched this twice now and each time I am stunned. Simply put, it is the best video of its kind on the Masonic influence. I predict Riddles in Stone will be an award winner!" -- Pastor Bob
---
"The DVD Riddles in Stone is very worth the wait ... It's so professionally done, and so very informative without sounding extreme and off the deep end. It's perfect for people who are "waking up" to help them get their teeth into the truth. There's so much information to absorb, I had to keep backing up to watch/listen to many things again. Thank you so much for persevering to get the quality information for this DVD, I give it the highest marks possible!!!" -- Reta
---
"Breathtaking video. I am showing it to a friend who is working on a phD in US history and she is dumbstruck that she has not been taught real US history." -- Jay
---
"The information contained in both DVDs is absolutely fascinating and necessary to understand when investigating current world events. You've managed to piece together very detailed and well chronicled information in a truly enjoyable format to watch. The viewer will be blown away with the well researched story this DVD presents. The information is absolutely invaluable.
"These DVDs stand alone. I have not found anything comparable on the market. Anyone, and everyone, who has eyes to see and ears to hear should give these DVDs a look." - Lori

"Wonderful!! I just couldn't stop watching, when I thought it hit the climax... I was wrong... there was even MORE!!!" -- David
---
"This was one of the most powerful and dynamic dvd's I ever remember seeing. Thank you for all your hard work -- Georgia Ann
---
"This was a truly wonderful DVD. I found it most informative. Thank you for showing me the true nature of the foundation of our country - Tim
---
"That filmmaker is a genius" -- Alex Jones, Info-Wars
---
"Thank you guys for another real blockbuster .. I will say 'thank you' for another real jaw dropper DVD. Thanks for the good work." -- Ken
---
"I must say that "The Secret Architecture of Washington D.C." is the very best documentary on the New World Order, Freemasonry, and America's Occult destiny I have ever seen. I congratulate you and your team for such a thorough job with the research. This DVD has been very helpful to me as I continue my quest to understand the workings of Masonry and the New World Order. I believe multitudes need to see this video... The depth of research that went in to this production is phenomenal, especially when dealing with the "pro-Masonic" arguments from Mr. Morris and Co. Please continue to produce these exceptional DVD's. I will be sure to continue to support this endeavour, as I believe firmly in what you are doing." - Adrian, Canada
---