Welcome to The Cutting Edge
"But none of the wicked shall understand [that the End of the Age is upon them]." [Daniel 12:10b]

DYNAMIC NEW DVD - MAC DOMINICK
ARE WE BUILDING THE KINGDOM OF GOD?
Or a One-World Religion Under a New World Order. Volume 4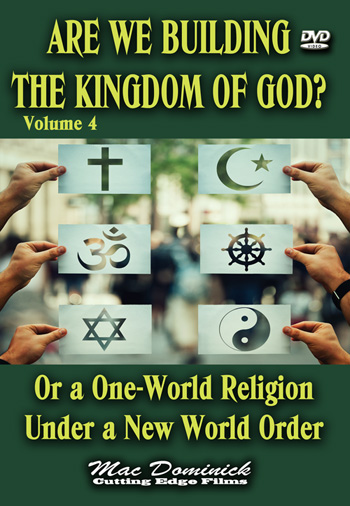 As we arrive at the conclusion of our study on the Kingdom of God, we can reflect on all of the things we have learned to this point. The most important of our lessons can be summed up as follows: The major underlying theme of the Word of God is that due to the failure of the theocratic administrator in the Garden of Eden (Adam) to faithfully administer God's plan for setting up God's rule over the entire earth, there must be a plan to establish a second theocratic administrator (Jesus) who will establish God's Kingdom on the face of the earth.
It is this plan that guides us from Genesis to Revelation, and it is this theme that has be seriously misinterpreted well-meaning members of the Church. In our study we have traversed a path of misinterpretation that has led to various unscriptural movements and multiple false doctrines within professing Christianity. Thus, as we come to this final segment of the study, we must ask the question, 'Why should I care?' Disc 4 will answer not only that question, but reach a final conclusion to the main question, 'Are we building the Kingdom of God?'
Along the way to reaching a final conclusion, we will look into some dark corners of our recent history and present society that have taken the wrong path. These observations will include:
1. The plan for building the Kingdom of God via a human world government and a one-world religion that began in the 19th Century.
2. We will investigate the people that initiated and promoted such a plan.
3. We will follow this path all the way through the 20th Century and discover the current status of such plans imbedded in the most recent events of our present world.
4. We will also follow the individuals promoting such philosophies into the ranks of modern evangelicals.
5. We will then reveal the connection of the plan for a world government and a world religion in the occult world.
6. We will then discover the source of all such human efforts and philosophies.
Finally, we will take a look at what the Bible teaches about the Second Coming of Jesus Christ and His reign on earth as King of Kings and Lord of Lords.
All of this will not only show us why we should care, but these facts will give us a conclusive answer to the big question:
ARE WE BUILDING THE KINGDOM OF GOD?
Have You Seen Volumes 1, 2 and 3 In This Series?
Select the image below for more information
---
"Israel's Prophesied Annihilation of the Palestinians"
PLUS Bonus Section, 'God's Perfect Attributes
BONUS TEACHING: GOD'S PERFECT ATTRIBUTES
When the world wakes up one morning to discover that Israel has annihilated as many as 5 or 6 million Palestinians, they will be screaming for an explanation. The REAL reason people cannot comprehend this unparalleled disaster is that they do not understand God's Nature, in all of its Perfections. This bonus teaching will bring to light God's attributes, which explain why He carried out His prophesied annihilation of the Palestinians, after giving them 2,500 years of warning!
Obadiah 15-18 foretells the annihilation by fire of an entire nation, the House of Esau, which today are the Palestinians. Israel possesses the "Weapon of Fire" (Fuel Air Bomb) that could fulfill this prophecy precisely!
Understanding how Israel is planning to carry out this annihilation soon is critical to comprehending events in Israel today between the Palestinians and Israel.
Consider the somber prophecy of Obadiah 18: 'The house of Jacob shall be a fire and the house of Joseph a flame, but the house of Esau shall be stubble; they shall kindle them and burn them and consume them, and there shall be no more survivor of the house of Esau, for the Lord has spoken it.' [Verse 18]
This prophecy states that the nation of Israel [the combined houses of Jacob and Joseph] shall have some kind of a fire build up within them that will suddenly explode outward to consume the House of Esau in 100% annihilation. Since a weapon of fire does not travel outward from its source too far, we can assume that this House of Esau must be living in close proximity to Israel at the moment of this conflagration.
Thus, the major question is, 'who is the House of Esau today'? It is the Palestinians, led currently by Mahmoud Abbas.
You will be shocked to learn that God's Holy Spirit has been working since 1990 to convince the Israeli leadership of the need to annihilate the Palestinians. You will be further surprised to learn that the huge security fence Israel has erected around the Palestinian towns and cities will prove to be an indispensable tool in their strategy to carry out this complete destruction, as God has foretold 2,500 years ago.
We wish to reiterate that we take no satisfaction from this unbelievable prophecy of carnage, but a lot of people are going to be searching for valid answers in a hurry once this carnage does occur. They have to look no further for correct answers than this prophecy in Obadiah.
One hour, 17 minutes long - https://www.cuttingedge.org/detail.cfm?ID=2655
---
See How Different Cutting Edge Truly Is


Cutting Edge Films Statement of Faith and Purpose
We believe our site represents the most complete, concise and comprehensive source of information available which deals with the Biblical prophecy of The New World Order. Our Christian organization is a fundamental independent Baptist Church outreach ministry. We are dedicated to the Scriptures as the only revelation of God and His Son, Jesus Christ.
Whether you're a fundamental Christian who already has knowledge of the New World Order, and who is seeking a greater understanding of how current events are affecting our daily lives, or someone who is seeking some basic answers, we know you'll find what you are seeking in our carefully organized and presented material.