CUTTING EDGE SEMINAR
Atlanta, GA
May 21, 2005
The Purpose-Driven Revolution:
Biblical or Blasphemous?
featuring:
David Bay, Director
Cutting Edge Ministries
&
Mac Dominick, author
Outcome-Based Religion:
Apostasy, Purpose, & the New Paradigm Church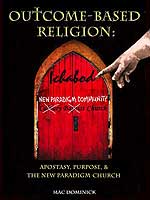 This seminar will provide an in-depth analysis of the revolution that is shaking the foundations of Evangelical and Fundamental churches around the globe, and will examine these revolutionary strategies by the measuring stick of the Word of God. If your church is "going contemporary," becoming "seeker sensitive," or employing secular marketing tactics (all at the expense of doctrinal principles) to reach the "unchurched"----OR---- If you desire the information necessary to biblically evaluate this modern evangelical movement:
Please mark your calendar to join us in Atlanta on May 21.
Exact location and seminar times will be announced in a few weeks.
We would like to get a count of how many people we might expect to attend the seminar. Please email us if you plan to attend and let us know if more people will be coming.