Cutting Edge Ministry Survey
Please take this 3 question survey to help us decide on a title for a new DVD Cutting Edge Films is producing so you can be a part of our decision process and we can gauge the interest in this subject. Secrets of the Man Clothed in Linen or The Prophetic Meaning of the Turin Shroud: A fascinating look at Ezekiel 9 and Daniel 12. Who is the "Man Clothed in Linen? He only appears twice in scripture. Could it be Jesus? How does it relate to the Shroud? Does it contain a prophetic message for our time? The answer will amaze you. Bonus video: Seven Secrets of the Sacred Shroud: Beyond science and history lies the theology of the Shroud. This presentation focuses on seven proofs from theology and apologetics that support the Shrouds probable authenticity. The concepts are powerful and will raise your faith to new heights!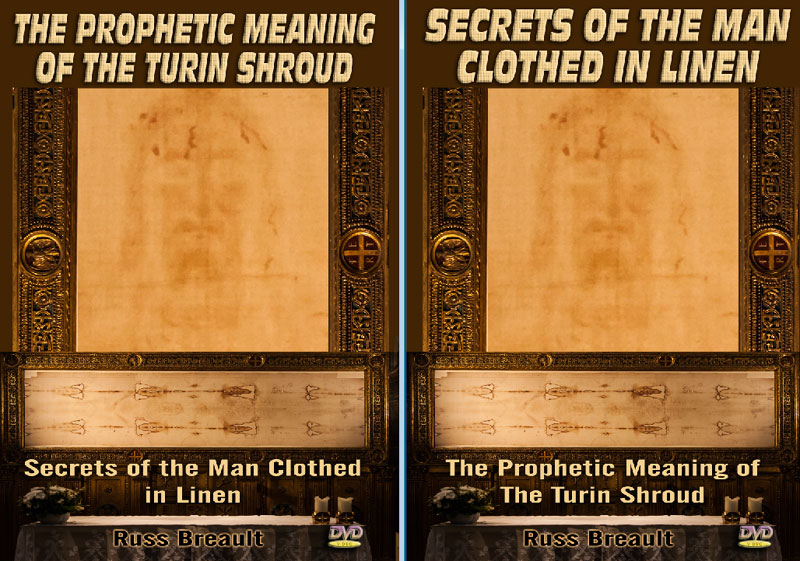 Bio for Russ Breault - the author and presenter of this DVD. RUSS BREAULT has been researching and lecturing on The Shroud of Turin for over 30 years. He has presented to numerous college and universities including Duke, Johns Hopkins, U Mass, West Point, Penn State, Cal State and many more. Russ Breault has appeared in several nationally televised documentaries including Mysteries of the Ancient World on CBS. He was both advisor and a primary expert for the highly acclaimed, The Real Face of Jesus A two-hour documentary on The History Channel that has been seen in over 20 countries. Most recently he appeared on Good Morning America to discuss the latest research. He has participated in a dozen international research symposiums since 1981 and three recent public exhibitions in Turin, Italy in 1998, 2000 and 2010. He is a long-time member of the Shroud Science Group, an international consortium of scientists and scholars dedicated to further research. Russ Breault is the president and founder of the Shroud of Turin Education Project Inc., with a simple eleven word mission statement: To advance the knowledge of the Shroud to a new generation.