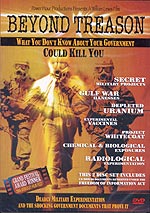 Brave soldiers are dying by inches from a variety of "unknown illnesses". Some are dying of heart failure, others from organ meltdown, and still others from "mysterious causes". While the Pentagon claims to be totally in the dark, experts now believe that these men are dying in various ways because of a combination of Depleted Uranium, toxic vaccines, chemical and biological agents.

As ailing Gulf War Heroes from all 27 coalition countries slowly die of "unknown causes, they wait for answers from their respective governments but no satisfying or even credible answers have come forth from the military establishment. Records that span over a decade point to negligence and even culpability on the part of the U.S. Department of Defense and their disposable army mentality.

The VA has determined that 250,000 troops are now permanently disabled, 15,000 troops are dead and over 425,000 are ill and slowly dying from what the Department of Defense still calls a "mystery disease. How many more will have to die before action is taken?

The FREE CDROM contains thousands of printed pages of supporting documentation, which can be viewed from most any computer using an internet browser

Hear the testimony of experts and of United States military veterans who demand answers to questions that the Department of Defense will not address. Did you know President Clinton signed Executive Order 13139, allowing the Pentagon to perform any experiment for any reason on any soldier, without his knowledge and/or approval?

DVD runs 114 minutes with bonus material. Produced in cooperation with Gulf War Vets.