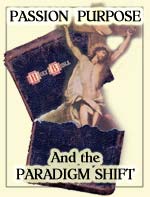 The whole Christian world is silently going through the dramatic change in religious thinking, called a "Paradigm Shift". Until this shift occurs, Antichrist cannot arise. Once this shift does occur, discerning Christians can know that Antichrist is close. Such a "Paradigm Shift" is now under way, powered by four major factors running together simultaneously. They are:

"The Passion of the Christ"

Purpose Driven Church (Seeker Sensitive)

"Da Vinci Code" which propagates the Merovingian Bloodline lie, without which Antichrist cannot appear

Tim LaHaye's "Left Behind" series, which falsely assures people they can take the Mark of the Beast and still go to Heaven.

Only Cutting Edge, with our knowledge of prophecy, New Age Religion, and the Illuminati Plan, can tie all these separate elements together to provide one of the most telling "signs" yet that the appearance of Antichrist is very close.

Director David Bay, Mac Dominick of Cutting Edge, and Becky Sexton of Former Catholics For Christ corroborate on one of the most important subjects in this world today

4 Hours, 10 Minutes long!