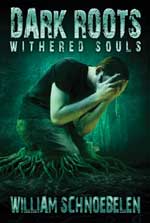 Most families have at least one member who is bound by a 'Root of Bitterness', powerfully binding them to the dark spirits of the Abyss. This person seemingly cannot find joy in any part of life, but is continually saturated with a spirit of gall.

Schnoebelen shares critically important spiritual warfare information which can begin a spiritual healing that literally sets a person free!

Lack of forgiveness and bitter-root judgments powerfully bind even a genuine believer, preventing a full spiritual recovery.

Most people understand the need for forgiveness but do not fully comprehend how roots of bitterness and anger can prevent a person from gaining full victory in Jesus Christ.

America is a nation whose soul has rejected God and is now bound up in Satan's roots of bondage and unhappiness unto death. Thank God, there is deliverance!

Over 2 hours long, this DVD contains spiritual warfare and deliverance information you will never get from your local pastor!