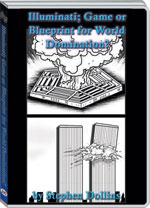 In nine pertinent playing cards of the "Illuminati New World Order" Game, how did the inventor know - - in 1995 -- the three events comprising the 9/11 attacks? How did he know also the correct plan in the near future? Why do his cards predict the appearance of Antichrist and the Rapture as the last two events of the Illuminati Plan?

Each of these cards contains one specific act which the Illuminati is going to trigger, in order to bring the New World Order into reality.

Events are occurring now, weakening the Old World Order so the New can be established. You will be surprised to learn how many of the recent events of our society are designed to enhance the new global dictatorship of which Antichrist will take control. It is later than you think! Events foretold In The 1995 Illuminati Card Game -- "Stage Being Set"

One of the major cards is a "Messiah" and a "Rapture" card, confirming our teaching that the Illuminati knows the Rapture of the Church is real

Additional Cards of Interest: Natural Disasters, Hurricanes, Tornados, Earthquakes, Weather Control, Mind Control -- all designed to bring the Masonic Christ (Antichrist) to power. NOTE: Stan Johnson is charismatic, not Baptist as is Cutting Edge. Most of the material offered on this tape is correct and vital knowledge, making it worthwhile to view. We expect you to be good "Bereans" and compare everything the speaker is saying to Scripture. Nearly 3 hours long.