Title: MANKIND IS ENTERING THE PROPHETIC PERIOD JESUS CALLED "MEN'S HEARTS FAILING THEM FOR FEAR"
Resources to aid your Understanding
"World War III: History's Greatest Lynchpin Event"
---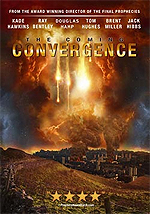 "The Coming Convergence" DVD - Dynamic Prophetic Message Whose Time Has Come
THE CONVERGENCE OF PROPHESIED EVENTS IS THE STORY!
---
DVD by David Bay
---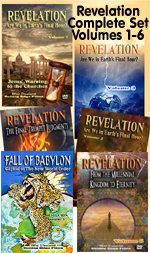 Startling Studies on the Book of Revelation: by Mac Dominick
SAVE $24 when buying this Combo Offer
"Tie-in between the Rapture and the beginning of Daniels 70th Week"
a.k.a. Tribulation Period
Subtitle: Critical Message to All Genuine Born Again Christians: This time period will produce the most terrifying events the world has ever seen, as people's minds will be blown away by events, and their hearts will fail them. BUT, we Christians have the potential to be part of the greatest era of soul-winning the world has ever seen.
Since Christians are fully assured of their eternal salvation, they can keep calm and under control while everyone around them is suffering severe meltdown.
How can a Christian who is not afraid to die be intimidated?
As the people of this world are running away from disaster, Christians armed with the Saving Gospel of Peace, need to run toward the meltdown to save those who can be saved.
The New World Order is coming! Are you ready? Once you understand what this New World Order really is, and how it is being gradually implemented, you will be able to see it progressing in your daily news!!
Learn how to protect yourself, your loved ones!
Stand by for insights so startling you will never look at the news the same way again.
YOU ARE NOW ON
THE CUTTING EDGE
Copyright © 2017 Cutting Edge Ministries. All rights reserved. See full copyright notice below.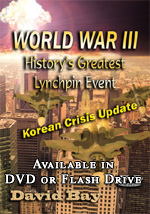 Unique period in man's history
(The world is finally at war! And it could be World War III. ) NOTE: This section will be replaced with current news demonstrating that the final push into the global war that is designed to produce Antichrist is underway)
Mankind is finally sliding into the prophetic Abyss, which Jesus labeled a time when "Men's hearts failing them for fear"! The Elite have planned for this time, also, and it is wrapped around a massively destructive global war which from henceforth shall be called "World War III"!
The Elite have planned conventional AND nuclear war, missiles flying overhead and more on the way, AND devastating news coming so rapidly, one after another, that people can scarcely absorb one disaster before it is followed after another and another and another ........................................... Until people are at the point of emotional breakdown, and they are crying out, "stop everything, we cannot take any more bad news"
People's minds will be blown and many of their hearts shall fail them for fear!
But, the Church of Jesus Christ is still here!
"MEN'S HEARTS FAILING THEM FOR FEAR"
This moment is truly a unique period in man's history. Peoples of the entire world will stand on the precipice of death, and disaster, and will be forced to confront Eternity and whether they are going to Heaven or to Hell.
God Calls Us To This Soul-Winning Task:
"... and who knoweth whether thou art come to the kingdom (in your royal position) for such a time as this?" (Esther 4:14b; Mordecai urging Queen Esther to risk death by informing the King of Haman's plan to destroy all Jews)
MODERN DAY APPLICATION
And who knows whether you have been brought to this position (of understanding Prophetic Truth) and for such a time as this to act aggressively in preaching the Gospel of Grace to a terrified and lost humanity?
GOD'S WARNING TO ALL BELIEVERS
"But if the watchman see the sword come, and blow not the trumpet, and the people be not warned; if the sword come, and take any person from among them, he is taken away in his iniquity (sin); but his blood will I require at the watchman's hand." (Ezekiel 33:6)
PERSONAL ANCHOR -- ASSURANCE OF SALVATION GIVES US ABSOLUTE BEDROCK CONFIDENCE TO SPEAK BOLDLY IN PRESENTING THE GOSPEL IN THE FACE OF SEEMING DOOM
We Cannot Lose Our Salvation:
* " Verily, verily, I say unto you, He that heareth my word, and believeth on him that sent me, hath everlasting (eternal) life, and shall not come into condemnation; but is (already) passed from death unto life." (John 5:24)
* "And I give unto them eternal life; and they shall never perish, neither shall any man pluck them out of my hand. My Father, which gave them me, is greater than all; and no man is able to pluck them out of my Father's hand." (John 10:28-29)
Even in the midst of flying bullets, missiles, fighter bombers, and deadly terrorists!
"* "He that believeth on the Son hath (now possesses) everlasting life ..." (John 3:36)
How can a person be intimidated who is not afraid to die?
" We are confident, I say, and willing rather to be absent from the body, and to be present with the Lord." (2 Corinthians 5:8, KJV)
"And Jesus said unto him, Verily I say unto thee, Today shalt thou be with me in paradise." (Luke 23:43, KJV)
"And it came to pass, that the beggar died, and was carried by the angels into Abraham's bosom..." (Luke 16:22, KJV)
"... neither shall any man pluck them out of my hand... (John 10:28-29)
At the instant a Born Again Christian dies, he/she is transported to Heaven/Paradise. This strong faith has enabled millions of Christians to "die well" and with a precious fearlessness! God calls us to this type of fearlessness; as the unsaved people of the world are living in a state of hysteria, we Christians are called upon to ask the unsaved, "If you were to die tonight, would you go to Heaven or to Hell"?
And then, take them through the plan of Salvation.
OUR PERSONAL ANCHOR ATTACHED TO GOD-- PROPHECIES WILL BE FULFILLED
AND ONCE WE EXAMINE THEM, WE DISCOVER SOME VERY INTERESTING REALITIES, NEW TO MANY CHRISTIANS
* World War III will produce Antichrist on the world scene, fulfilling Daniel 7:7-8. "After this I saw in the night visions, and behold a fourth beast, dreadful and terrible, and strong exceedingly ... and it had ten horns (kings); I considered the horns, and, behold, there came up among them another little horn ... (Antichrist) (Daniel 7c-8a)
Antichrist will come to the world scene amidst events "dreadful and terrible, and strong exceedingly". The world is in the midst of this global conflagration now.
But, that fulfillment does not end the world. Antichrist will arise to take command of a Single World Government formerly divided into 10 Supernations.
*** Antichrist must arise, convince the Jews he is their messiah and ---
*** then confirm the Covenant. with Israel's religious leaders; and at that point ---
*** the 7-Year Tribulation begins and all the prophecies of Revelation, Daniel, and the Major and Minor prophets begin to unfold.
*** At the end of 7 Jewish years, Jesus Christ returns, overcomes Antichrist and the False Prophet and all his military forces, and casts them chained into the Abyss
*** Jesus rules from Jerusalem for 1,000 years
*** Jesus allows Satan and his demons to come out into the world one last time to marshall all the world's nations against Jerusalem for one last time
*** GOD THEN DESTROYS THE EARTH!
* "But the day of the Lord will come as a thief in the night; in the which the heavens shall pass away with a great noise, and the elements shall melt with fervent heat, the earth also and the works that are therein shall be burned up." (2 Peter 3:10) This sequence of forces sounds like a nuclear chain reaction! And, God unleashes it at the end of Jesus' 1,000 Year Reign!
Mankind will have quite a number of years after World War III produces Antichrist. The physical destruction / annihilation of mankind, though, is the one event which will not occur. You must personally ignore the Media's daily screams that mankind faces extermination, and then you must boldly take that message --along with the FREE Gift of the Gospel -- to everyone in your Sphere of Influence.
ILLUMINATI PLAN -- PARALLEL PROPHECIES THAT WILL NOT RESULT IN DESTRUCTION OF THE WORLD, EVEN THOUGH THAT WILL BE THE PROPAGANDA MESSAGE
This World War III will NOT result in the destruction of Earth, nor in the onset of "Nuclear Winter", because the purpose of the Illuminati is to so frighten mankind that people everywhere will agree that Nationalism/Patriotism/Love of Country produces wars; therefore, the solution will be to abolish National Sovereignty and embrace a World Government.
World War III will cause stock markets to go into such steep decline that many will call it a crash. However, the Illuminati Plan parallels God's prophecy as it envisions that, once Antichrist arises and takes control of the world's government and economy, he and his advisers will resurrect the entire economy of the world and create the prosperity which is called for in at least two prophecies. this new economy will be cashless and will be prosperous. Consider the Scriptures:
*** " And he causeth all, both small and great, rich and poor, free and bond, to receive a mark in their right hand, or in their foreheads: And that no man might buy or sell, save he that had the mark, or the name of the beast, or the number of his name." (Revelation 13:16-18) The Mark of the Beast will require a functioning worldwide economy based on cashless currency and minute-by-minute surveillance of everyone at every minute of every day..
*** " How much she hath glorified herself, and lived deliciously, so much torment and sorrow give her: for she saith in her heart, I sit a queen, and am no widow, and shall see no sorrow." (Revelation 18:7, KJV)
*** "To the degree that she glorified herself and reveled and gloated in her sensuality [living deliciously and luxuriously], to that same degree impose on her torment and anguish, and mourning and grief; for in her heart she boasts, 'I sit as a queen [on a throne] and I am not a widow, and will never, ever see mourning or experience grief.'" (Revelation 18:7, Amplified Bible Commentary)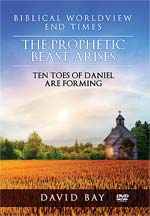 DVD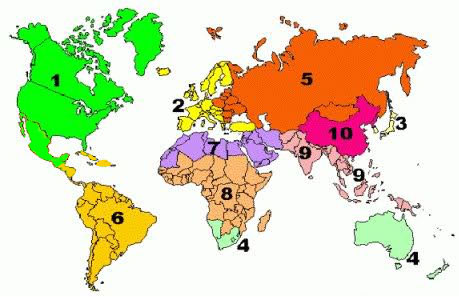 Final 10-Supernation Reorganization - Prophecy Unfolding

Leaders of the final 10 Supernations -- pictured left -- are held in check by the Holy Spirit, until all God's prophecies are fulfilled. Listen:

" And the ten horns which thou sawest are ten kings ... For God hath put in their hearts to fulfil his will, and to agree (to act in harmony), and give their kingdom unto the beast, until the words of God shall be fulfilled." (Revelation 17:12, 17, KJV)

No matter what the Mass Media is screaming, God's Spirit is working in the hearts of each of the final 10 rulers of the earth, so that His prophecies are fulfilled. Therefore, since the wicked world has at least 7 and maybe 10 years left after Antichrist arises, it cannot be incinerated now.

Furthermore:

1) Russia must exist to lead an invasion against Israel (Ezekiel 38-39)

2) China must exist to lead an invasion of Israel (Revelation 16:12)

3) The United States must exist so God can personally destroy her in Revelation 18

All during the time of this North Korea nuclear script, remember these prophetic facts and you will remain stable and fixed, and without paralyzing fear.

BUT,REMEMBER, IT IS INTENDED T0 BE THE GLOBAL DEVASTATION WHICH SHALL BEGIN THE BRIEF REIGN OF ANTICHRIST

Our Demeanor Should Be LOVE and CONCERN

As peoples of the world panic because they contemplate the awful possibility of stepping into eternity, they do not need to hear from us a Judgmental Message. Their own hearts are condemning them at this point in world history, so the message they need to hear from us is one of Love for their soul and an answer for their fear! We have the answer to their heart's panic. We can offer them the "Good News", the Gospel of Jesus Christ. They can experience the FREE GIFT of eternal life, and then be guaranteed eternal life in Heaven.

The stroke of genius of the opening question of the Evangelism Explosion method of presenting the Gospel is that it forces reluctant people to actually contemplate their eternity.

"If you were to die tonight, and the angel at Heaven's Gate asked you 'Why should I let you into Heaven', what would you say?"

The panic people will be feeling as the news continues to swirl that a nuclear bomb might fall on them at any moment will force them to contemplate their eternity, with an even heavier weight than if you were presenting this type of question in a normal situation. God has set the worldwide stage for sinful man to contemplate his/her eternity. All we have to do is to be ready to ask the question, and then lead them into repentence of sin and eternal life.!

With the Holy Spirit flowing through our efforts at this time, we could realize the greatest "Harvest of Souls" for the Kingdom of God in such a short time. Truly, this Biblical scenario is unfolding.

"... behold, I say unto you, Lift up your eyes, and look on the fields; for they are white already to harvest." (Jesus speaking to His disciples, John 4:35)

Now, go harvest as many souls as you can, feeling no fear, because you are not afraid to die for the Gospel if need be!

Are you spiritually ready? Is your family? Are you adequately protecting your loved ones? This is the reason for this ministry, to enable you to first understand the peril facing you, and then help you develop strategies to warn and protect your loved ones. Once you have been thoroughly trained, you can also use your knowledge as a means to open the door of discussion with an unsaved person. I have been able to use it many times, and have seen people come to Jesus Christ as a result. These perilous times are also a time when we can reach many souls for Jesus Christ, making an eternal difference.

If you have accepted Jesus Christ as your personal Savior, but have been very lukewarm in your spiritual walk with Him, you need to immediately ask Him for forgiveness and for renewal. He will instantly forgive you, and fill your heart with the joy of the Holy Spirit. Then, you need to begin a daily walk of prayer and personal Bible Study.

If you have never accepted Jesus Christ as Savior, but have come to realize His reality and the approaching End of the Age, and want to accept His FREE Gift of Eternal Life, you can also do so now, in the privacy of your home. Once you accept Him as Savior, you are spiritually Born Again, and are as assured of Heaven as if you were already there. Then, you can rest assured that the Kingdom of Antichrist will not touch you spiritually.

If you would like to become Born Again, turn to our Salvation Page now.

We hope you have been blessed by this ministry, which seeks to educate and warn people, so that they can see the coming New World Order -- Kingdom of Antichrist -- in their daily news.

Finally, we would love to hear from you.

You can contact us by mail or email.

God bless you.

Copyright © 2010 Cutting Edge Ministries. All rights reserved.

Subscribe to our free email updates and messages from our editor by entering your email address below :

Return to: