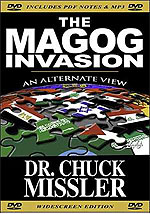 DVD - Ezekiel 38-39
Non-Integrating States News -- Iran (Ancient Persia)
IAF (Israeli Air Force) training for possible strike against Iran
US, Israel finalise Iran strike plan: During White House meeting between Israeli PM Olmert and President Bush
A third US carrier, the nuclear-powered USS Enterprise Strike Group is speeding towards the Persian Gulf - largest sea, air, marine concentration the United States has ever deployed opposite Iran
Deter a nuclear Iran, because an attack would be disastrous
US House of Representatives urged the UN Security Council Wednesday to charge Iran's president under genocide conventions: Because he urged that Israel "be wiped off the map"
Top Iranian negotiator Ali Larijani is due to hold to talks in Vienna with the head of the UN nuclear watchdog agency, Mohamed ElBaradei
Turkey Also Foretold To Be In Ezekiel 38 Invasion
Turkey Turns Eastward: Turkey is now emerging as an important diplomatic actor in the Middle East" - has established close ties with Iran and Syria" - Turning against the West
---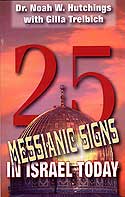 DVD
Chairman of Iran's Supreme National Security Council, Larijani, admits Iran financing Hamas: Denies arming them, but admits funding them - also admits to funding Hezbullah
No money, no shelters: Civilian shelters are NOT ready for the next war
Gaza clan chief holds onto captured BBC journalist, Johnston: Refusing to release the journalist for fear that Hamas will kill him and most of his clan members
Gazans with dual nationality rush to flee isolated strip
Abbas orders closure of West Bank to Gaza refugees, including his own Fatah and presidential guard members
Calm returns to Gaza: Gazans enjoy calm after weeks of fighting, but many fear bleak future
IDF may have to parachute food to Gaza
Israel to transfer $400 million to Abbas' new PA emergency government
Few Gazans turn in weapons as Hamas deadline for arms collection expires
Fatah tries to whip up public support: Urges people to support President Abbas
Rival Palestinians take battle to TV screens: Al-Aqsa describes Fatah leaders as 'treacherous current,' state TV brands Hamas fighters 'putschist militias.'
Former PM Netanyahu Shocks: Deploy Jordanian troops in West Bank as Palestinians are not capable of keeping order by themselves
Another Shocking Proposal - Let Egypt into Gaza - Egypt, rather than Israel, should become increasingly involved in Gaza Strip
Syria Rules out Peace Pact with Israel
Peace Talks In Egypt Monday
Israel wants Saudis in on peace summit to be held in Sharm e-Sheikh on Monday
Israel agrees to participate in Sharem el-Sheikh summit
PM Olmert Sees 4-Way Summit in Sharem el-Sheikh as 'New Start'
Moral Collapse
Gay marchers, haredi protesters pan for emotional gold
Gays hail symbolic victory in Gay Pride Parade

---
Lebanese dread rumored closure of Syrian border: Hundreds of trucks already lining up at crossing points
Lebanon declares refugee camp militants 'crushed': The 33-day war against Qaeda-inspired militants in Nahr al-Bared refugee camp ends
France postpones Paris talks on Lebanese crisis until mid-July
---
Bush eyes Blair for Mideast peace role
---
Torture, USA
Enforced Disappearance: The Ghost Prisoners of the CIA
Retired US two-star Army general accused the Pentagon of concealing the abuse and torture perpetrated in Iraqi Abu Ghraib Prison
Islamic Preacher seized by CIA tells of torture in Egypt
US to discuss closure of Guantanamo Bay Prison: To move terror suspects from there to military prisons on US soil
---
Indian Army gets supersonic fire power: Takes delivery of BrahMos supersonic cruise missile India and Russia jointly developed - scientists to work towards its second generation hypersonic version
---
France bans BlackBerrys over fears of US intelligence snooping: "The risks of interception are real. It is economic war," Alain Juillet, who is in charge of economic intelligence for the French government
U.S. agency is target in Cheney fight on secrecy data: When The Information Security Oversight Office objected to his office's handling of classified information, Cheney abolished the office
---
Miscellaneous Non-Integrating States News
Nigerian troops kill 12 at Italian oil facility
North Korea nuke disarmament moves uncertain: visit by the UN atomic watchdog to Pyongyang set for next week is on hold - even after the top US nuclear envoy made a surprise trip to the North
Sri Lankan Tamil rebel boat explodes, three dead
Pakistan said building third nuclear reactor
Violence erupts again in Karachi
Costly "collateral damage" in Afghanistan: Seven Afghan children perished Sunday in a U.S.-led bombing attack on Al Qaeda fighters hiding in a mosque and a madrassa
NATO fights on all fronts in Afghanistan
African nations excluded from global discourse
Kenya's secret society sows dread: Mungiki, a secret society that is part Sicilian mafia, part
Chicago street gang, with a little local cultism sprinkled in - "These guys are devil worshipers", whispers Kihara Mwangi, a member of Kenya's Parliament
---
CIA to release details on decades of secrets: "This is about telling the American people what we have done in their name."
---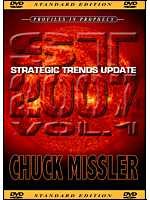 DVD
Non-Integrating States News - Iraq (Mystery Babylon)
US, UK seek shut down of the UN weapons inspection unit for Iraq, once the stuff of front-page news: The "Monitoring, Verification and Inspection Commission (UNMOVIC) - Now that it has been proven that no WMD existed in Iraq, there is little need to keep the unit
14 More U.S. Troops Killed: Iraq's Green Zone HQ Shelled
US troops set trap for militants
Fears of clashes between Sunni and Shi'ite percolate in an Iraqi town of Baquba
Misery in desert for Iraq's dispossessed: More than 2 million Iraqis seek refuge among their own religious, ethnic communities
Defense Secretary Gates: Longer Iraq deployments unlikely
China agrees to cancel Iraqi debt: China and Iraq on Thursday signed four agreements in Beijing
House Wants Iraq Study Group Revived - The bipartisan panel of prominent former U.S. officials who last year said President Bush should change course on the war - Headed by James Baker
Baghdad Embassy for lonely US: Location of the new US embassy in Iraq is no secret, but its mission certainly is a well-kept secret
---
Conditioning For Dictatorial Government In America
Presidential directive gives Bush dictatorial power: National Security & Homeland Security Presidential Directive establishes "National Continuity Policy"
Cheney Warns: Nuclear terrorist attack inside the U.S. "a very real threat''
Contingencies for nuclear terrorist attack: Government working up plan to prevent chaos in wake of bombing of major city
When America Suffers Nuclear Terror Attack, Remember: "Debunking The Propaganda Lie That Terrorists Can Actually Hit The US With A Nuclear Terrorist Weapon"
---
New Headline News Articles - Updated June 20
Massive "Intelligence Failure" - Hundreds of Thousands of CIA/Israeli Super Secret Intelligence Files Fall Into Hamas Hands In Gaza! May Be Worst Intelligence Failure In History of Western Intelligence
June 13 - The Day All Three Middle East Hotspots Exploded -- "The Middle East Is On Fire"