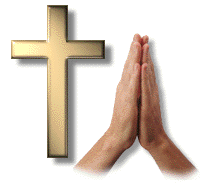 Cutting Edge Ministries
Prayer List For Coalition Forces
As the number of Coalition Forces grows by leaps and bounds, we feel it necessary to create and maintain a specific Prayer List. Please mail the name(s) of the people you would like to have our readers pray for, and we shall update it daily. Please do not include rank or addresses. Let us hold up these people by name daily in prayer.
This list shall be posted on the Daily News Update page, at the very top.
And, let us not forget to pray for the Iraqi people at this terrible time.
Finally, pray for our governnment leaders, indeed, all the leaders of the Coalition Forces, that they will take no action not consistent with God's Will. As always, pray for the salvation of these leaders.
Email address: customerservice@cuttingedge.org
Prayer List
---
| | | |
| --- | --- | --- |
| Steven Winkleman | Mike Carrol | Sean Ramsey |
| Garry Huddle | John Abel | Tim Mitchum |
| Brian Bertsche | Jimmy Carnes | Andy Mitchum |
| James D. Haan | Jason Hickle | Dan Mitchum |
| Allen Gleaton | Micah Hatch | Jason Chaput |
| Sheldon Aschleman | Nick Needham | James Diamond |
| George Edward Dorr | Michael | Jason Elder |
| Dallas Shults | Robbie | Michael McCormick |
| Charles Shults | Gene Moody | Joseph Klan |
| Eric Daley | Charles Heyniger | Families of those Killed in Action |
| Steven A. Smith | Jim Goodlett | Ryan Tongue |
| Mike Wilsey | Brandon Hatchell | Jill Grant |
| Richard King | Chip Smith | Rich Clune |
| Paul Miller | David Kirk | Tim Kelly |
| Bill Holliman | Crystal Richards | Bendigo Agnew |
| Benjie Banning | Mark Hendron | Noah Amatucci |
| John Valdario, Sr. | Paul Daniel Affenbrecker | Mark Douglas |
| Ashley Craft | Scott Sobota | Chris Fitzgerald |
| Andy Ayer | John Cain | All Wounded |
| Ken Gwaltney | Dustin H. Welsh | all POW's and all MIA's |
| Stephen Gwaltney | Bradley Hartz | Julio Martinez |
| Philip Gwaltney | J. D'Amico | Gene McCoy |
| Chuck Gibson | David Barnes | Matt |
| Jonathan Watkins | David Mahula | Jason Mack |
| Richard Jason | Richard Walthers | Peter Thomas |
| Dayllen L. Clifton | Clint | William O'Connell |
| Sean Stout | Darnel | Courtney Davis |
| Terrence L. Sargeant | David F. Greenwood | Jose Guillen |
| Ira Daniels | John E. Powell | Philip DeCamp |
| Little Earl | Ken Powers | Trey Cate |
| Morris Davis | Matthew Murphy | John Frasure |
| Pete Houtman | Michael Karr | Ed Ballanco |
| Dan Story | Frank Rosales, Jr. | Kent Rideout |
| Jason Madott | Cory R. Gerig | Earl M. Day |
| David Perry | Luke Hansen | John (Buddy) Holmes |
| Jarrod | Ron Huxley | Chris Carter |
| Gerald Teague | Christopher Eckel | Scott Speicher |
| David Witt | Jeremy Tilton | Rob Dillon |
| David Billen | David Barnes | John Logie |
| Christopher Mullens | Jade Mayes | Micael McDonald |
| Jeremy Wilson | John Frost | Mark Evans |
| Jason Bailey | Michael J. Mendoza | Frank Thorpe |
| David David | John Christopher Wilcut | Vincent Brooks |
| Patrick | Terry Henderson | John Hoellwarth |
| Robert Hunter | Clesson Turner | Richard Compton |
| Rick | Mike Redd | Patrick McDonald |
| Mac | Jenifer | David Perkins |
| Gorzo | John (Buddy) Holmes | Buford Blount III |
| Nick Williams | Patricia Heermann | Abrams |
| Jason Williams | Nathan J. Fox | William Gilliam |
Jeovanni Lopez
Robert Parrott III
Eric DiLuzio
Rick Maki
Bolivar Cedeno
Brett McIntyre
Scott Proulx
Bob Russo
Frank Santacroce Jr.
Guy Shields
Travis Hunt
Deandrea Harris
Robert Sciria
Joseph Hernandez
Shawn Meyn
Gwen Hatton
Tammy Wickett
Joe Richardson
Zachery Watkins
Bryce Irvings
Thomas Slago
Krispian McCullar
Jessica Belanger
Amanda Goldstein
Josh Bradstreet
Adam LaPointe
Luis Li Vargas
Carl Strock
Jay Garner
John Peabody
Mark Kitchens
Ronald King
Mike Zanetti
Norman Scott Lopez
Tobin Green
Peter
Jessica Axelrod
Rachel
Lee Michael Hunt
Mark Deveau
Craig O'Rourke
Christopher Anderson
Justin Pellegrini
Ryan Morgan

Ronald W. O'Quin
Ryan Remillard
Christopher Mix
Mark Dufault
Talon Jayne
Joshua White
Daniel Simpson
Kyle McComb
Michele Stewart
Steve Adams
Jeremie Frey
Steven Mazzuchelli
Matthew Bywater
Pat Shea
Matt Mastroianni
Thomas Carter
Theresa Streeval
Chad Nelson
Toby Green
Barry Esteves
Brandon Nicholopoulos
Drew Ryner
Robert Hastings
Christine Talamini
Scott Cahill
Craig Gendreau
Mark Sabourin
Jack Coughlin
Daniel Tracy
Anthony Castillo
Sean Gibson
Jim Reidy
Michael Doherty
Gregory Martin
Milaela Fahey twins
John Fahey
Timothy Murray
Brian P. Moores
Paul Linskens
Susan Bolduc
Brett Thompson
Ryan McDonald
Nicole O'Neill
Shane McDonald
Brian Wallace
Tim Murphy
Scott Sommers
David Myers Jr.
Kyle DeMent
Joe Johnson
Billie Taylor
Michael Galloway
Eric Wright
Zachary Watkins
Mark Miller
Paul Roe
Jacob Pfister
John Abizaid
Giovani Lorente
Greg Lynch Jr.
Diego Baez