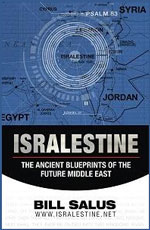 DVD
III. Hillary Clinton promised the Senate Committee considering her nomination for Secretary of State that she would continue the Bush policy of creating a Palestinian State!
NEWS BRIEF: ""Clinton Signals No Change: Security for Israel and New PA State", by Tzvi Ben Gedalyahu, Israel National News, January 13, 2009
"Maintaining the long-standing State Department policy of 'balance' in the Arab-Israeli struggle, she added, 'The tragic humanitarian costs... must only increase our determination to seek a just and lasting peace agreement that brings real security to Israel, normal and positive relations with its neighbors and independence, economic progress and security to the Palestinians in their own state'."
This plan to give the Palestinians their own state actually began in 1992-1993 under the leadership of President Bill Clinton (Read full details in NEWS1911, entitled, "PROOFS OF A CONSPIRACY: OSLO ACCORDS WERE ORIGINALLY DESIGNED IN 1993 TO GIVE LARGE CHUNKS OF ISRAEL BACK TO THE PALESTINIANS")
But, then, Hillary laid the same burden upon Hamas that President Bush has laid over his years in the Oval Office.
"She repeated the Bush policy that Hamas cannot be recognized if it does not acknowledge Israel's right to exist."
Since everyone knows that Hamas will never admit that Israel has a right to exist, this statement is tantamount to permanently freeze Hamas out of power. Then, this news story gets right to the point.
"She offered no hints of a new policy despite President-elect Barack Obama's election campaign for a "change government."
We heartily concur! Obama is just as committed to the Illuminati Plan as was Bush. Therefore we will see no strong difference in policy, even though we will see a great difference in style and charisma. Do not confuse the two.
You might want to read a current Headline News article about Barack Obama's messianic charisma to understand the style of leadership which we might expect from his administration.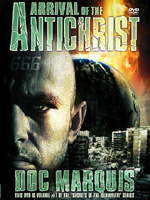 DVD
"Is Obama The Coming Antichrist?"
Can it be that Senator Barack Obama is THE Antichrist foretold in the Bible?
He certainly has run a Messianic type Presidential campaign and has been called a 'Messiah' by Farrakhan.
Are we witnessing the public coming to power of the Antichrist? You be the judge after reading this article. Matthew 24 and key prophecies in Daniel are key passages if we are to understand this issue.
http://www.cuttingedge.org/news/n2320.cfm

DVD
IV. Without warning, President Bush declares that Washington, D.C., is under an immediate threat, thus declaring an official State of Emergency!
NEWS BRIEF: "Bush Declares 'State of Emergency' to Help Pay for Inaugural Security", News8, January 14, 2009
"Washington - President Bush has declared a 'state of emergency' in the District for Inauguration day, a designation which will secure federal funds to pay for the blockades, air support and checkpoints necessary to secure a crowd that could swell to the millions."
The White House spokesman says that the District Mayor requested Bush to make this designation solely on the practical basis that Federal funds would be triggered by the announcement.
"Mayor Fenty estimates a total price tag for the event at $75 million, a bill that the District, Virginia and Maryland will jointly pay, so the federal funds will be welcome. $15 million in federal funds has already been appropriated for the event. White House spokesman Scott Stanzel says District of Columbia Mayor Adrian M. Fenty requested the emergency declaration last week because he decided that the crowds expected for the inauguration of Obama will exceed the city's ability to protect the public."
How large is the police and military presence going to be on January 20?
"The police presence for the event will be more than double the usual Metropolitan police force: 3,800 D.C. police officers will be joined on the streets by 4,100 law enforcement officers from other jurisdictions and 7,000 members of the National Guard. 4,000 more National Guard members will be stationed in Virginia and Maryland. Four dozen police agencies will play a role in keeping the peace on the big day."
These figures add to 18,900 police and military personnel being on duty for this inauguration. That is a hefty presence for one event.
This unexpected designation is catching people by surprise, even though this news story says that President Bush is taking this action only to trigger Federal funding to pay for all the expenses of this 56th Inauguration.
You see, people do remember the swirling rumors that, immediately after the Inauguration, a huge planned crisis is going to hit President Obama. An announcement like this can only spook people. Listen to some of the comments made by people.
" 'I think it might frighten people, yes, because, I mean, Hurricane Katrina was a 'state of emergency', said one District woman. Another added, 'I thought that was overkill, but because it's for money, that's different, but that sounds so horrible'."
"On the other hand, some agreed with the designation, like the District man who noted, 'We haven't seen crowds like this before, so maybe it is prudent'."
Will there be some sort of a terrorist attack which will attempt to knock the Obama Administration off track immediately? We doubt it, but nothing is impossible. We can only wait and watch.
DVD
V. President Obama is just as committed to the establishment of the North American Union (NAFTA) as was President Bush!
NEWS BRIEF: "President-elect to restore ties with neighbours: Canada, Mexico - to discuss North American Union", Gulf News, January 12, 2009
"Washington: US President-elect Barack Obama was to discuss the drug war and trade issues with Mexican President Felipe Calderon yesterday, in his first meeting with a foreign leader since his November election. Obama has promised to nurture close ties with Mexico and with Latin American countries ... With Mexico's drug violence exploding and amid fears Obama might seek changes to the North American Free Trade Agreement, Calderon had been eager for a meeting with the incoming US president."
Do not be deceived on this point: As President, Obama will be just as committed to establishing the North American Union as was Presidents Bush and Clinton. As we demonstrate in our Secret Mysteries of America's Beginnings DVD, "The New Atlantis", the union of North American countries has been an Illuminati dream since the early 1600's when Sir Francis Bacon originally wrote about the plan.
President Obama is likely to be the President of the United States which actually oversees the implementation of Bacon's original concept! And, as we have stated on many occasions, the creation of the North American Union fulfills one of the most important prophecies of all, Daniel 7:7-8, where the prophet is shown a sequence of events leading to the appearance of Antichrist. (NEWS1002)
These are the three steps:
1) The hundreds of nations throughout the world are reorganized into 10 supernations (Verse 7)
2) Antichrist arises (Verse 8a)
3) Three of the original 10 supernations is totally plucked up and destroyed (Verse 8b)
The following feared and/or expected events will not occur until all 10 of these supernations are finally and completely established. This prophecy is one of THE most important to constantly refer to whenever we are considering news which we have just heard.
For example:
1) The economy will not collapse until all 10 of these supernations are formed. This is not to say that the economy will be spared pain and agony as our leaders take us through the transition to a Fascist Economy, but a complete collapse will not occur until the final supernation is completed.
2) World War III will not break out until all 10 of these supernations are formed
3) The dissolution of the American government, the suspension of all our guaranteed liberties and the beginning of prison for dissidents and/or Patriots will not begin until after World War III begins
4) Guns will not be confiscated until after World War III begins
5) Forced vaccinations which will reduce our population dramatically will not begin until after World War III begins
6) Appearance of Antichrist and his False Prophet will not occur until after World War III ends. Consistent with the prophecies of Matthew 24, this coming global war will produce the Masonic Christ (Antichrist).
Likely, you can think of other scary End of the Age scenarios, all of which must wait until all 10 of these supernations are formed. Right now, the "North American Union" (Nation #1) is not formed, along with Nation #5, "Eastern Europe, Including Russia", along with Nation #6 "Latin America", along with "Australia, South Africa, and the rest of the market-economy of the developed world" (Nation #4), along with "Tropical Africa" (Nation #8).
Nation #9, "South and Southeast Asia" is well on its way to becoming one of the 10 supernations, but it is not completed either.
Therefore, whenever you hear that America has only 90 days left, or some other nonsense, just check to see how many supernations have not been formed. Please resolve to make 2009 a "fear- mongering free" year. Become an informed, prophecy sensitive citizen who is not susceptible to needless fright. False stories of calamity are only going to increase as we proceed throughout the years we have left on Earth. We must resist these fearful stories, keeping our eyes on God's prophetic word, always asking ourselves what prophecies must yet be fulfilled before the scary story before us can occur.
DVD
VI. President-elect Obama may prove to be the most Liberal Pro-Abortion President in American history!
Do you remember what President Bill Clinton's first official act was? On the very first day he was President, Clinton issued his infamous pro-gay Executive Order which was dubbed the "Don't Ask, Don't Tell", an order which made it more difficult for the military to keep gays out of the service and to release them when they were discovered.
President Obama may take a similar action on his first day as President.
NEWS BRIEF: "Obama-Backed Bill Threatens Pro-Life Gains", Impact Newsletter, Coral Ridge Ministries, January, 2009
"In July, 2007, President-elect Barack Obama made a pledge to America's largest abortion provider -- one that he will most likely keep. 'The first thing I'd do as President', he told a Planned Parenthood audience, 'is sign the Freedom of Choice Act. That's the first thing I'll do. The gathering of abortion supporters erupted with loud cheers."
"Planned Parenthood, which is responsible for the death of more unborn children than any other organization in America, stands to gain if Congress approves the Freedom of Choice Act (FOCA). The $1 billion abortion giant could see the number of children it murders skyrocket beyond the 289,750 it reported in 2006 fiscal year. It could also see its annual take from taxpayers climb sharply beyond the more than $300 million it already receives."