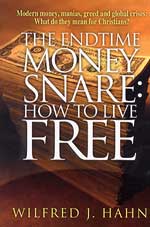 "End Time Money Snare"
"How To Live Financially FREE During These Troublous Times"
Note: This book is now the #1 item in our Bookstore! We have sold out 3 times in five days -- but are now back instock!
Did you know that world bankers have systematically and deliberately created a "Money Trap" for the majority of ordinary people so that they can be maneuvered more easily into the New World Order?
A NEW RELIGION IS SWEEPING THE WORLD!! Already, massive conversions have taken place, claiming perhaps 4 billion converts -- among them many Christians
This new faith is a massive global boom in a materialisticly-based faith -- 'Mammonism' - which is leading the world into an End-Time trap - a global money snare. What form will this trap take and how can its grip be avoided? Can Christians prosper in the Lord's grace and still live free of any complicity in this End-Time agenda?
Author Wilfred Hahn, international financial executive, documents and unmasks the rise of three very powerful gods, a most deadly snare for the last-days world. You will be aware of the hooks and dangers of this time, as the Enemy of Your Souls is setting a deadly snare for you
348 pages -- http://www.cuttingedge.org/detail.cfm?ID=1732
---
Precious Biblical Thought For The Day
"The Lord also will be a refuge and a high tower for the oppressed, a refuge and a stronghold in times of trouble, high cost, destitution, and desperation." (Psalm 9:9; Parallel Bible, KJV/Amplified Bible Commentary)
Did you catch that wonderful promise? Almighty God will deliver his people out of "times of trouble, high cost, destitution, and desperation."!
He will deliever you out of "high cost" economic troubles! Praise the Lord, for He is good. He has been delivering His people out of severe economic conditions -- including times of 'high cost' -- for 2,600 years!
"Fear not, nor be afraid in the coming violent upheavals..." (Isaiah 44:8; Ibid.)
---
---------- This Weeks Hot News ----------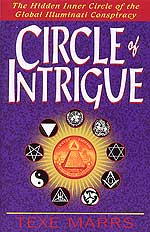 DVD
I. President Bush's moderate Arab Gulf allies began to backpedal away rapidly from supporting America, once the Pentagon admitted that the report of Iranian speedboats harassing U.S. naval ships never happened!
NEWS BRIEF: "Gulf allies turn their backs on Bush ", Asia Times, January 16, 2008
"So, it was Filipino Monkey, after all. The Pentagon has admitted that the footage of the famous incident of January 6 when five speedboats of the Iranian Revolutionary Guards Corps (IRGC) 'buzzed' three US Navy warships in the Strait of Hormuz could have been compromised ... the Iranian footage of the 'incident' makes a laughing stock of the US administration. The funny thing is, it was an incident that didn't happen."
This story places an entirely different twist to the US Navy charge that its frigates were threatened by Iranian speed boats, does it not? One can only think back to the Gulf of Tonkin fiasco (August, 1964), where American naval officials falsely claimed that their ships were attacked by North Vietnamese speed boats in the Gulf on Tonkin.
Historians know realize that this "attack" never happened, but was totally fabricated by American authorities. Do you remember the disastrous results of that government lie? Congress passed the "Gulf of Tonkin Resolution", which President Lyndon Johnson immediately used to build up American forces in the South Vietnamese theater to about 550,000 men.
From that moment to the final conflict in 1975 which lead to the complete victory for North Vietnam, over 58,000 American servicemen died needlessly, many more tens of thousands were permanently disabled, and over 2 million South Vietnamese civilians died.
Don't you think that was a high price to pay for the lies of the Lyndon Johnson Administration?
Interestingly, as we noted in last week's newsletter, this supposed Iranian speed boat incident occurred just before President Bush landed in Israel for his first stop on his Middle Eastern tour. But, rather than this incident being an unfriendly Iranian welcome to Bush, this news story makes it sound like the Bush Administration was trying to drum up diplomatic support amongst moderate Arab states in the region for Bush's continued diplomatic offensive against Iran.
What was the immediate result of this horrific revelation that this "most serious incident" never occurred?
America's loyal moderate Arab leaders in the region backpedaled from Bush in a hurry! Let us return to this story to see what happened.
1) Iran cozied up to the chairman of the United Nation's nuclear watchdog agency, ElBaradei.
"Even as Bush was swinging his way through the Persian Gulf, the region had another distinguished visitor - the director general of the International Atomic Energy Agency (IAEA), Mohamed ElBaradei. The timing couldn't have been better fine-tuned. ElBaradei arrived in Tehran just as Bush was touching down in Kuwait."
Iran pledged to completely satisfy the requirements of the world body over the nuclear issue, while ElBaradei spoke glowingly about Iranian leadership. Moderate Arabs noted that Iran had triumphed over America in the United Nations.
"There is no need to second-guess what could be the impact of the interview on Arab opinion, specially the elite in the Middle East which respects ElBaradei as a world statesman commanding immense prestige ... none of the top leaders in Tehran bothered to match Bush's rhetoric. They seem to have decided that the best thing is simply to ignore the US president."
When the President of the United States can be safely ignored, the victory over him is complete.
2) Kuwait -- America's close ally -- is cozying up to Iran
"The Iranian Foreign Ministry announced on Sunday the first session of an Iran-Kuwait joint commission will be held in Tehran this week at the level of the foreign ministers ... The Kuwaiti foreign minister's visit to Tehran comes within a day of Bush's call on Persian Gulf countries to 'confront this danger [posed by Iran] before it is too late ... frustrated with US regional policies, a key ally is breaking loose and pursuing its own diplomatic drive towards Iran."
3) Saudis spurn anti-Iran coalition
"Saudi Foreign Minister Saud al-Faisal said on Wednesday Riyadh's national interests came first when dealing with Tehran ... Al-Riyadh urged Bush 'not to preoccupy himself with a danger which the US intelligence has qualified as non-existent in the short term', a reference to the NIE report that said Iran had abandoned its nuclear weapons program years ago. "
Saudi Arabia has long been touted as President Bush's linchpin in his regional drive against the "Iranian threat".
4) The six Gulf Cooperation Countries ( GCC - Bahrain, Kuwait, Oman, Qatar, Saudi Arabia and the United Arab Emirates) are slowly turning toward Iran and away from strident American policies.
But, there is one more startling event which trumps all of these four!
This sorry creation of a crisis which never happened is not the only 'nail in the coffin' of America's influence in the region! Even while Bush was visiting key Gulf leaders, urging them to join his coalition against Iran 'before it was too late', top American military authorities silently allowed a top Iranian military commander through the gates of the Green Zone for a meeting with American commanders!
Can you imagine this scenario? Even while complaining that Iran was still shipping arms to insurgents fighting American forces in Iraq, and while warning that Iran still posed a nuclear threat to the world, American commanders ushered a top Iranian commander -- Major General Mohammed Jafari -- into the inner offices in the Green Zone, a commander whose name was on America's "most wanted list"!
One can only assume that President Bush is, indeed, secretly cooperating with the Iranians in order to successfully draw down American forces in Iraq.
Listen to the final conclusion of this most interesting article.
"In the Arab world, perceptions matter the most, and nothing hurts more than being made to look foolish. The Filipino Monkey and Jafari have caused havoc on US standing in the Persian Gulf. Washington looks foolish. The Arabs have assessed that the right thing to do is to bide their time until a new president moves into the White House..."
As President Bush heads home from his Middle East tour, he just may realize that he is the laughing stock of the entire Arab region, and that America's trusted moderate Arab leaders are scrambling to move toward Iran as they abandon this country until the 44th President is in office.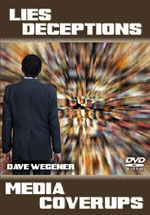 DVD
II. The European Press is calling for a recount in New Hampshire Democrat Party presidential primary because it has discovered that the vote was rigged to produce the startling Hillary Clinton victory!
How was the election rigged? By those dastardly Diebold electronic voting machines!
NEWS BRIEF: "European Press Reporting: It wasn't a miracle - Hillary won via a rigged vote - Diebold electronic voting machines", The Intelligence Daily, 15 January 2008
"The mainstream Italian media are reporting both the rigging of the New Hampshire primary for Senator Hillary Clinton and the official demands for a swift, accurate and impartial recount. In an article written by Marcello Foa, one of Europe's most respected journalists, it appears that vote tallies for all Democratic candidates as well as Republicans were reduced by Diebold vote-counting machines. In an analysis of the hand-counted ballots, the influential Milanese newspaper - Il Giornale, reports that all Democratic candidates except Senator Hillary Clinton made gains when the New Hampshire ballots were manually tabulated, while Senator Clinton made inexplicably large gains where ballots were tabulated by computerized scanners."
After the 2004 election, Cutting Edge Ministries extensively reported on the capability of the Diebold electronic voting machines to rig elections. Listen to what we reported then, quoting relevant portions of our Headline News Article, "Electronic Voting Machines Pose A Real and Present Danger To The American Representative Republic, Which Absolutely Depends Upon Accurate Vote Counting", NEWS1976)
Thus, you can see how easy it is for the Global Elite to cause the election of whomever they have chosen for any office in the land. In 2004, the Illuminati most definitely wanted President Bush reelected, and I believe that their chosen candidate for 2008 may very well be Hillary Clinton.
This is the reason Hillary won the New Hampshire Democrat Party primary, when all the pollsters felt she would do poorly, predicting that Senator Obama would be elected. This type of voter manipulation will last through the entire presidential primary process. All voting is rigged and the outcome is certain. The skill of the propagandist is to plan the manner in which planned events can unfold so they are seen by a gullible public as accidental events.
With this thought in mind, let us review the Michigan presidential primary results.
III Hillary Clinton rode to uncontested victory in the Michigan Democrat presidential primary, while Mitt Romney kept his candidacy alive with a victory on the Republican side.
NEWS BRIEF: "Hillary Clinton coasts to Democratic victory", Detroit News, January 16, 2008
"As expected, New York Sen. Hillary Clinton won the Michigan Democratic primary Tuesday, easily outpolling the 'uncommitted' vote, but partisans are quarreling over whether she drew enough support to spare embarrassment."
We have long stated that the major problem Hillary has in this process of ascending to the White House is that she is disliked by so many voters. And, pollsters know that fact very well. If the plan is to bring Hillary Clinton into the White House as the country's 44th President, how can political pundits explain the incongruity to the American people as to how a person who is so widely disliked can be elected President?
Bill Clinton faced this same obstacle in 1992 and 1996, as he was almost as widely disliked as Hillary is today. In these elections, the answer was to stage a Third Party Candidate, Ross Perot. Political talking heads then explained to the people that Clinton was able to get a plurality of votes and be elected only because the Perot candidacy had split the Conservative vote.
I could be wrong here, but I would not be surprised to see either Mike Huckabee or Ron Paul split off in "anger" from the Republican presidential convention to form a Third Party Candidacy. Then, the "talking heads" could drone on and on, saying that Hillary won only because of the debilitating effects of the Third Party candidacy.
Let us return to our featured article, above.
"With 97 percent of precincts reporting, Clinton took 55 percent of the vote to 40 percent for uncommitted, which is essentially a vote for Illinois Sen. Barack Obama or former North Carolina Sen. John Edwards, who pulled their names off the ballot in deference to party rules and urged their supporters to vote uncommitted."
In other words, neither Obama nor Edwards campaigned much in Michigan, and they still got 40% of the vote! Pollsters do understand that many, many people do not like Hillary Clinton.
(For the record, Hillary did not campaign extensively in Michigan, either)
On the Republican side, Mitt Romney won the election in Michigan, even though he has closely allied his campaign with President Bush, who is mightily disliked because of the high unemployment in that state. Did the Diebold voting machines win the election for Romney?
NEWS BRIEF: "Romney pulls off big win in Michigan", The Independent (U.K.), 16 January 2008
"An almost giddy Mitt Romney pulled off a convincing victory in the Republican primary in Michigan last night, reviving his bid for the White House and further muddying his party's still wide-open competition for the presidential nomination ... Many had argued that a loss for Mr Romney in Michigan might have spelled the end of his campaign for the nomination. By contrast, he now becomes the third man in the Republican field to chalk up a big win as the competition moves on in the next days to South Carolina, Nevada and Florida."
Now, the presidential campaign moves into high gear. We expect a variety of candidates to win some and lose some as the calendar heads toward the time of the nominating conventions.
DVD
IV. This update to the Hillary's "special flag" confirms what Cutting Edge has been saying for years -- there is absolutely no difference between Republican and Democrat.
Did you know that the Republicans changed the stars in their official elephant logo to two stars upward in the year 2000, the very year in which Skull & Bones George Bush was "elected" President?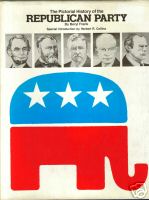 This Republican logo is the traditional elephant logo as this book front page cover demonstrates. The book is entitled, "The Pictorial History of the Republican Party", by Beryl Frank, published in 1980. As you can see, the stars on this elephant logo are the same as the traditional stars on an American flag, i.e., with one point upward.
This style of Pentagram is a "good", White Magic type of star, the same type of star as in the traditional American flag.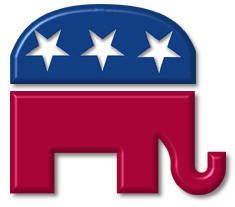 Now, carefully notice the new GOP elephant logo. The three stars are the Goatshead of Mendez Pentagram, with two points upward. This style of Pentagram is the "evil", Black Magick type of star. The Illuminati program for their Masonic Christ (Antichrist) is most definitely the Black Magick variety.
The plans these Globalists have for this country and this world is literally the "worst case" scenario, from the planned destruction of 66% of all humanity, to the dissolution of every elected government on earth, to replacing those governments with the most repressive dictatorship in world history. This dictatorship will be supported by unprecedented level of modern technology, which will allow government authorities to monitor nearly everyone in the world at every moment of the day.
This Plan fulfills prophecies exactly, especially those in the Book of Revelation and Daniel.
When was this Republican elephant logo changed? The change occurred in the year 2000 ("The Party of Satan", Radio Left, Mon 17 Dec 2007, quoting the Thom Hartmann Show, of December 17)
This is the year George W. Bush (Jr.) was elevated to the White House, following one of the closest elections in American history, an election not decided until December 13, when the Supreme Court decided that Bush had beaten Gore in Florida.
Therefore, at the time the country was electing its second Skull & Bones President, the Republican Party quietly changed the stars on its official Republican elephant logo to the Goatshead of Mendez star. This reality means that America has been officially and deliberately set on a course of extreme evil since that momentous year.
Have we ever been so beset, from without and within, than in the last 6 years? This is just a partial listing of all the evils which have beset us since 2000:
* Attacks of 9/11 -- Cutting Edge has demonstrated that these attacks were carried out by government provocateurs, not Arab Extremists. Read NEWS1756, "Events Continue To Come Down By The Sacred Occult Numbers", and NEWS1753, "Smoking Gun Proof That The Illuminati Planned To Attack On 9/11 -- "Future Cataclysmic Events Accurately Foretold In 1995 Illuminati Card Game".
* Invasion of Afghanistan -- do you remember that we invaded that country in November, 2001? Today, after tens of thousands of pounds Depleted Uranium munitions being exploded and after many claims of victory, coalition forces are reportedly losing significant ground in the ongoing fight. Some reporters are even predicting an eventual Taliban victory.
* Invasion of Iraq -- President Bush lied mightily to the American people about Saddam possessing Weapons of Mass Destruction. Even the President's own commission admitted that Saddam never did possess weaponized WMD, and that there was not provable link between Saddam and Osama bin Laden.
The world is still not fully aware of the future death awaiting 90% of all American servicemen who have served in the Iraq and Afghanistan theaters from Depleted Uranium munitions poisoning. Even greater levels of death await the citizens of those countries, and to a lesser extent, the citizens of the entire Middle East, as winds daily blow D.U. contaminated dust into their soil, their water, their air and their lungs.
* Continually false warnings of an imminent American/Israeli attack on Iran -- This four-year propaganda threat against Iran ended in disgrace last November, when the Administration's own National Intelligence Review issued a report stating that Iran had not pursued a nuclear weapons program since 2003.
Once again, the American people were lied to in a great way, for over 4 years.
Cutting Edge continually taught during this time period that Iran was protected from serious destruction by the prophecy of Ezekiel 38-39. Modern Iran is Ancient Persia, prophesied to march with Russia against Israel at the End of the Age.
* Continually false warnings of the next terrorist attack -- For a study of these false warnings, please read NEWS1888, a study which prints out to 72 pages on most printers!
* Continually false stories of imminent economic collapse -- While economic collapse is planned during the World War III which shall produce Antichrist, that collapse will not occur until all elements of the war are in place and the timing is correct. Until that time, the Illuminati is determined to keep most Americans feeling prosperous, since they calculated many decades ago that Americans would never allow themselves to be maneuvered into the New World Order if they felt economically impoverished.
Both the imminent terrorist attack false warnings, and the stories of imminent economic collapse were designed to keep the average American citizen upset and, therefore, easily manipulated. Truly, Jesus warned that "Rumors" would play a huge part in setting the stage for the kingdom of Antichrist.
Doubtless, you can think of other disasters which the Bush Presidency has wreaked upon the American people, but this is a good short list. Six of the seven years of the Bush Administration has seemed like "hell on earth" for the world and for the American citizen - a most fitting result of the symbolic change in 2000 to the evil Goatshead of Mendez pentagram star on the official Republican logo.
When you add Hillary's use of this pentagram star to the reality that the Republicans have been using this style of pentagram since 2000, you have to conclude that the entire American political system has been given over to this evil force -- just as the world spins very close to the appearance of the very evil Masonic Christ.
Further, our teaching that there is no difference between Republican and Democrat parties is completely validated by this revelation. Each member of each party is secretly sold out to the global agenda of the New World Order. Their public bickering is simply an outgrowth of the "Planned Struggle" known as the "Dialectic Process".
Our opinion of Hillary has not changed. Since Bill Clinton announced, during the 1992 election, that Hillary would serve as a co-president, I have believed that, one day, she would become president. Since that time, I have noted exceedingly strong political forces guiding her "post-Bill" political fortunes, starting January, 2001, when she assumed the office of Senator of New York, to her current race for President.
I will be very surprised if she is not elected President.
With her Yale connections, plus her marriage to Bill Clinton, Hillary possesses every bit as much occult connection as does Skull & Bones Presidents, George H.W. Bush and George W. Bush. The inverted Pentagram star is a perfect symbol of them all.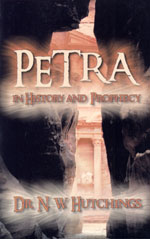 DVD
V. Israel seemed to be edging closer to an actual invasion of the Gaza Strip to root out Hamas -- or at least a "buffer zone" which would make it more difficult for terrorist rockets to hit Israeli targets.
NEWS BRIEF: "Israeli skirmishes on fringes of Palestinian strongholds may lead up to long-delayed Gaza offensive, DEBKAfile Intelligence, January 15, 2008
"... Hamas, Jihad Islam and Fatah-al Aqsa Brigades leaders are under no illusion they can stand up to IDFIDF tank columns with air force cover when Israel embarks on a major campaign for capturing sections of Gaza to stamp out Palestinian missile attacks. They are therefore practicing hit-and-run strikes against advancing Israeli forces, a tactic they plan to employ to cover their retreat to Gaza City , calculating that the IDF will not venture to follow them."
"Hamas chiefs expect Israeli troops to lay the Gazan capital to siege with occasional sorties into the town ... They believe this tactic will give them the chance to set up a base for launching hundreds of missiles a day against neighboring Israeli communities and the towns of Ashkelon, Netivot and Ofakim. By night, suicide teams plan to harass Israeli deployments and transport routes."
If the next news segment is correct, neither Prime Minister Olmert, nor the Defense Secretary, nor the new IDF general, have learned anything from the 2006 debacle in Lebanon!
"...most IDFIDF field officers commanding Gaza operations question the directives to which prime minister Ehud Olmert , defense minister Ehud Barak and chief of staff Lt. Gen Gaby Ashkenazi are currently holding, namely, to only nibble at the fringes of the Palestinian bastions in the Zeitun, Sejayia and Al Bureij camps. This strategy, say the officers, leaves the initiative with the Palestinian forces, helps them hone their fighting skills and in no way quells their missile-launching capabilities."
"Therefore, confident that the IDFIDF is fighting on a tight rein, Hamas is continually escalating its attacks. Last week, they launched a Grad Katyusha (artillery rocket) against northern Ashkelon. Tuesday, a sniper murdered a kibbutz volunteer."
The objective of this Gaza campaign would be to neutralize Hamas so that Fatah's Abbas can proceed with the plan to carve up Israel so a Palestinian State can be created. One news report even stated that the IDF may just seize a "buffer zone" which would make it more difficult for Hamas to attack with their terrorist rockets, and then turn control of that buffer zone over to Abbas' forces!
However, if an IDF offensive does not neutralize Hamas, the results could be disastrous. The entire effort to create a Palestinian State could be stalled indefinitely. We can only wait and watch to see how events turn out.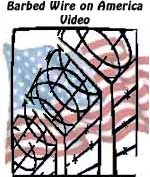 DVD
VI. President Bush signed a law overwhelmingly passed by Congress which will send a person to jail to sending "annoying" email messages anonymously!
The next step will be to quietly remove the anonymous provision, and start sending people to jail who are accused of sending "annoying" email messages!
NEWS BRIEF: "Create an e-annoyance, go to jail", by Declan McCullagh, C/Net News.com, January 9, 2008
"Annoying someone via the Internet is now a federal crime. It's no joke. Last Thursday, President Bush signed into law a prohibition on posting annoying Web messages or sending annoying e-mail messages without disclosing your true identity ... This ridiculous prohibition, which would likely imperil much of Usenet, is buried in the so-called Violence Against Women and Department of Justice Reauthorization Act. Criminal penalties include stiff fines and two years in prison."
Of course, the problem with any law designed to aid a dictator later on lies in vague wording. As this next segment demonstrates, this is a major peril posed by this new law.
" 'The use of the word 'annoy' is particularly problematic', says Marv Johnson, legislative counsel for the American Civil Liberties Union. 'What's annoying to one person may not be annoying to someone else'."
This objection is exactly right! Cutting Edge runs into this problem all the time with our material. When we teach Biblical doctrine on many subjects -- most importantly about homosexaulity -- genuine Christians love the teaching, but many persons not saved are really and annoyed. This vague wording can be problematic once the anonymous caveat is removed.
Can you sense the gathering storm clouds coming against all Christians? Our globalist leaders are erecting a prison wall around the whole country, brick by brick. At the time when the planned World War III is planned to break out, all these bricks will be in their proper place, allowing the government to arrest anyone at anytime for any reason and take them to a secret location where they can carry out any punishment in absolute secret.
Further, governments all across the globe are quietly enacting similar proposals against their people.
If you are not a Born Again Christian, assurred of your eternity in Heaven, you have every right to be terrified. If you are not saved, and realize now that you need a Savior, just click on "What Must I Do To Be Saved"? to discover how simple it is to received Jesus Christ as your Savior.