After reading these articles, and studying the picture, above, of Obama facing the obelisk during his speech yesterday, you will realize the true inner heart of President Barack Hussein Obama; he is just the latest in a long line of Presidents faithful to the Illuminati.
This may be the time to remember our earlier revelation that Barack Obama was a 32nd Degree Freemason, a fact which goes a long way to understanding why Obama ascended to the White House and why he obediently "faced the obelisk" during his Inaugural address.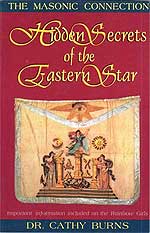 Senator Barack Obama is a 32nd Degree Prince Hall Mason!!
This revelation is not surprising, for it answers the question as to how Obama could ascend to the high political office when he apparently has no occult background and no discernible Masonic roots.
Now, you know the truth! He is a Mason! Let us consider the evidence.
NEWS BRIEF: "Obama Criticizes Opponents' Iraq Votes", Cephas Library, December 28, 2007
"Today, Prince Hall is a masonic fraternal order whose buildings are clearly marked, members readily identify themselves with rings, bumper stickers, and lapel pins. One of their most famous members, and also a 32nd degree Prince Hall Mason, became a US presidential candidate for 2008. His name is Barack Hussein Obama."
"Barack Obama, speaking at the Scottish Rite Masonic Center in Des Moines on Thursday, criticized other Democrats' votes to authorize the war in Iraq. Prince Hall is a first black masonic lodge in the US, named by its founder and master who was the most famous black individual in the Boston area during the American Revolution and through the turn of the nineteenth century."
Prince Hall Masonry is identical to the the normal white Lodges in their teachings, in their symbolism, and now, in getting one of their own to the point where he could attain the highest political office in the land. For this reason, we show the book, "Hidden Secrets of the Eastern Star", above, so you can learn the little-known facts of Freemasonry.
But, you say, this source is the only one in which it is reported that Obama is a Prince Hall Mason. You cannot go on only one source. You are right; we have another source, a website dedicated to the election of Senator Obama as President. As you can see, below, this website has the official Obama letterhead.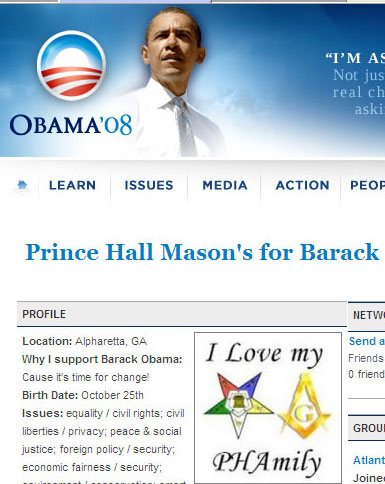 Now that Senator Obama is the 44th President of the United States, he will join a list of Masons since World War II to hold that office, and the fifth in a row!
1) Gerald Ford
2) Ronald Reagan -- Made an honorary Mason at the end of his second term
3) George H.W. Bush -- Member, Skull & Bones, a secret society steeped in Masonry
4) Bill Clinton -- Member of Demolay
5) George W. Bush -- Member, Skull & Bones
UPDATED - January 24, 2009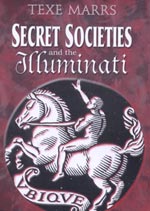 DVD
President Obama has appointed members to his Administration who are drawn from the top tier of the Council on Foreign Relations (CFR) and the secret society, The Bilderbergers!
NEWS BRIEF: "Obama Appoints Top Notch CFR, Bilderberg Members ", by Kurt Nimmo, InfoWars, January 22, 2009
"In a flurry of diplomatic activity in his first week in office, U.S. President Barack Obama on Thursday named special envoys for the Middle East and the Afghanistan-Pakistan region. Newly confirmed Secretary of State Hillary Clinton said Obama had chosen George Mitchell, a former senator and seasoned international trouble-shooter, as an envoy who will try to jump-start moribund Arab-Israeli peace talks. Obama tapped former ambassador to the United Nations Richard Holbrooke as a special envoy for Afghanistan and Pakistan and related issues."
Anyone who has been following the Plan of the Illuminati for any length of time will immediately note the importance to the Global Elite of George Mitchell and Richard Holbrooke! They are elite members!
"George Mitchell is not simply a CFR member — he is a former director of the globalist organization ... Mitchell's law firm has a 'strategic alliance' with a consulting group owned by former US Secretary of Defense William Cohen (CFR member), which did PR work on behalf of DP World, the Dubai company that tried to buy the ports."
"Mitchell sits on the steering committee of the American Friends of Bilderberg along with such luminaries as Conrad Black, Henry Kissinger, and David Rockefeller."
These startling facts places George Mitchell at the very top of the Illuminati pecking order. This man is Obama's new Middle East envoy dedicated to implementing the 20-year plan to establish a Palestinian State carved out of Israel. Thus can you properly appreciate the extreme importance which the Illuminati places on this scheme.
Richard Holbrooke is also very powerfully situated within the Elite.
"Ditto Richard Holbrooke. He is on the board of directors of the Council on Foreign Relations. A dedicated Clintonite and former ambassador to the United Nations ... Holbrooke is a consummate insider and global elite operative. Along with Henry Kissinger, David Rockefeller, and Paul Allaire, Holbrooke directs the American Friends of Bilderberg, an organization that takes money from Exxon, Arco, IBM, and other transnational corporations and has its meetings funded by the globalist Ford Foundation, Rockefeller Foundation, and the Carnegie Endowment fund."
Once again, Presidenht Obama has appointed the a person at the very highest realm of the Illuminati to be his envoy to the region of Pakistan-Afghanistan. This region is going to receive the very highest level of insider power.
What the appointment of such high level men to these positions will accomplish is that they will free President Obama from having to devote too much personal time and effort to Foreign Policy, allowing him to devote his energy to Domestic Affairs. He will simply execute what Hillary Clinton (Secretary of State), George Mitchell and Richard Holbrooke tell him needs to be done.
These appointments are simply the latest in a long line of CFR and Bilderberger appointees.
"It looks like the White House is shaping up to become a branch office of the CFR and Bilderbergers, but then this is simply business as usual. For years, the CFR — with its associate memberships in such international units as the Trilateral Commission, Club of Rome, and Bildebergers — has infested not only the White House, but the State Department, the NSC, the Pentagon, and much of the federal government."
This is the "change" the American people are really going to get! While Obama may differ from Bush in many areas, such as the policy on torturing prisoners, the bottom line Illuminati Plan will continue forward, until the time arrives for the Masonic Christ to appear.
Now you know the full truth! Now you know the inner heart of President Obama.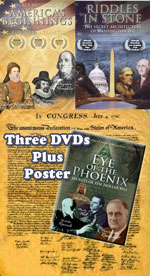 II. An article in The Washington Post the truth of the revelations of the Masonic control which we show in our "Secret Mysteries of America's Beginnings" video series.
NEWS BRIEF: "Masonic Rituals Live On", The Washington Post, January 15, 2009
"President-elect Barack Obama's swearing-in Tuesday will incorporate several elements out of America's Masonic past."
The reality is that, even though Obama chose the Lincoln Bible on which to take his oath of office instead of the Masonic Washington Bible as did President Bush, his Inauguration is still steeped in Masonic legend and lore.
"One-third of the signers of the Constitution, many of the Bill of Rights signers and America's first few presidents (except for Thomas Jefferson) were Freemasons..."
This statement flatly contradicts the lie being told by modern Masons that only about 9 of the signers of the Constitution were Masons. In the modern era, Masons have sought to downplay the heavy leadership of Freemasonry in the creation of America's government, undoubtedly because the sudden availability of the formerly secret Masonic books on the open market have revealed Masonry to be the Luciferian followers they truly are.
"... as the first president, George Washington had to come up with appropriate rituals for the new country. He borrowed many of them from Masonic rites he knew as 'worshipful leader' of a lodge in Alexandria."
Now, this article gets specific as to what the most notable of Masonic artifacts and/or practices are:
1) "His Masonic gavel is on display at the Capitol Visitor Center"
2) "Washington's Masonic Bible - on which he swore his obligations as a Freemason - was used for the presidential oath of office."
3) "The worshipful master administered the Masonic oaths. This was adapted to the president vowing to serve his country in an oath administered by the top justice of the Supreme Court."
4) "The inaugural parade, he tells me, began as a Masonic procession [a parade of Masonic notables] from the still-unfinished White House to Capitol Hill, where Washington traveled on Sept. 18, 1793, to lay the cornerstone for the Capitol."
5) "Lafayette Park was the site of a makeshift Masonic lodge, in which the Scottish stonemasons - then working on the executive mansion - lived."
6) "Washington also ensured the boundaries of the District - each 10 miles along - formed a perfect square, which symbolizes ultimate virtue in Masonry."
At this point, a notable Masonic Grand Master reveals what our "Secret Mysteries of America's Beginnings" videos have repeatedly stated: our Founding Fathers were establishing a new way of thinking so they could achieve their radically new goal of a worldwide "New World Order", a.k.a. 'Novus Ordo Seclorum' as it appears on the back of the One Dollar Bill.
7) " 'The whole idea behind the building of Washington was to convey the message about the new experiment, a new way of thinking the Founding Fathers had in mind', said Akram Elias, past grandmaster of all the District's lodges."
"Riddles In Stone: The Secret Architecture of Washington, D.C.", speaks a lot about the Baal ceremony of "Corn, Wine and Oil", a ceremony which Masonic Founding Fathers invoked to lay the cornerstone of most of the government buildings. We show Masonic President George Washington leading this Baal ceremony in the cornerstone laying for the Capital. This next segment speaks of this ceremony.
"Whole books have been written about the Masonic imagery on buildings around the District. Many of their cornerstones were laid with Masonic ceremonies involving oil, wine and corn."
God Himself identifies the Corn, Wine and Oil ritual as being a Baal ceremony! God is complaining about Israel and her persistent pagan rituals!
"For she did not know that I gave her corn, and wine, and oil, and multiplied her silver and gold, which they prepared for Baal." (Hosea 2:8)
The last sentence of this Washington Post article fundamentally affirms our teachings in our "Secret Mysteries of America's Beginnings" videos and in our section on our website entitled, "Freemasonry Corner".
We encourage you to read our articles in "Freemasonry Corner", for they were written with a very specific goal in mind; since Freemasonry purports to be a religious institution, I systematically identified key Biblical doctrines, and then studied to discover what Masonry taught about that doctrine. The result is that we proved beyond a shadow of a doubt that Masonry is:
1) NOT Christian
2) Worshipper of Lucifer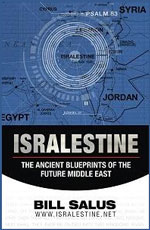 III. Israel demonstrated to the watching world that she did time her attack on The Gaza Strip so that it would be finished before Obama took office!
NEWS BRIEF: "Israeli military says Gaza pullout complete", The Associated Press, January 21, 2009
"JERUSALEM (AP) — Israel withdrew the last of its troops from the Gaza Strip before dawn Wednesday, the military said .... The timing of the pullout reflected Israeli hopes to defuse the crisis in Gaza before President Barack Obama entered the White House."
From the beginning of Israel's military attack into The Gaza Strip on 27 December 2008, Cutting Edge believed that Israeli leadership had deliberately selected the time period of transition from President Bush to President Obama to launch her attack. A corollary to this line of thinking suggested strongly that Israel's leaders wanted to finish their military operation before Obama took office at Noon, January 20, 2009.
Therefore, we were not surprised to learn that the Israeli Cabinet ordered a unilateral ceasefire on January 18, the 22nd day of the operation. Several news stories since then have stated that this timing was deliberate, as Israel wanted to avoid irritating Obama from the very first day of his Presidency.
Once Israel had completed her Gaza Strip attack before Obama took office, top leadership wasted no opportunity to praise President Obama to the highest.
NEWS BRIEF: "Israeli officials: Obama a true friend", YNET News, January 21, 2009
"Barack Obama is a 'true friend of Israel' who identifies emotionally not only with the state, but also with the people of Israel, a senior official in Jerusalem said Tuesday. Referring to hints about Obama's Muslim connections, the senior figure told Ynet that 'his last name, Hussein, is completely meaningless'. Speaking on the historic day that saw America's first black president sworn in, Israeli officials stressed that they are familiar with the incoming president and with quite a few key figures in the new US Administration."
"The sentiments expressed in conversations with Ynet reflect the view of Israel's political and security establishment, ranging from Prime Minister Ehud Olmert to Foreign Minister Tzipi Livni and Defense Minister Ehud Barak. Even those who can be expected to have concerns about Obama – including right-wing parties headed by Likud – say they view the new president as a friend. "
The only concern in Israel is that Obama will prove to be "soft on Iran".
Prime Minister Olmert was positively effusive about Obama.
NEWS BRIEF: "PM Olmert: We share in America's joy", January 20, 2009
"As President-elect Barack Obama made his last preparations to enter the White House, Prime Minister Ehud Olmert issued a congratulatory statement Tuesday evening to welcome America's new leader into office. On this festive day of democracy, the prime minister congratulates America and President Barack Obama, who is taking office today," Olmert wrote. "The entire State of Israel shares America's joy and sends its well-wishes to the president being sworn in this evening."
"The prime minister also expressed his confidence that the ties between the two countries will grow even stronger during Obama's term in office."
Israeli President Peres was even more rhetorical.
NEWS BRIEF: "President Peres: 'Obama Was Chosen by the Whole of Humankind' ", by Nissan Ratzlav-Katz, Israel National News, January 20, 2009
"Just hours before the inauguration ceremony of US President-elect Barack Obama in Washington Tuesday, President Shimon Peres issued a special statement praising the incoming leader. Obama, he said, was the choice of all of mankind and will be more successful than his predecessors in resolving Middle Eastern conflicts."
" 'Today is a great day not only for the United States of America, but for the entire world ... Obama was elected by the United States, but as a matter of fact, he was chosen by the whole of humankind."
These words are extremely complimentary and are undoubtedly designed to "butter up" the incoming 44th President of the United States. If Obama holds any hard feelings against Israel for her invasion of the Gaza Strip, these smoothing words, plus the fact that Israel completed her attack before Obama took office, are intended to swing Obama back to possessing good feelings toward the Jewish State.
A point of real interest in the book featured above, "Isralestine" is that it reiterates our 8-year teaching that the Palestinians of today are the "House of Esau" singled out in Obadiah 15-18 for complete annihilation at the hands of Israel. In fact, Bill Salus goes much further than we did in studying related prophecies in other parts of the Old Testament. We are so glad that another author corroborated our original research!
IV. Operation Resue is warning that President Obama is the most Liberal, Pro-Abortion President ever -- and that Abortion of all types and of all ages may be about to explode!
NEWS BRIEF: "Obama's 'Jihad' Against the Unborn!", Operation Rescue, January 20, 2009
"NEVER in the history of our great nation have we had a more PRO-ABORTION PRESIDENT than Barack Hussein Obama."
Operation Rescue then reports that it has obtained a copy of the first 100 Days agenda for President Obama regarding the Abortion issue. This report is quite long, so we are simply going to list the highlights here; you can read the full report by clicking on the hotlink, above.
* "Their #1 goal? To promote baby-killing, of course"
* "To DEFEAT the Pro-Life Movement – Once And For All!"
* "... the document was prepared by a whole nest of vipers in the pro-abortion/anti-family/anti-Christian movement—63 organizations in all! They range .... like Planned Parenthood, NARAL, NOW, and the ACLU to 'Catholics' for Choice… the Center for Reproductive Rights… and the very leftist American Association of University Women—plus many others whose names you'd recognize. Even the Sierra Club and the American College of Obstetricians and Gynecologists signed on to support this "First 100 Days" plan for what basically amounts to…
All-Out WAR on the Unborn!
* "In a nutshell, the plan calls for virtually unlimited FUNDING for the abortion cartel ...."
* "... they want to strike down all the laws and regulations that currently restrict abortion in any way."
* "They even want to take away the rights of doctors and nurses to say "NO!" to performing abortions! It's called the HHS Federal Refusal Rule, and it protects true health care providers from being forced to participate in a murder!"
* "... they want to restore U.S. taxpayer funding to the notorious United Nations Population Fund (UNFPA)—which goes around the world killing babies and sterilizing mothers and fathers in countries that need babies more than ever!"
* "... they want to remove all restrictions on "emergency contraception"—the so-called "morning after" pill that essentially targets the fertilized egg and kills it."
* "Barack Obama campaigned passionately that he would make FOCA his 'first priority' if elected to office. Well, now he's there."
The bottom line of President Obama's abortion policy -- in the eyes of Operation Rescue -- is to completely shut down the Pro-Life Movement. Using lawsuits against protestors at abortion mills to verbal threats, the Pro-Abortion Movement intends to use the Obama White House to finally put an end to all meaningful anti-abortion activities.
Only then can the really radical agenda of global population control be fully implemented. We need to hold up these preborn babies in our daily prayers, pleading with the Holy Spirit to protect these precious lives.
What does prophetic Scripture says?