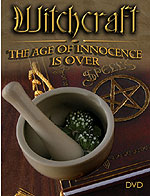 WITCHCRAFT - The Age of Innocence Is Over!!
DVD - By Mac Dominick, Cutting Edge Ministries
STRONG NEW DVD IN THE BOOKSTORE
Did you know that Daniel 8:23-25 (KJV)foretells that the religion of Antichrist will be Witchcraft, specifically, Black Magick witchcraft? Therefore, Christians need to really and truly be aware of the "devices" of Witchcraft and how it is impacting the entire world today
"Witchcraft: Age of Innocence Is Over" will examine the origins of witchcraft and its evolution to the modern-day Wiccan Movement. It will explore the beliefs not only of those who practice a postmodern, sanitized "white magick," but also those who delve into the "black magick" of the avowed disciple of Lucifer. We will also see how the movement has progressed from primarily evil witchcraft to a sanitized withcraft acceptable to the masses, even though it is still as evil and dangerous as it was in days of old
Does a witch conjure evil spells with the aid of such apothecaries as "eye of newt" and "dried wing of bat" mixed in a boiling cauldron under a full moon? Does a witch invoke Satan or other evil spirits to do their bidding for them? Are witches on a mission to replace Christianity with "Devil Worship?" Does the modern witch truly worship Lucifer, or is he or she simply a "tree-hugging" disciple of "Mother Nature?" Are those who practice Wicca and "white magick" true witches, or are the "true witches" the practitioners of "black magick" and Satan worshipers cast in the mold of Aleister Crowley or even Anton LaVey?
Are Christians to run from witches in fear, or should they make every effort to reach them for Jesus Christ? Indeed, we show how a Christian can use this information to reach a practicing witch with the saving Gospel!
Running time is 2 hours -- http://www.cuttingedge.org/detail.cfm?ID=1751
---
PRE-SALE PROMOTION
"The Eye of the Phoenix": Secrets of the One Dollar Bill
Video #3 - Secret Mysteries of America's Beginnings
DVD
Regularly $24.99
Pre-Sale $19.99
You Save $5.00 on this 2 hour video
Secret Mysteries III will next focus on the development of the new world - the North American Colonies - as "The United States of America". This video will further demonstrate that the history of America's government and of its official symbols is a history of secret societies.
We shall be examining America's much-talked-about dollar bill and the symbols it bears. Modern masonry claims that the all-seeing eye floating above the pyramid is not a Masonic symbol. But what did Freemasons President Franklin D. Roosevelt and his Masonic Vice President, Henry Wallace, believe when they attached this symbol to our currency in 1935?
How were these American leaders influenced by the Russian mystic, Nicholas Roerich? Does the all-seeing eye represent the Masonic Christ? We also prove that the American Eagle originally a Phoenix Bird? You will be shocked to learn what all these occult symbols mean, and the somber future they foretell!
Follow the journey of the Secret Mysteries series as we unveil their influence throughout the 20th century. Many believe that the real purpose of the many "Wars and Rumors of Wars" has been to establish a commonwealth of nations to rule the whole world. With the North American Union on the rise, is America the victim of deception? Or is she THE instrument of Global Government?
Notice that we are pre-selling this video by offering you $5.00 off if you pre-buy now. These monies will fund the rest of the project. We need your support now if we are to bring this video to this market.
If you enjoyed "The New Atlantis" and "Riddles In Stone: The Secret Architecture of Washington, D.C.", you will enjoy this video even more.
Occultists consider the One Dollar bill to be one of the "most magical" documents ever conceived! They also believe that, by placing these exceedingly occult symbols on the most commonly used currency, they will infuse the entire economy with the occult power needed to enable America to lead the other nations of the world into the New World Order.
Planned to be over 2 hours long
Also be aware that our goal of shipping in December, 2008, is a very realistic goal, according to the producer. We ran over our estimate on both Videos 1 and 2, but will not be late on this one.
If you wish to make a contribution to this video over and above ordering through this pre-sell, please click on "Contribution - Eye of the Phoenix DVD".
NOTE: We have set up the Shopping Cart so you cannot order any other items from the Bookstore, except for Videos 1 and 2, and the Contribution. Since this video will not be ready to ship until December, we would prefer not to have other Bookstore items on your pre-order.
---

"VATICAN ASSASSINS"
Edition 3 - On CDROM
w/FREE Black Pope CDROM
50% off Sale!
Regularly $39.99
On Sale For $19.99
You Save $20.00!
---
---------- This Weeks Hot News ----------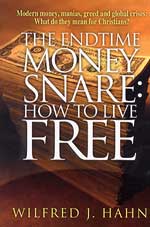 I. As American and Global Markets stabilized after the Federal Reserve reduced the rates by an unprecedented amount of 0.75%, global forces were intent upon using this crisis to move the world into a Global Government and Global Currency!
First, let us examine the raw news story.
NEWS BRIEF: "Fed Cuts Rate 0.75% and Stocks Swing - Fed rate cut is "a once-in-a-generation event", The New York Times, January 22, 2008
"The Federal Reserve, responding to an international stock sell-off and fears about a possible United States recession, cut its benchmark interest rate by three-quarters of a percentage point on Tuesday, an aggressive move that came ahead of a regularly scheduled meeting of the central bank ... The surprise move, unusual in both its scale and its timing, underscored the severity of the current strains facing the economy. And it bolstered world markets that had opened the week with a sell-off. European stocks turned upward on the news, and Wall Street averted the deep losses that had been anticipated overnight."
This next statement spoke to the most unusual nature of this move.
" 'It's a once-in-a-generation event', said Mark Zandi, chief economist at Moody's Economy.com. In recent years, the Fed has rarely acted between scheduled meetings of the committee, and almost always in increments of one-quarter or one-half point."
This rate-cut, plus the continued bi-partisan efforts by President Bush and the Congress to swiftly pass a short-term economic stimulant package, calmed down the markets worldwide.
"The move came as efforts continued to put together an economic stimulus package that could win swift bipartisan approval. President Bush met with Congressional leaders at the White House on Tuesday afternoon, expressing confidence that his administration and Congress would find 'common ground' on a stimulus package."
This next news story demonstrates that world markets were at least satisfied enough with the rate cut by the Federal Reserve to stop the plunge and reverse direction.
NEWS BRIEF: "Asian Markets Ease Higher After Rate Cut" , The New York Times, January 23, 2008
"NEW DELHI — The United States Federal Reserve's surprise rate cut stemmed bloodletting on the Asian stock markets on Wednesday ... Tokyo's Topix index closed up 2.46 percent, Hong Kong's Hang Seng index had gained 8.01 percent in late afternoon trading and Shanghai's composite index was up 4.65 percent. Bombay's Sensex, one of the biggest losers in the past two days, was up 3.56 percent in midday trading."
The American Stock Market Dow closed up +298 on January 23.
However, as we have noted during the News Alert of January 22, 2008, the world's money managers are deliberately using this current crisis as a means by which to manipulate the world into a global economy with a global currency. In fact, this News Alert quotes admissions from these global bankers that a global crisis is absolutely necessary to achieve the global economy and currency. If you have not yet read this most important News Alert, please take a moment to do so now.
These next news stories simply reinforce this understanding.
In the first article, note that the CFR is boldly calling for a global currency!
NEWS BRIEF: "The 'Historical Anomaly' of the Dollar - CFR call for global currency that is neither the Dollar or the Euro!", Council on Foreign Relations Online, January 18, 2008
Lee Hudson Teslik, Assistant Editor, CFR.org, is interviewing James D. Grant, Editor, Grant's Interest Rate Observer.
"What if the international currency of the future isn't the dollar, but isn't the euro either? James D. Grant, the editor of Grant's Interest Rate Observer and an expert on financial markets, discusses the 'historical anomaly' of currencies like the dollar and the euro as uncollateralized international reserve currencies—that is, ones that aren't backed by a guarantee that they can be exchanged for something else, such as gold or silver. "
Grant noted that these "uncollateralized international reserve currencies" are being shaken to their very foundations by the current crisis roiling world markets. He goes on to say that they all should be replaced by a currency backed by solid assets.
Please understand that, when an expert opinion is printed on CFR magazine or online, that opinion represents the CFR Plan. Cutting Edge has been warning for years now that the Plan does, indeed, call for deliberate crisis which will produce a stable international currency.
While economic markets are reeling, bankers and businessmen of the World Economic Forum are meeting in Switzerland to decide how best to continue this global push.
NEWS BRIEF: "On the cusp of economic history: Drastic global economic changes are being planned by the World Economic Forum, in Davos, Switzerland, International Herald Tribune, 22 January 2008
"Is economic history about to change course? Among the chieftains of politics and industry gathering in Davos for the World Economic Forum on Wednesday, a consensus appears to be building that the capitalist system is in for one of those rare and tempestuous mutations that give rise to a new set of economic policies."
Of course, this kind of economic "mutation" is the goal of this part of the Plan from the very beginning. In strict accordance with the "Dialectic Process" (Controlled Struggle), these captains of industry and politics first created the urgent problem and now that this problem is threatening the stability and the prosperity of the entire world, they are getting ready to propose the "solution" to an anxious world.
This next segment speaks about the importance of this current year in the implementation of this global plan.
" 'The pendulum between market and state is swinging back', Pascal Lamy, director general of the World Trade Organization, said by telephone before traveling to Davos. 'The year 2008 is a crucial year that could end up setting the tone for some time to come. What we need is an ideological mutation without falling into the trap of protectionism'."
Of course, "protectionism" springs from feelings of National Sovereignty, i.e., the loyalty one feels toward their own country. The desire to protect ones own market springs from patriotism, so what these globalists want to achieve is such a destruction of patriotism that the desire for protection of individual markets will not spring up, as it usually does during hard economic times.
This news article continues:
"When students of economics open their history books in 2030, they might read about 2008 as the year when the groundwork was laid for a re-regulation of certain markets, a more redistributive tax system and new forms of international policy coordination ... 'We are seeing the seeds of a new paradigm', said Kenneth Rogoff, a professor at Harvard University and former chief economist of the International Monetary Fund."
In the past year, I have gotten the impression that the Illuminati planned to drive the world economy right up to the brink of the Abyss, without going over. Rapidly coming right up to the Abyss would scare enough people that they would agree to the desired globalist changes.
Rapidly rising oil prices were probably the most important factor in taking the economies of the world right up to the edge of disaster. The action of the Federal Reserve to cut the interest rate was only one action designed to prevent the economies of the world from driving over the cliff.
Right on cue, just a few weeks before the action of the Fed, crude oil prices started dropping!
NEWS BRIEF: "Oil Falls on Expectation of Gains in Supplies of Crude, Fuels", By Christian Schmollinger, Bloomberg News, January 23, 2008
"Oil fell in New York on the expectation that U.S. inventories of crude and fuels will increase as refiners maintain output at the lowest level in two months, anticipating slowing demand from consumers ... Oil for March delivery dropped as much 70 cents, or 0.8 percent, to $88.51 a barrel in after-hours electronic trading on the New York Mercantile Exchange."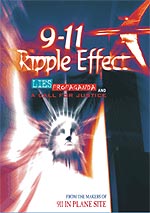 DVD
II. As Cutting Edge has been saying since the 9/11 attacks, President Bush and his entire echelon of top officials, have lied to the American people in a huge way in order to justify the unwarranted invasion of Saddam's Iraq.
NEWS BRIEF: "Nonprofit Journalism Study: 935 False Statements Preceded War -- Of those, 532 false statements were made about Iraq's supposed Weapons of Mass Destruction", Excite News, January 23, 2008
"A study by two nonprofit journalism organizations found that President Bush and top administration officials issued hundreds of false statements about the national security threat from Iraq in the two years following the 2001 terrorist attacks ... the statements 'were part of an orchestrated campaign that effectively galvanized public opinion and, in the process, led the nation to war under decidedly false pretenses'."
Cutting Edge started warning its readers in mid-2002 that President Bush and his top officials were lying mightily to the American people as to why it was so important to world security for American forces to lead the way in invading and toppling Saddam Hussein. Just prior to the actual invasion of March 20, 2003, we warned that the Bush Administration had not proven its case against Iraq.
Then, in mid-2003, we posted two "smoking gun" articles on this subject. We encourage you to read them as they give great perspective on the shocking news in this next segment. These articles are:
"Bush/Blair Justification of Iraq Invasion: Now Proven To Be Lies, Distortions, Exaggerations! Part 1 of 2 - "Iraq Invasion: The Fix Was In"
"Bush/Blair Justification of Iraq Invasion: Now Proven To Be Lies, Distortions, Exaggerations! Part 2of 2 - "Smoking Gun Evidence!"
We knew that Bush and his officials, and Pentagon spokesmen, were lying every single day about why we had to invade Iraq, but we never did systematically calculate the exact number of lies being told. Prepare to be shocked!
"The study counted 935 false statements in the two-year period. It found that in speeches, briefings, interviews and other venues, Bush and administration officials stated unequivocally on at least 532 occasions that Iraq had weapons of mass destruction or was trying to produce or obtain them or had links to al-Qaida or both ... Bush led with 259 false statements, 231 about weapons of mass destruction in Iraq and 28 about Iraq's links to al-Qaida, the study found. That was second only to Powell's 244 false statements about weapons of mass destruction in Iraq and 10 about Iraq and al-Qaida."
What a spectacle! When I was stationed in the Pentagon-level intelligence facility in Okinawa, Japan, from 1969-1972, I realized that American officials lied continuously. But, this level of lying about a single subject sets a new low standard for truthfulness! "Christian" President Bush lied 259 times about Iraq's WMD and Saddam's link to Osama bin Laden! We have posted this most evil fruit in our chart entitled, "President Bush: Evil vs Good Fruits".
We encourage you to read this following article, as it expands the study reported in this Excite News article, above. This article is entitled "Going To War On False Pretenses", The Center For Public Integrity
UPDATE
III. One outgrowth of this study proving how much the Bush Administration had lied to the world about Iraq's WMD is renewed pressure against the British government to reveal the intelligence which Prime Minister Tony Blair used to base his cooperation with Bush in his attack on Iraq.
NEWS BRIEF: "British Foreign Office Ordered To Surrender Intelligence Estimate of Iraq's WMD", by Richard Norton-Taylor, The Guardian (London), January 24, 2008
"An early draft of the government's discredited Iraq weapons dossier written by John Williams, a former journalist and head of the Foreign Office news department, must be released, the Information Tribunal ordered yesterday ... It has been suggested that the draft might contain the first mention of the notorious and ill-founded claim that Saddam Hussein could launch a WMD strike within 45 minutes."
"Carne Ross, a high-flying diplomat who resigned in protest at the way the Blair government led to the country to war, told the Guardian last night that the decision should pave the way to the publication of the later dossier drafts drawn up inside Whitehall."
We suspect that, when this intelligence report is released, the British people will finally understand that Prime Minister Tony Blair was, indeed, President Bush's "poodle", and that he led Great Britain to war on the same lying basis as President Bush led the American people to that ill-fated invasion.
We also encourage you to read this article, below, as it was written by the person who originally filed the Freedom of Information demand which is now bearing fruit. While this article is long, it is well worth the reading, as you will be able to see how closely the Blair Administration followed the Bush White House in basing the invasion on a real heap of lies.
"No more draft dodging: We are finally retracing the steps that led us to war in Iraq", The Guardian (London), January 23, 2008
Wall Chart - 'Then And Now'
IV. Israel's cut-off of fuel and electricity to The Gaza Strip is proving to be an international propaganda disaster!
NEWS BRIEF: "Palestinians by the hundreds of thousands cross into Egypt from Gaza: Some 350,000 Gazans flock to Sinai, fleeing siege imposed on Strip by Israel - Egypt's president said many were starving", YNET News, 1.23.08
"Palestinian gunmen ... set off several explosive devices on Tuesday night along the concrete wall dividing the Palestinian and Egyptian Rafah, after the crossings between Israel and the Gaza Strip were closed off. Thousands of Gaza's residents began pouring into the Sinai Peninsula early Wednesday through the breach created in the wall. Shortly afterwards, Egyptian authorities were forced to open the border. Some 350,000 people had reportedly crossed into Sinai by the afternoon hours."
Israel had created a huge prison in The Gaza Strip when it took three actions designed to stop the rain of Qassam terror rockets upon her territory being launched from Gaza:
1) Israel cut off electricity supplies
2) Israel cut off fuel deliveries
3) Israel shut off all crossings from The Gaza Strip into Israel, thus denying the normal flow of food and medicine into the Palestinian area
After many days of this deprivation, huge numbers of Palestinians began to push at the Egyptian controlled border crossing. At first, the Egyptian border guard denied the Palestinians passage through the wall. but, then, Hamas sent gunmen who set explosives along the wall. Once the wall came crashing down, Egyptian border policemen were helpless against 350,000 surging people.
"They had been protesting a months-long Israeli blockade of the impoverished territory that was tightened on Thursday and only partially lifted on Tuesday, with some fuel shipments being allowed in for the first time in four days. Cries of despair and prayers were heard near the border Wednesday morning. Hamas officials said that the breached border was used to break the Israeli siege and bring food and medicines into the Strip."
How much of the barrier did these sappers blow down?
NEWS BRIEF: "Gazans Knock Down Border, Flee to Egypt", Excite News, January 23, 2008
"RAFAH, Gaza Strip (AP) - Tens of thousands of Palestinians on foot and donkey carts poured into Egypt from Gaza Wednesday after masked gunmen used land mines to blast down a seven-mile barrier dividing the border town of Rafah. The border breach was a dramatic protest against the closure of the impoverished Palestinian territory imposed last week by Israel in response to increasing rocket attacks by Gaza militants. The closure cut off fuel and food supplies."
Now you can understand why Egyptian border authorities were totally unable to control that wide a stretch of blasted-down fence, especially since the numbers of Palestinians pouring over the border were so huge.
Egyptian President Mubarak ordered his forces to provide for the people's short-term needs. Mubarak told a reporter that some of the Palestinians were "starving".
Is it possible for Israel to bungle more than they did by cutting off electricity, fuel, food and medicines to an entire people? You can appreciate Israeli authorities throwing up their hands in desperation as they failed to stop Hamas from firing terror rockets into Israeli territory from the Gaza Strip. However, most of the rockets exploded harmlessly or without causing significant damage.
But, as soon as Israel began collectively punishing the entire Palestinian people living in The Gaza Strip by denying them the basic necessities of life - during winter to boot - her leaders opened the Jewish State up to richly deserved condemnation.
Nations all over the globe will greatly protest this action, especially now that they can see the deplorable condition in which these Palestinian people are now suffering. Even if some of the details of the suffering of these Palestinian Gazans is overstated -- as I am sure it is -- Israeli authorities opened themselves up for these condemnations because they collectively punished a people by denying them the very "staff of life".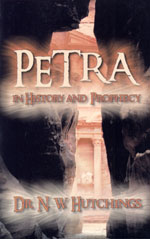 DVD
V. Even after Israel lifted the fuel blockade, Hamas officials remained very, very defiant.
Their statement of defiance reveals their true inner plan against Israel, and that plan does not include giving the Palestinians a nation under the current Annapolis/Oslo Plan!
NEWS BRIEF: "Israel lifts Gaza fuel blockade", Gulf News, January 22, 2008
"Gaza City: Fuel supplies to Gaza's main power plant resumed on Tuesday after Israel offered a temporary respite from a blockade of the territory ... (Israel) also gave the European Union (EU) indefinite approval to supply the main Gaza power plant with industrial fuel... Israel said it would also allow in 500,000 litres of diesel for generators, a supply of cooking gas and 50 trucks of food and medicine. Restrictions on petrol for cars remained."
"The block on the entrance of fuel, food, and medicine has led to long lines at bakeries, left hospitals without heat and gas stations closed."
Prime Minister Olmert and Defense Secretary Barak have been under intense political fire since the end of the 2006 Lebanon War. Many political figures want both Olmert and Barak to resign because of the inept manner in which the Lebanon War was carried out.
However, their inept leadership is really on display now, over their decision to punish the entire civilian population because Hamas gunners were firing Qassam terror rockets over the barrier and into Jewish territory. Of course, collective punishment of an entire civilian population was going to backfire in the arena of public discourse!
Of course, denying basic foodstuffs, medicine, electricity and fuel to an entire civilian population was going to make Israel look mean-spirited and stupidly led.
Even after Israel relented, Hamas leadership was defiant.
NEWS BRIEF: "Hamas politburo chief Mashaal: Battle will continue even if Gaza drowns in fuel", by Ali Waked, YNET News, 1.23.08
"The Palestinians' battle will not end with the entry of fuel into the Strip, and even if Gaza drowns in fuel the battle won't be over, Hamas politburo chief Khaled Mashaal said Wednesday. Speaking at a conference in Damascus, Mashaal added that 'the struggle must continue until the entire siege on the Strip is lifted and until the liberation of Palestine – all of Palestine'."
This statement confirms what we have been saying all along, i.e., that Hamas and Hezbullah are opposing the establishment of a Palestinian State through the Annapolis/Oslo Accords process , because that new nation is being established according to a Western Masonic plan, and they know it.
The Palestinian State which Hamas and Hezbullah desire to see established is one based upon the complete eradication of the Jewish state called Israel. As the Hamas politburo chief said, "until the liberation of Palestine – all of Palestine."
Do not be deceived on this issue.
VI. Pakistan continues to wobble as Islamic militants threaten the pro-western government of President Musharraf. Should this nation fall to the militants, President Bush's "War On Terror" will be considered a failure by all.
NEWS BRIEF: "The key battlefield: Pakistan- Afghanistan", Joseph L. Galloway, McClatchy-Tribune Information Services, The News & Observer, Jan 21, 2008
"There are signs that Pakistan's leaders finally are waking up to the threat that faces them from the Islamic jihadists who poured into the untamed provinces bordering Afghanistan six years ago and have spread their poison on fertile ground. For most of those years, Pakistan's military and government turned a blind eye to the fact that the leaders of al-Qaida and of Afghanistan's Taliban not only had found shelter on their territory but also were beginning to realize that Pakistan, with its nuclear arsenal, is a much juicier target than Afghanistan."
"America's top commander in that volatile region, Adm. William J. Fallon of the U.S. Central Command, has said that the increased terrorist violence in Pakistan in recent months has convinced Pakistan's leaders that they need to address the problem more intensively ... It's still uncertain whether cozying up to the Pentagon at this stage will help an already beleaguered government in transition from military rule to a civilian democracy, or only stoke the anger of Pakistan's own Muslim fundamentalists.
"Indeed, Pakistani President Musharraf has already infuriated too many of his countrymen with the manner in which he has cooperated with the infidel Bush on the "War On Terror", a war which most Muslims view as a blatant attack on all Islam by the "Great Satan", America.
Even when Bhutto came back to Pakistan to run for President, most Muslims knew that she was just as pro-American as Musharraf was, and that her ascension to leadership in a joint government would simply solidify the American hold over Pakistan.
As far as Islamic strategists are concerned, Pakistan and Afghanistan are one battlefield. As they are slowly gaining the upper hand in Afghanistan, they are becoming more bold in their battle against Musharraf.
Because of these factors, Islamic Jihadists may very well succeed in overthrowing Pakistan's pro-West government. Shortly before her assassination, Benazir Bhutto is said to have confessed to a Western journalist that she foresaw the distinct possibility that, in a few years time, jihadist armies could be marching on the capital of Islamabad.
Keep watch on Pakistan, for that is a very important linchpin right now in the Western front against radical Islam throughout the entire Middle East region. Should that nation fall, the reverberations against American policy will reverberate all the way to Jerusalem. As you look upon a map, you can see that, if Pakistan falls to Islamic militants, the entire swath of land from Syria to Iraq to Iran to Afghanistan to Pakista (and Saudi Arabia in the south) will be under their firm control!
Can an Islamic march on Jerusalem then be far behind? This prophecy could then be fulfilled:
"Behold, I am about to make Jerusalem a cup or bowl of reeling to all the peoples round about ... And in that day I will make Jerusalem a burdensome stone for all peoples; all who lift it or burden themselves with it shall be sorely wounded. And all the nations of the earth shall come and gather together against it." (Zechariah 12:2-3; Parallel Bible, KJV/Amplified Bible Commentary)

---