"Coming Dictatorship So Close And Obvious Even A Mainline Commentator Can See It!" NEWS1835
Using "war on terrorism as an excuse to declare a state of emergency, suspend civil liberties, and jail political opponents". This quote might have come from Cutting Edge, but it did not! It came from mainline commentator, Ted Rall, writing in Yahoo News! Are the blinders coming off now so people can see the juggernaut hurtling down the tracks?
These and other articles we have written since the attacks of 9/11 demonstrate that the laws which will quickly slam a dictatorship down upon the American people are already in place. One of the practical obstacles preventing this dictatorship appears to be enough prison facilities to house all the prisoners. This proposed law seems designed to provide these facilities.
During his administration, President Clinton signed some closed military facilities over to the United Nations, but now, the time seems to be here to dramatically expand the prison camp program by ordering the Pentagon to refurbish closed military camps in America and transfer control to Homeland Security.
Several years ago, Cutting Edge posted an article reporting that the true nature of Homeland Security is identical to the Nazi Gestapo! Please take a moment to read this archived article:
"We Can Now See The Hideous, Occult Face of Homeland Security Agency, The U.S. Patriot Act And All Its Supporting Laws", NEWS1739.
Right now, President Obama possess the extreme dictatorial laws enacted during the early days of the Bush Administration. He has the authority to arrest anyone without cause, without charges, without a right to a lawyer or to a trial, and to execute prisoners without public knowledge or without having to notify next of kin.
The major obstacle seems to be enough prison facilities. Please read this law carefully, ignoring the placating words about "humanitarian assistance" and setting up these facilities for the good of the people. Adolf Hitler surrounded his death plans with similar flowery language; he even disguised his death camps to look like benevolent care facilities!
While we still have the right to protest, we must. This GovTrak website contains all the information you need to write your Congressmen and Senators. Do it now! But, first read this proposed law all the way through.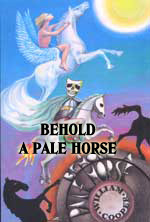 Behold A Pale Horse
II. When President Obama was "advised" to take the oath of office a second time -- during the first full day of his administration -- he did so privately and without placing his hand on the Bible!
NEWS BRIEF: "Obama retakes the oath of office after busy first day", McClatchy Newspapers, January 21, 2009
"WASHINGTON — Chief Justice John G. Roberts was ushered into the Map Room of the White House on Wednesday night to re-administer the oath of office to President Barack Obama because the original oath on Tuesday had a word out of sequence."
"White House counsel Greg Craig said the move was made out of 'an abundance of caution'. Obama's second swearing-in, devoid of the pomp of the initial event, took place at 7:35 p.m. in the presence of a few aides and reporters. The chief justice was wearing a court robe. 'Are you ready to take the oath?' Roberts said. 'I am', Obama said, 'And we're going to do it very slowly'."
Please carefully examine this Yahoo News story covering the new President taking the oath for the second time. Notice that both men are standing facing each other, but especially notice that Obama is not placing his hand on the Holy Bible!
This second oath of office, done "correctly" is the oath which shall be considered official. We are checking to see if this is the first President who did not place his hand on the Bible when taking the Oath of Office.
I know the official storyline that the Chief Justice made the mistake during the original Inaugural Oath but I have been impressed over the years that, while men in high positions like this are very professional, their activities are also very controlled, very "scripted".
In the words of New World Order author, Peter Lemesurier, "Their script is now written, subject only to last-minute editing and stage-directions ... " ("The Armageddon Script", p. 252)
I believe it highly likely that this "mistake" by Chief Justice Roberts was scripted in order to give the new President the opportunity to take the Oath again, this time officially, without placing his hand on the Holy Bible.
In our opinion, this reality does not bode well for Christians or Christian values in the Obama Administration.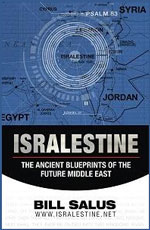 III. Just as CFR's George Mitchell set out on his mission to Israel to restart the process of creating a Palestinian State, Hamas struck quickly, killing one IDF soldier and prompting an IAF counter airstrike.
Israel may rue the day she did not fully bring down Hamas.
NEWS BRIEF: "Hamas Attacks IDF Soldiers, 1 Dead", by Hana Levi Julian, Israel National News, January 27, 2009
"Less than a week after the IDF left Gaza, Hamas terrorists returned to 'business as usual' with an attack on Israeli soldiers at the Kissufim crossing Tuesday morning in a new violation of the ceasefire that killed one soldier and wounded three others ... Terrorists detonated the explosive device around 8:00 a.m. after they had planted along the security fence as an IDF soldiers' vehicle patrolled near the Kissufim crossing. The terrorists also fired a number of rocket-propelled grenades (RPGs) at Israel. The IDF responded with machine gun and tank fire and shut down the crossing points."
Defense Minister Barak promised that this attack would prompt a strong Israeli counter-response. He did not wait long to deliver on this promise.
NEWS BRIEF: "In response to soldier's death, Israel bombs Gaza tunnels", International Herald Tribune, January 28, 2009
"Israeli warplanes bombed what the military described as smuggling tunnels on Egypt's border with Gaza early Wednesday in reprisal for the death of an Israeli soldier as a senior American envoy pursued President Barack Obama's first foray into Middle East peace diplomacy."
This linkage in this sentence, above, between Hamas' attack and the arrival in the Middle East of George Mitchell is no accident! Hamas clearly wanted to show Mitchell and his new boss, President Obama, that they could not be forced to submit to the plan to make President Abbas the only official leader who could speak for the Palestinian people.
Indeed, this next news story provides strong linkage between Mitchell's arrival and the planned buildup of President Abbas.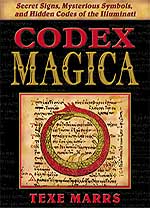 IV. Obama/Mitchell plans to strengthen Abbas at the expense of Hamas!
George Mitchell to strengthen Abbas ", YNET News, January 27, 2009
"The United States' new envoy to the Middle East, George Mitchell, will be working to secure a lasting ceasefire in Gaza, as part of an attempt to bolster Palestinian President Mahmoud Abbas and the Palestinian Authority. He does not intend to meet with Hamas representatives."
No one can possibly miss the symbolism of this dual picture: CFR's Mitchell will seek to strengthen Masonic leader Abbas on the one hand while refusing to even meet with Hamas leaders on the other hand!
Thankfully for Mitchell and Obama, Israel's 22-day attack against The Gaza Strip dramatically weakened Hamas, probably to the point where she cannot stop the juggernaut building toward a Palestinian State.
This next segment reveals that the United States does, indeed, consider itself to be in conflict with Hamas and its partner, Iran.
"The US perceives itself as being in a race with Hamas and, by extension, Iran in the rehabilitation of Gaza ... In a daily briefing, State Department Spokesman Robert Wood said the new administration is striving to expedite a peace agreement between Israel and the Palestinians, as well as between Israel and its neighbors, adding that Mitchell's arrival is meant to facilitate such a process."
The President threw his personal support and the power of the White House behind this so-called "peace agreement".
" 'Sen. Mitchell is fully empowered by me and (US Secretary of State Hillary) Clinton', Obama said after a meeting between him, Clinton and Mitchell, prior to the latter's departure. 'When he speaks, he speaks for us'."
Remember that President Obama is simply reading from the daily script written by the CFR and the Bilderbergers. As such, Obama is subject to these groups, of which George Mitchell is a key leader.
President Obama announced that he expects concrete results, not just another "Photo-op" opportunity. In a surprise announcement to the Arab world, Obama signaled that the time for peace between Israel and her Arab neighbors had come.
NEWS BRIEF: "Obama on Arab TV: Moment at Hand to Forge Middle East Peace Accord", Voice of America News, 27 January 2009
"U.S. President Barack Obama says he will work to show the Muslim world that Americans are not their enemy. In his first formal interview - granted to an Arab television network - the American leader said his job is also to show Americans that people in the Muslim world simply want to live their lives and make better lives for their children."
"As for the current standoff between Israel and Hamas, he said 'the moment is ripe' for Israelis and Palestinians to achieve a lasting peace ... Mr. Obama said it is not possible to think of the Middle East without looking at the region as a whole, including Syria, Iran, Lebanon, Afghanistan and Pakistan, for he said they are all interrelated."
We expect that Obama's effort through CFR's Mitchell will produce more "results" than President Bush's many efforts, simply because the time seems to have arrived in the Illuminati Plan to reach agreement. About one year ago, we reported that the deal to produce a Palestinian State is completed, awaiting only the right time to implement it.
Has that time arrived?
---
New "Prophecy In The News" TV Interview With Editor Chris Pinto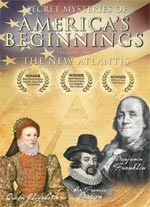 "Secret Mysteries of America's Beginnings: Volume One -- The New Atlantis" DVD
Listen as Dr. J.R. Church and Gary Stearman interview Chris Pinto, the editor of this award-winning documentary, as to how prophecy is being fulfilled in the world's daily news and how America's beginnings as revealed in "The New Atlantis" DVD set the stage for End Events prophetic fulfillment, beginning in 1580!
Watch this dramatic TV interview currently being shown on "Prophecy In The News"!
---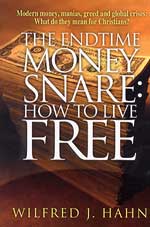 V. As President Obama sends his Economic Stimulus Plan to Congress, news from Germany indicates that a strong stimulus plan can work!
NEWS BRIEF: "German business climate edges higher in January: After European Central Bank lowered interest rates and the government doubled its economic stimulus package", By Christian Vits, Bloomberg Financial News, January 27, 2009
"German business confidence unexpectedly rose for the first time in eight months after the European Central Bank lowered interest rates and the government doubled its economic stimulus package to fight the recession."
Every modern economy relies upon consumer and business confidence for 66% of their total Gross National Product. Therefore, the first goal of any stimulus package must be the stimulation of consumer and business confidence that the economy is going to rebound!
"The Ifo institute in Munich said its business climate index, based on a survey of 7,000 executives, increased to 83 from 82.7 in December. Economists expected a drop to 81, the median of 37 forecasts in a Bloomberg News survey shows."
When businessmen are confident, they are willing to spend investment monies in new plants and equipment, thus creating the need to hire more workers, and/or to create a demand that will require factories to recall workers.
It usually is a short step from a revival of business confidence to a revival of consumer confidence. In fact, the two usually march in lockstep together. Thus, it is good news that, when the German government doubled its economic stimulus program, business confidence sprang upward.
In America, President Obama is planning an $850 billion stimulus plan on top of the $750 billion program already set in place by the outgoing Bush Administration. About one-quarter of this new $850 billion program is planned to be tax cuts, which should rally consumer confidence.
While some tough news remains ahead of us, light might actually begin appearing at the end of this long tunnel. Remember that, in the period preparatory to the World War III which will produce Antichrist, the Illuminati wants a controlled economy, not a ruined one.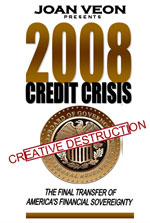 VI. President Obama continues the old Establishment economic path by taking Geithner as Treasury Secretary and by naming Dudley as his replacement at the N.Y. Federal Reserve!
NEWS BRIEF: "Geithner Sworn In as US Treasury Secretary", By Dan Robinson, Voice of America, 27 January 2007
"By a vote of 60-34, the U.S. Senate confirmed Timothy Geithner as Treasury Secretary in the Obama administration on Monday, clearing the way for him to get to work on the U.S. economic crisis ... After the Senate vote and in a demonstration of support for his nominee, President Obama went to the Treasury Department Monday night where Geithner was sworn in by Vice President Joseph Biden."
" 'I came here tonight because at this moment of challenge and crisis, Tim's work and the work of the entire Treasury Department must begin at once', said President Obama. 'We cannot lose a day because every day the economic picture is worsening, here and across the globe'."
Indeed, the economic crisis is getting worse by the day and it will continue to worsen until President Obama gets his economic plan into place. In fact, economic crisis will continue until Europe, Great Britain and key Asian countries get the changes in place which they want. The economic stimulus plan which President Obama is proposing is such uniquely poisonous to most Americans that it can only be achieved because the average citizen is feeling such a sense of economic doom that they will allow this kind of socialist measure to pass.
Indeed, the average American consumer is so panicked right now that they will applaud the passage of this stimulus package, a program they would have rejected completely under normal circumstances. When consumer confidence begins to tick upward after the stimulus plan kicks in, President Obama will get the lion's share of the credit.
Timothy Geithner is a long-term Illuminati insider:
"Geithner was head of the New York Federal Reserve Bank and has extensive experience in the Treasury Department ... However, Republican Jim Bunning of Kentucky opposed the nomination, asserting that Geithner in previous roles did nothing to help prevent the U.S. financial meltdown.
"He went along with all the flawed monetary policy decisions of [former Federal Reserve Chairman] Alan Greenspan and [current Federal Reserve Chairman] Ben Bernanke, and he stretched the law beyond recognition to bail out [investment bank] Bear Stearns and later AIG [American International Group]', said Jim Bunning. 'All those actions, or failure to act, raise questions about the nominee's judgment'."
"Opponents also questioned Geithner's role in the formulation of the much-criticized $700-billion financial institution rescue plan approved during the Bush administration."
We have said all along that this kind of Socialist/Fascist economic transition could have only started in a Republican Presidential Administration which was thought of as "Conservative". The American people would have not allowed a Democrat Liberal President to begin this transition. Once Bush began to implement the unthinkable bailout plan, the skids were greased for Obama to continue.
The very fact that President Obama chose the very men who had helped implement the Bush program in late, 2008, demonstrates two very important understandings:
1) There truly is not a "dimes worth of difference" between Democrat and Republican
2) This transition from a Capitalist to a Fascist Economy is an Illuminati Plan and, therefore, will continue uninterrupted from one administration to another.
Even Geithner's replacement is a long-term Establishment banker.
NEWS BRIEF: "Dudley Will Replace Geithner at New York Fed", By Neil Irwin
Washington Post Staff Writer, jANUARY 27, 2009
"William C. Dudley, a behind-the-scenes engineer in the Federal Reserve's response to the financial crisis, is being promoted to a starring role. Dudley will be named president of the Federal Reserve Bank of New York today ... replacing Timothy F. Geithner, who was sworn in as Treasury Secretary last night. Dudley has been an executive vice president at the New York Fed since 2007, helping design numerous programs to try to guard the financial system against the worst crisis in generations."
"He has been in charge of the bank's operations to manage the money supply by buying and selling Treasury securities, and was at Geithner's side through the bailout of Bear Stearns, the decision to allow Lehman Brothers to fail, and the government takeover of American International Group."
In other words, Dudley will ensure that the plan of action which President Bush began will be continued through the new President, Barack Obama, as this next news segment establishes.
"With the decision to appoint Dudley, made by the New York Fed's board of directors and approved by Fed Chairman Ben S. Bernanke, those officials opted for continuity over abrupt change ... Dudley is set to become the Fed's emissary to Wall Street ... He will be the primary regulator of the nation's largest financial institutions, including Citigroup and J.P. Morgan Chase. And he will play a leading role in managing the Fed's $2 trillion balance sheet, which has swollen as the central bank undertakes elaborate new efforts to try to restart lending throughout the economy."
The more things change, the more they stay the same! The plan of the Great White Brotherhood will continue unabated until their new Masonic Christ is established. THAT is the the ultimate plan. The New World Order is simply and only the Kingdom of Antichrist. What we are seeing is the creation of the tightly controlled Fascist Economy which is planned for Antichrist.
Soon, the governments of the world will tightly regulate a Fascist Model which will produce the fulfillment of Revelation 13:17,
---------- Articles Posted ----------New Headline News Articles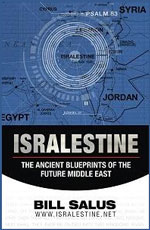 "President Obama Immediately Throws His Weight Behind Masonic President Abbas of the Palestinian Authority In A Renewed Drive To Create A Palestinian State"
Rather than condemn Israel for her attack on Hamas in The Gaza Strip, President Obama calls Palestinian (Masonic) President Abbas to restart the process of creating a Palestinian State! With Hillary Clinton now confirmed as Secretary of State, Obama seems poised to restart efforts to create a Palestinian Nation.
With Hamas badly weakened at this moment, Palestinian President Abbas may be able to speak for the Palestinian people and reach an agreement with Israel to create a nation carved from Biblical lands. Now you know how important Israel's attack against Hamas truly was, and how in line with the Illuminati Plan to create the Palestinian State.
http://www.cuttingedge.org/news/n2338.cfm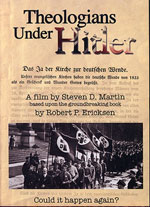 DVD
"Smiling at Socialism & Scorning the Bible"
"[Obama] can give new impetus to American foreign policy partly because the reception of him is so extraordinary around the world. His task will be to develop an overall strategy for America in this period when, really, a new world order can be created. It's a great opportunity, it isn't just a crisis.' Henry Kissinger
"Hitler's aim was first to move the masses and then, having pried them loose from their traditional loyalties and moralities, to impose upon them (with the hypnotized consent of the majority) a new authoritarian order of his own devising." Aldous Huxley, Brave New World Revisited, 1958
Guest Column by Berit Kjos - http://www.cuttingedge.org/articles/db115.html
"Henry Kissinger Has Proclaimed That Obama Is Primed To 'Create New World Order'!" We have felt since 1992 that the final events needed to conclude the New World Order might occur during the administration of the 44th President. Now, one of the most powerful member of the Illuminati has just stated that Obama is uniquely positioned to create the final New World Order, a.k.a. Kingdom of Antichrist.
http://www.cuttingedge.org/news/n2336.cfm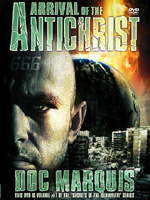 DVD
"Is Obama The Coming Antichrist?"
Can it be that Senator Barack Obama is THE Antichrist foretold in the Bible?
He certainly has run a Messianic type Presidential campaign and has been called a 'Messiah' by Farrakhan.
Are we witnessing the public coming to power of the Antichrist? You be the judge after reading this article. Matthew 24 and key prophecies in Daniel are key passages if we are to understand this issue.
http://www.cuttingedge.org/news/n2320.cfm
"God's Wonderful Angelic Protection"
During the toughest of times, God has promised His Saints protection, promises we need to take to heart as we pass through these difficult End Times
http://www.cuttingedge.org/news/n2335.cfm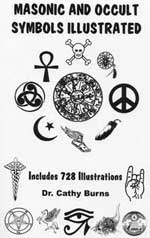 "Many Pastors of Christian Churches Are Reported To Be Freemasons - What New World Order Ramifications Might We Expect?"
We will examine the possible religious and New World Order ramifications that might flow from many pastors and key leaders of Christian churches being Freemasons. You will be shocked!

Truly, Antichrist cannot arise until the Masons have changed Christian Churches enough to accept him.
http://www.cuttingedge.org/news/n2333.cfm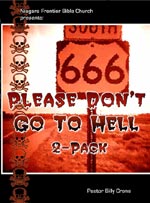 DVD
"HISTORY'S GREATEST PLAGUE"
"…for in the day that you eat of it you shall surely die" Genesis 2:17
Man's very existence has always been threatened by the "big three" of disease, war and famine, but there is a silent plague stalking us that renders those things trivial by comparison. Even though the current population of the world is estimated to be 6.7 billion—and continues to keep growing in spite of the historic trio of death and destruction—100% of that tremendously large number (which of course includes you and me) were born with a condition having infinitely greater consequences!
Did you know that according to the Bible all humans are born into this world spiritually dead? http://www.cuttingedge.org/articles/p307.htm
"Prophecy of Daniel 7:7-8 Is Now Being Fulfilled In Your Daily News - Final Timeline Now Becoming Apparent"
The prophesied 10-Nation Reorganization is being fulfilled. South and Southeast Asian countries have just signed their charter which will produce Nation #9 of the Illuminati Plan!
Now, North American Union (Nation#1) and the South American Union (Nation #6) can continue their march toward fulfillment. End of the Age prophecy is being fulfilled - are you paying attention?
Antichrist cannot arise until these 10 Super Nations are formed! http://www.cuttingedge.org/news/n2332.cfm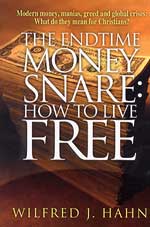 "The Federal Reserve Is Deliberately Devaluing the American Dollar - At The Same Time Other Key Central Banks Are Devaluing Their Currencies!"
Central Banks around the world are taking coordinated efforts to devalue their currency so the planned Regional Currencies can be created and set in place. For citizens of the North American Union, the AMERO is not too far away!
This development is exciting because the creation of the North American Union is part of the developing fulfillment of the 10-Nations prophecy of Daniel 7:7-8 (Read NEWS1002, entitled, "NAFTA: The Shocking Rest of the Story")
We are witnessing the unfolding of one of the greatest fulfillment of Bible prophecies ever! http://www.cuttingedge.org/news/n2331.cfm
DVD
"Russian Diplomatic Professor Predicts America Will Break Up Into 6 Separate Divisions Because of Economic Stress"