ALL COMBINATION OFFERS AND SPECIAL OFFERS - 20% OFF ALREADY REDUCED PRICE - SAVINGS TO 75%
ALL NEW ITEMS
ALL REGULAR BOOKS, DVD'S, CD'S, PAMPHLETS -- ALL ADDITIONAL 20 % OFF EVEN IF THE ITEM IS ALREADY ON SALE
SALE GOOD NOW THROUGH MIDNIGHT, MONDAY, FEBRUARY 3, 2014
How can I take advantage of these fantastic savings? Go to the Bookstore, put items in your shopping cart and when you get to the page asking for Coupon Code, type in "Jan20". The computer will automatically deduct 20% from your entire order.
---
HOT NEWS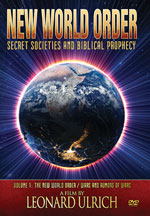 I. President Obama delivered the State of the Union address last night and said all the right things.
Were people listening? Will he accomplish any of his promises?
NEWS BRIEF: "Good Speech, Modest Agenda, Diminished Leader: Americans may have already tuned out Obama",
By Ron Fournier, The National Journal, January 29, 2014
"Is that all there is?"
"In what may be his last, best chance to revive a presidency that has fallen far short of its promise, Barack Obama unveiled his 2014 agenda Tuesday night: small-bore executive orders, studies, summits, and legislation, long-seasoned and stalled. 'America does not stand still', he said, 'and neither will I'."
I have read the entire full transcript and some sections more than once and I agree with the opening assessment by Ron Fournier, above. This speech was not a rousy speech of a President Ronald Reagan, but a more mealy-mouthed speech from a student in a college speaking class.
The reaction to this speech will undoubtedly fall along party lines. Conservative Republicans will rip it to shreds while Liberals will defend it. Let us hit the highlights, both negative and positive.
Definition of America's Problems
"That's what most Americans want, for all of us in this chamber to focus on their lives, their hopes, their aspirations. And what I believe unites the people of this nation, regardless of race or region or party, young or old, rich or poor, is the simple, profound belief in opportunity for all, the notion that if you work hard and take responsibility, you can get ahead in America."
"Now, let's face it: That belief has suffered some serious blows. Over more than three decades, even before the Great Recession hit, massive shifts in technology and global competition had eliminated a lot of good, middle-class jobs, and weakened the economic foundations that families depend on ... average wages have barely budged. Inequality has deepened. Upward mobility has stalled. The cold, hard fact is that even in the midst of recovery, too many Americans are working more than ever just to get by; let alone to get ahead. And too many still aren't working at all."
"So our job is to reverse these trends ... It won't happen right away, and we won't agree on everything."
I cannot guarantee that President Obama can or will agree with the Republicans to make any of this proposals into law, but I can tell you what the overall Illuminati Plan is for America and the rest of the Industrial Nations regarding Economics.
The Plan is to inflict enough economic pain so the Elite can bring about the changes they want -- NEWS2317, "Financial Coup Completed: American Economy Now A Tightly Controlled, Severely Regulated Economy: Fascist, Not Capitalist Anymore"-- to see how crisis overturned Capitalism so a Fascist Economy could be created. That has happened; America's economy is now Fascist.
Now that the Elite has the Fascist economy they want, they plan to slowly bring a measure of prosperity back to the American people. For this reason, we have suffered no economic collapse; the recovery is uneven and slow, and it is slowed by higher taxes and cost of goods, but it will continue to occur so that Americans will continue to rush after materialistic goals so their hearts will continue growing cold toward Jesus. This goal is paramount because Antichrist cannot arise until the population really and truly is cold toward the Savior. The Illuminati learned during the Great Depression that severe economic deprivation will not turn a people's heart away from Jesus, so after World War II ended, they derived a plan of enough prosperity so that people will believe they can achieve more material goods if they work harder.
Positive Initiatives - quoting from the Full Transcript
Now, the President turned toward the iniatives he wants to implement so America can return to that measure of prosperity which the Elite truly believe must be in place before the Masonic Christ can stage his entrance on to the world stage.
* "We know where to start. The best measure of opportunity is access to a good job."
"With the economy picking up speed, companies say they intend to hire more people this year. And over half of big manufacturers say they're thinking of insourcing jobs from abroad."

"... our tax code is riddled with wasteful, complicated loopholes that punish businesses investing here, and reward companies that keep profits abroad. Let's flip that equation. Let's work together to close those loopholes, end those incentives to ship jobs overseas, and lower tax rates for businesses that create jobs right here at home."
* "We'll need Congress to protect more than 3 million jobs by finishing transportation and waterways bills this summer."
* ""... I'll act on my own to slash bureaucracy and streamline the permitting process for key projects, so we can get more construction workers on the job as fast as possible."
* "We also have the chance, right now, to beat other countries in the race for the next wave of high-tech manufacturing jobs."
"... my administration's launched two hubs for high-tech manufacturing in Raleigh, North Carolina, and Youngstown, Ohio, where we've connected businesses to research universities that can help America lead the world in advanced technologies."

"Tonight, I'm announcing we'll launch six more this year. Bipartisan bills in both houses could double the number of these hubs and the jobs they create. So, get those bills to my desk and put more Americans back to work."
* "... today America is closer to energy independence than we have been in decades."
"Businesses plan to invest almost a hundred billion dollars in new factories that use natural gas."

"I'll cut red tape to help states get those factories built and put folks to work, and this Congress can help by putting people to work building fueling stations that shift more cars and trucks from foreign oil to American natural gas ... "
* "... this Congress needs to restore the unemployment insurance you just let expire for 1.6 million people. "
* "... too many young people entering the workforce today will see the American Dream as an empty promise, unless we also do more to make sure our economy honors the dignity of work, and hard work pays off for every single American."
As you can see, President Obama made a good speech; now, can he and the Republicans work together to make these proposals into law? Can his Administration cooperate with the GOP and the Tea Party to enact proposals that make sense but which he did not include in his State of the Union address? If the White House and the Congress actually carry out proposals like these, then this country may slowly turn around. More ordinary Americans can then pursue their materialistic dreams.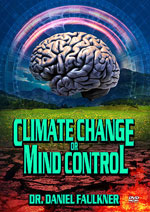 DVD
II. The President of the United States made an official proclamation in his State of the Union Adress:

"Climate Change is reality"!

Al Gore must be beaming his approval!
NEWS BRIEF: "FULL TRANSCRIPT: Obama's 2014 State of the Union address", The Washington Post, January 29, 2014
"...the debate is settled. Climate change is a fact."
The White House has hinted over the past year that President Obama intended to make Climate Change his most important priority in 2014. Evidently, that plan is true and is on schedule. When Obama made this statement, he threw all the reasoned scientific evidence that Global Warming / Global Cooling is not created by mankind's activities into the trashcan.
A RESPECTED EXPERT speaking from a RESPECTED FORUM has just declared that Climate Change is reality, that man's activities are causing the problem and he has the answers!
We can expect a slew of law changes and Executive Orders which will begin to implement this global strategy. The trick will be to implement these changes so that the economy is not damaged for that would undermine the President's stated determination to bring the economy back to health.
Please take a few moments to read our archived Headline News article posted seven years ago, in which we revealed that the Illuminati is carrying out five (5) different crises, each one of which is aiming for a coercive Global Dictatorship.
NEWS2193, entitled, "Five Major Created Global Disasters Are Being Constantly Preached To The World As Reasons To Form The Global New World Order!"
Now you know the truth! Dr. Danny Faulker is absolutely right in his DVD, "Climate Change or Mind Control". Spread the word.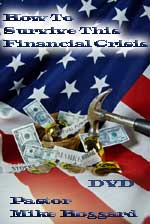 III. President Obama spoke out against "income inequality" and the sad fact that many Americans can no longer achieve the "American Dream".
Was he aware that his crony, Liberal Democrat Senator Diana Feinstein and her husband may make a profit of $1 billion on the sale of Post Office properties?
NEWS BRIEF: "The husband of Senator Dianne Feinstein chairs a company that brokers sales of USPS facilities", Snopes News, April, 2013
"... the United States has entered into a contract with one firm to sell 56 buildings that currently house U.S. Post Offices. The government has decided that it no longer needs these buildings (many of which are located on prime land in towns and cities across the country)."
"The sale of these properties will bring in billions of dollars and, with that, millions of dollars in commissions for the one Company that is in charge of handling the sale and negotiation of the new leases. What makes this such a matter of concern is that the company that the Government has contracted with to conduct the sales (and the corresponding leases for the new locations of the displaced post offices) is owned by Richard Blum."
"Does that name mean anything to you? Maybe it should re-phrased and say that the person who owns the company that is solely in charge of this multi-million-dollar transaction is Richard Blum the husband of Senator Dianne Feinstein."
How can this be possible? Liberals for decades have criticized Conservative politicians and businessmen of gouging the American people just to make a handsome profit on one of their business enterprises. Yet, we saw under President Clinton that Liberals are just as capable of maneuvering a situation so that they could reap boatloads of profit.
Now, we see Liberal anti-gun Senator Diane Feinstein positioning her mouth over the profit trough, ready to pour in hundreds of millions of dollars in profit. Do the words "rank hypocrisy" ring in your ears like they are ringing right now in mine?
Thankfully, some communities are banding together to stop the sale of these Post Office prime properties.
NEWS BRIEF: "Resistance to sales of post offices grows nationwide", Norwich Bulletin, January 22, 2014
"NEW YORK — The U.S. Postal Service is facing entrenched resistance to its selling of historic post offices ... From California to Connecticut, communities have been opposing the sales, accusing the agency of ignoring federal preservation guidelines and not allowing enough time for public comment. Reps. Jose E. Serrano, D-N.Y., and Barbara Lee, D-Calif., who have post offices for sale in their districts, issued statements last week noting the provisions in the spending bill that support blocking sales until a federal probe of the matter is completed."
Maybe Senator Feinstein and her husband can be blocked from reaping such windfall profits from the pocketbooks of hard-working Americans. Write your representative and Senator to urge blocking of this awful proposal.
NOTE: This newsletter continues below the advertisement.
---
Two "Prophetic Signs of the Times"
THE Mark of the New World Order!
"Beast Tech"
New Book by Tom Horn and Terry Cook
Regularly $17.99, Introductory Price $13.99
Human Chip Tracking Coming In 2017?
Did you know a plan exists for widespread adoption of human microchipping beginning in the year 2017? This plan to microchip humanity smacks of the biblical mark of the Beast Has an end-times spirit indeed been pushing for adoption of this technology this generation?
Students of eschatology (the study of end-times events) find it increasingly difficult to dismiss how this all looks and feels like movement toward fulfilling Revelation 13:1617
the authors of this book-a former police detective and a best selling prophecy writer-have come to believe the possibility that the mark of the Beast will arrive through a version of this technology. http://www.cuttingedge.org/detail.cfm?ID=2587
NOTE: The revelations in this book must be considered a prophetic "signs of the times" message.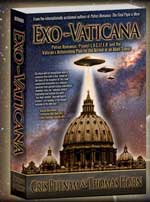 "Exo-Vaticana: Shocking Proofs That The Vatican Is Preparing To Receive An Alien Savior!"
Sometime soon, the Vatican, is going to tell everybody, 'It's okay and these are beings are our space brothers and not only are they are our space brothers, they're closer to God than we are and they have come to show us the way.
Cutting Edge subscribers should not be surprised because in 1997 we revealed that the Illuminati had chosen the Pope to be their False Prophet and that Aliens are a key part of the staging of the New Age Christ (Antichrist). Read full details in NEWS1052.
NOTE: The revelations in this book must be considered a prophetic "signs of the times" message. The time of Antichrist's appearance are getting so close that the world's largest church considered by most to be Christian is openly preparing to greet an alien space brother as a global leader (Biblical Antichrist).
---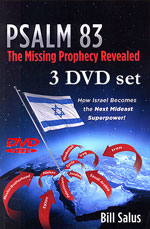 IV. The head of the Israeli Defense Force publicly admitted that Israel is more vulnerable at every point of her border than ever in modern history.
I can hear the Islamic wolves preparing to strike; their prophetic doom awaits them.
NEWS BRIEF: "IDF chief: No matter who wins in Syria, Israel loses", The Times of Israel, January 29, 2014
"IDF Chief of General Staff Lt. Gen. Benny Gantz on Wednesday shared a bleak outlook on the internal conflict in Syria and its repercussions for Israel, characterizing the ongoing civil war as a lose-lose situation for Israel ... Even if Assad does emerge from the conflict on top, Gantz asserted, he will not regain full control of Syria, leaving the door open for other extremist elements ... The jihadis currently control most of the Syrian territory that directly borders Israel, although they have not fired rockets or missiles at Israeli territory."
At this point, General Gantz turned his attention to Israel's borders.
"He claimed that the Islamic rebel groups in Syria currently focused on toppling Assad intend to turn their sights on Israel after dispatching the Syrian government ... Gantz said that Israel's strategic reality was changing, and the country would have to adapt. 'Every one of our borders is tested more than in the past', he said."
The general was being kind. The reality is that Islamic forces possess over 170,000 missiles stationed all around Israel and all aimed directly into the heart of the tiny Israeli nation. I received a phone call from a Jewish Cutting Edge subscriber last January (2013). This Messianic Jewish couple had been subscribers since the attacks of 9/11/2001. The husband was a member of the Israeli Special Forces while the wife was trained as a battlefield surgeon. For many years, they had planned to retire and buy a very nice house in Tel Aviv.
In 2010, they carried out their plan. But, now, in January, 2013, I received a phone call from this couple, telling me they had just moved to Hawaii. I was shocked, because they had bought their retirement home, they had family close, so they would be giving up a lot to move to Hawaii.
She admitted that they did give up a lot, but they probably saved their lives. Just prior to retiring, the husband read an IDF report where their forces carried out a simulation of an attack on Tel Aviv by 1,000 Islamic rockets. Iron Dome only intercepted about one-third, leaving 665 rockets hitting Tel Aviv. The damage was catastrophic. If 665 rockets would devastate Tel Aviv, what kind of damage could 170,000 Islamic rockets do?
The general was right. Israel's strategic reality was changing, Israel must adapt or die. "Every one of our borders is tested more than in the past".
That goodness Israel can count on traditional American military support, right?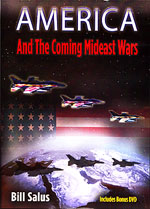 DVD
V. But, wait one moment. President Obama is pulling America out of the Middle East!
Barack Obama began this slow retreat the day he entered the Oval Office.
NEWS BRIEF: "Defense Minister Ya'alon: US 'detaching from the Middle East' , The Jerusalem Post, 1/28/2014
"The United States is detaching from the Middle East and working to shed its role as the policeman of the world, Defense Minister Moshe Ya'alon said Tuesday. Speaking at the Institute for National Security Studies (INSS) annual conference in Tel Aviv, Ya'alon pointed at the Iranian takeover of Iraq following the US military withdrawal from the country as an example of the US policy of separating itself from conflict areas."
I find it interesting to note that, seven years after we predicted that Iran would win the war in Iraq against the United States and that Iran would control Iraq, the Israeli Defense Minister boldly states the obvious before a distinguished group of "Think Tank" specialists.
Please take a few moments to read our original warnings.
NEWS2060 - "Iran Winner of Iraqi War? How Could 'Axis of Evil' Nation Possibly Engineer Defeat of Mighty USA"? Posted July, 2005
NEWS2135 - "Iran May Be About Ready To Become Iraq's Closest Ally!" Posted May, 2006
Bible prophecy, written originally over 2,500 years ago, stated that, at the End of th Age, Israel would be left alone by her friends and would be so under attack that Michael, Israel's Archangel, would have to fly to her defense. Listen:
"And at that time of the end, Michael shall arise, the great angelic prince who defends and has charge of your [Daniel's] people. And there shall be a time of trouble, straitness, and distress such as never was since there was a nation till that time. But at that time your people shall be delivered, everyone whose name shall be found written in the Book of God's plan for His own." (Daniel 12:1; Parallel Bible, KJV/Amplified Bible Commentary)

Can you see now why this dedicated Messianic Jewish couple decided to move out of Israel? They were looking right into the teeth of the Islamic monster whom God was going to use to create "a time of trouble, straitness, and distress such as never was since there was a nation till that time" within Israel.
People all over the world are being called to understand that End Times prophecy is being uniquely fulfilled in the Middle East, revolving around tiny Israel. This is another "sign of the times" event. Are you paying attention? Are you spreading the message?
God is in the business today like never before in making His prophecies uttered so many years ago come true in our Daily News!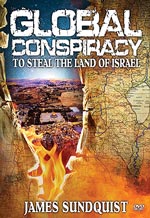 DVD
VI. Secretary of State John Kerry (Skull & Bones) has an "Interim" plan to divide Israel and create a Palestinian State.
The only trouble is that the Palestinians are rejecting getting their own state!
NEWS BRIEF: "The 'Kerry Plan': Palestinian capital in east Jerusalem, recognition of Jewish state ", The Jerusalem Post, 1/29/2014
"The 'Kerry Plan' is likely to be unveiled soon ... is expected to 'call for an end to the conflict and all claims, following a phased Israeli withdrawal from the West Bank (based on the 1967 lines)'. there will be 'unprecedented security arrangements in the strategic Jordan Valley ... some settlements will remain under Israeli control and Israel will compensate Palestinians for the land."
Any such compensation to the Palestinians for land which God gave Israel during the time of Abraham will be hotly contested by Jewish Conservatives and/or Zionists. Prime Minister Netanyahu may lose his office over this most volatile issue.
But, there is more hot news. There is the issue of Jerusalem, the "third rail" issue of carving out a Palestinian State. The Jewish leader whou touches Jerusalem can face immediate expulsion.
"The plan will set east Jerusalem as the capital of any future Palestinian state. It will also demand that Palestinians recognize Israel as a Jewish state. "
The manner in which this point is presented here implies that, if the Israelis grant East Jerusalem to the new Palestinian State, the Palestinians must reciprocate by officially recognizing that Israel is a Jewish State. Does this recognition also carry the "right to exist" declaration? All Palestinian leadership for the past 40 years has refused either of these understandings, let alone both.
The cost of failure to agree to the Kerry plan may be high for PM Netanyahu.
"Friedman also claims that if Israeli Prime Minister Binyamin Netanyahu is to agree to the terms of the 'Kerry Plan', his coalition will collapse and Netanyahu will face many challenges."
Remember, prophecy states that a Palestinian (House of Esau/Edom) will never be actually created; rather, it will be an empty declaration that will lead nowhere but will cause the death of the leadership.
"And He (God) will stretch over it (Edom) a measuring line of confusion and the plummet stones of chaos over its nobles. They shall call its nobles to proclaim the kingdom, but nothing shall be there ..." [Isaiah 34:11b-12; Parallel Bible, KJV/Amplified Bible Commentary]
"They shall call its nobles to proclaim the kingdom, but nothing shall be there".
When you hear this proclamation of a Palestinian State, know that Bible prophecy has been fulfilled, know that nothing will come of it, and know that the final annihilating war of the House of Edom, the Palestinians, is close at hand.
We encourage you to read the following articles for your greater understanding.
NEWS2095 -- Explains the prophecies which foretell that Israel with destroy the Palestinians utterly with fire.
NEWS1806 - "GOD THREATENS END TIMES JUDGMENT AGAINST NATIONS WHO "DIVIDE" ISRAEL'S LAND"
Watch Israel and the entire Middle East. Tiny Israel is truly "God's Timepiece" in all prophetic events as the world enters into the Seven Years of Tribulation, also known as "The Time of Jacob's Trouble" or "The 70th Week of Daniel".
God's bottom line promise will never fail.
"And I will bring back the exiles of My people Israel ... And I will plant them upon their land, and they shall no more be torn up out of their land which I gave them, says the Lord your God." (Amos 9:14, 15)
"And at that time of the end Michael shall arise, the great angelic prince who defends and has charge of your [Daniel's] people. And there shall be a time of trouble, straitness, and distress such as never was since there was a nation till that time. But at that time your people shall be delivered..." (Daniel 12:1)
Prophecy is clear: Israel shall suffer greivously, but God shall deliver the nation.
Then, after the seven years are accomplished, Antichrist is vanquished, and Jesus Christ returns to an Israel who now believes in Him as Messiah/Savior.
" And I will pour out upon the house of David and upon the inhabitants of Jerusalem the Spirit of grace or unmerited favor and supplication. And they shall look [earnestly] upon Me Whom they have pierced..." (Zechariah 12:1a)
Exciting times are ahead for Bible-believing Christians. Do not lose heart.
---
Headline News Articles
Is President Obama Going To Make An Announcement Confirming The Existence of Extra-Terrestrials? He has just appointed a "UFO adviser"!
Was Ronald Reagan A Secret Member of the Luciferian Secret Society, The Rosicrucians?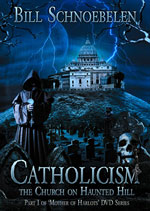 SPECIAL ANNOUNCEMENT
Pope Francis I Preparing To Be The False Prophet Revelation 13:11-18
Your hair will stand on end when you read of the doctrinal heresies and doctrinal reversals initiated by Pope Francis !
"At the proper moment in history, the Pope will visit the combined Jewish/Christian/Moslem sector of Jerusalem to announce that all religions should be combined into one." (Illuminati Plan)
This is the Plan and Pope Francis I is the Man.
BREAKING NEWS JUST IN! Pope Francis has just announced he will visit Jerusalem in May! See details in this article, above.
Abruptly, Significant Progress Occurs In Prophetically Reorganizing All Nations Into 10 Supernations
Prophetic Supernation #9 is forming, with a deadline of December, 2015
South and Southeast Asia (ASEAN) is now coalescing into a single giant nation. When this nation is formed, it will be part of the fulfillment of Daniel 7:7-8
"Gun Control / Seizure Advocates Enter Through Back Door To Achieve Control:
We will pry your gun from your dead, cold fingers" (Lt. Col. Bateman, Homeland Security)".
President Obama Is Unilaterally Disarming America!
From the Middle East to the Far East, American forces are signaling all-out retreat. Will America survive Barack Obama?
Nuclear-Armed Iran Fears Can Be Buried Once and For All!
Shocking Prophetic News: Revelation 18 Prophecy Reveals That America Will NOT Suffer Economic Collapse Until Antichrist Is Here
Subscribe To Headline News For Only $25 per year!
---
GREAT VALUES
---
Your faithful support enables us to keep Cutting Edge free for everyone else. Our readers have always loved the indepth correct news analysis found in our "Headline News Analysis".
If you want only to make a donation rather than subscribe to Headline News, simply click on the 'Donation Button' shown to the left and complete the simple form.

---