Most Popular DVD In The Bookstore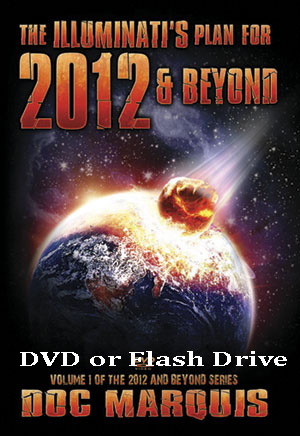 New Doc Marquis DVD - His Best Ever!
"The Illuminati's Plan For 2012 And Beyond"
2-Disc Set - Volume 1
Introductory Offer - Regularly $39.99, On Sale For $29.99
Now that you have read and heard the noise and chatter about the year 2012, you will be pleased to know the truth of the Illuminati Plan for 2012, from a man who knows the Plan thoroughly, former Illuminati Luciferian, Doc Marquis!
After watching this 'One of a Kind' DVD set, you will no longer wonder what will happen after December 21, 2012!
Is the end of the world near? Are we doomed to destruction? Do we have any hope for tomorrow beyond the year 2012? In this new, exciting and riveting 2 part DVD set renowned author and former Illuminati witch Doc Marquis takes up the daunting task of revealing the truth behind December 21, 2012.
At the end, through a unique series of question and answers along with comparisons of the Holy Scriptures Doc Marquis shall reveal the final truth behind the mystery of 2012.
2-DVD Set, nearly 4 hours - http://www.cuttingedge.org/detail.cfm?ID=2304
Will begin shipping on or before 4/15 - Cutting Edge is doing the editing, so we will be on time.
---
---------- This Week's Hot News -------
Major World Event!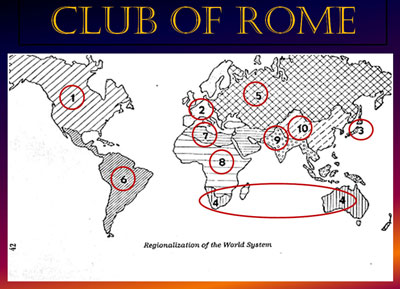 North Africa and the Middle East are being intentionally destabilized right now, so that countries resistant to Regional Government will be forced into "Regime Change" so they can be easily and quickly melded into Supernation #7 of the Illuminati's 10-Nation Reorganization Plan.
This supernation will be called "Northern Africa and the Middle East".
Therefore, dictators of every stripe are targeted for overthrow, even if that dictator has been a consistent supporter of United States policy for many years. The objective is to remove all resistance to Supernation #7.
The speed with which regimes have been overthrown in the past two months is breathtaking.
I. Egypt's President twists slowly in the wind as the "Million Man March" descends upon Cairo.
Nobel Peace Prize winner ElBaradei calls upon President Mubarak to leave now to "avoid bloodshed".
NEWS BRIEF: "As protests swell in Egypt, U.S. ambassador reportedly speaks to ElBaradei", USA Today, February 1, 2011
"As hundreds of thousands of protesters pack into central Cairo, opposition leader Mohamed ElBaradei says President Hosni Mubarak 'must leave to avoid bloodshed'. AFP, quoting U.S. officials, says U.S. Ambassador to Egypt Margaret Scobey spoke today with opposition leader ElBaradei."
The entrance of former IAEA Nuclear Chairman, Mohamed ElBaradei, on the scene is proof positive, in my opinion, that the days of Hosni Mubarak as President are severely numbered. Even though Mubarak has been a bold and consistent support of American policy during the entire three decades of his rule, his presence in office will complicate matters of Egypt being accepted by other Islamic nations in Supernation #7 for the following reasons:
1) Anwar Sadat had the courage to make peace with Israel and he paid for that initiative with his life, as he was assassinated October 14, 1981. Hosni Mubarak took over as dictator, and immediately made it quite plain that he was going to honor the peace treaty with Israel. The last 30 years have been ones where Egypt has maintained this peace treaty with the Jewish State.
Therefore, Mubarak is seen by the vast majority of Muslims as being a traitor to the cause. Since Supernation #7 is going to be comprised of Islamic nations, a pro-Westerner like Mubarak is going to be such a problem that it may prevent this supernation from forming.
2) Mubarak cooperated with President Bush in his infamous "War On Terror" following the attacks of 9/11 so completely that he accepted Islamic prisoners from the United States where his intelligence service tortured them severely. They tortured these prisoners in ways the United States could not torture them because of our internal laws.
The specter of Mubarak torturing fellow Muslims has alienated him from the rest of the Islamic world.
3) Mubarak cooperated extensively with Israel over the past 30 years in other issues not related specifically to the peace treaty Sadat signed. In fact, Egypt and Israel even agreed upon the type of control that should be established on the Gaza border. These joint agreements meant that Egypt was cooperating with Israel in her fight against Hamas.
Thus, Mubarak is considered a pariah amongst the vast majority of Muslims throughout the world.
For these reasons, America is publicly abandoning Hosni Mubarak, as these stories below demonstrate.
The White House is said to be grooming the radical Islamic terror group, "The Muslim Brotherhood", for a role in a "post-Mubarak" Egypt!! This event is the strongest indication yet that the United States is a major force behind the unrest sweeping Northern Africa and the Middle East, to be soon known as North Africa, or Supernation #7 in the Illuminati's 10-Nation Reorganization Plan!
NEWS BRIEF: "White House open to role for Muslim Brotherhood in post-Mubarak Egypt", The Examiner, February 1, 2011
"The Obama administration said for the first time that it supports a role for groups such as the Muslim Brotherhood, a banned Islamist organization, in a reformed Egyptian government ... The White House statement ... an acknowledgment that any popularly accepted new government will probably include groups that are not considered friendly to U.S. interests, and was a signal that the White House is prepared for that probability after 30 years of reliable relations with Egyptian President Hosni Mubarak."
The White House is not just "prepared" for the "probability" that Egypt is going to fall into hostile hands, they are working out "The Pentagon's New Map" strategy as we outline clearly in the DVD above, "The Illuminati Is Fulfilling Bible Prophecy"!
Since America is cooperating with the Muslim Brotherhood, what impact might that policy change have upon our relations with Israel? Listen to this next segment:
"The one topic on which the White House was strangely mute was the effects this move would have on America's relations with the one legitimate democracy in the region, Israel. The Muslim Brotherhood advocates tearing up Egypt's peace treaty with the Jewish state. Is that now the Obama administration's new position as well?"
In fact, America likely started the internal dissension in Egypt with CIA agents agitating amongst the various Islamic factions. After all, "The Pentagon's New Map" strategy is an American/Illuminati plan and it is clearly being followed in great detail in this struggle.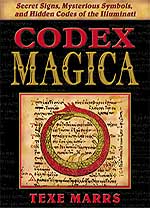 II. Unrest spreads to pro-Western government of Jordan.
Jordan's King has traditionally been the highest ranking Freemason in the Arab world!
NEWS BRIEF: "Jordan's King Abdullah appoints new prime minister as Egypt unrest spreads", The Guardian (London), 1 February 2011
"Jordan's prime minister has been replaced as the political shockwaves from Egypt continue to reverberate across the Arab world. King Abdullah asked Marouf Bakhit to form a new government following the resignation of Samir al-Rifai after weeks of protests by Jordanians calling on him to step down"
The Jordanian Monarch is clearly trying to signal that he will cooperate with the new vision of the coming supernation.
"Bakhit was asked to take 'practical, swift and tangible steps to launch a real political reform process, in line with the king's vision of comprehensive reform, modernisation and development', said a statement from the royal palace."
Listen to the key words signaling Jordan's intense desire to cooperate with this new vision:
"... real political reform process"
"... king's vision of comprehensive reform"
"... modernisation and development"
Even though Jordan has never been a truly repressive government, the Hashemite Monarch may have to be replaced because he is considered too soft on Israel and too close to the United States. This next news segment verifies this reality.
"Many ordinary Jordanians are also vehemently opposed to the 1994 peace treaty with Israel, signed by the late King Hussein, and at the heart of the country's close alliance with the US, which was enhanced by the war in neighbouring Iraq."
Many radical Muslims can never forgive the King from cooperating with Israel and standing by watching Islamic civilians being killed in Iraq.

III. Israel's Prime Minister is told he must prepare his nation for a "New Regional Order"!
Unrest is raging all around Israel's border now -- Lebanon, Jordan and Egypt.
NEWS BRIEF: "Netanyahu must prepare for a new regional order", February 1, 2011
"Prime Minister Benjamin Netanyahu responded to the ongoing events in Egypt by urging that 'regional stability and security' be preserved. Israel even asked Western governments to work to save the regime of President Hosni Mubarak. Netanyahu's concern for his Egyptian friend and ally is touching. It also reflects his fear of what will happen if regime change occurs in Egypt and Mubarak is replaced by opponents of the peace with Israel. "
Remember, Egypt made peace with Israel and Mubarak lived up to his commitments. Therefore, Israel did not have to worry about Egyptian military forces being stationed on her Gaza border. Israel also cooperated with Egyptian authorities in the fight against Hamas; but, if a radical Islamic leader takes control of Egypt, Israel might discover powerful hostile forces right on her Gaza border!
Israel then could no longer divert military resources from the Gaza border area to the north, where Lebanon is now controlled by hostile forces. In fact, should Egypt fall to Islamic forces hostile to her, Israel will suddenly face hostile forces on her northern border (Lebanon), and on her southern border (Egypt). This change is quite abrupt and bold, since both borders have long been considered controlled by friendly powers.
Israel is suddenly under a huge new threat! At this point, this journalist calls for Israel to prepare for a "New Regional Order", which is exactly what this Supernation #7 of the New World Order Plan will be!
"The time has come to start preparing for a new regional order. Instead of clinging to the old, collapsing order, Netanyahu must seek peace agreements with both the Palestinians and with Syria in order to make Israel a more welcome and desirable neighbor. "
Can you imagine such unbiblical and bad advice? The only way that Israel can become a "more welcome and desirable neighbor" is if she simply commits national suicide and physically disappears from the face of the earth!
Biblical prophecy that Israel will stand alone against her enemies at the End of the Age are starting to come true. Israel is left even more exposed by these events than ever before. She is in grave danger.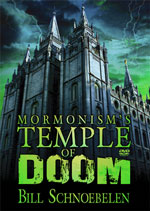 DVD
IV. Now there are two!
Jon Huntsman resigns abruptly from his post as U.S. Ambassador to China to throw his hat in the presidential ring! Now we have two Mormons running: Mitt Romney and Jon Huntsman.
NEWS BRIEF: "Bye Bye Beijing, Hello White House?", by Patrick Chovanec, Business Insider, Money Game, February 1, 2011
"The current U.S. Ambassador to Beijing, former Utah Governor Jon Huntsman Jr., reportedly submitted his resignation yesterday, clearing the way for him to throw his hat in the ring as a Republican presidential candidate in 2012."
This resignation is not really a surprise, since Huntsman reportedly purchased a home in the Washington, D.C., area for nearly $4 million. But, President Obama cannot be pleased, as he is said to have named Huntsman as Ambassador to China so as to remove him from domestic politics so he would find it difficult to contemplate a Presidential run in 2012.
Would Huntsman find the Republican waters too tough, because he has served Obama in China? Chovanec thinks not, believing Huntsman can spin his experience in China as a plus.
"I don't see any problem with him saying — in a GOP primary debate — 'yes, I served in China, because it was too important not to, but here's how I disagree with this president' on a whole host of critical issues. Combined with his own successful record as Governor of Utah, he could stake out a position as a principled but pragmatic conservative who puts patriotic interests above partisan politics — and I think a lot of Republicans would find that very appealing."
This author then draws a parallel between the race of 2012 and of 1964.
"In 1964, the Republican Party was unhappily split going into the primaries that year, between a hard-edged, populist true believer who many feared might prove unelectable (Goldwater then, Palin today) and a wealthy northeastern governor distrusted by the base as wishy-washy (Rockefeller then, Romney today). Many Republican voters were eagerly seeking a third choice. A small group of political amateurs put together a grassroots campaign to draft Henry Cabot Lodge Jr., a former Republican senator who was serving Democrat Lyndon Johnson as ambassador to South Vietnam, the focal point of the president's Asia policy."
"Clearly, there's a precedent, though, for an ambassador to run against the president he served, and be accepted by the opposition party. If Huntsman goes into it more prepared — and from what I can tell, he's doing exactly that – the outcome could be very different this time. "
The question then becomes, in which party will Huntsman seek the presidential nomination?
Since he is a lifelong Republican, he should be expected to enter the GOP campaign. However, that move would place him in conflict with fellow Mormon, Mitt Romney. Each man would be forced to call the other names, and that is not what Mormons are all about.
Huntsman could be drafted by the Tea Party. He is certainly "new blood" and a Conservative, both qualities for which the Tea Party is seeking. However, if he runs on the Tea Party ticket, he would split the anti-Obama movement, and would then deliver re-election to the President "on a silver platter"!
Is it possible that Huntsman could run against Obama in the Democrat Party? This scenario seems highly implausible. But, he did serve the Democrat President in China and could re-register as a Democrat in order to run.
If this occurred, then America would have to choose between a Republican Mormon and a Republican/Democrat Mormon for the White House. Therefore, no matter who wins, the country will have a Mormon for President, thus fulfilling the old Mormon prophecy known as "The White Horse P:rophecy"! (Read NEWS2226).
The election of 2012 could prove to be the most interesting in a very long time!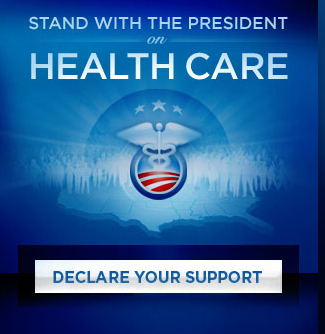 V. A Federal judge shocked the nation by ruling the entire ObamaCare unconstitutional!
NEWS BRIEF: "Obamacare struck down as unconstitutional, stage is set for showdown", The Examiner, February 1, 2011
"A federal judge on Monday struck down the entire Obamacare legislation as unconstitutional. While the individual mandate portion of the law was declared unconstitutional by a federal judge in December, this is the first time the entire law was struck down. Further, this ruling will significantly delay implantation of the law in 26 states and could set the stage for a Supreme Court case testing the validity of the Affordable Care Act, also called Obamacare."
On the surface, this seems like a major victory for Conservatives! And, I certainly hope that it turns out that way, because this boondoggle of a law delivers the entire Health Care system into Fascist / Socialist hands and will begin the practice of "Death Panels" in this country.
Returning to our featured news article:
"U.S. District Judge Roger Vinson handed down the ruling in a suit brought by 26 states. As part of his ruling the judge declared that the individual mandate, the requirement that all citizens purchase health insurance or be penalized and fined, cannot be separated from the rest of the law. Therefore, as the individual mandate is unconstitutional, the entire law must be struck down. "
However, this judge stopped short of granting full victory to the Conservative side.
"... Though Judge Vinson stopped short of issuing the injunction preventing implementation of the law the plaintiffs were seeking; the 26 states which brought the suit now have clear legal guidance to resist Obamacare."
The reason I am not overjoyed by this wonderful victory, is that I have learned from my nearly 25 years of researching the Illuminati Plan, not to underestimate the Global Elite. Rarely are they caught by surprise. Rarely are they caught unawares.
I believe it highly likely that they decided that an early Supreme Court ruling might be the quickest path to full implementation of ObamaCare. Surely, the Illuminati has already packed the High Court with Justices who will rule with the White House on this issue.
Now, if the Supreme Court throws out ObamaCare, I will be greatly surprised. Very happy, but surprised.
---
CLOSE-OUT Special Purpose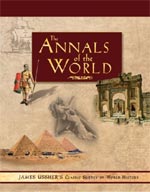 "The Annals of the World"
James Ussher's Classic Survey of World History
Regularly $39.99, Now Only $24.99
You Save $15.00!
Considered both a literary classic and an accurate historical reference from Creation to 70 A.D. For the first time, this classic work has been translated into modern English.
This treasure trove of material also contains many human interest stories from original historical documents collected by the devoted Christian historian and scholar Archbishop James Ussher. Precisely dated and referenced, this volume is much more than just a fascinating history book -- it is a work of history
Contains over 2,500 citations from the Bible
Ussher's original citations have been checked against the latest textually scholarship
Is fully indexed, with 8 appendices
Wonderful Home School resource, with 960 pages, weighing five (5) pounds!
---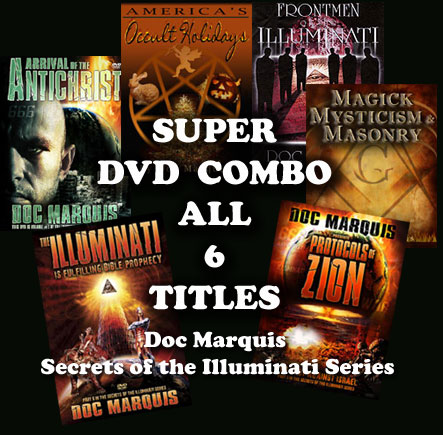 "Secrets of the Illuminati" Combo Offer
All Six Titles by Doc Marquis, 7 DVDs, over 18 hours of teaching
Save $80.00!
Each of these unique DVD's provides information on a part of the Illuminati Plan which only a former Satanist / Illuminati would know. Furthermore, much of the information Doc Marquis provides is the 'Oral Plan', which is the parts of the plan to produce Antichrist which is so evil that it is never written down.
These are the titles: 1) 'Arrival of the Antichrist' ; 2) 'America's Occult Holidays'; 3) 'Front Men of the Illuminati'; 4) 'Magick, Mysticism, and Masonry' - This is THE ONE video every Mason to whom you are witnessing must see! 5) 'The Protocols of Zion: Plot Against Israel' ; 6) 'The Illuminati Is Fulfilling Bible Prophecy' "
Doc Marquis uses the King James Bible
---
New Headline News Articles
Public School Teachers Grading Parents?
If passed, this law will instruct Public School teachers to evaluate, to grade, parents! Asking unchristian teachers to evaluate Christian parents is asking for disaster!
http://www.cuttingedge.org/news/n2439.cfm
Israeli Scientists Warn Residents To Prepare For A Major Earthquake!
The Plan of the Global Masonic leaders is to use an earthquake to knock down the Dome of the Rock so the new Masonic Solomon's Temple can be built on that holy spot!


"Do Christians Actually Know What Mormonism Is And Why The Bible Forbids Us To Have Anything To Do With It?"
A longtime Christian brother talked to me last week, all excited about Glenn Beck. I quickly learned that this Sunday School teacher knew nothing about Mormonism. He did not know enough to be concerned about a Christian making an alliance with Mormonism.
http://www.cuttingedge.org/news/n2433.cfm
"Conspiracy? Yes, Virginia, Satan Has Mounted A Global Conspiracy Against God - Just As Prophecy And Doctrine Foretell"
I find it incredible that many knowledgeable Christians prefer to not believe that a human conspiracy will set the prophetic stage for the appearance of Antichrist. Rather, these type of Christians prefer to believe in a "prophetic evolution" where all prophecies will spring to life out of some sort of primordial goo!
We shall demonstrate the futility of denying Biblical doctrine and teaching that God's prophecies will occur just as He foretold because Satan has caused his adherents to create a plan which will fulfill all His prophecies.
A massive End Times conspiracy is prophesied! Believe it and events today will begin to make sense.
The 2010 midterm elections were the first salvo fired for the 2012 election! Conservatives will be frustrated greatly during the next 2 years and will be told that, in order to complete the overthrow of Obama Liberalism, they must win the White House and the Senate in 2012!
Deliberate Frustration will be the order of the day for Conservatives during the next 2 years! http://www.cuttingedge.org/news/n2432.cfm
"Glenn Beck's New Blockbuster Book 'BROKE' Is Selling By The Millions"
The premise is that America is financially, spiritually and mentally bankrupt and must be rescued. However, it is simply not true that America is financially bankrupt! CAFR is the greatest secret out in the open in a very long time, perhaps in all of human history.
Is this book the first major salvo in setting a Mormon on the path to the White House, so he can fulfill the old Mormon prophecy known as the "White Horse Prophecy"?
"Controlled Conflict Bringing About Controlled Change" - The Hegelian Doctrine In Constant Use In Today's News"
Once you understand this tactic used daily by the Global Elite, in so many circumstances, you will never, ever view the news the same way again! As we head into the 2010 Mid-Term Elections, you need to understand that all political parties are based upon this Hegelian foundation -- Controlled Conflict Bringing About Controlled Change.
http://www.cuttingedge.org/news/n2429.cfm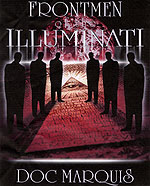 DVD
Council On Foreign Relations (CFR) Pronounces The Winner of The Iraq War To Be -- IRAN!
Incredibly, Cutting Edge posted an article five years ago in which we declared that Iran would be seen eventually as the winner of the Iraq conflict, because that was the Illuminati Plan! -- http://www.cuttingedge.org/news/n2427.cfm
<![if !vml]>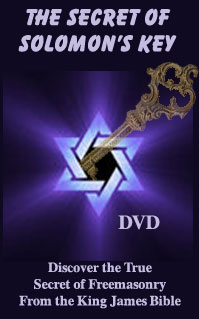 <![endif]> "New Prophetic First -- One-half of Jewish people now support rebuilding the Temple on the Temple Mount"
Normally secular Israel has never shown this strong of support for rebuilding the Temple, showing the effects of Orthodox Judaism. Will the Islamic Dome of the Rock be destroyed on the 'Ninth Day of Av', the most horrible day of the year for Israel?
http://www.cuttingedge.org/news/n2424.cfm
"Take from Freemasonry its dependence on the Temple; leave out of its ritual all references to that sacred edifice, and to the legends and traditions connected with it, and the system itself would at once decay and die ... " (Noted 33º Masonic author, Albert Mackey)
<![if !vml]>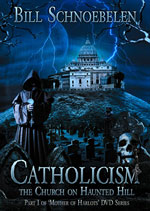 <![endif]> "Catholic Priestly Sex Abuse Is Now Oozing Over Every Continent on Earth!"
The sheer magnitude of the priest's sex scandal is shocking beyond belief; but, remember, the statistics we are about to share with you is simply the proverbial "tip of the iceberg"! The true total numbers of deviant priests and victims reach into the many millions of victims.
Even the infamous Kinsey Report may have its roots in the 12 Centuries of sexual deviancy from priests and nuns and their victims!
http://www.cuttingedge.org/news/n2422.cfm
---

Purchase a 1-Year Subscription, you may select 1 FREE gift
Purchase a 2-Year Subscription, you may select 2FREE gifts
Purchase a 3-Year Subscription, you may select 3 FREE gifts
Purchase a 4-Year Subscription, you may select all 4 FREE gifts
We have changed our FREE gifts available to you when you subscribe to Headline News, adding two Pastor Hoggard DVD's to the Seminar Tapes and the Radio Collection CDROM.
---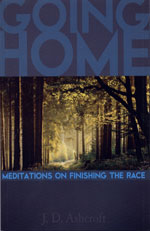 --------Concluding Inspiration ---------"The Comfort Jesus Gives"
"Let not your heart be troubled: Believe in God; believe also in me. In my Father's house are many rooms. If it were not so, would I have told you that I go to prepare a place for you? And if I go and prepare a place for you, I will come again and will take you to myself, that where I am you may be also." ( John 14:1-3)
It is a shock for us to be informed of terminal illness. Thankfully, our Lord has given wonderful comfort to enable us to face the trial before us. Here in this text our Lord has just announced to his disciples that He would be leaving them soon. Instead of focusing upon the cross and suffering to come, Jesus comforted his disciples. These three verses contain some of the most enduring comfort in all of sacred literature. In them Jesus exhorts his disciples to believe in God, to believe in Him, and believe that He will come again to be with them forever.
Jesus comforted his disciples by an exhortation to faith in God. "Let not your hearts be troubled. Believe in God." The disciples' hearts were indeed "troubled", or agitated by the news he had just given them. Not only was Jesus to leave them, Peter, one of their leaders, would deny the Lord three times (John 13:31-38). In this context Jesus gives them a word of comfort, and a message which would see them through their trial. Jesus exhorted them to "believe", which means "to place our trust in someone." Who did Jesus exhort them to trust? God. No greater counsel can be given to disquieted souls than to place our trust in the Lord. God is "our God forever and ever. He will guide us forever." (Ps. 48.14). God will never leave us or forsake us (Heb. 13.5). He is worthy of all our trust at all times.
Jesus also comforted his disciples by exhorting them to believe in him. "Believe also in me." Jesus wanted his disciples to trust him, and place faith in his words to them. In this case he tells them of a work he will perform while absent from them. He says: "In my Father's house are many rooms. If it were not so, would I have told you that I go to prepare a place for you?" Here our Lord makes clear that His life will not be limited by physical death. He also tells them that there is a place in the heavens, a mansion composed of many rooms, owned by God. Moreover, Jesus tells His followers that he is going to that mansion to "prepare a place" for them.
Death is a fearful event. It is also a fearful thing to stand before a holy, omniscient, and just God. Jesus went to the cross in order to eliminate our fear of both of these events. Moreover, he has promised us "a place", a room in the palace of Almighty God Jesus, the Son of the Father, went to heaven to prepare for our arrival there! There is no greater comfort for disciples of Christ than to know that He has made a way for us to be welcome at the throne of God.
Jesus also comforted his disciples by promising to return for them. He says "I will come again and will take you to myself, that where I am you may be also." Here is the first time in the Scripture that Jesus promises that he will return to earth. In the second coming of our Lord, we will be re-united with our Lord, and have fellowship with Him. The most painful part of grief is separation. Jesus defuses that agony with the promise that we shall see Him again. Moreover, implicit in this promise is that God's mansion will be filled with others, who, like His disciples, put their trust in God, and in the work of His Son, Jesus Christ our Lord. If we have a place in the mansion of God, we shall be re-united with all believers who have gone before us; whether Apostles, parents, children or friends.
This great word of comfort brings to the forefront the single most important need we have: We need to believe in God our Father, and the work of Jesus Christ, His only Son and our Lord. If we would only place our faith in the Lord, we will find that we are promised a place in God's heavenly house, with all our believing loved ones.
Dear Lord, grant us the grace of belief, that we might not fear our death, but look forward to our life in heaven with you and all our Christian loved ones. In Jesus Name, amen.
---
"President Bush:
Evil vs Good Fruits"
Directory of all news articles
Free Radio Transcripts

Free Headline News Archives

Freemasonry

What Saith Rome

Teachings from the Catechism

Bookstore

Meet the Staff

Weather Control

School Shootings

Understanding Clinton
May Jesus Richly Bless You,
David Bay, Director
866-909-2850 Toll Free Customer Service - Order Line
803-356-2850 Customer Service - Order Line - For Out of Country Customers
803-356-2860 Fax