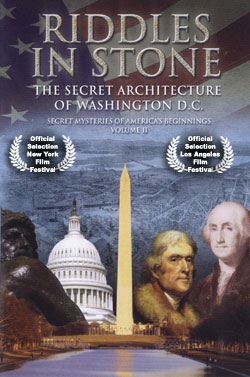 Award-Winning Documentary
VOLUME 2 -- "Riddles In Stone: The Secret Architecture of Washington, D.C."
PROGRESS UPDATE
We are on schedule to begin shipping our first product at the end of next week. We shall ship the oldest orders first. My warehouse manager tells me that he will need three weeks to complete the shipping, given the volume of "Riddles In Stone", plus having to continue shipping regular Cutting Edge Bookstore product.
This weekend will be the last one in which we shall be conducting a "Pre-Publication Sale", giving you $5.00 off retail. If you meant to order, but have not done so, you can order this weekend and still get the special price. Click here to order
Our film maker says that the material in this video will make "Riddles In Stone" several times more powerful, more compelling, than Volume 1, "The New Atlantis". If you loved Volume 1, you will absolutely "flip" over this video!
Thank you for your patience. When God opened the door for us to gain access to the inside of Federal buildings, using the security clearance of that security officer, we realized that we had to completely rewrite the script. In other words, we started nearly from scratch in mid-November, and that cost us three full months.
But, once you view this video, you will instantly forget we were late.
---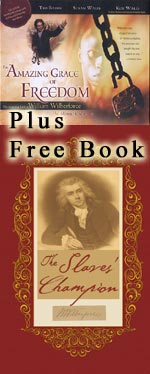 --------- New Major Christian Movie -------In Theaters February 23!
"Amazing Grace"
Inspiring New Movie tells the story of William Wilberforce, who helped to end Slave Trade in the British Empire. More than just a movie, the film release is accompanied by a concerted effort to end modern-day slavery around the world.
According to a description on the website, the film features Welsh actor; Ioan Gruffudd, (playing William Wilberforce) who, as a Member of Parliament, navigated the world of 18th Century backroom politics to end the slave trade in the British Empire.
Albert Finney plays John Newton, a confidante of Wilberforce who inspires him to pursue a life of service to humanity, as well as penning the renowned song, "Amazing Grace". Benedict Cumberbatch is William Pitt the Younger, England's youngest ever Prime Minister at the age of 24, who encourages his friend Wilberforce to take up the fight to outlaw slavery, and supports him in his struggles in Parliament.
Elected to the House of Commons at the age of 21, and on his way to a successful political career, Wilberforce, over the course of two decades, took on the English establishment and persuaded those in power to end the inhumane trade of slavery.
Amazing Grace is shaping up to be much more than a great movie. The film's website includes a call to consciousness and action on the part of those still being held in slavery today. A special website coinciding with the release of the movie has been set up for the purpose of being a "campaign to carry on Wilberforce's vision of mercy and justice."
Cutting Edge Bookstore Note: Pictured above is a combination book offer:
"AMAZING GRACE -- OF FREEDOM BOOK" -- With FREE Book, "Slave's Champion"
1) 'Amazing Grace' - Coming to theaters February 23. This book was written by the Producer of the movie! The year 2007 is the landmark 200th anniversary for the Slavery Trade Act, legislation that led to the eventual abolition of slavery in Britain. Spearheaded by the legendary man of faith, William Wilberforce, the legislation marked a victory in the 30-year personal effort to see the brutal captivity and trade of human beings come to an end.
The eventual demise of the British slave trade was a watershed event here in the United States as well. What Wilberforce accomplished peacefully in England would only come to an end in America after the brutal bloody years of the Civil War tore the nation apart.
2) "Slave's Champion" is a computer scan of an original book written in 1861 on the life of William Wilberforce. Published soon after his death, this book gives a revealing look into the way Wilberforce lived and his impact on British society-- an impact that also inspired American abolitionists in their effort to end slavery within the United States. As it was written close to this time, the customs and culture of Wilberforce's era are revealed.
Combined Retail is $31.00, but will cost you only $19.99, as "Slave's Champion" is given FREE!
Related News Story On This Movie: "200 years of battles fail to halt slavery: Famed human trafficking opponent Wilberforce profiled in book, movie
---------- This Weeks Hot News ----------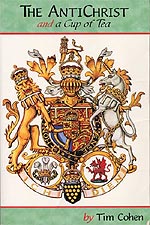 I. The war in Iraq may have just taken a really bloody new turn, as five (5) American helicopters have been shot down within the past three weeks, at least some of which were probably downed by shoulder-fired anti-aircraft missiles!
NEWS BRIEF: "U.S. Military Command Admits: 4 Copter Losses Due to Ground Fire", The Guardian,. (London), February 4, 2007
"
BAGHDAD, Iraq (AP) - All four U.S. helicopters that have crashed in Iraq since Jan. 20 appear to have been brought down by ``some kind'' of ground fire but it is unclear whether this represents any new threat to U.S. aviation, the chief U.S. military spokesman said Sunday. It was the first time that the U.S. command has publicly acknowledged that the three Army helicopters and one private helicopter were probably shot down."
This statement was the first admission by the US military that ground fire had taken down these helicopters. Previous military statements had hinted that these copters had crashed from unknown causes, but certainly nothing the insurgents did.
This next story paints a completely different picture. Note that the date difference between these two articles is 4 days.
NEWS BRIEF: "U.S. copter crashes northwest of Baghdad", ROBERT H. REID, Associated Press, reprinted by Philly News, February 8, 2007
"BAGHDAD, Iraq - A U.S. Marine transport helicopter crashed in flames Wednesday in a field northwest of Baghdad, killing all seven people aboard, the U.S. military said. It was the sixth U.S. aircraft reported lost in less than three weeks and the latest sign of growing problems with aviation in Iraq. A U.S. military statement gave no reason for the crash of the CH-46 Sea Knight..."
Of course, the American military would decline to admit that this latest crash of a helicopter might be due to enemy fire, as we noted above! Our military leaders have always maintained that our armed machine was so superior that it was almost impervious to enemy "insurgents". As word began swirling around that at least some of these doomed copters were brought down by shoulder-fired anti-aircraft missiles, the American command insistently refused to comment; however, this next segment confirms that missiles were, indeed, bringing our aircraft down.
"An Iraqi air force officer, however, said the helicopter was downed by an anti-aircraft missile. He spoke on condition of anonymity because he was not authorized to release information. An Iraqi farmer who lives about a half mile from the crash site said he heard a missile fired moments before the crash, which took place in an insurgent-infested region. 'The helicopter was flying and passed over us, then we heard the firing of a missile', the farmer, Mohammed al-Janabi, said. 'The helicopter then turned into a ball of fire. It flew in a circle twice and then went down'." (Ibid.)
These two corroborating sources are pretty convincing. The first source was an Iraqi air force officer, who supposedly is in an inside position, where he would be getting the "straight scoop"! The second source was an eyewitness, an Iraqi farmer.
As we have stated before, one of the military systems which Saddam's forces never used in the first part of this war -- but which they possessed in abundance -- was the shoulder-fired anti-aircraft missile system, which the Russians amply provided. For some reason, these missiles were never used against Coalition aircraft, and they were never discovered later as American search teams scoured the countryside.
We wondered then when the insurgents would pull these anti-aircraft missiles out and start using them. Based upon my training in US Army Intelligence, I felt that these missiles would reappear at the beginning of a new round of fighting, a round likely to be more conventional in nature.
Since signs abound now that just such a round of conventional fighting lies directly ahead, we should not be surprised to learn that these very type of missiles are now shooting down Coalition helicopters. The next question to ask is, what other types of aircraft against which these missiles might be effective. If our transport planes can be shot down, the insurgency can put a real dent in the logistical resupply of the war. And, if A-130 flying gunships can be shot down, the ability of the American forces to lay down a blanket of depleted uranium shells would be severely crimped. And, finally, what about A-10 Warthogs? That tank killer flies very slow over the terrain.
This next author believes very strongly that these helicopters are falling out of the air because of shoulder-fired missiles. His parallels to the CIA tactic by which Afghan fighters drove out the Russian Army two decades ago are both revealing and very true.
NEWS BRIEF: "Shoulder-Fired Missiles Brought Down Five US Choppers?", By Carl Worden, Rense News, February 7, 2007
"In case you haven't noticed, the Iraqi Resistance has taken a chapter out of the Soviet occupation of Afghanistan, and turned it 180 degrees against the author. The past week records at least four American choppers downed by "ground fire", and in one case it was admitted that a chopper was downed by a shoulder-fired anti-aircraft missile. Wanna bet they were all shot down by missiles? I'm betting they were, and this tactic is exactly the same tactic as our CIA used to drive the Soviets out of Afghanistan. We gave the Afghan Resistance Stinger Missiles, and the Russians started falling out of the sky in droves, causing multiple casualties with each strike."
Why is it so important for the insurgency to deny the American forces air superiority, if they possibly can do so?
"If you are basically a guerilla fighting group, once you get the aircraft out of your hair you have much better odds forcing your foe to fight you on your own terms, house-to-house ... If this trend continues ... our troops will lose their close air support, which leaves only the option of air strikes by fixed-wing aircraft. Jet fighters can deliver smart-bombs from a safe distance, once a specific target is located and relayed to it by ground forces, but attack helicopters have the advantage of immediately identifying the enemy and attacking in concert with ground troops."

This next round of fighting is probably going to be much more devastating and bloody against Coalition Forces, not exactly what President Bush said he had in mind when he ordered a "surge" in troops. But, this scenario is exactly what Iran has planned from the beginning (NEWS1910) when she implemented her "Lighting Many Fires" strategy.
The REAL question of the hour in Iraq -- now that anti-aircraft missiles are being used -- is whether the wanton slaughter of civilians by American air power can be stopped. This next story speaks to this horrific campaign against innocent civilians.
NEWS BRIEF: "Bombs away over Baghdad", Secret air war is being waged in Iraq, responsible for most of civilian deaths in the war", By Nick Turse , Asia Times, February 8, 2007
"A secret air war is being waged in Iraq - often in and around that country's population centers - about which we can find out little ... expert opinion holds that the forms of aerial assault being employed in that country, though hardly covered in the US media, may account for most of the Iraqi civilian deaths attributed to the US-led coalition since the 2003 invasion."
"... US Air Force (USAF) officials do acknowledge that US military and coalition aircraft dropped at least 50,000 kilograms of bombs on targets in Iraq in 2006. This figure ... does not include guided missiles and unguided rockets fired, or cannon rounds expended; nor, according to a US Central Command Air Forces (CENTAF) spokesman, does it take into account the munitions used by some Marine Corps and other coalition aircraft or any of the US Army's helicopter gunships. Moreover, it does not include munitions used by the armed helicopters of the many private security contractors flying their own missions in Iraq."
"The number of cannon rounds fired - some models of the AC-130 gunship, for instance, have a Gatling gun that can fire up to 1,800 rounds in a single minute - is also a closely guarded secret. The official reason given is that "Special Forces often use aircraft such as the AC-130" and since "their missions and operations are classified, so therefore these figures are not released".
As we have repeatedly stated, the AC-130 gunship fires Depleted Uranium munitions, and is responsible for a significant percentage of the total D.U. weaponry fired in urban areas in Iraq, unleashing a uranium plague amongst the people which is likely to kill over 90% of the entire population over the next 20 years!
Prepare yourself for some shocking figures on the civilian casualties deliberately caused by American and British forces.
"According to Roberts, who was last in Iraq in 2004 (where, he says, he personally witnessed 'the shredding of entire blocks' in Baghdad's Sadr City by aerial cannon fire), 'rocket and cannon fire could account for most coalition-attributed civilian deaths'."
The estimated number of civilian deaths is not small; in fact, it is so huge as to invite disbelief. However, Cutting Edge carried this story two years ago, when it first broke.
"One valuable source is a national cross-sectional cluster sample survey of mortality in Iraq since the 2003 invasion. Carried out by epidemiologists at Johns Hopkins University's Bloomberg School of Public Health and Iraqi physicians .... it estimated 655,000 'excess Iraqi deaths as a consequence of the war'. The study, published in the British medical journal 'The Lancet' ... found that from March 2003 to June 2006, 13% of violent deaths in Iraq were caused by coalition air strikes. If the 655,000 figure, including more than 601,000 violent deaths, is anywhere close to accurate - and the study offered a possible range of civilian deaths that ran from 392,979 to 942,636 - this would equal about 78,133 Iraqis killed by bombs, missiles, rockets or cannon rounds from coalition aircraft between March 2003 when the invasion of Iraq began and last June when the study concluded."
Cutting Edge posted an article comparing the progress of this Iraqi War with the Bible prophecy which foretold of the final physical judgment upon Ancient Babylon (Iraq). Listen to the devastation foretold to come upon the modern-day descendents of Ancient Babylon. You will be amazed as you compare this prophecy to this current war.
America is laying down "unprecedented warfare" against the civilians of Iraq, apparently in fulfillment of this prophecy (Read NEWS1804 for the full details as to how the whole of chapter 13 is being fulfilled by this war)
Not only are American forces delivering unprecedented warfare against Iraq through conventional means, we are killing the entire country -- and beyond -- through Depleted Uranium munitions!
God's Biblical "Pattern of Judgment" is that, once He uses one nation as the judgment instrument against another nation, He then turns around to bring physical judgment upon the nation He had just used! Since America seems to be the nation God has chosen to deliver this awful physical judgment upon Babylon (Iraq), He will then turn upon America in physical judgment, especially since our leaders and soldiers are committing such genocide against innocent civilians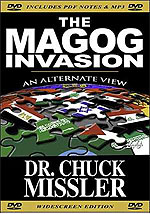 II. As both the United States and Iran ratchet their military preparations and their public rhetoric -- a usual sign of impending war -- one military expert believes that an American attack will occur by the end of February, or not at all.
NEWS BRIEF: "A US sea-change over Iran", By Jason Motlagh, Asia Times, February 8, 2007
"WASHINGTON - The drumbeat for a preemptive strike on Iran's nuclear facilities over the past year has waxed and waned in Washington corridors, but refuses to go away. The US administration's selection of Admiral William J Fallon to lead Central Command suggests that the latest naval maneuvers in the Persian Gulf, missile shipments to Sunni Arab allies, and charges that Iran in using Iraq as a proxy may add up to a more-than-familiar tune."
Other intelligence sources have made this point as well. Unless President Bush intends to attack Iran using naval forces, it makes no sense whatsoever to select a naval admiral to head the Central Command! You see, the vast bulk of responsibilities carried by Central Command are ground operations; for that reason, the leadership is usually an Army or Marine Corps general.
But, as soon as you assume that America is really going to attack Iran, and once you understand that naval forces will be responsible for delivering the blow, then naming an admiral to run Central Command makes a lot of sense. Now, let us return to this news article for more information:
"Interestingly, the need to show America's enduring commitment to Iraq was also cited by Defense Secretary Robert Gates to justify a sudden military escalation beyond its borders: a second aircraft-carrier battle group is now en route to the Gulf, while upgraded Patriot anti-missile missiles have been deployed to Israel and other Arab Gulf states threatened by Iran's emergence as a regional power ... the military buildup 'has Iran written all over it'."
"If an attack is in the offing, there could arguably be no better man calling the shots than Admiral Fallon. In recent years, Fallon ... has headed Pacific Command, a theater of operations largely centered on air and maritime tactical strategies. His specialty is maritime-based air power ...analysts say his experience with carrier-borne air strikes makes him ideally suited to coordinate a possible move on Iran."
Cutting Edge has been watching America repeatedly ratchet up deadly threats against Iran since Summer, 2003, only to watch US forces melt away after building up. We believe that Iran is protected against destruction by America or Israel, because she is Ancient Persia, and is therefore, named as one of the nations marching with Russia against Israel in fulfillment of Ezekiel 38-39, at the End of the Age. In fact, Russia has created alliances with each of the nations named in that prophecy, as the excellent DVD, shown above, so aptly reports. As this DVD, "The Magog Invasion", states, "All Nations Are Now In Place and Are Aligned".
If Iran is attacked, her hardline government is likely to not fall, and the damage done to Russia's reputation amongst Arab nations will not be so damaged that they will not want to march with Russia. We just do not see Russia's technology being humiliated by Western technology, for then no Arab government will trust the Russian forces enough to march against Israel in fulfillment of Ezekiel 38-39. Indeed, Russia has assumed personal protection of Iran (NEWS2014, "President Bush Seems To Be Driving Iran (Persia) Into The Arms of Russia and Europe, Just As Prophecy Foretells")
But, since the ultimate Illuminati plan for President Bush seems to be his thorough discreditation (NEWS1929), we can see that an attack against Iranian interests could rebound against him, completing his discrediting. If American forces were to attack Iran, and suffer significant casualties, then President Bush's discrediting would be complete. Already, some Democrats are saying that Congress should impeach the President based solely on his threats against Iran.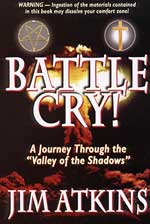 III. Iran is not intimidated by American threats, as she conducts military exercises with some surprises in store!
NEWS BRIEF: "Iran Test Fires Russian Missiles in Strait of Hormuz", NewsMax.com Wires, Wednesday, Feb. 7, 2007
"TEHRAN, Iran -- Iran's elite Revolutionary Guards test fired its new Russian defense missile system Wednesday near the strategically important Strait of Hormuz ... The two-day maneuvers are Iran's second since the United Nations Security Council approved economic sanctions against it Dec. 23 ... As tensions rise over Iran's nuclear standoff with the West, the United States and Iran have pursued an escalating series of military moves, with Washington sending a second aircraft carrier battle group to the region and Iran responding with more frequent maneuvers."
"The Revolutionary Guards' began the games Wednesday in the Persian Gulf and Oman Sea, which flank the strait, through which some 20 percent of the world's oil transits daily. "
Iran could not have chosen a more fitting symbol to warn the United States to back off than to conduct missile firing tests near the Strait of Hormuz. That waterway must be kept free and flowing with oil transit, or oil prices will shoot right through the roof!
This article, below, speaks further to this training exercise, only this article has a much more powerful slant on the news.
NEWS BRIEF: "Iran tests missiles 'able to sink big warships' ", By Edmund Blair, Reuters News, February 8, 2007
"TEHRAN (Reuters) - Iran's Revolutionary Guards test-fired missiles on Thursday that a commander said could sink 'big warships' in the Gulf, the Sea of Oman and the northern Indian Ocean ... 'These missiles, with a maximum range of 350 km (220 miles), can hit different kinds of big warships in all of the Persian Gulf, all of the Sea of Oman and the north of the Indian Ocean', senior Revolutionary Guards naval commander Ali Fadavi said ... Fadavi was also quoted by the state broadcaster's Web site as saying that the 500-kg (1,100-lb) warhead of this missile had the capacity to sink 'all kinds of big warships'."
This article then lists the type of missiles Iran is said to be test-firing, but they do not seem too formidable, because they are obsolete!
"Military experts say Iranian forces are no technological match for the U.S. military but could still cause havoc in the Gulf and the narrow Strait of Hormuz, a choke point through which two-fifths of the world's traded oil passes. The state broadcaster's Web site identified the missile as an anti-ship SSN-4, which Web sites and Jane's information group describe as a ballistic missile that has been around since the 1960s ..."
If these are the missiles with which Iran is planning to confront the U.S., then they are no match for American forces. However, this news article makes no mention of the fact that Russia has equipped Iranian forces with the Russian hypersonic ballistic missile, which flies at 4,000 miles per hour, and which are guided by state-of-the-art radar systems. Against these missiles, American ships are helpless.
Cutting Edge posted an article on this subject, NEWS1449, "Has Russian Technology Doomed US Navy In This Upcoming Third World War? China Has These Russian Weapons"
Please carefully read this Archives article, for it contains facts and figures which will come to full play against American forces in the Strait of Hormuz, the Persian Gulf and the Sea of Oman, should hostilities commence.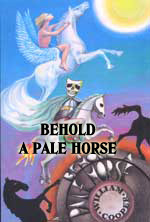 Behold A Pale Horse
IV. Public rhetoric about an Iranian-American war continues to jump up and down like a yo-yo! Sounds of reconciliation can be heard from national leaders all over the world.
NEWS BRIEF: "'Iran can be stopped without violence': Israeli PM Olmert says that a military attack is not necessary", The Jerusalem Post, February 8, 2007
"There is no need for military action to stop Iran from moving forward with its nuclear program, Prime Minister Ehud Olmert told the Conference of Presidents of Major American Jewish Organizations ... 'If the international community joins forces and applies the necessary restrictive measures on the economy of Iran, it will force Iran to reconsider its position', said Olmert."
"If Europe, the US, China and Russia join forces, he continued, 'they can create such damage to the Iranian economy that it will force them to reconsider." Olmert made it clear that he believes that the Iranian threat "is not as close as the Iranians want us to think. They are not as close to the threshold as they pretend to be. There is still time to fight in a comprehensive responsible manner."
Can you believe this dramatic turnaround? For the past 6 weeks, Prime Minister Olmert was taking the lead in warning the world about the dangers posed by a nuclear-armed Iran. Time and time again, Olmert warned that Israel would take out the nuclear facilities should America not act.
Also over and over again, we saw stories which told us that Olmert had approved a specific IDF plan to attack and destroy Iran's facilities. In short, Olmert was the Illuminati front man in sounding off against Iran!
And, now, this very same man has suddenly reversed position, which means that he received clearance to reverse his position. What does this reversal mean? It is really hard to say, unless an effort is under way to again paint President Bush as the lone wolf, as the only one to order an attack, even though the world is against him. If this is the scenario, it seems eerily close to the one by which Iraq was attacked.
V. Returning to Iraq, the combined American - Iraqi security crackdown in Baghdad is said to have begun.
NEWS BRIEF: "Iraqi, US forces take on Baghdad bastions", By Bill Ickes and David Furst, I.O.L. News, February 8, 2007
"US military spokesperson Major-General William Caldwell said Iraqi and US forces were executing the Baghdad security plan, which aims to take control of bastions held by insurgents and militiamen who have killed tens of thousands of people in the past year. Stressing that Iraqis under the command of Lieutenant- General Abboud Qanbar were running the operation, Caldwell added: 'They are still moving additional forces into the city'."
" 'They'll be down in the neighbourhoods this time', he said, referring to US forces which have previously patrolled the streets of Baghdad before returning to large and well-secured bases. Of the planned security stations, '10 are up and running, and there's going to be at least double if not triple that number that will eventually be out there, They'll be down in the neighbourhoods this time', he said, referring to US forces which have previously patrolled the streets of Baghdad before returning to large and well-secured bases."
"In an initial clearing and holding operation, US forces thrust deep into one of Baghdad's most notorious Sunni bastions to make arrests and seize weapons. A US army officer said a crackdown on Sunni insurgents in the north-eastern Adhamiyah district had begun on Tuesday in an operation that involved 2 000 US troops and hundreds of Iraqi soldiers."
Prime Minister Maliki has been complaining that this operation was taking too long to develop, and seemed to place the blame on the Americans. The Prime Minister is THE key player in President Bush's "surge" plan, which is a real problem because Maliki is a Shi'ite with extremely strong connections to Iran. In fact, some people are already complaining that America has placed all its Iraqi eggs into an Iranian basket!
Let us now review this reality by progressing to our next article.
NEWS BRIEF: "Shadows of doubt hang over Maliki: Iraq's prime minister key to success", by Leila Fadel, McClatchy Newspapers, reprinted by The News & Observer, February 8, 2007
"As 21,500 more U.S. troops begin arriving in Iraq, Maliki will play a crucial role in determining whether his government -- and the U.S. -- succeeds. His aides say the push is their government's last chance. If Maliki can rein in Shiite militias, defeat Sunni Muslim insurgents, persuade a recalcitrant parliament to settle divisive issues and muster enough Iraqi troops to quell the violence in Baghdad, the Bush administration's new Iraq strategy might succeed."
Now, this is quite an order for anyone! But, for this Iranian-leaning Shi'ite, the chances he will "rein in Shi'ite militias" is quite dim. What he will do is make it look and sound like he is complying with President Bush's "surge" plan, while privately trying to do everything he can do to derail the plan.
This next editorial speaks to this reality quite well.
NEWS BRIEF: "How the 'security' charade plays in Baghdad: PM knows - and the Americans know - that the Baghdad security plan will not seriously target the Mehdi Army", Asia Times, February 8, 2007
"DAMASCUS - An estimated 85,000 US and Iraqi troops are expected to patrol Baghdad's streets as part of Prime Minister Nuri al-Maliki's US-inspired security plan to combat sectarian violence. Fifty-four police stations, with 25,000 police officers, have been placed on high alert to combat the Mehdi Army of Muqtada al-Sadr, the Badr Organization of the Supreme Council for the Islamic Revolution ... and armed insurgents allegedly from al-Qaeda and the Ba'athists loyal to the late president Saddam Hussein."
If this sounds like a plan too grandiose to accomplish, consider this reality: two of the major "enemy" organizations which Maliki is supposed to crush are actually his allies! Can you believe it?
"Ironically, both the Mehdi Army and the Badr Organization are allied to the premier."
Remember what I said, above, that Prime Minister Maliki is likely to give only lip service to the President's plan while quietly serving the Iranians! This is just one good example as to how this plan will be carried out.
It also seems as though Maliki might also be trying to inflame his enemy, the Sunni sect.
"While all of is going on, a video has surfaced in parts of the Arab world showing the beheading of an Iraqi woman, believed to be Atwar Bahjat, a 30-year-old reporter for Al-Arabiyya TV who was kidnapped and murdered on February 22, 2006 ... Atwar was a devoted Sunni whose murder in Samarra (probably by Shi'ite militiamen) enflamed Sunni emotions and led to vicious sectarian killings, including the torching of mosques, that continue a year later. The sudden appearance of the video will deepen the Shi'ite-Sunni rift and make Maliki's security plan all the more difficult to implement."
"Since coming to power last May, Maliki has failed on security, he has failed on political co-existence, and he has failed on refugees."
Of course, "failure" is subjective, depending upon who is doing the evaluating. From the American perspective, Maliki has failed to achieve President Bush's plan; however, from the Iranian perspective, the Prime Minister must be seen as a brilliant success!
Do not be under any misconception about this last Baghdad military push. Should it fail -- as most seasoned observers expect it to do -- President Bush will have failed in Iraq, purely and simply. If this scenario develops, President Bush can only pull American forces out with the least casualties possible.
This next story speaks to this almost unbelievable scenario which the Pentagon is considering.
From the sound of Defense Secretary Gates, the Bush Administration knows that this new "surge" in troops and the resultant "security crackdown" will fail. Therefore, the Administration is busily creating a "Plan B"!
NEWS BRIEF: "Pentagon considering alternatives for Iraq", Defense Secretary Gates says troops will probably be moved 'out of harm's way' if the buildup isn't working", By Peter Spiegel, Times Staff Writer, February 7, 2007
"WASHINGTON — Defense Secretary Robert M. Gates acknowledged Tuesday that Pentagon planners were considering alternative war plans in case the current buildup of forces in Iraq failed to quell ongoing violence in Baghdad ... Although he insisted the administration would give the new offensive the time and funding it needed, Gates told the Senate Armed Services Committee that if the strategy did not show the hoped-for results, the military would probably shift its efforts to a strategy centered on moving U.S. troops 'out of harm's way'."
This admission that failure is so possible that the Pentagon is considering a plan whereby American troops can be "moved out of harm's way" is extremely startling! In fact, you have to realize that many officials within the Defense Department believe that failure is the logical outcome and are making contingency plans to save as many American soldiers as possible!
The top new US commander in the region is also sounding the "failure" alarm.
NEWS BRIEF: "New U.S. military commander warns Iraq doomed if crackdown fails", The Scotsman, Satruday, 10 February 2007
"BAGHDAD (Reuters) - The new U.S. military commander in Iraq, General David Petraeus, said on Saturday Iraq was doomed to continuing violence if a crackdown on sectarian strife now under way in Baghdad failed. 'The mission is doable .... The prospects for success are good. Failing that, Iraq will be doomed to continuing violence and civil strife and surely that is a prospect all must strive to avoid', he said. 'The stakes are very high', he said, speaking at a ceremony at a U.S. base near Baghdad airport where he took command of 130,000 U.S. troops in the country from General George Casey."
This next news story tells us again that American forces in Iraq -- and by extension, throughout the world -- are not as powerful as most people think they are.
NEWS BRIEF: "How the US Army's being worn down in Iraq", By David Isenberg, Asia Times, February 7, 2007
"Recently, the Washington Post reported that US President George W Bush's 'surge' of troops to Iraq by 21,500 'would create major logistical hurdles for the US Army and Marine Corps'. That's a nice way of putting it, like calling a tsunami a maritime disturbance or an earthquake a tectonic-plate adjustment. The truth is that after nearly four years of fighting in Iraq, the US military is deeply stressed and worn out by its operations there ... the truth is that from a US military perspective, Iraq is increasingly burdensome."
Consider the facts:
* "Last year senior Marine Corps officials admitted that if the war in Iraq ended tomorrow and marine units were shipped home, it would cost US$12.8 billion to re-equip them with vehicles and gear lost in combat and through wear and tear."
* "Last July, Democratic lawmakers sent a letter to Bush noting that up to two-thirds of the army's combat brigades were not ready for wartime missions, largely because they were hampered by equipment shortfalls."
* "Much of the equipment deployed in Iraq is beginning to wear out as a result of heavy use, harsh operating conditions, and the frequent attacks launched by insurgents."
* "The quantity and quality of weapons in units away from the war zone are eroding as equipment is transferred to deploying units. The latter problem is particularly pronounced in the reserves."
* "Last February the US Army asked for $9 billion to 'reset' its war-depleted stocks - most of it to replace and repair tanks, helicopters and vehicles. Just about five months later, army chief of staff General Peter Schoomaker said the army needed $17.1 billion in fiscal 2007 to 'reset' or restore the service's equipment stocks."
* "Since the Iraq insurgency heated up in autumn of 2003, the US Army's combat losses include at least 20 M1 Abrams tanks, 50 Bradley fighting vehicles, 20 Stryker wheeled combat vehicles, 20 M113 armored personnel carriers, and 250 Humvees. The number of vehicles lost in battle comes to nearly 1,000 after adding in heavy and medium trucks and trailers, mine-clearing vehicles, and Fox wheeled reconnaissance vehicles. Nearly all these losses were caused by improvised explosive devices in Iraq."
* "The army has deployed significant portions of its trucks, combat vehicles and helicopters in Iraq. Much of this equipment does not rotate out when troops do ... As a result, the equipment is exposed to continuous use for long periods - more than two years in the case of some Chinook helicopters - and may not receive scheduled maintenance in a timely fashion."
* "Much of the equipment in Iraq is being used at a rate several times what typically prevails in peacetime. The operating tempo of helicopters is twice as high in the war zone as elsewhere."
* "Abrams tanks are designed to operate in open country, but in Iraq they often travel on paved roads, accelerating wear. Their mechanical and electronic systems are exposed to sand, wind, precipitation and vibration far in excess of what would be experienced in peacetime."
* "Maintenance is deferred, or carried out in sub-optimal circumstances."
Now that you know that American forces in Iraq are riddled through and through with extreme problems, can you see why Iran now believes the time has come to confront the Americans in Iraq? We posted an article several weeks ago which postulated the scenario by which the Iraqi insurgency could inflict a serious defeat on American forces. Please read:
NEWS2176, "Are American Forces In Danger of Bloody Defeat In Iraq On A Scale of "Waterloo"?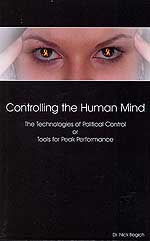 VI. The encroaching dictatorship which the Illuminati has planned for us all is taking shape in your Daily News! Remember, any dictatorship seeks to control its subservient population to as great a degree as possible. Historically, dictators utilize several different types of methods designed to control people.
With this concept in mind, let us now review this most frightening story.
NEWS BRIEF: "The brain scan that can read people's intentions", by Ian Sample, science correspondent, The Guardian (London), February 9, 2007
"A team of world-leading neuroscientists has developed a powerful technique that allows them to look deep inside a person's brain and read their intentions before they act."
If this scenario seems familiar to you, remember the smash-hit movie, "Minority Report", which debuted in theaters in 2002. We cover this movie in great detail in our Headline News Archives, NEWS1673, entitled, "Minority Report -- Citizens Arrested Even Though They Have Not Committed Any Crimes, Sent To Jail Without Trial, and Without A Release Date".
We noted, at the time of the movie's release, that this movie seemed to parallel actual political events through which President Bush and Attorney General Ashcroft were taking this country. At that time, we were still reeling from the attacks of 9/11, at the time that the rights of so many people in this country were undergoing similar erosion.
Our sub-title to NEWS1673 speaks to this reality:
"Current FBI Guidelines -Citizens May Be Arrested Even Though They Have Committed No Crime, Sent To Jail Without Trial And Without A Release Date".
Now, it seems as though science is catching up to science fiction and post 9/11 political reality! Now, Illuminati politicians who have been aiming to absolutely control every person on earth to a finite degree, will have a powerful tool which will enable them to know what a person is about to think!
Let us return to this article:
"The research breaks controversial new ground in scientists' ability to probe people's minds and eavesdrop on their thoughts, and raises serious ethical issues over how brain-reading technology may be used in the future. The team used high-resolution brain scans to identify patterns of activity before translating them into meaningful thoughts, revealing what a person planned to do in the near future. It is the first time scientists have succeeded in reading intentions in this way."
In any criminal trial, the most difficult portion for the prosecutor is to prove intention. One would have to get inside the suspect's brain to know his intentions. Now, this new technology may do that for the prosecutor -- provided the results are accurate and are fairly interpreted! Truly, the potential for a prosecutor who really wants a conviction to write an interpretation based solely upon his desire for a conviction is absolutely huge! In his official report, the prosecutor could literally make the suspect "think" what he wants him to think in order to achieve a conviction.
Now, let us go back for more information:
" 'Using the scanner, we could look around the brain for this information and read out something that from the outside there's no way you could possibly tell is in there. It's like shining a torch around, looking for writing on a wall', said John-Dylan Haynes at the Max Planck Institute for Human Cognitive and Brain Sciences in Germany, who led the study with colleagues at University College London and Oxford University."
"The research builds on a series of recent studies in which brain imaging has been used to identify tell-tale activity linked to lying, violent behaviour and racial prejudice. The latest work reveals the dramatic pace at which neuroscience is progressing, prompting the researchers to call for an urgent debate into the ethical issues surrounding future uses for the technology. If brain-reading can be refined, it could quickly be adopted to assist interrogations of criminals and terrorists, and even usher in a 'Minority Report' era ... where judgments are handed down before the law is broken on the strength of an incriminating brain scan ... A lot of neuroscientists in the field are very cautious and say we can't talk about reading individuals' minds, and right now that is very true, but we're moving ahead so rapidly, it's not going to be that long before we will be able to tell whether someone's making up a story, or whether someone intended to do a crime with a certain degree of certainty."
Mind Control is such an obsession with the Illuminati. To a degree, that art has historically been possible when someone has given themselves over the power of Black Magick; however, the Holy Spirit can, and does, interrupt much of that activity, making its use spurious at best.
Both the CIA and KGB utilized sophisticated torture and thought-implantation in programs such as MK-ULTRA and achieved a startling degree of mind control over individuals.
However, the Illuminati has always been most interested in population-wide mind control. Modern sciences such as Russian Scalar and America's HAARP electromagnetic waves now provide the Illuminati with the ability to implant thoughts and actually control human minds -- eventually of the entire population.
This relatively new book, shown above, "Controlling The Human Mind", is so very shocking, because Dr. Begich reveals all the various efforts the Illuminati is undertaking simultaneously to control the human mind.
Once you understand the degree to which the Illuminati is trying to control the minds of all people throughout the world at once, you will fully comprehend how this following prophecy can be fulfilled:
Can you see how current developments across the board are preparing the stage for fulfillment of key End of the Age prophecy? How much longer, oh Lord?