---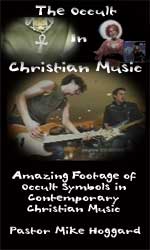 DVD
III. Haiti is nationally afflicted with the curse of the Ancient Voodoo permeating the entire land.
Do you remember when Bill Clinton traveled to Haiti to seek out the advice of Voodoo shamans? (Read full details in NEWS1257, entitled, "Clinton Seeks Out Voodoo Ceremony To Escape Impeachment And To Ensure 1996 Reelection")
With this fact in mind, let us now examine this most interesting article. Note that the author makes no claims to be a Christian. He is just observing the practical effect which the practice of Voodoo wreaks upon its adherents.
NEWS BRIEF: "Haiti and the Voodoo Curse", by Lawrence Harrison, The Wall Street Journal, February 5, 2010
"Haiti has received billions of dollars in foreign aid over the last 50 years, and yet it remains the least developed country in the Western Hemisphere. Its indicators of progress are closer to Africa's than to those of Latin America. It has defied all development prescriptions."
"Why? Because Haiti's culture is powerfully influenced by its religion, voodoo. Voodoo is one of numerous spirit-based religions common to Africa. It is without ethical content. Its followers believe that their destinies are controlled by hundreds of capricious spirits who must be propitiated through voodoo ceremonies. It is a species of the sorcery religions ..."
Forget, for a moment, the Christian understanding that Voodoo is simply a Satanic Black Magick religion which is demonically inspired and empowered. The stark reality is that no country on earth can prosper and come into the modern 21st Century if they follow Voodoo.
The people practicing this fearsome religion are daily living in terror, afraid they are going to offend some of the thousands of deities in Voodoo. Why, people are so busy trying to not offend a spirit for some reason, they simply do not have the energy, time or money to engage in nation-building.
And, for this reason, the Illuminati is forcing Haiti to leap into modernism -- or at least is trying its level best to force Haiti to modernize. Listen to the words of the author of "The Pentagon's New Map" (Read full details in NEWS1833):
"Nations who are not now functioning in the Global System and are not likely to do so in the foreseeable future, unless they are kicked into it by U.S. or European troops, or by the threat of invasion. These nations are called the 'Non-Integrating Gap'. The strategy being followed by the United States and the European Union is to 'shrink the gap'."
"... this book identifies other, non-technical reasons why certain countries are still lagging terribly behind the rest of the world in integrating into the New World Order.
1. Repressive Dictatorship run by one man
2. Repressive Religions that hold on to "Tradition" with all means, thereby resisting the new paradigm
3. Abject poverty is mentioned as a reason a country is not "connected" to the Global System, but poverty is usually the result of a repressive dictatorship that either siphons huge resources out of the economy or is so repressive he won't allow the individual freedoms necessary to produce wealth in the economy.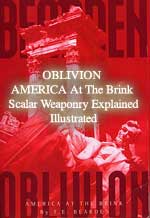 Has the Pentagon zeroed in on Haiti for her abject poverty and her unbelievably horrid economy? Yes, American military strategists certainly have, as this next quote from "The Pentagon's New Map" illustrates:
"Haiti -- Efforts to build a nation in 1990 were disappointing. Expect more intervention and soon."
Therefore, Haiti was devastated by a most powerful earthquake which occurred at just the right depth and in just the right manner as to wreak unbelievable destruction. Now, as the International Community rushes in to rebuild Haiti, they can rebuild her in their own image.
But, you protest, Haiti was hit by an "Act of God", i.e., an earthquake. The Pentagon had nothing to do with that earthquake? Right?
Listen to the startlingly bold revelation from Defense Secretary William Cohen in April, 1998:
"Others (foreign scientists) are engaging even in an eco-type of terrorism whereby they can alter the climate, set off earthquakes, volcanoes remotely through the use of electromagnetic waves." ("COHEN ADDRESS 4/28 AT CONFERENCE ON TERRORISM", Terrorism, Weapons of Mass Destruction, and U.S. Strategy Sam Nunn Policy Forum April 28, 1997 University of Georgia, Athens, Georgia)
Which worldwide electromagnetic wave system is being used right now to alter (control) the climate, set off earthquakes"? LTC Beardon explains this system in the book, above, "Oblivion: America At The Brink - Scalar Weaponry Explained and Illustrated".
At this End of the Age, God has fulfilled His prophecy of allowing wicked men to become more and more wicked and to gain abilities he has never exercised before. Read full details in NEWS2071, "HOW CAN MAN CONTROL WEATHER WHEN GOD CREATED THE EARTH AND RESERVED THAT CAPABILITY FOR HIMSELF?"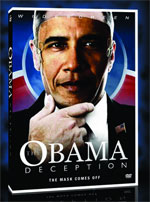 DVD
IV. President Obama has created a panel of experts to advise him on military action within the United States!
NEWS BRIEF: "Obama's new pick: Missour Governor that linked Christians, violence ", By Bob Unruh, World Net Daily, February 7, 2010
"They are among Obama's nominations for the 10 positions on Obama's new 'Council of Governors' that he will use for advice on 'military activities in the United States' ... WND reported earlier when Obama announced the council to advise on military actions in the U.S. and "to protect our nation against all types of hazards."
This new council is so serious and so obviously tied to the coming planned dictatorship in this country, let us go right now to this original article.
NEWS BRIEF: "New council to advise on 'military activities' in U.S.: Executive order creates team of governors to address 'homeland defense' ", by Bob Unruh, World Net Daily, January 12, 2010
"President Obama by executive order has established a new 'Council of Governors' designated to advise on the 'synchronization and integration of state and federal military activities in the United States'.The recent order, posted on the White House website, was accompanied by the explanation that the group is to work 'to protect our nation against all types of hazards'. It comes just weeks after the president issue a similarly obscure order vastly expanding INTERPOL's privileges in the U.S."
One of the huge problems with this new council is that its authority is vague, which is always the case when current government authorities are preparing to launch a new dictatorship; they make the laws granting the emergency powers so vague that the dictator can interpret them anyway he wants to -- a great Hitlerian trick!
Returning to our featured news story, above:
"... there was no definition of what would be included in the group's authority. Can the council recommend 'military activities' and can the governors, who already are in command of their own state guard units, mandate activities outside of their areas of jurisdiction?"
The dictatorship planned by "The Protocols of the Learned Elders of Zion" is racing down the railroad track, heading straight for us. Listen to their plans, written over 100 years ago:
"When we come into our kingdom, our orators will expound great problems which have turned humanity upside down in order to bring it, at the end, under our beneficent rule. Who will ever suspect, then, that all these peoples were stage-managed by us according to a political plan which no one has so much as guessed at in the course of many centuries?" [End of Protocol No. 13 ]
""... while the peoples of the world are still stunned by the accomplished fact of the revolution, still in a condition of terror and uncertainty, they should recognise once for all that we are so strong, so inexpugnable, so super-abundantly filled with power, that in no case shall we take any account of them, and so, far from paying any attention to their opinions or wishes, we are ready and able to crush with irresistible power all expression or manifestation thereof at every moment and in every place, that we have seized at once everything we wanted... Then in fear and trembling they will close their eyes to everything, and be content to await what will be the end of it all."
"These laws will withdraw one by one all the indulgences and liberties which have been permitted ... and our kingdom will be distinguished by a despotism of such magnificent proportions as to be at any moment and in every place in a position to wipe out any ... who oppose us by deed or word." [PROTOCOL 5 -- DESPOTISM AND MODERN PROGRESS]
President Obama is taking these actions in full accord with this Illuminati Planning Document, known as "The Protocols of the Learned Elders of Zion"
Doubt it not!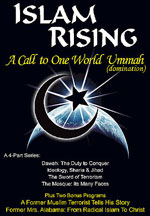 DVD
V. The Arab Culture of Death continues to teach that the most important act in anyone's life is to kill Jews in a suicide bombing!
Even the ridiculous promise that a suicide bomber will sexually enjoy 72 virgin wives for eternity continues to be taught.
NEWS BRIEF: "Jihad Culture of Death Promises 72 Dark-Eyed Virgins", by Hana Levi Julian, Israel National News, 02/09/10
"Hamas television continues to exhort Arab youth to look forward to the day they can commit suicide for the purpose of murdering Jewish citizens of Israel. In a recent Friday Islamic sermon broadcast on Hamas TV, a Muslim cleric listed the six heavenly privileges awaiting the terrorists (Shahids) who become "shahids" (martyrs) and sacrifice their lives in suicide bombing attacks against Israel."
These supposed "six heavenly privileges" are:
1) "He is forgiven [his sins] with the first gush of his pure blood.' "
2) "'He sees his place in Paradise.' If we only knew what Allah has prepared for the Shahids in Paradise, we would not sit idly in this world."
3) " 'The Shahid is shielded from the Great Shock [on Judgment Day]."
4) " 'A crown of honor is placed upon his head"
5) " 'He marries 72 Dark-Eyed wives.' One description of the Dark-Eyed [maidens]: 'If one of the women of Paradise would look towards the earth, she would light up everything between heaven and earth.' [Sahih Bukhari, 6199]
6) "'He is a heavenly advocate for 70 family members.'"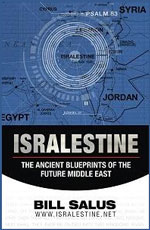 On the whole, these teachings have been created out of thin air, designed only to encourage young Islamic men to carry out the "Ancient Hatred" of the Arab towards the Jew.
As the book, "Isralestine", demonstrates, this ancient hatred is the dynamic force fueling Islam's plans of annihilating war against Israel and the thorough eradication of every one of her citizens.
God warns that this "Ancient Hatred" will be the basis of His own annihilating judgment of the Arab world during the End of the Age. The doom of the Palestinians, Jordanians, Syrians, Lebanese and Egyptians is now set because their current inhabitants possess the very same "ancient hatred" which their forefathers showed toward Israel 3,000 years ago!
Listen to God's prophetic warning on this subject:
"FOR BEHOLD, in those days and at that time when I shall reverse the captivity and restore the fortunes of Judah and Jerusalem...." (Joel 3:1; Parallel Bible, KJV/Amplified Bible Commentary)
You can write in the margins of your Bible that God fulfilled Verse 1 on May 14, 1948, as He brought Israel back from her 2,000-year captivity and restored the fortunes of Israel. Now, let us continue: