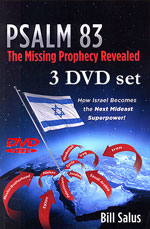 "PSALM 83: The Missing Prophecy Revealed"
"How Israel Becomes the Next Mideast Superpower"
Regularly $24.99, Now Only $19.99
New 3-In-1 DVD
Great Value! 3-DVD's-In-One. This powerful 3 DVD series contains three of the most revealing teachings, complete with instructional images and maps, from Bible prophecy expert, Bill Salus. These 3 DVD's are all included in one package.
The titles are quite interesting: DVD 1 - 'Psalm 83 or Ezekiel 38, Which is the Next Middle East News Headline?'; DVD 2 - 'The Future for America in Bible Prophecy'; DVD 3 - 'The Roots of the Mideast Conflict'.
Psalm 83 identifies an Arab confederacy that wants to wipe Israel off the map. Many Bible experts are predicting that Russia, Iran, Turkey, and several other countries are about to invade Israel according to the prophecy in Ezekiel 38, but Bill Salus demonstrates multiple reasons why the Psalm 83 conflagration should occur first.

This ancient prophecy, written over 3000 years ago, reveals that the Arab states and terrorist populations, which presently share common borders with Israel, will soon join forces to try to annihilate Israel. These enemies of Israel are depicted on the red arrows upon the book cover image, and their mandate is clear:
They have said, "Come, and let us cut them off from being a nation, That the name of Israel may be remembered no more." (Psalm 83:4).
Salus tackles the tough questions such as: Is America in the Bible? Why was the United States such a blessed superpower? Has America abandoned its Judeo-Christian heritage? Is America being judged? What is America's future?
The present hostilities experienced in the Middle East between the Arabs and Jews can be traced to a disposition of hatred, originating almost four thousand years ago. In this teaching video, Bill Salus explains how the ancient family feuds between the Middle East patriarchs and matriarchs are the underlying roots of today's Arab-Israeli conflict.
This DVD will help you make sense of today's news events occurring daily in the entire Middle East. Your belief in Almighty God will be greatly strengthened. Believers will be given an enormous spiritual lift from these prophetic revelations.
Over 4 hours on the 3 DVD's - http://www.cuttingedge.org/detail.cfm?ID=2491
Also Available As A 360 page book - http://www.cuttingedge.org/detail.cfm?ID=2492
---------- This Week's Hot News-------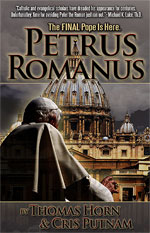 I. The final Pope in world history is about to step on to the world scene.
Christians knowledgeable in prophetic Scripture are breathlessly and anxiously awaiting this future False Prophet Pope to step into the"Throne of Peter".
Did Benedict resign now because the prophetic time has come to bring the final Pope -- the False Prophet -- into the office of the Pope?
NEWS BRIEF: "Pope's resignation was not forced by health issues, spokesman says", CNN News, February 12, 2013
"Pope Benedict XVI is not suffering from any specific disease that forced him to resign, his spokesman said Tuesday, a day after the news that he was stepping down shocked the world's 1.2 billion Roman Catholics. The pontiff is resigning because he does not feel he has the strength to continue as the church's leader, the Rev. Federico Lombardi said, adding that it was a 'spiritual' decision."
Yes, I agree. Pope Benedict XVI is resigning because of a spiritual decision. His Familiar Spirits are telling him that the time has come for the final Pope to step into the "Throne of Peter" so that he can firmly establish himself as the Pope of the vast Roman Catholic Church before he is called to be the religious leader of all the world's religions! Did you know that is the ultimate plan for the final Pope? Listen:
On August 18, 1991, a member of the Black Magick Secret Society, the House of Theosophy, who had been Born Again only weeks before, sneaked me into a seminar for meeting for "Member's Only" and one guest, to discuss a unique presentation by the New England Director, Bill Lambert. This meeting was entitled, "Possible and Probable Events In The Future". The Director wanted to inform his members of some decisions just made by the Global Elite. (Read full details in NEWS1052)
One of these recent decisions was that the top religious leader of the global New World Order Religion would be the Roman Catholic Pope, whomever he was at the time. This revelation makes the Pope the Office of the False Prophet! Listen:
"At the proper moment in history, the Pope will visit the combined Jewish/Christian/Moslem sector of Jerusalem to announce that all religions should be combined into one. This action will then finally break the Middle East logjam."

This announcement that all world's religions are now the same under the leadership of the Pope will establish the prophesied One World Religion with the Pope as the undisputed leader. The Director, Bill Lambert, boldly stated that the Catholic Pontiff was planned to be the top religious leader of the New World Order Religion, a designation which makes him the False Prophet.

Bill then admitted that the nature of this Pope/False Prophet will be identical to that of the New Age Christ (Antichrist).

"At this point, I raised my hand to ask Mr. Lambert, 'You spoke earlier about the Pope going to Jerusalem; when Lord Maitreya makes his appearance, there will be three types of people:

1. Those whose consciousness has been properly raised so they can readily accept him;

2. Those whose consciousness has been raised somewhat but not so high that they can readily

and immediately accept him, but they might be able to accept him after further enlightenment;

3. Those who will never accept him.'

I said, 'Back to the Pope for a moment, Bill. You stated that, at the right moment, the Pope would go to Jerusalem. Surely the Pope is a proper receptor to the Christ'.

At this point, Bill nodded his head affirmatively that the Pope was a proper receptor to the Christ. This is the most direct acknowledgement by a influential person involved in the planning for the appearance of Anti-Christ that the Pope is ready and waiting for the appearance of The Christ. This acknowledgement also points to the Roman Catholic Pope as the False Prophet, because Bill stated, very pointedly, that the preparation for the New World Order religion was being paved by the Ecumenical Movement, which is being spear-headed by the Pope."
In conclusion, let us examine a key prophetic Scripture which shows how precisely God's prophecy applies to the Roman Catholic Pontiff!
"Then I saw another beast rising up out of the land itself; he had two horns like a lamb, and he spoke (roared) like a dragon." (Revelation 13:12; Parallel Bible, KJV/Amplified Bible Commentary)
The prediction that this second Beast will have "two horns like a lamb", means that he will present himself to the people as a Christian leader, and will be accepted as such by the masses. However, the very next verse segment reveals that he will be identical to Antichrist.
"... he spoke (roared) like a dragon."
Therefore, it is highly significant for the New England Director of the House of Theosophy to admit that the Pope in office at the time Antichrist arises will be a 'proper receptor to the Christ' ! Indeed, he will be, because that is the nature of Roman Catholicism and the clear declaration of Revelation 13:12.
This announcement that Benedict is resigning February 28, 2013, tells me that the timetable for the beginning of the World War III that will stage Antichrist is on track and drawing very near. How can we Christians know how close Antichrist might be? Daniel 7:7-8 tells us; read full details in NEWS2363, entitled, "There Is Only ONE Sequential Prophecy Which Shall Provide Us A Clear Gauge By Which We Can Know The Approximate Time That Antichrist Will Arise!"
One thing is certain, however. This voluntary resignation of Pope Benedict XVI is a supremely important event which most certainly carries enormous prophetic implications! The False Prophet is about to step on the world scene.
In a possible symbol that the Antichrist / False Prophet Biblical scenario of Revelation 13 may be ready to unfold upon the Earth, just a few hours after Pope Benedict XVI was announcing his resignation, a bolt of lightening struck the top of the Vatican. You can see this lightening strike on this video -- "Lightning strikes Vatican hours after Pope resigns"
Now I know the Earth has many thousands of lightening strikes every single day, so one might be tempted to believe this strike is simply an accident. And it may well be.
But, I cannot but realize that this lightening strike was at the very tip of the Vatican and that it occurred very shortly after Pope Benedict XVI was announcing his resignation, an act which will bring the Final Pope to the world scene. I am reminded of pertinent Scripture:
"How you are fallen from heaven, O Lucifer, son of the morning!" (Isaiah 114:12)
"And He (Jesus) said to them, "I saw Satan fall like lightning from heaven." (Luke 10:18)
Is Lucifer beginning his descent from Heaven? Is Pope Benedict's abrupt resignation the first step of the unfolding of the revealing of the First and Second Beasts of Revelation 13?
World events are clearly pointing in that direction. In that case, this lightning strike upon the Vatican might not be accidental after all!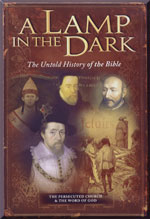 DVD - Watch Trailer
II. As Pope Benedict XVI prepares to leave office, one Jewish journalist takes a hard look backward to the Pope's attitude toward Jews.
NEWS BRIEF: "The Pope was Not a Friend of the Jews", by Giulio Meotti, Israel National News, February 12, 2013
"If you read the records, the picture that unfolds is not the rosy one Israel described upon hearing of the Pope's resignation."
The State of Israel has long falsely painted a rosy picture of her relations with the Holy See. You see, Israel's political leaders know that the ultimate plan is for the Vatican to lead an international religious effort to establish a One World Religion headed by the Pope and to build a combination religious very close to the Temple Mount.
We discussed this fact in our first story above and in NEWS1052.
Therefore, because Israel's political leaders know that the Illuminati plans for the Roman Pontiff to one day assume control over all the world's religions and to spearhead the construction of a One World church building in Jerusalem, they fervently desire harmonious relations with the Vatican.
But, as Giulio Meotti reports, reality is a whole lot different from official rhetoric.
"The Pope has not been a friend of the Jewish people and he supported the world's most important source of anti-Semitism: the Palestinianism. The proof is in the Pope's travel in Israel in 2009, when Benedict most went closely in touch with the Israelis.
"The Vatican authorities avoided calling the 'State of Israel' by name but preferred to use the empty denomination 'Holy Land'. And the Pope presented the Arabs as 'victims' and the Israelis as 'oppressors'. It was clear from the Pope's speeches in Bethlehem and its surroundings that the Catholic attitude to the Jewish people remains unchanged since the Second World War."
Has this journalist conveniently forgotten that Benedict's predecessor, Pope John Paul II, showed the very same attitude? Let us examine our archived Headline News article, NEWS1587, entitled, "On 2/15/2000, Pope John Paul II Signed A Covenant With Palestinians Arafat Calling For The Internationalization of Jerusalem".
""On 15th February, 2000 at the Vatican, the Pope and the leader of the PLO terrorist organization, Yassir Arafat, signed a covenant against the G-d and people of Israel and Jerusalem ... According to this agreement, Jerusalem should be an international city based on international resolutions and an international guarantee. (The UN decided on more than one occasion that Jerusalem should be an international city.) They also decided that any step or activity taken by Israel to change this position of Jerusalem is against the law. The agreement also recognizes a 'Palestinian' state in the land of Israel and agrees on cooperation between the Vatican and the PLO and the Vatican committed itself to assist the so-called 'Palestinians'. Authorities in the Vatican explained: "the agreement paves the way for establishment of full diplomatic relations with a Palestinian state when it is founded". The PLO representative in the Vatican stated: 'This is an historical covenant'." [Emphasis added]
Pope John Paul II angered a great many Israeli patriots and Bible-believing Christians when he signed this infamous agreement with the Palestinian terrorist, Yassir Arafat, a man who had a great deal of Jewish blood on his hands.
Not only did John Paul II call for the political control of Jerusalem to be taken from the Jews, but he called for the establishment of a Palestinian State. And, he held up the contemptible Yassir Arafat as a political leader worthy of being dealt with as a national statesman. Yes, this is the same Arafat who constantly said his major goal was to annihilate Israel, to finally force all Jews to "drink of the Mediterranean Sea", a common metaphor which meant to annihilate all Jews.
But, why should we be surprised that Roman Catholicism has historically displayed virulent Anti-Semitism? Their inner heart is identical to that of the coming Antichrist, according to Bill Lambert of the House of Theosophy, whom we quote above. Lambert affirmed the true spiritual nature of the Catholic False Prophet:
"... the Pope is a proper receptor to the Christ' (Antichrist). "
The Bible foretells that the Antichrist will attempt to murder all Jews at the mid-point of the Tribulation, after entering the newly built Temple where he committed the "Abomination of Desolation" in the Holy of Holies. The Catholic False Prophet will hate the Jew just as much as the prophesied Antichrist.
We posted a couple of articles in years past which we recommend to you now, because they reveal so much of the inner heart condition of Roman Catholicism and its Popes. Please take a moment to read:
NEWS1865 - " POPE JOHN PAUL II -- 25 YEARS OF CONTINUING TRADITION OF THE PAGAN SUN GOD "
Dagon = Sun Worship!
Dagon = Baal Worship
Can you see how compatible Catholicism is to Freemasonry? Both are Sun Worship / Phallic Baal Worship. To see how Freemasonry worships Baal through Sun Worship, watch our newest DVD, "Freemasonry: Fatal In The First Degree".
Despite centuries of battling for control of the New World Order Plan, Roman Catholicism and Freemasonry are identical in their inner-most being.
As we have reported, Black Magick Illuminized Freemasonry infiltrated the White Magic Vatican and finally took it over in 1963. Please read NEWS1623, entitled, "GRAND GLOBAL MERGER OF ALL BLACK MAGICK FORCES OCCURRED WHEN POPE PAUL VI BECAME POPE in 1963"
The symbolism of the Twisted Cross is quite significant. It literally means that Illuminized Freemasonry has seized control over Roman Catholicism. Now, the Pope's heart is identical to that of the coming Antichrist.
NEWS2020 -- "POPE JOHN PAUL II -- SPIRITUAL AND POLITICAL LEGACY -- Part 1 -- CURRENT EVIDENCES OF PAGANISM IN THE DEATH, BURIAL OF THIS POPE"
Pope John Paul II was buried in full honors as a Sun God! Very Fascinating.
Of course, the Popes are Anti-Semitic! Within them beats the heart of Satan.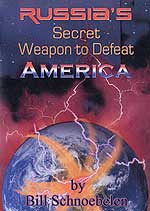 III. North Korea conducts her third nuclear test, the largest one to date.
The Illuminati Plan for a nuclear crisis with North Korea is still active and on track. What is that plan?
"A hair-raising nuclear confrontation in Korea may, towards the end of the period, threaten man's very survival." [Peter Lemesurier, "The Armageddon Script", p. 223]
NEWS BRIEF: "North Korea carries out biggest nuclear test", BBC News, February 12, 2013
"North Korea has carried out its third, most powerful nuclear test despite UN warnings, and said 'even stronger' action might follow. It described the test as a 'self-defensive measure' necessitated by the 'continued hostility' of the US. "
Shortly after the attacks of 9/11/2001, President Bush delivered a speech in which he listed the three main rogue nations on earth, a group which he called the "Axis of Evil" (Read full details in NEWS1750, entitled, "PRESIDENT BUSH DECLARES WAR ON ALL "AXIS OF EVIL" NATIONS!"
When President Bush signed his Executive Order on November 24, 2000, authorizing special forces ground troops to clandestinely attack and destroy Weapons of Mass Destruction, he has effectively declared war on each nation!
These three "Axis of Evil" nations were" Iraq, Iran, and North Korea.
In the months following America's invasion of Afghanistan, the North Korean dictator Kim Jong Il informed Iran and Iraq that they would surely be invaded by the United States. He urged them to quickly buy nuclear weapons, for he was positive that Bush would not invade a country which actually could fire nuclear weapons against his forces.
Iran quickly bought nuclear warheads from Pakistan's arsenal and then she bought theater missiles from North Korea. The result was that Iran possessed a working nuclear force by June, 2002 (Read full details in NEWS1660, entitled, "MUSHROOM CLOUDS IN THE MIDDLE EAST? Part 2".
President Bush acted exactly as the North Korean dictator Kim Jong Il predicted. He invaded Iraq which never actually possessed a military nuclear capability, but he never did invade either Iran or North Korea, both of which could fire nukes upon invading American forces.
Now, let us return to this subject of a planned nuclear crisis with North Korea.
In the book, "The Armageddon Script: Prophecy In Action", New World Order author Peter Lemesurier systematically lists all the events which shall occur in order to stage the appearance of Antichrist. On page 222-3, of his book, Lemesurier makes a very cryptic statement about Korea.
"But then war will seldom be absent from the world-scene during the last twenty years of the century. There will be numerous local conflicts in the Far East, the Middle East, and Africa. A hair-raising nuclear confrontation in Korea may, towards the end of the period, threaten man's very survival."
Until recently, few in the Western world actually believed that North Korea had any nuclear weapons. After all, we have been led to believe by our Mass Media and government pronouncements that North Korea was embarked upon a campaign to self-develop -- or develop internally -- nuclear weapons. This charade has been played upon us about the other rogue nations, like Iran.
In our Daily News Updates, we carried a most interesting article on North Korea's nuclear missile capabilities.
NEWS BRIEF: "Pyongyang: We'll put a torch to New York', By Shane Green, Herald Correspondent in Tokyo, smh.com.au, March 8, 2003.
"North Korea would launch a ballistic missile attack on the United States if Washington made a pre-emptive strike against the communist state's nuclear facility, the man described as Pyongyang's 'unofficial spokesman' claimed yesterday. Kim Myong-chol, who has links to the Stalinist regime, told reporters in Tokyo that a US strike on the nuclear facility at Yongbyon 'means nuclear war. He continued, 'If American forces carry out a preemptive strike on the Yongbyon facility, North Korea will immediately target, carry the war to the US mainland,' he said, adding that New York, Washington and Chicago would be aflame'."
North Korea must possess two capabilities for this threat to become reality: Nuclear warheads and intercontinental ballistic missiles capable of delivering them to the East Coast. As this article reveals, North Korea is said to possess both these capabilities.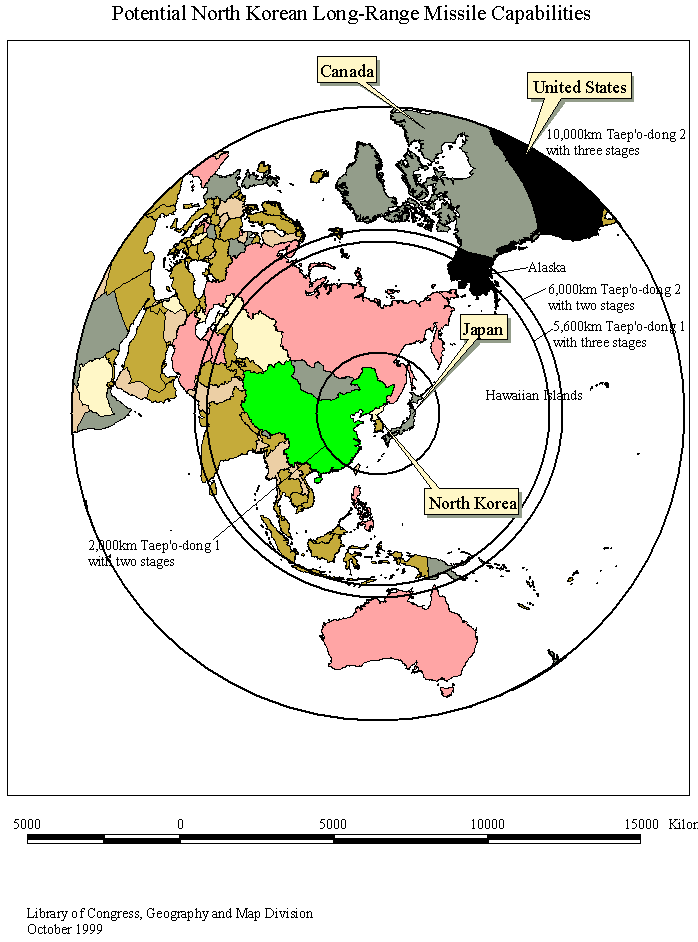 As you can see from this map -- created in 1999 by the University of Hawaii -- North Korea had the capability then to launch a 3-stage intercontinental ballistic missile that would be capable of striking US East Coast targets. But, of course, we were not told this fact; rather, we are still being treated to disinformation stories that North Korea is "close to developing" nuclear warheads, and that she needs to start up her nuclear reactor plant in order to begin production; the reality is exactly 180 degrees in the opposite direction -- North Korea has purchased or bartered for, Pakistani nuclear warheads. Further, we are being told that North Korea is "close to" getting third-stage capability, when she has possessed it for several years.
Truly, we need to look in exactly the opposite direction from the propaganda to understand the reality of what is occurring. [Read NEWS1558, "Breaking Out of the Mental Box -- Learning To Think In The Opposite Direction To Discover The Truth"]
Now, let us return to our feature article, above, for more pertinent material.
"A nuclear weapon would be produced by the end of next month, with another five by the end of the year, he said. This was on top of a suspected nuclear arsenal of 100 weapons."
How many of you ever stopped to contemplate that North Korea might have an arsenal of 100 nuclear weapons? Why, our Mass Media has been telling us all this time that North Korea has no nuclear weapons yet, but can develop several by the end of the year if they re-start their nuclear processing plant at Yongbyon.
The New World Order Plan envisions a staged nuclear confrontation in Korea. This statement places at least the North Korean Government inside the New World Order Plan, and probably South Korea, as well. During the first two years of the Clinton Administration, we were all told repeatedly that Korea was "suspected" of having nuclear weapons. President Clinton and former President Carter brokered a deal, whereby North Korea "promised" to eliminate their nuclear weapons and the potential to make them, some time after the year 2000 A.D. This "deal" was, of course, no deal, as it left North Korea in solid control of these weapons during this time period.
At the time World War III begins in the Middle East between Israel and her immediate Arab neighbors, North Korea will suddenly begin threatening America and probably Japan with nuclear attack. Since we have been told repeatedly that North Korea does not yet have either nuclear warheads or a missile system capable of hitting American cities, utter terror will ensue if an American city, like Chicago or New York, were suddenly obliterated.
In fact, in March,k 2003, we discovered a news article that gave the lie to the oft-repeated statement that North Korea does not have missile capability that could reach American soil. We posted this news story in our Headline News, entitled, "NORTH KOREA MAY BE ABLE TO HIT U.S. CITIES WITH BALLISTIC MISSILES!", NEWS1780.
Quoting from NEWS1780:
NEWS BRIEF: "`North Korea Missile Warhead Found in Alaska', The Korea Times, [Seoul, South Korea] March 4, 2003, By Ryu Jin Staff Reporter
"The warhead of a long-range missile test-fired by North Korea was found in the U.S. state of Alaska, a report to the National Assembly revealed yesterday. 'According to a U.S. document, the last piece of a missile warhead fired by North Korea was found in Alaska,' former Japanese foreign minister Taro Nakayama was quoted as saying in the report. `Washington, as well as Tokyo, has so far underrated Pyongyang's missile capabilities.' "
At that point, the Illuminati will have their all-consuming terror. The North Korea nuclear confrontation plan is still in effect and still on schedule.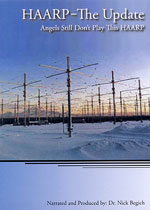 DVD
IV. U.S. MISSILE DEFENSE CAPABILITY
Of course, the public must be kept ignorant of the new electromagnetic capabilities of America which can provide 100% protection against any missile or fighter plane trying to deliver a strike against our soil.
One of the major reasons we have not been informed of our HAARP missile defense shield capability [Read NEWS1268] is that our Illuminist leaders know that, if we realize that our military has the capability to destroy 100% of all incoming missiles because of our HAARP technology, this plan for a "hair-raising confrontation in Korea that may threaten man's very survival" will not be tenable. We would understand that, even if North Korea had this terrible intercontinental ballistic missile capability, we had leap-frogged over that capability with HAARP so that not one North Korean missile could strike us.
Oh, no, we are told that we do not have the capability to shoot down even one missile. We are subjected to the spectacle of watching news reports of the Air Force trying to physically hit a missile with another missile. If we believe this farce to be true, then we would be wide open to the panic that is planned when North Korea, or China, threatens our survival with nuclear warheads carried by intercontinental missiles.
One interesting fact becomes apparent once you study the map, above. For North Korea to launch an intercontinental missile at the East Coast of the United States, that missile must travel over Russia, and quite possibly, over China. Both these countries are reported to possess scalar weaponry that is even better at knocking down missiles than our HAARP technology is! If Russia and China wanted to serve the purposes of peace, they would knock down these North Korea missiles. But, of course, Revelation 17:17 tells us that the leaders of the End of the Age are going to "act in harmony" to fulfill all God's prophecies, chief among which is the prophecy to produce Antichrist [Revelation 6:1-2]
---
Three Powerful Headline News Articles For Our Faithful Supporters
Your faithful support enables us to keep Cutting Edge free for everyone else. Our readers have always loved the indepth correct news analysis found in our "Headline News Analysis".
"America Is Leading Western Powers In A Full-Scale Invasion of Africa!"
Now that the wars in Iraq and Afghanistan are winding down, the West is in full invasion mode destabilizing a major part of the "Non-Functioning Gap" region of the world. The "Pentagon's New Map Strategy" is being brilliantly followed. Have you noticed? Mass Media is either clueless as to what is occurring or they are part of a worldwide coverup.

"In Just 50 Years, America Has Turned "PINK"!
In February, 1963, the Supreme Court "kicked God out of public schools"; in January, 2013, President Obama allowed a large Lesbian/Gay marching band to participate in his Second Inauguration. The President also spoke so glowingly about homosexuality, he legitimized the lifestyle!
America has come full circle, from God's blessing to God's curse. America is the new Sodom, and we are living "in the days of Lot" (Luke 17:27-29)
Are you spiritually ready to live like "righteous Lot" (2 Peter 2:6-9), being daily tortured by all the filthy acts occurring in our nation, and yet able to live righteously for Jesus? Unless the Rapture of the Church occurs first, we Christians are going to have to stand our ground, protecting our loved ones while we aggressively evangelize those lost around us. http://www.cuttingedge.org/news/n2490.cfm
Most Important Article We Have Ever Written
DVD
"World War III Will Be History's Greatest Lynchpin!"
Many major events are planned to occur just as World War III begins. Mankind will be systematically hit with unparalleled disasters of every kind as this planned global war unfolds. But, none of these events will occur until the lynchpin called "World War III" is pulled.
The Illuminati has prepared many different scenarios which will not be triggered until World War III breaks out. All these events are sitting like a race car at the starting line, engines idling, just waiting for the global war to break out so they can all be triggered at once. Doc Marquis said that these events will occur at a rapid rate, one after another after another. Doc said people's hearts will literally fail them for fear, as they can scarcely comprehend one disaster when they will hear of another and then another and then another. People will be overwhelmed by the succession of so many horrific disasters after another.
But, Doc warned, "none of the planned events will occur before the others". And, the trigger for all these events is World War III, literally a lynchpin holding all planned events in place. Once this gigantic lynchpin is pulled, all these planned disasters will quickly follow. People worldwide will be so upset and so confused by so many disasters happening at once, they will literally leap at any proposal from their leaders that will "solve the problem".
At that point, the New World Order can be established as soon as World War III has run its course and the Masonic Christ appears on the world scene. We are not to panic whenever someone speaks out about one of these disasters, saying that it will occur NOW. We know the Plan for the New World Order and we know the sequential prophecy in Daniel 7:7-8 so we know these events are a number of years away.
http://www.cuttingedge.org/news/n2489.cfm
You need not panic.
"And you will know the Truth, and the Truth will set you free." (John 8:32) Jesus' Promise
==============================================
Support this ministry today with your subscription and get access to this article and ALL headline news articles at Cutting Edge. Your subscription will help us reach a lost world for Jesus Christ. Here is how.
If you will send in a new subscription or renew an existing one, we will give you your choice of the following gifts FREE. Subscribe Now
---
Best Values On The Net
Select From 105 Titles!
$9.99 DVD's - Up to 75% Off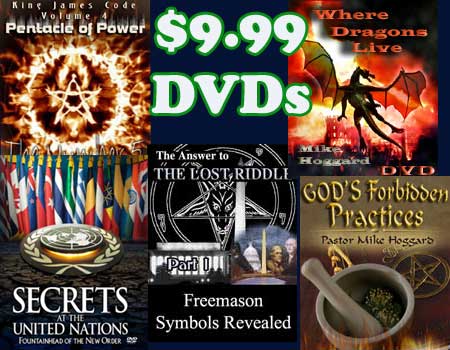 NEW TITLES $9.99 DVD Selection
A Special Creation - 2 DVD Set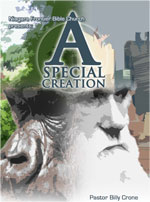 The world is growing crazy and getting more so by the minute. Crime rates have skyrocketed and moral filth is on the rise. Even though this is something we're all quite aware of, what most of us do not realize is that the cause of this destructive behavior stems from evolutionary teachings! You see, what a person believes determines how they behave. So if we teach our kids that they supposedly came from an ape, then why are we surprised when they act like apes? Therefore, A Special Creation takes a look at not only the Scriptural facts, but the hardcore facts of science, reason, and logic to dispel this lie that we evolved from the goo, to the zoo, to me and you! You will explore such lies as:
The Lie of the Ape Man Evolution
The Lie of the Horse and Whale Evolution
The Lie of Natural Selection,
The Lie of Embryology
The Lie of Mutations and Vestigial Organs
The Lie of Transitional Fossils and Punctuated Equilibrium.

A Special Creation clearly reveals that a Special God created us for a special purpose; to enjoy a special relationship with Him. But not only that, you will actually hear direct quotes from the evolutionists themselves saying that yes, we very well could have A Special Creation! After watching this series, you too will come to the same conclusion as Dr. T. N. Tahmisian who stated, "Scientists who go about teaching that evolution as a fact of life are great con-men, and the story they are telling may be the greatest hoax ever. In explaining evolution, we do not have one iota of fact" Order Now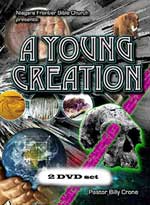 A Young Creation - DVD - 6 Session - 2 DVD Set
One of the greatest lies in education today is the lie that the Earth is millions, and perhaps billions of years old. Students in all levels of education are taught this lie
This mantra of evolutionary teaching actually calls Jesus Christ a liar, God the Father a liar, God?s Word a liar. Therefore, 'A Young Creation' exposes the falsehood of evolutionary dating methods and reveals beyond a shadow of a doubt that we really do have 'A Young Creation' just as the Bible states.
You will explore such topics as:
1) Evidence of Space
2) Evidence of Earth
3) Evidence of Logic
4) Fallacy of Carbon Dating and all other evolutionary dating methods
5) Circular Reasoning of the Geologic Column
6) Rapid Formation of Rocks, Caves, Stalagmites and Stalactites, and even Fossils.
You will also hear direct quotes from evolutionists themselves saying that yes, we very well could have A Young Creation! After watching this series, you too will come to the same conclusion as this person did who stated, ?I myself am convinced that the theory of evolution, especially to the extant to which it?s been applied, will be one of the great jokes in the history books of the future.?
http://www.cuttingedge.org/detail.cfm?ID=1693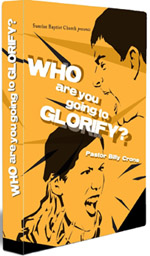 "Whom Are You Going To Glorify? How To Deal With Chronic Complainers"
by Pastor Billy Crone - 2-DVD Set
Regularly $19.99
This study, 'Whom Are You Going to Glorify' video reveals the hidden dangers of a life of constant complaining. Here you will see how Complaining Affects You, Affects Others, Affects the Gospel, and even Affects God.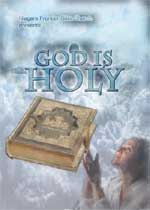 God Is Holy - DVD - 3-session DVD

Danger! Danger! The alarm has sounded! The American Church is under attack! The Body of Christ has fallen under a horrible epidemic where BELIEVERS IN GOD NO LONGER BELIEVE IN GOD!
Believe it or not, we now have Churches full of people who are living like they do not believe in God. Oh, they still say they believe in God, but half the time we act like He?s not there, betrayed by our lips and our actions. This is not only detrimental in our walk with God, but it keeps others from believing in God.
Christians are living like practical atheists because they do not know who God really is! 'God is Holy' shows us that some of the best ways to understand the Holiness of God is not to just look at a Hebrew or Greek word but to simply learn Scripture.
People of God, here are the facts. If the world is ever going to believe our message of hope, forgiveness, and love through Jesus Christ, then you and I must stop acting like practical atheists and start demonstrating by our lips and our lives that 'God Is Holy'. http://www.cuttingedge.org/detail.cfm?ID=1632
Also Visit our $4.99 Offers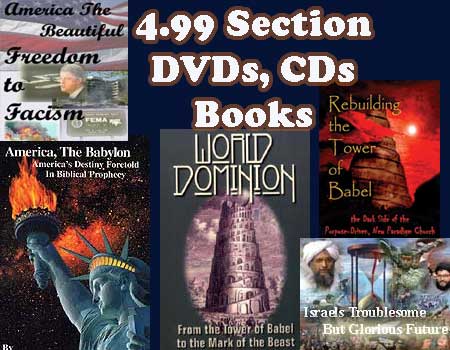 ---
'Genetic Roulette' / 'Medical Murder': Two Sides of A Coin
Combination DVD Offer, 3 DVD Set
Regularly $44.94 if purchased separately
On Sale $29.94, Saving you $15.00
The stark messages in 'Genetic Roulette' and 'Medical Murder' are two sides of the same coin. 'Genetic Roulette' proves the scientific dangers inherent in Genetically Modified Foods. They demonstrate how human scientists have taken God's good food and have genetically modified it so that it actually is killing people today!
Never before seen evidence points to genetically engineered foods as a major contributor to rising disease rates in the population, especially among children. Gastrointestinal disorders, allergies, inflammatory diseases and infertility are just some of the problems in humans, pets, livestock and lab animals who eat Genetically Modified soybeans and corn.
Monstanto's strong arm tactics, the FDA's fraudulent policies and how the USDA ignores a growing health emergency are also revealed. This shocking documentary may change your diet, help you protect your family and accelerate the consumer 'tipping point' against Genetically Modified organisms (GMO's).
Also contains a 28-minute expose' on modified seeds, another grave danger to our long-term health.
Dynamic Trailer For "Genetic Roulette" DVD
'Medical Murder' examines the murderous nature of our chemically-based medical industry. Literally, the collaboration between government regulators and chemical medicine producers is so deadly that we can call it 'Architects of Madness'. The third highest cause of death in America is "iatrogenic" -- induced in a patient by a physician! But that is not all the horror! A new study proves that aggressive radiation cancer treatments create a far more dangerous cancer cell than the one from which the patient is suffering. 'The new study is yet another blow to the failed and favored mainstream treatment paradigm of trying to cut out, poison out or burn out cancer symptoms (tumors) instead of actually curing cancer.' But, there is more concern; the Government is killing you as it subsidizes the top killers of our population.
Dynamic Trailer For "Medical Murder: Architects of Madness" DVD
This Combination DVD offer has over 5 hours of teaching! http://www.cuttingedge.org/detail.cfm?ID=2470
---

Purchase a 1-Year Subscription, you may select 1 FREE gift
Purchase a 2-Year Subscription, you may select 2FREE gifts
Purchase a 3-Year Subscription, you may select 3 FREE gifts
Purchase a 4-Year Subscription, you may select all 4 FREE gifts
We have changed our FREE gifts available to you when you subscribe to Headline News, adding two Pastor Hoggard DVD's to the Seminar Tapes and the Radio Collection CDROM.
---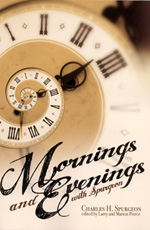 --------Concluding Inspiration ---------"The things which are not seen." 2 Corinthians 4:18
In our Christian pilgrimage it is well, for the most part, to be looking forward. Forward lies the crown, and onward is the goal. Whether it be for hope, for joy, for consolation, or for the inspiring of our love, the future must, after all, be the grand object of the eye of faith.
Looking into the future we see sin cast out, the body of sin and death destroyed, the soul made perfect, and fit to be a partaker of the inheritance of the saints in light. Looking further yet, the believer's enlightened eye can see death's river passed, the gloomy stream forded, and the hills of light attained on which standeth the celestial city; he seeth himself enter within the pearly gates, hailed as more than conqueror, crowned by the hand of Christ, embraced in the arms of Jesus, glorified with Him, and made to sit together with Him on His throne, even as He has overcome and has sat down with the Father on His throne.
The thought of this future may well relieve the darkness of the past and the gloom of the present. The joys of heaven will surely compensate for the sorrows of earth. Hush, hush, my doubts! death is but a narrow stream, and thou shalt soon have forded it. Time, how short—eternity, how long! Death, how brief—immortality, how endless!
Methinks I even now eat of Eshcol's clusters, and sip of the well which is within the gate. The road is so, so short! I shall soon be there.

"When the world my heart is rending
With its heaviest storm of care,
My glad thoughts to heaven ascending,
Find a refuge from despair.
Faith's bright vision shall sustain me
Till life's pilgrimage is past;
Fears may vex and troubles pain me,
I shall reach my home at last."
---
Directory of all news articles
Free Radio Transcripts

Free Headline News Archives

Freemasonry

What Saith Rome

Teachings from the Catechism

Bookstore

Meet the Staff

Weather Control


May Jesus Richly Bless You,
David Bay, Director
866-909-2850 Toll Free Customer Service - Order Line
803-356-2850 Customer Service - Order Line - For Out of Country Customers
803-356-2860 Fax
Thank you for visiting and Please feel free to E-mail Cutting Edge Ministries if you have any questions about our outreach ministry.