"Secrets of the Illuminati" Combo Offer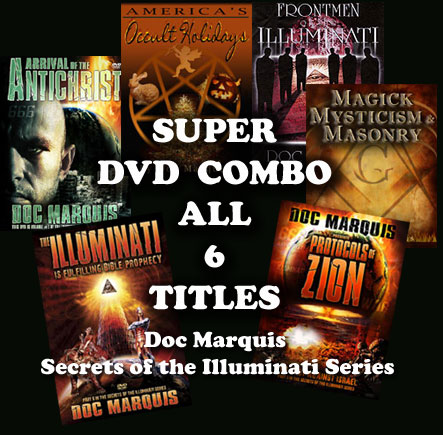 All Six Titles by Doc Marquis, 7 DVDs, over 18 hours of teaching
Save $80.00!
Each of these unique DVD's provides information on a part of the Illuminati Plan which only a former Satanist / Illuminati would know. Furthermore, much of the information Doc Marquis provides is the 'Oral Plan', which is the parts of the plan to produce Antichrist which is so evil that it is never written down.
These are the titles: 1) 'Arrival of the Antichrist' ; 2) 'America's Occult Holidays'; 3) 'Front Men of the Illuminati'; 4) 'Magick, Mysticism, and Masonry' - This is THE ONE video every Mason to whom you are witnessing must see! 5) 'The Protocols of Zion: Plot Against Israel' ; 6) 'The Illuminati Is Fulfilling Bible Prophecy' "
Doc Marquis uses the King James Bible - http://www.cuttingedge.org/detail.cfm?ID=2249
---
---------- This Week's Hot News -------
Prophecy Being Fulfilled Right Now: "...it was diverse from all the beasts that were before it; and it had ten horns."
Before Antichrist can arise, the world's nations must be reorganized into precisely ten (10) supernations? This prophecy is being fulfilled in Daily News!
I. The South American supernation is taking shape!
Supernation #6 is hearing proposal to create a single defense manufacturing base, an indispensable cornerstone of any supernation.
NEWS BRIEF: "Brazil proposes common defense industry base in S. America", China English News, 2-15-2011
"MONTEVIDEO, Feb. 14 (Xinhua) -- Visiting Brazilian Defense Minister Nelson Jobim said Monday that South America must have a 'single voice' on defense issues, among them a common defense industrial base. It is necessary 'to deepen the (defense) ties within South America', Jobim said after meeting Uruguayan President Jose Mujicam, adding that building a common defense industry base is at the core of Brazil's policy for regional integration."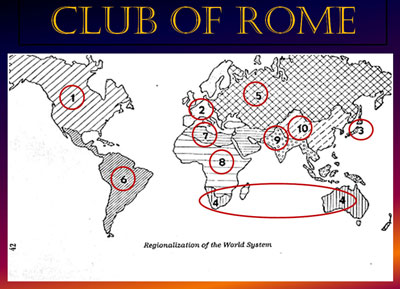 This is proof positive that the Supernation #6 continues to form. In past newsletters, we have noted regional meetings hosted by Brazil and Venezuela, so we have been aware for some time that his continent nation is being formed.
But, it is surprising, nonetheless to hear the Brazilian Defense Minister call for a "regional integration", a byword for the planned Supernation #6 as you can see on the map (left).
Not surprisingly, a common defense industry is seen as the one common interest which can unite the entire continent. America is not the only nation on earth with a "Military-Industrial Base'.
The Defense Minister elaborated on the importance of such a common defense industry.
"The initiative would help boost regional technology and industry, and 'give independence to all the nations on the Latin American continent', he said."
Most of the nations in #6 are anti-American and pro-Communist/Socialist and authoritarian. Therefore, we believe that it will not take so long to form this supernation as it has taken to form the European Union, for example.
We must watch this development closely, for critical prophecy is taking shape!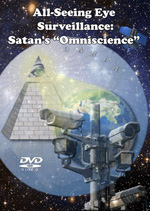 DVD
II. The dictatorial control inherent in the New World Order continues to march onward, intruding into our private lives.
All children in Mexico are going to have their biomedical information stored in government records!
This action is designed to further the drive to create Supernation #1, the North American Union.
NEWS BRIEF: "All children to be registered in national biometric records", By Jerome R. Corsi, World Net Daily, February 14, 2011
"Below the radar of public opinion, Mexico has started to assemble the type of biometric national identity database that could be used to document names for a North American Trusted Traveler border pass card, a plan already being developed by the U.S. Department of Homeland Security for Mexican citizens."
"Never let a good crisis go to waste".
This has always been the motto of the Global Elitge. Even though the ultimate plan for Mexico is to incorporate her into the North American Union, thereby eliminating the border, why not seize upon the current concern over border immigration to draft a plan which will serve the coming regional dictatorship very well?
"It apparently would be similar to the program that has become commonplace in the European Union to allow free transit for EU citizens to move, live and work wherever they choose within the EU, disregarding nation-of-origin and national border restrictions."
The E.U. road to regional government has proven successful, by and large. Therefore, we should not bed surprised that this biomedical database would be copied from the E.U. model which was also developed for border policy.
"On Jan. 19, 2011, Mexico's President Felipe Calderon signed an executive order requiring within the next five years all Mexicans 17 years old and younger have a biometric national identity card that would include a facial photograph, all 10 fingerprints, and an iris scan. To carry out the presidential executive order, the Mexican Directorate General of the National Population Register plans to go to all elementary schools in Mexico schools in Mexico to record the required biometric information and issue individual identity cards. "
"Reasonable estimates are that by the end of 2012, Mexico plans to issue more than 25.7 million biometric identity cards to the nation's children 18 years old and younger. "
"The new Mexican Personal Identity Card includes a security hologram to prevent duplication or the creation of fraudulent cards; iris scan information embedded in a bar code on the reverse of the card; various biometric information included invisibly in the card, including all 10 digits in fingerprints. Each card bears a unique personal ID number and a face photo designed to make sure that only the person to whom the card was issued can use the card. Next to the eagle symbol of Mexico at the top of the card, the card reads 'United States of Mexico'."
Some discerning people in Mexico realize the true significance of this Personal Identity Card.
"Critics in Mexico have charged that the Mexican effort to enroll school children in a national biometric personal identity database involves the early implementation of an incremental 'new world order' plan designed to fit into initiatives designed under the Security and Prosperity Partnership to evolve the North American Free Trade Agreement into a continental or regional North American Union governmental structure."
This viewpoint is exactly correct!
Once this identity plan is successfully implemented in Mexico and all the "bugs" have been discovered and solved, the new North American Union government can easily order all Americans and Canadians to receive their own card.
Why should we be surprised? All modern dictatorships have required their citizens to take a Personal Identity Card and to keep it on their person at all times.
NOTE: The newsletter continues after the new Headline News advertisement.
---
New Headline News Article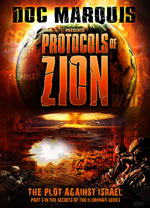 DVD
Why Is China Building Large Cities Completely Devoid of People?
The answer will shock you, for a nearly unknown part of the Plan is being implemented. This development means that the appearance of the Antichrist is closer than many think possible.
http://www.cuttingedge.org/news/n2440.cfm
---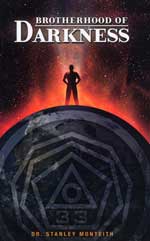 III. Secretary of State Hillary Clinton sided with the protestors in the streets of Iran!
Just the week before Egypt's President Mubarak resigned, the Secretary of State sided with the Egyptian protestors, so we can see a pattern emerging, can't we?
NEWS BRIEF: "Sec/State Clinton voices supports for Iranian protesters", By Daniel Strauss, The Hill News, 2/14/2011
"In strong language Monday Secretary of State Hillary Clinton came out in support of anti-government protests in Iran. What we're seeing in Iran today is a testament to the courage of the Iranian people', Clinton said. 'Our message has been consistent and it remains the same and we wish the opposition and brave people in the streets the same opportunity that they saw their Egyptian counterparts seize in the last week'."
Iran is part of Supernation #7 and is apparently not immune to the pressures to surrender her sovereignty so she can join this supernation. I find it somewhat ironic that the current hardline government might resist the attack pressures on her nuclear facilities by Israel and the United States, only to fall to the protestors organized and funded and directed by the global Illuminati!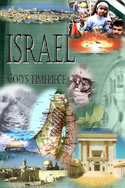 DVD
IV. Since Israel is geographically part of Supernation #7 -- a nation which will be ruled by radical Islam -- the IDF is preparing for war!
NEWS BRIEF: "Israeli army 'ready for all eventualities': PM ", France 24 News, 14 February 2011
" 'The Israeli military is "ready for all eventualities' as the Arab and Muslim world undergoes 'an earthquake', Israel's Prime Minister Benjamin Netanyahu said on Monday just days after Egypt's regime collapsed. 'An earthquake is shaking the whole Arab world and a large part of the Muslim world and we don't yet know how these things will turn out', the premier said at a swearing-in ceremony for new army chief Major General Benny Gantz."
"We are ready for all eventualities because we know that the foundation of our existence, and our capacity to convince our neighbours to live in peace with us, is based on the Israeli army," he said during a ceremony at his Jerusalem office."
When you examine Supernation #7, you will realize that Israel lies geographically within its borders. Therefore, the Global Elite is likely to try to insist that Israel surrender her sovereignty to the new Regional Super Government, "Northern Africa and the Middle East". The leadership of this new supernation will most likely be a radical Muslim, intent upon Israel's destruction!
Can you imagine Israel surrendering her ability to defend herself against her united 540 million Islamic and Arab enemies? I cannot.
Therefore, radical Islamic leaders of Supernation #7 are likely to want to apply the strategy of "The Pentagon's New Map" to Israel. This strategy calls for invasion or threat of invasion against the recalcitrant nation.
Is the attack on Israel going to be the logical result of "The Pentagon's New Map" strategy?
Israel had better keep her national sovereignty and her mighty army. She is going to need it.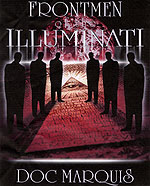 DVD
V. The Republican House of Representatives betrayed the American people again as they passed the controversial portions of the Patriot Act which will one day enslave us all!
This event is another proof that there is absolutely no difference between Republican and Democrat Parties, as the leaders of each party are equally committed to the New World Order.
NEWS BRIEF: "Republican House Passes Measure Extending Authority for Terrorism Surveillance", by Jeff Bliss, Bloomberg News, February 15, 2011
"The U.S. House agreed yesterday to extend the government's authority to conduct roving wiretaps of suspected terrorists ... The House voted 275-144 to continue, into early December, the wiretap power as well as government's ability to get access to suspected terrorists' business and other records, and to monitor so-called 'lone wolf' suspects."
"The provisions are set to expire Feb. 28; the House bill extends them to Dec. 8. The Senate has yet to act. "
Conservatives must be reacting in disbelief and shock, because they really thought that, by the House of Representatives passing into Republican hands, that bills like this one would go down to defeat. Publications like World Net Daily have been trumpeting that this bill had to be defeated, and they were right; this bill really did need to be defeated.
And, it would have gone down to defeat had the Republican leadership truly cared about voting in the way their constituents wanted them to vote. But, as we have stated time and time again, there is no fundamental difference between the Republican and the Democrat Parties. All the supposed differences are "smoke and mirrors fluff"!
While most Americans are loathe to believe this contention, key issues come along every once in a while where the vote goes against the position people expect the leadership to take. This bill is one of those key barometers. Republicans are supposed to care deeply about their citizen's Constitutional rights and liberties; therefore, Conservatives fully expected the Republican leadership to disapprove of this dictatorial bill.
On the other hand, Liberal Democrats have been disappointed on a number of issues because President Obama has decided to continue the Bush policies, even though Liberals wanted those policies reversed. A good example of this is Obama's decision to not close the notorious torture prison at Guantanamo Bay.
If you will simply remember that there is no fundamental difference between the Republican and the Democrat leadership, you will have come a long way to really understanding the deliberate drama unfolding in Mass Media.
This next article offers another good example of the Republican Party taking the opposite action which constituents believed they would take.
NEWS BRIEF: "Rep. Ryan: GOP would keep funding gov't in case of budget impasse", The Hill News, 2-15-2011
"Republicans will pass short-term measures to keep funding the government rather than allow a shutdown, Rep. Paul Ryan (R-Wis.) said Tuesday. Ryan, the chairman of the House Budget Committee, said that if the GOP-held House can't reach an agreement with President Obama and Democrats in the Senate on a continuing resolution (CR) funding the government the rest of this fiscal year, it would pursue temporary funding measures, and not allow a government shutdown. "
Conservative voice, World Net Daily, has been strongly urging House Republicans to really make a difference in American fiscal responsibility by voting down any temporary funding measure. Their leadership must view this statement will gall in their throat, because they are correct in stating that the Republican House could force Democrat Obama to really get serious in paring down the budget if they would only refuse the temporary funding measure.
Remember the immortal words of Democrat Governor, George Wallace:
"There ain't a dime's worth of difference between the Democrat and Republican parties"!
---
CLOSE-OUT Special Purchase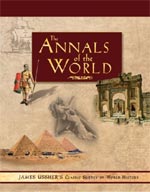 "The Annals of the World"
James Ussher's Classic Survey of World History
Regularly $39.99, Now Only $24.99
You Save $15.00!
Considered both a literary classic and an accurate historical reference from Creation to 70 A.D. For the first time, this classic work has been translated into modern English.
This treasure trove of material also contains many human interest stories from original historical documents collected by the devoted Christian historian and scholar Archbishop James Ussher. Precisely dated and referenced, this volume is much more than just a fascinating history book -- it is a work of history
Contains over 2,500 citations from the Bible
Ussher's original citations have been checked against the latest textually scholarship
Is fully indexed, with 8 appendices
Wonderful Home School resource, with 960 pages, weighing five (5) pounds!
---
Most Popular DVD In The Bookstore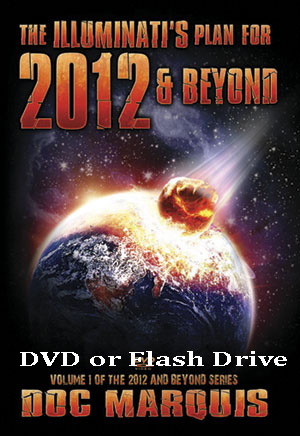 New Doc Marquis DVD - His Best Ever!
"The Illuminati's Plan For 2012 And Beyond"
2-Disc Set - Volume 1
Introductory Offer - Regularly $39.99, On Sale For $29.99
Now that you have read and heard the noise and chatter about the year 2012, you will be pleased to know the truth of the Illuminati Plan for 2012, from a man who knows the Plan thoroughly, former Illuminati Luciferian, Doc Marquis!
After watching this 'One of a Kind' DVD set, you will no longer wonder what will happen after December 21, 2012!
Is the end of the world near? Are we doomed to destruction? Do we have any hope for tomorrow beyond the year 2012? In this new, exciting and riveting 2 part DVD set renowned author and former Illuminati witch Doc Marquis takes up the daunting task of revealing the truth behind December 21, 2012.
At the end, through a unique series of question and answers along with comparisons of the Holy Scriptures Doc Marquis shall reveal the final truth behind the mystery of 2012.
2-DVD Set, nearly 4 hours - http://www.cuttingedge.org/detail.cfm?ID=2304
Will begin shipping on or before 4/15 - Cutting Edge is doing the editing, so we will be on time.
---
New Headline News Articles
Public School Teachers Grading Parents?
If passed, this law will instruct Public School teachers to evaluate, to grade, parents! Asking unchristian teachers to evaluate Christian parents is asking for disaster!
http://www.cuttingedge.org/news/n2439.cfm
Israeli Scientists Warn Residents To Prepare For A Major Earthquake!
The Plan of the Global Masonic leaders is to use an earthquake to knock down the Dome of the Rock so the new Masonic Solomon's Temple can be built on that holy spot!


"Do Christians Actually Know What Mormonism Is And Why The Bible Forbids Us To Have Anything To Do With It?"
A longtime Christian brother talked to me last week, all excited about Glenn Beck. I quickly learned that this Sunday School teacher knew nothing about Mormonism. He did not know enough to be concerned about a Christian making an alliance with Mormonism.
http://www.cuttingedge.org/news/n2433.cfm
"Conspiracy? Yes, Virginia, Satan Has Mounted A Global Conspiracy Against God - Just As Prophecy And Doctrine Foretell"
I find it incredible that many knowledgeable Christians prefer to not believe that a human conspiracy will set the prophetic stage for the appearance of Antichrist. Rather, these type of Christians prefer to believe in a "prophetic evolution" where all prophecies will spring to life out of some sort of primordial goo!
We shall demonstrate the futility of denying Biblical doctrine and teaching that God's prophecies will occur just as He foretold because Satan has caused his adherents to create a plan which will fulfill all His prophecies.
A massive End Times conspiracy is prophesied! Believe it and events today will begin to make sense.
The 2010 midterm elections were the first salvo fired for the 2012 election! Conservatives will be frustrated greatly during the next 2 years and will be told that, in order to complete the overthrow of Obama Liberalism, they must win the White House and the Senate in 2012!
Deliberate Frustration will be the order of the day for Conservatives during the next 2 years! http://www.cuttingedge.org/news/n2432.cfm
"Glenn Beck's New Blockbuster Book 'BROKE' Is Selling By The Millions"
The premise is that America is financially, spiritually and mentally bankrupt and must be rescued. However, it is simply not true that America is financially bankrupt! CAFR is the greatest secret out in the open in a very long time, perhaps in all of human history.
Is this book the first major salvo in setting a Mormon on the path to the White House, so he can fulfill the old Mormon prophecy known as the "White Horse Prophecy"?
"Controlled Conflict Bringing About Controlled Change" - The Hegelian Doctrine In Constant Use In Today's News"
Once you understand this tactic used daily by the Global Elite, in so many circumstances, you will never, ever view the news the same way again! As we head into the 2010 Mid-Term Elections, you need to understand that all political parties are based upon this Hegelian foundation -- Controlled Conflict Bringing About Controlled Change.
http://www.cuttingedge.org/news/n2429.cfm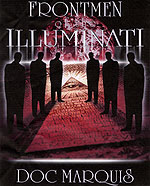 DVD
Council On Foreign Relations (CFR) Pronounces The Winner of The Iraq War To Be -- IRAN!
Incredibly, Cutting Edge posted an article five years ago in which we declared that Iran would be seen eventually as the winner of the Iraq conflict, because that was the Illuminati Plan! -- http://www.cuttingedge.org/news/n2427.cfm
<![if !vml]>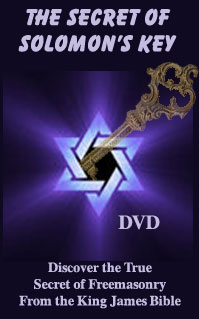 <![endif]> "New Prophetic First -- One-half of Jewish people now support rebuilding the Temple on the Temple Mount"
Normally secular Israel has never shown this strong of support for rebuilding the Temple, showing the effects of Orthodox Judaism. Will the Islamic Dome of the Rock be destroyed on the 'Ninth Day of Av', the most horrible day of the year for Israel?
http://www.cuttingedge.org/news/n2424.cfm
"Take from Freemasonry its dependence on the Temple; leave out of its ritual all references to that sacred edifice, and to the legends and traditions connected with it, and the system itself would at once decay and die ... " (Noted 33º Masonic author, Albert Mackey)
<![if !vml]>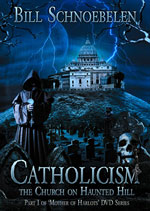 <![endif]> "Catholic Priestly Sex Abuse Is Now Oozing Over Every Continent on Earth!"
The sheer magnitude of the priest's sex scandal is shocking beyond belief; but, remember, the statistics we are about to share with you is simply the proverbial "tip of the iceberg"! The true total numbers of deviant priests and victims reach into the many millions of victims.
Even the infamous Kinsey Report may have its roots in the 12 Centuries of sexual deviancy from priests and nuns and their victims!
http://www.cuttingedge.org/news/n2422.cfm
---

Purchase a 1-Year Subscription, you may select 1 FREE gift
Purchase a 2-Year Subscription, you may select 2FREE gifts
Purchase a 3-Year Subscription, you may select 3 FREE gifts
Purchase a 4-Year Subscription, you may select all 4 FREE gifts
We have changed our FREE gifts available to you when you subscribe to Headline News, adding two Pastor Hoggard DVD's to the Seminar Tapes and the Radio Collection CDROM.
---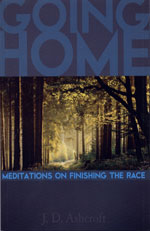 --------Concluding Inspiration ---------"Our (New) Focus"
"If then you have been raised with Christ, seek at the right hand of God. Set your minds on things that are above, not on things that are on earth"
When we are preparing for death, we can sometimes become occupied with "things we have left undone" instead of the things of our future. This Word inspires us to change our orientation from this world to the next. It is of great benefit at any time in our lives, but especially as we prepare to go to be with the Lord.
Paul says "If you have been raised with Christ, seek the things that are above, where Christ is, seated at the right hand of God." In baptism we die and rise again with Christ into a new life of obedience to Him. As Christians we are not called to simply stop functioning in the world, but we are called to weigh everything in light of our eternal priority. We live to please Christ here, that he might be pleased with us when we get to heaven. Augustine would say that "we are no longer called to use God to enjoy the world, but to use the world in order to enjoy God forever." (City of God). This shift of priority is a necessary part of the Christian life, and a wonderful, positive way to prepare for death.
Paul Says: "Set your minds on the things that are above, not on things that are on earth." This plain command is easy to understand but hard to put into practice. It is hard to let go of earthly priorities; whether family, work, or life goals. Yet, when we see our world in the light of eternity, we can replace our worldly attitudes with those of heavenly love, and actually be more of a blessing by prayer and encouragement that we ever were before.
Moreover, when we set our mind on things above, our focus will be less on our earthly death and more on our heavenly life. Indeed, Luther tells Christians to think of death while they are living, but when they are dying, to meditate upon life. (LW 42:102) In the hour of our death or focus should be on eternal life, which has been given to us as a gift by our Lord.
Dear lord, Help us in the hour of our death, to focus on your priorities, the priorities of heaven. Help us concentrate on eternal life instead of earthly death, that we might revel in your victory on our behalf, and be ready for you when you come to take us home, we pray in Jesus Name, amen.

---
"President Bush:
Evil vs Good Fruits"
Directory of all news articles
Free Radio Transcripts

Free Headline News Archives

Freemasonry

What Saith Rome

Teachings from the Catechism

Bookstore

Meet the Staff

Weather Control

School Shootings

Understanding Clinton
May Jesus Richly Bless You,
David Bay, Director
866-909-2850 Toll Free Customer Service - Order Line
803-356-2850 Customer Service - Order Line - For Out of Country Customers
803-356-2860 Fax