Global "Critical Mass" Being Achieved - Under British Control!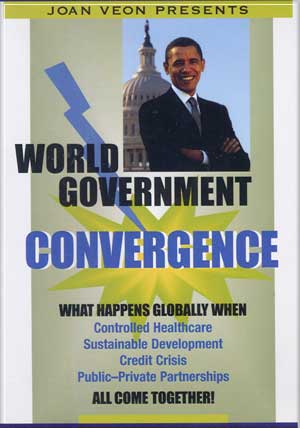 "World Government Convergence - Returning To British Rule"
New DVD by Joan Veon
How do international leaders plan to return effective control of the world system back to British rule? You create an international level of government in which the British control all the agendas and all the agencies. We are nearly at that point now! Believe it or not!
Did you know that all barriers to World Government have now been abolished except for one -- Regulation! To overcome this barrier, the Illuminati plans some huge event which will cause people to DEMAND World Government!
Once this huge crisis hits, Americans will be reduced to slaves and serfs to a World Government system of total control.
This video aims to give you the BIG PICTURE of the timeframe of the coming World Government, its key leaders, its 'power' brokers and the specific areas of control.
Joan Veon is a business woman, international journalist and renowned expert on Global Economics, Sustainable Development, and the United Nations.
http://www.cuttingedge.org/detail.cfm?ID=2180
---
---------- This Week's Hot News --------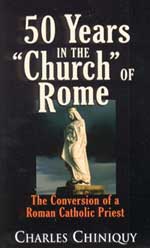 I. Priestly sexual abuse of children in Ireland is now so serious that Pope Benedict XVI has intervened!
As "50 Years In The Church of Rome" demonstrates, Catholic priests have been preying on children and women for many, many centuries. Our independent research has revealed that this sex abuse has been occurring for over 1,200 years!
NEWS BRIEF: "Pope and Irish bishops child sex abuse summit continues",
"Pope Benedict XVI and his senior officials are due to begin the second day of an extraordinary meeting with the 24 Irish bishops in the Vatican. The Pope called the two-day meeting to discuss the bishops' response to a child sex abuse scandal in Ireland."
Exactly what are these priests accused of doing?
"In a report issued last year the Church admitted covering up abuse for decades ... Last year, a report was highly critical of the Dublin Archdiocese's handling of priests who were suspected sex abusers. The Murphy Commission laid bare a culture of concealment where Church leaders prioritized the protection of their own institution above that of vulnerable children in their care, and often failed to pass on details to the police."
About eight years ago, when the hideous sex abuse scandal erupted in the Massachusetts and Rhode Island Catholic Churches, Cutting Edge posted numerous articles on the historicity of sex abuse of women and children by priests going back over 1,200 years.
One of the most insidious common factors of the way in which Catholic superiors handled a priest who was guilty of sexual sin with their congregants was that, instead of carrying out real discipline, the superior would hide the sin and would usually transfer the guilty priest to a church far away from the original church.
And, the police were almost never, ever informed.
Pope Benedict XVI was very blunt as he described his opinion of this sorry state of affairs in Ireland.
"The Pope has said he was 'disturbed and distressed' by the report and shared the 'outrage, betrayal and shame' felt by Irish people."
While this sentiment will mollify many people, historical facts suggest that the depth of the Pope's distress is remarkably shallow. His remarks are to be understood as the minimum necessary to quiet the murmurings of the average parishioner.
During the Boston and Providence explosion of eight years ago, Pope John Paul II was in charge, and he issued similar statements of "distress" on behalf of the innocent victims. But, he effected no change whatsoever in the Catholic Priesthood. And, why should he? Any Pope knows the full extent of the disaster which daily unfolds in the millions of Catholic churches around the world, and he probably is just thankful that his name did not pop up amongst the implicated!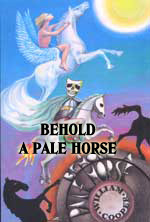 Behold A Pale Horse
II. The Tea Party continues to go national!
They will meet next in Las Vegas, the sin city!
NEWS BRIEF: "Tea Party Nation: It's Vegas in July!", World Net Daily,
"Just days after Sarah Palin declared the nation is ready for another revolution, organizers of that first national tea-party convention have announced plans for an event designed to bring together those who are fed up with the Washington status quo. Officials with Tea Party Nation are organizing a National Tea Party Unity Convention, July 15-17, in Las Vegas."
I was a little puzzled to learn that National Tea Party officials allowed President Obama the honor of selecting Las Vegas as the site for the convention.
"President Obama told Americans not to go to Las Vegas so that is exactly where Tea Party Nation will be holding our next event!" Judson Phillips, Tea Party Nation president, told WND in the e-mail announcement."
Lest you still believe that the National Tea Party does not plan to organize and establish a national party on the level of the Democrat and Republican Parties, carefully contemplate this next statement.
"The event is to 'bring tea-party leaders and activists in the movement together to present a unified front as we go into the fall 2010 elections', he said."
Already, fire alarms are going off concerning the true national direction of the Tea Party. In the first meeting, I was concerned that Illuminati Republicans would seize control of the new party and ruin its goals before it really got off the ground.
Sarah Palin was a keynote speaker and we have had our reservations about her from the time she accepted Senator McCain's offer of the Vice Presidential slot on his presidential campaign. We have learned, over the past 20 years, that the Illuminati does not even allow a person on any national stage unless they are either sold out to the Plan of the Global Elite or completely malleable to it.
With Sarah Palin, we believed she was naive, not realizing either the nature or the power of the Beast political system to which she had suddenly ascended. We further believed that her husband, Todd Palin, was the real power behind Sarah. Please take a few moments to read NEWS2314, entitled, "Todd Palin IS MOST DEFINITELY Flashing A Masonic Handsign During The August 29 Photo Shoot With Governor Sarah Palin and Their Children!"
Now, World Net Daily is reporting that Republican author, Pat Buchanan, is on board with the Tea Party. Buchanan is one of the major Illuminati/Jesuit journalists in the entire world. In 2007, we posted an article on Pat Buchanan, NEWS2220, entitled, "Is The Illuminati "Telegraphing Its Punches" When Pat Buchanan Warns of A "Gulf Of Tonkin" Type Incident Which Would Give President Bush The Excuse To Attack Iran?"
Quoting briefly from this article:
"Patrick Buchanan is the ultimate Establishment Insider, educated in Jesuit high school and colleges and a member of the Catholic secret society, Knights of Malta. Buchanan was also an adviser to Republican Presidents Nixon, Ford, and Reagan ... Furthermore, Pat Buchanan is a member of the Knights of Malta (National Catholic Reporter, October 14, 1983, Vol. 19, No. 45).
"Therefore, through the Knights of Malta, Buchanan is powerfully connected to one of the most powerful Satanic organizations which ever existed, the Knights Templar. Albert Mackey's Encyclopedia of Freemasonry and Its Kindred Sciences identifies the Knights of Malta as an offshoot of the Knights Templar: