NEW BOOK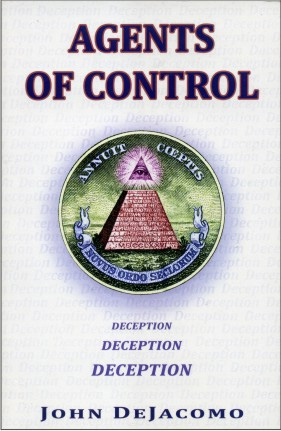 "Agents of Control: Deception, Deception, and More Deception"
New Book by John DeJacomo
Regularly $19.95
Now Only $17.95
'Agents of Control' takes a close look at world events, supernatural happenings and Ancient Prophecy about to be fulfilled.
Jesus foretold of unprecedented deception at the end of the age. In fact, spiritual, political and economic deception is so pervasive that it easily filled this book. Were the true story told, thousands of such books could be written.
'Agents of Control' is a fast-paced, hard-hitting prophetic portrait of end time events that offers a detailed panorama of how the end of the age could very well unfold. Filled with confirming Scriptures, this exegesis of the last days not only offers an enlightened view of the apocalypse, but it also identifies man's only answer for overcoming globalism and the New World Order of antichrist. An exciting read - Enjoy it!
This book opens your eyes to why world events occur and what Bible prophecy has foretold concerning the future. The clear and thorough way in which this book is presented makes for a very interesting read.
A great documentary, not a novel. 193 pages - http://www.cuttingedge.org/detail.cfm?ID=2494
---
---------- This Week's Hot News-------

I. Did the Vatican just admit that Pope Benedict XVI is guilty enough to stand trial and possibly be convicted of sex crimes?
That is the undeniable message from the news that the Vatican will use its national sovereignty to protect Pope Benedict XVI once he becomes private citizen Joseph Ratzinger.
NEWS BRIEF: "Pope will have security, immunity by remaining in the Vatican", Reuter's News, February 15, 2013
"Pope Benedict's decision to live in the Vatican after he resigns will provide him with security and privacy. It will also offer legal protection from any attempt to prosecute him in connection with sexual abuse cases around the world, Church sources and legal experts say."
"His continued presence in the Vatican is necessary, otherwise he might be defenseless ... He wouldn't have his immunity, his prerogatives, his security, if he is anywhere else', said one Vatican official."
Wow! That is a practical admission of guilt if I ever heard one. By saying that Ratzinger would "be defenseless" should he venture outside the Vatican walls, means that he is guilty as charged and his strong guilt would render him "defenseless" against legal accusation.
During the time of Pope John Paul II, rumors swirled that Cardinal Joseph Ratzinger, the head of the Office of Inquisition, had protected Bishops and priests from sexual abuse charges while he was their Cardinal. Now, I see that these charges are valid and can be proven in a court of law.
Other news sources confirm that Pope Benedict XVI is complicit in sex abuse cover-up while serving in the Papacy.
NEWS BRIEF: "Pope Benedict 'complicit in child sex abuse scandals', say victims' groups", The Guardian (London), 11 February 2013
"Pope Benedict XVI 'knew more about clergy sex crimes than anyone else in church yet did little to protect children', say critics ... Victims of the epidemic of sex- and child-abuse scandals that erupted under Benedict's papacy reacted bitterly to his resignation, either charging the outgoing pontiff with being directly complicit in a criminal conspiracy to cover up the thousands of paedophilia cases that have come to light over the past three years, or with failing to stand up to reactionary elements in the church resolved to keep the scandals under wraps."
"From Benedict's native Germany to the USA, abuse victims and campaigners criticised an eight-year papacy that struggled to cope with the flood of disclosures of crimes and abuse rampant for decades within the church."
"Denef, 64, from the Baltic coast of north Germany, was abused as a boy by his local priest for six years. In 2003, Denef took his case to the bishop of Magdeburg. He was offered €25,000 (then £17,000) in return for a signed pledge of silence about what he suffered as a six-year-old boy. He then raised the issue with the Vatican and received a letter that said Pope John Paul II would pray for him so that Denef could forgive his molester. 'We won't miss this pope', said Denef. He likened the Vatican's treatment of the molestation disclosures to 'mafia-style organised crime rings'."
I am shocked to hear that Pope Benedict treated sexual molestation charges as the Mafia runs its crime rings. The Mafia has a well-deserved reputation for murder, torture, and intimidation. Has Benedict adopted these practices as he deals with the flood of sex abuse charges from victims now standing up and telling their stories.
This next news story reports that as Cardinal Ratziner, the future pope protected a pedophile priest under his jurisdiction as Archbishop of Munich.
NEWS BRIEF: "Vatileaks, Holy Tweets, Santa Hats: Pope Benedict XVI in facts & photos", R.T. News, February 12, 2013
"Benedict's term was marked by a tidal wave of allegations of systematic child abuse in the priesthood, and just as damagingly, of cover-ups concerning that abuse by highly-placed officials within the church. A policy was seemingly in place, whereby uncovered pedophile priests would simply be transferred to a new parish, instead of being defrocked and reported to the police. Benedict himself became embroiled in the scandal when it was discovered that Father Peter Hullermann, a known child molester, was transferred to a new parish, under the watch of Ratzinger himself, who was at the time, the Archbishop of Munich (Hullermann continued to commit sexual crimes, and was eventually arrested)."
Soon, the College of Cardinals will meet to select a replacement for Benedict. Victims groups are not encouraged when they realize that the College of Cardinals has men who have been linked to pedophile cover-up charges of their own!
NEWS BRIEF: "Paedophile scandals loom large for next pope", Gulf News, February 20, 2013
"Activists fighting for truth and justice for victims of sexual abuse by Catholic priests hold out little hope for progress under the next pope as controversy brews over a US cardinal who covered up for predator clerics. A Catholic association has asked retired Los Angeles archbishop Roger Mahony to stay away from next month's conclave after he was stripped of all public duties for mishandling claims against dozens of priests. Campaigners say the disgraced cardinal's behaviour is precisely what Pope Benedict XVI has failed to crack down on and point to other 'cardinal electors' linked to abuse scandals that have rocked the Catholic Church in recent years."
How many victims have Catholic priests raped over the past 50 years?
"The scourge of abusive priests burst into the light of day more than a decade ago with a cascade of scandals rocking the Church worldwide, from Ireland to the United States, from Australia to the pope's native Germany. The Vatican says it continues to receive around 600 claims against abusive priests every year, many of them dating back to the 1960s, 1970s and 1980s."
"Barbara Dorris of the Survivors Network of those Abused by Priests, or SNAP, in the United States said the tide of revelations cannot be turned back. 'Criminal cases are breaking all over', she said. 'The floodgates are opening'."
I have been following this horrific issue since 1998, when victims began to speak out against the pedophile priest who had been abusing them for years. Working with Rebecca Sexton of "Former Catholics For Christ", I began extensively researching this issue of sexual deviant priests. Not only did I discover that priests have been preying of young and married women through the Confessional since the days of the Inquisition (1550-1850), but in the 20th Century, about 75% of all students at Catholic seminaries are gay.
I believe the number of living victims numbers in the tens of thousands.
How can this happen within a christian church?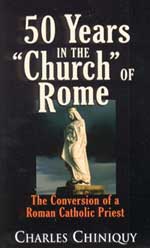 The Roman Catholic Church is not a "church" at all, but a cauldron of evil sexual lusts coupled with the practice of Witchcraft disguised as genuine Christianity.
Truly, former priest Chiniquy was right when he stated that the Catholic Church was a "church" in name only. Chiniquy also stated that the Catholic Church is so evil that the "paths in Hell will be paved with the skulls of Popes, Cardinals, Bishops and priests"!
Now, let us return to our featured article.
"This startling admission of guilt by the church is also a direct obstruction of justice, and lends more weight to the charge by the ITCCS and others that the Vatican has arranged with the Italian government to shield Ratzinger from criminal prosecution, in violation of international laws ratified by Italy."
"In fact, the announcement by the Vatican supports the charges against him, including that of 'International War Criminal'. This decision validates our claims about the criminal conspiracy surrounding Ratzinger and his Vatican co-conspirators. It also makes it clear that the Vatican is a rogue power that is flaunting every law to conceal its own criminality."
What does the ITCCS plan to do about this blatant display of Papal arrogance?
"In response, the ITCCS calls upon its affiliates and all people of conscience to use our upcoming Easter Reclamation Campaign to converge on Rome and the Vatican to force the extradition of Ratzinger from Vatican City, and place him and his accessories on trial for crimes against humanity."
"Commencing Sunday, March 24, 2013, our activists and others will begin an escalating series of Catholic church occupations and seizures of church property to bring about Ratzinger's extradition and reclaim stolen wealth from the criminal corporation known as Vatican Inc. – in the name of the legion of their victims, both living and dead."
Should this attempted seizure of Catholic churches and other properties actually occur, the news wires will certainly be set ablaze with active hot news that will reach every corner of the globe. Catholic loved ones in your 'Sphere of Influence' will be asking questions that they might never have considered before. Do you know enough fact to speak to them intelligently about the vast sex crimes of Catholic priests and Bishops and Cardinals for the past 1,200 years?
Cutting Edge has posted numerous articles on the subject of the tragic manipulation of boys, girls and women through the confessional.
"ROMAN CATHOLIC PRIESTS ABUSING CHILDREN CONSTANTLY! THE EVIL CONFESSOR" - NEWS1614
"WHY DO CHILD SEX ABUSE VICTIMS OF CATHOLIC PRIESTS REMAIN SILENT FOR DECADES, RATHER THAN IMMEDIATELY REPORTING IT TO THEIR PARENTS?" NEWS1646
"PEDOPHILE CATHOLIC PRIEST CONFESSED DIRECTLY TO POPE PAUL VI IN 1973, BUT "HIS HOLINESS" TOOK NO ACTION. LATER, OVER 50 CHILDREN WERE MOLESTED AND RAPED!" NEWS1656
"THIS POPE NEVER APOLOGIZED, NEVER ASKED FORGIVENESS" - NEWS2022 -- NOTE: This article contains numerous links to sex abuse articles we have posted over the many years.
These Headline News articles are some of the most important we have ever posted because they demonstrate that the crime of cover-up of sexual crimes by priests rises as high as the Throne of Peter itself, and always has. Yet, no one has been able to touch the Pope because he is protected by such a labyrinth of laws and diplomatic arrangements, that he has heretofore been untouchable. Some Cardinals facing sex trials in their home town have suddenly been "promoted to the Vatican", where they enjoy diplomatic immunity. (See Bernard Law, Cardinal, Boston)
Now, however, it does appear that this invincible web of protection is disappearing. Thank God!
Why would the Italian President agree to not allow the indictments to be served on Pope Benedict? If the Italian President is a devout practicing Catholic, he would fear the Pope more than any man on earth; you see, the Pope could order the Jesuit Confessor to the Italian President to not forgive the President's sins any longer. The President of Italy would then believe he was going to Hell.
Can you begin to see the many facets of horror built around this so-called church?
A Special Note About The Combination DVD Offer, pictured above. We developed these three DVD's with the express purpose of investigating the horrid pattern of sex abuse by the Roman Catholic priesthood over the past 1,000 years against young women, married women, and young boys. Consider briefly each DVD:
DVD #1 - "White Sepulcher Christianity' dramatizes the reality that the Pope has always had a powerful demon whispering in his ear, a being Satanists call 'National Overlord'. Once you understand this truth, you will comprehend the true nature of the Catholic Church. 4 Hours Long
DVD #2 - "Which Queen of Heaven" DVD proves that the very foundation of Catholicism is the Luciferian Babylonian Mysteries religion, which God cursed. 4 Hours Long
DVD #3 - "Church On Haunted Hill' provides the final answer as to why Catholic priests are so sexually deviant. One of their doctrines taught priests is the 'Unforgiveable Sin' 2 Hours Long (Matt 12:31)
The news is likely to be very heavy covering this pedophile news story for months to come. Many people within your Sphere of Influence will be very upset, and demanding answers. After viewing these three powerful DVD's you will know how to answer these critical questions.
II. The Los Angeles Police Department (LAPD) is caught red-handed deliberately murdering fugitive Dorner.
I am reminded of the death by fire at Waco.
NEWS BRIEF: "As nation watches in horror, LAPD commits premeditated arson, murder against homicide suspect Christopher Dorner", Natural News, February 13, 2013
"... the LAPD has been caught red-handed committing premeditated arson and murder against homicide suspect Christopher Dorner. The proof is in the police scanner audio which has now gone public. In this audio, LAPD officers are heard saying:
"We're gonna go forward with the plan with the burner."
"Like we talked about."
"Burners deployed, and we have a fire."
Repeated by dispatcher: "Burners deployed, and we have a fire."
"(unintelligible)...mission success."
"We have fire in the front. He might come out the back."
"Looks like it's starting to collapse."
"We're gonna start bringing fire in, about 200 yards out."
"Break 61 Lincon, 61 Charlie, you ready for fire?"
"F#cking burn this motherf#cker!" -- LAPD officers as heard on live television"
"The evidence is now crystal clear: The LAPD knowingly planned and carried out an act of homicidal arson against a murder suspect. No attempt was made to arrest him. As Natural News has reported for several days, this was and always has been an execution operation against a former LAPD officer who obviously needed to be silenced at all costs.
"Some of the idiotic online trolls who actually support all this don't get why this is such a powerful example of runaway law enforcement tyranny: The LAPD now operates as if it is judge, jury and executioner. No evidence has been presented to any court concerning the charges against Christopher Dorner. No trial has taken place. No sentence has been handed down by a judge. No jury has heard anything. This is an all-out premeditated murder by the LAPD of a murder suspect who the media had all but condemned to die."
If no legal action is taken against the LAPD for this obvious tyrannical act, then the coming planned Absolute Dictatorship has taken an abrupt leap forward. I have always felt that the next step in the Illuminati Plan to dissolve the Constitution - so they can bring in their brutally repressive dictatorship - was set in motion after no serious outcry against the 1993 unconstitutional murder at Waco had occurred.
After President Clinton and Attorney General Reno were not impeached following Waco, the Elite believed that Americans would not become outraged over anything. Just a few years later, the attacks of 9/11 occurred, and an undiscerning, compliant American public accepted the ridiculous government story.
We have pictured, left, the two most revealing Illuminati Cards from the role-playing game entitled, "The Illuminati Card Game", published by Steve Jackson Games in 1995.
The action depicted on each of the 100 original cards was an action the Illuminati was going to take in order to overthrow our existing civilization and government so they could bring in their coveted "New World Order".
Anyone who had bought this role-playing game between 1995 and September 11, 2001, knew that the Illuminati planned to attack the World Trade Center and the Pentagon, in order to hasten the overthrow of our current system. They just did not know the exact date.
Americans today are so compliant and believing everything the government tells them that the Global Elite is now confident they can do anything or say anything without anyone or any organization effectively protesting.
Now you know why the LAPD could be so bold as to murder a suspect without trial and without charges, and still allow their communication to be so public! And so shockingly bold.
Our Constitutional freedoms are doomed with a citizenry who can no longer be outraged.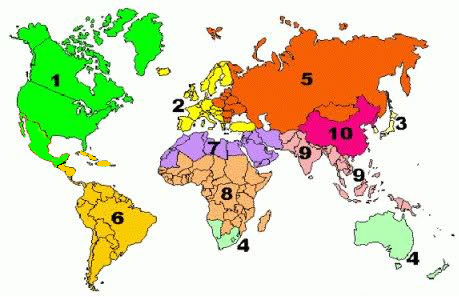 III. Supernation #6 - Central and South America -- has taken a step toward forming this regional state.
A Socialist has won re-election for President of Ecuador.
NEWS BRIEF: "Ecuador's Socialist Candidate Correa claims re-election victory", Reuter's News, 2-17-2013
"Ecuadorean President Rafael Correa claimed a re-election victory on Sunday that would allow him to strengthen state control over the OPEC nation's economy and gives a timely boost to Latin America's alliance of socialist leaders."
Most of the nations in Central and South America are Socialist. Venezuela and Brazil are the two major Socialist forces but most of the other nations in Supernation #6 are also Socialist, and are allied with Marxist Cuba and Venezuela. Only Peru and Columbia are staunch American allies. For Supernation #6 to be fully formed, it seems logical to me that all pro-American nations must be switched to Socialist.
This election provides a strong boost to the formation of Supernation #6. Once again, we see that the Daniel 7:7-8 prophecy is gradually being fulfilled.
IV. For the first time ever, following a mass public shooting, the most radical gun seizure programs are actually getting through state legislators.
The most shocking bill is the one in the state of Washington, where authorities will be allowed to search private homes once per year!
NEWS BRIEF: "Washington Dems Sponsor Bill Allowing Police to Search Gunowners' Homes", BreitBart TV News, 18 February 2013
"In a mistake that probably wasn't a mistake, a Washington state bill sponsored by liberal Democrats contained a little-noticed provision that would have called for the police to have the right to search private citizens' home once per year if they own certain types of guns. "
Notice this horrific fact: mere registration of guns gives police the information they need to one day confiscate your guns. During the Nazi era, German police so efficiently obtained the name and address of every gun owner that, when the time came to demand guns from the private citizen, the police knew exactly what citizen possessed what guns, and by and large, where those guns were located.
After we discuss this news story, we shall examine the reality that gun registration is merely the first step in gun confiscation. But, for now, let us return to our featured news story.
"In other words, kiss the Fourth Amendment goodbye. Liberal lawmakers behind the bill claim they have no knowledge of the provision – which, of course, begs the question as to how the provision got into the bill in the first place ... This was likely no mistake. It's hard to believe that a bill could advance this far without anyone reading it for such an obvious violation of Constitutional principles. But in an age of ever-bigger government and ever-smaller rights, anything is possible."
Inclusion of this provision was no mistake; it was placed in this bill to see what outrage would come roaring out of the homes and towns and cities where ordinary citizens and gun owners reside. The Illuminati is testing the waters to see what we will tolerate! If no outrage is forthcoming, then more drastic measures shall soon be thrust down our collective throats.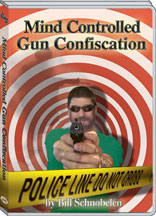 DVD
A Canadian journalist has a very specific warning for all of us.
NEWS BRIEF: "Canada Warns: Gun Registration Means Confiscation", Sun Warns, 2/8/2013
"Living in Canada, Sun News Network anchor Brian Lilley has already seen where seemingly innocent gun control measures can lead. During a news broadcast this week, Lilley warned Americans that gun registration led to gun confiscation in Canada, and the same thing will happen in the U.S. if citizens don't defend their Second Amendment rights."
Lilley was galvanized into action when four men tried to firebomb a house but were foiled by the owner wielding a gun. The police arrested the private property owner and confiscated his weapon.
"So I've got a warning to my American friends: Registration will lead to confiscation. And if you don't believe me, just look at what's happened here."
The Obama Administration is actually preparing to do take just this kind of action against law-abiding citizens. Listen:
NEWS BRIEF: "NRA Warns: Obama Justice Dept. memo says registration, gun confiscation necessary", Examiner News, 2/18/2013
"According to a short video produced by the NRA, a Justice Department memo says that an assault weapon ban would not be effective without mandatory gun confiscation and that universal background checks would only work with federal gun registration ... universal background checks are 'just the first step' in implementing federal gun registration, which will ultimately lead to confiscation."
"Democrats in at least two states -- Missouri and Minnesota -- have already proposed legislation that if passed into law, would require law-abiding gun owners to surrender rifles, shotguns and pistols deemed to be 'assault weapons'."
A major government push unprecedented in American history is most definitely under way to push through laws which will force undiscerning Americans into giving up their weapons -- piecemeal. Today, the law may recognize only one gun owned by a private citizen as being an "assault" gun. But, several months later, the cops could be back at your door, demanding you surrender another piece of your arsenal.
Soon, you will either have to resist or have your final gun confiscated.
Such is the situation in America today. We are at the same junction as were gunowners in Germany from 1935-1939.
Beware of piecemeal confiscation! It is very effective and designed to not take any single action which will arouse you to anger. But, over time, your last gun will be seized.
---
NEW TITLE $9.99 DVD Selection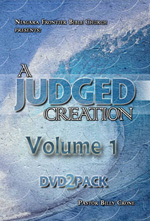 A Judged Creation - Volume 1 - by Pastor Billy Crone - 2 DVD's 6 Sessions This item is on sale.
This Volume 1 thoroughly studies key judgments which God has already delivered upon rebellious, wicked mankind 6 Sessions. Each session finishes with a section 'Facts and Prophecies Updated to Our Time'.
1 - 'Global Catastrophe' - sin and rebellion in the Flood plus change of all languages at Babel
2 - 'The Great Fossilization' - God's judgment on Pharoah
3 - 'God Inspired Deluge'
4 - 'A Grand Uprising' - Study of Abraham and Lot and the Divine delivery of his family
5 - 'A Galloping Runoff 1 & 2 Kings'
6 - 'A Gargantuan Boat Part 1' - all the facts of the Flood and how it relates to the End of the Age
Total of 2 DVD's, 6 Sessions of instruction Order Now
---
New Bookstore DVD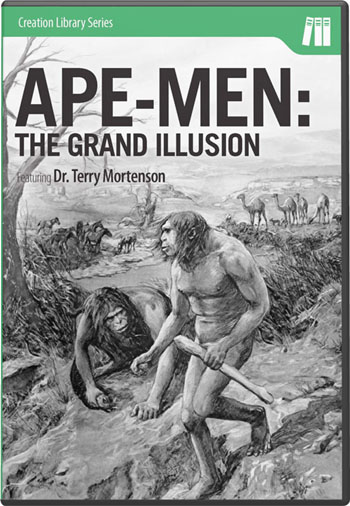 "Ape-men: The Grand Illusion"
DVD by Dr. Terry Mortenson
The consensus among secular scientists is that man evolved from an ape-like creature over a period of millions of years. But upon what is that claim based?
In this illustrated lecture presentation featuring Dr. Terry Mortenson, you will see that the so-called 'scientific evidence' does not stand up to scrutiny; further, you will understand the folly that Christian leaders are committing trying to fit ape-men into the Book of Genesis -- they are seriously mistaken.
The gospel importance of the supernatural creation of Adam and Eve is then made clear. See for yourself that the idea of ape-men is a Grand Illusion, deceiving millions and undermining both the clarity and authority of Scripture and the Gospel message itself!
Ages: 12 to adult -- http://www.cuttingedge.org/detail.cfm?ID=2493
Watch Trailer
---
Four Powerful NEW Headline News Articles For Our Faithful Supporters
Your faithful support enables us to keep Cutting Edge free for everyone else. Our readers have always loved the indepth correct news analysis found in our "Headline News Analysis".
President Obama's State of the Union Address - February 12, 2013 -- Utopian Socialist / Elitist Vision
America's 44th President set forth a Socialist / Elitist vision of a future America which will thrill the Liberals and infuriate the Conservatives. Get ready to be infuriated
"America Is Leading Western Powers In A Full-Scale Invasion of Africa!"
Now that the wars in Iraq and Afghanistan are winding down, the West is in full invasion mode destabilizing a major part of the "Non-Functioning Gap" region of the world. The "Pentagon's New Map Strategy" is being brilliantly followed. Have you noticed? Mass Media is either clueless as to what is occurring or they are part of a worldwide coverup.

"In Just 50 Years, America Has Turned "PINK"!
In February, 1963, the Supreme Court "kicked God out of public schools"; in January, 2013, President Obama allowed a large Lesbian/Gay marching band to participate in his Second Inauguration. The President also spoke so glowingly about homosexuality, he legitimized the lifestyle!
America has come full circle, from God's blessing to God's curse. America is the new Sodom, and we are living "in the days of Lot" (Luke 17:27-29)
Are you spiritually ready to live like "righteous Lot" (2 Peter 2:6-9), being daily tortured by all the filthy acts occurring in our nation, and yet able to live righteously for Jesus? Unless the Rapture of the Church occurs first, we Christians are going to have to stand our ground, protecting our loved ones while we aggressively evangelize those lost around us. http://www.cuttingedge.org/news/n2490.cfm
Most Important Article We Have Ever Written
DVD
"World War III Will Be History's Greatest Lynchpin!"
Many major events are planned to occur just as World War III begins. Mankind will be systematically hit with unparalleled disasters of every kind as this planned global war unfolds. But, none of these events will occur until the lynchpin called "World War III" is pulled.
The Illuminati has prepared many different scenarios which will not be triggered until World War III breaks out. All these events are sitting like a race car at the starting line, engines idling, just waiting for the global war to break out so they can all be triggered at once. Doc Marquis said that these events will occur at a rapid rate, one after another after another. Doc said people's hearts will literally fail them for fear, as they can scarcely comprehend one disaster when they will hear of another and then another and then another. People will be overwhelmed by the succession of so many horrific disasters after another.
But, Doc warned, "none of the planned events will occur before the others". And, the trigger for all these events is World War III, literally a lynchpin holding all planned events in place. Once this gigantic lynchpin is pulled, all these planned disasters will quickly follow. People worldwide will be so upset and so confused by so many disasters happening at once, they will literally leap at any proposal from their leaders that will "solve the problem".
At that point, the New World Order can be established as soon as World War III has run its course and the Masonic Christ appears on the world scene. We are not to panic whenever someone speaks out about one of these disasters, saying that it will occur NOW. We know the Plan for the New World Order and we know the sequential prophecy in Daniel 7:7-8 so we know these events are a number of years away.
http://www.cuttingedge.org/news/n2489.cfm
You need not panic.
"And you will know the Truth, and the Truth will set you free." (John 8:32) Jesus' Promise
==============================================
Support this ministry today with your subscription and get access to this article and ALL headline news articles at Cutting Edge. Your subscription will help us reach a lost world for Jesus Christ. Here is how.
If you will send in a new subscription or renew an existing one, we will give you your choice of the following gifts FREE. Subscribe Now
---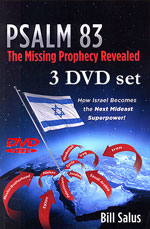 "PSALM 83: The Missing Prophecy Revealed"
"How Israel Becomes the Next Mideast Superpower"
Regularly $24.99, Now Only $19.99
New 3-In-1 DVD
Great Value! 3-DVD's-In-One. This powerful 3 DVD series contains three of the most revealing teachings, complete with instructional images and maps, from Bible prophecy expert, Bill Salus. These 3 DVD's are all included in one package.
The titles are quite interesting: DVD 1 - 'Psalm 83 or Ezekiel 38, Which is the Next Middle East News Headline?'; DVD 2 - 'The Future for America in Bible Prophecy'; DVD 3 - 'The Roots of the Mideast Conflict'.
Psalm 83 identifies an Arab confederacy that wants to wipe Israel off the map. Many Bible experts are predicting that Russia, Iran, Turkey, and several other countries are about to invade Israel according to the prophecy in Ezekiel 38, but Bill Salus demonstrates multiple reasons why the Psalm 83 conflagration should occur first.

This ancient prophecy, written over 3000 years ago, reveals that the Arab states and terrorist populations, which presently share common borders with Israel, will soon join forces to try to annihilate Israel. These enemies of Israel are depicted on the red arrows upon the book cover image, and their mandate is clear:
They have said, "Come, and let us cut them off from being a nation, That the name of Israel may be remembered no more." (Psalm 83:4).
Salus tackles the tough questions such as: Is America in the Bible? Why was the United States such a blessed superpower? Has America abandoned its Judeo-Christian heritage? Is America being judged? What is America's future?
The present hostilities experienced in the Middle East between the Arabs and Jews can be traced to a disposition of hatred, originating almost four thousand years ago. In this teaching video, Bill Salus explains how the ancient family feuds between the Middle East patriarchs and matriarchs are the underlying roots of today's Arab-Israeli conflict.
This DVD will help you make sense of today's news events occurring daily in the entire Middle East. Your belief in Almighty God will be greatly strengthened. Believers will be given an enormous spiritual lift from these prophetic revelations.
Over 4 hours on the 3 DVD's - http://www.cuttingedge.org/detail.cfm?ID=2491
Also Available As A 360 page book - http://www.cuttingedge.org/detail.cfm?ID=2492
More Values On The Net
Select From 105 Titles!
$9.99 DVD's - Up to 75% Off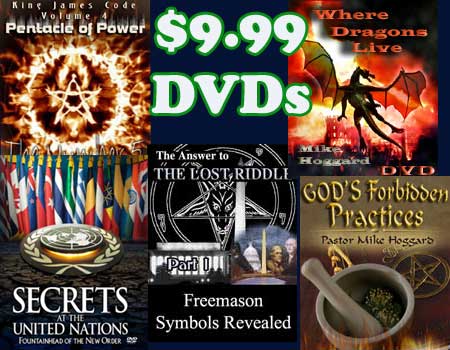 NEW TITLES $9.99 DVD Selection
A Special Creation - 2 DVD Set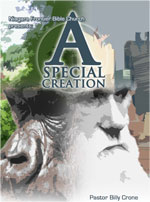 The world is growing crazy and getting more so by the minute. Crime rates have skyrocketed and moral filth is on the rise. Even though this is something we're all quite aware of, what most of us do not realize is that the cause of this destructive behavior stems from evolutionary teachings! You see, what a person believes determines how they behave. So if we teach our kids that they supposedly came from an ape, then why are we surprised when they act like apes? Therefore, A Special Creation takes a look at not only the Scriptural facts, but the hardcore facts of science, reason, and logic to dispel this lie that we evolved from the goo, to the zoo, to me and you! You will explore such lies as:
The Lie of the Ape Man Evolution
The Lie of the Horse and Whale Evolution
The Lie of Natural Selection,
The Lie of Embryology
The Lie of Mutations and Vestigial Organs
The Lie of Transitional Fossils and Punctuated Equilibrium.

A Special Creation clearly reveals that a Special God created us for a special purpose; to enjoy a special relationship with Him. But not only that, you will actually hear direct quotes from the evolutionists themselves saying that yes, we very well could have A Special Creation! After watching this series, you too will come to the same conclusion as Dr. T. N. Tahmisian who stated, "Scientists who go about teaching that evolution as a fact of life are great con-men, and the story they are telling may be the greatest hoax ever. In explaining evolution, we do not have one iota of fact" Order Now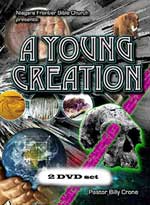 A Young Creation - DVD - 6 Session - 2 DVD Set
One of the greatest lies in education today is the lie that the Earth is millions, and perhaps billions of years old. Students in all levels of education are taught this lie
This mantra of evolutionary teaching actually calls Jesus Christ a liar, God the Father a liar, God?s Word a liar. Therefore, 'A Young Creation' exposes the falsehood of evolutionary dating methods and reveals beyond a shadow of a doubt that we really do have 'A Young Creation' just as the Bible states.
You will explore such topics as:
1) Evidence of Space
2) Evidence of Earth
3) Evidence of Logic
4) Fallacy of Carbon Dating and all other evolutionary dating methods
5) Circular Reasoning of the Geologic Column
6) Rapid Formation of Rocks, Caves, Stalagmites and Stalactites, and even Fossils.
You will also hear direct quotes from evolutionists themselves saying that yes, we very well could have A Young Creation! After watching this series, you too will come to the same conclusion as this person did who stated, ?I myself am convinced that the theory of evolution, especially to the extant to which it?s been applied, will be one of the great jokes in the history books of the future.?
http://www.cuttingedge.org/detail.cfm?ID=1693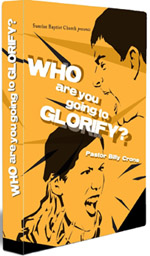 "Whom Are You Going To Glorify? How To Deal With Chronic Complainers"
by Pastor Billy Crone - 2-DVD Set
Regularly $19.99
This study, 'Whom Are You Going to Glorify' video reveals the hidden dangers of a life of constant complaining. Here you will see how Complaining Affects You, Affects Others, Affects the Gospel, and even Affects God.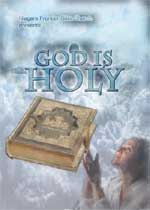 God Is Holy - DVD - 3-session DVD

Danger! Danger! The alarm has sounded! The American Church is under attack! The Body of Christ has fallen under a horrible epidemic where BELIEVERS IN GOD NO LONGER BELIEVE IN GOD!
Believe it or not, we now have Churches full of people who are living like they do not believe in God. Oh, they still say they believe in God, but half the time we act like He?s not there, betrayed by our lips and our actions. This is not only detrimental in our walk with God, but it keeps others from believing in God.
Christians are living like practical atheists because they do not know who God really is! 'God is Holy' shows us that some of the best ways to understand the Holiness of God is not to just look at a Hebrew or Greek word but to simply learn Scripture.
People of God, here are the facts. If the world is ever going to believe our message of hope, forgiveness, and love through Jesus Christ, then you and I must stop acting like practical atheists and start demonstrating by our lips and our lives that 'God Is Holy'. http://www.cuttingedge.org/detail.cfm?ID=1632
Also Visit our $4.99 Offers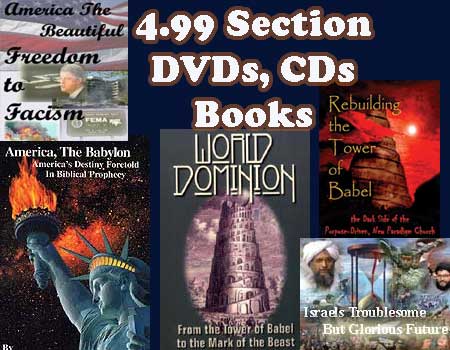 ---

Purchase a 1-Year Subscription, you may select 1 FREE gift
Purchase a 2-Year Subscription, you may select 2FREE gifts
Purchase a 3-Year Subscription, you may select 3 FREE gifts
Purchase a 4-Year Subscription, you may select all 4 FREE gifts
We have changed our FREE gifts available to you when you subscribe to Headline News, adding two Pastor Hoggard DVD's to the Seminar Tapes and the Radio Collection CDROM.
---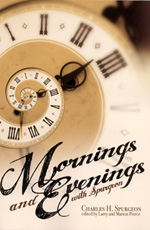 --------Concluding Inspiration ---------"Thus saith the Lord God; I will yet for this be enquired of by the house of Israel, to do it for them." Ezekiel 36:37
Prayer is the forerunner of mercy. Turn to sacred history, and you will find that scarcely ever did a great mercy come to this world unheralded by supplication. You have found this true in your own personal experience. God has given you many an unsolicited favour, but still great prayer has always been the prelude of great mercy with you. When you first found peace through the blood of the cross, you had been praying much, and earnestly interceding with God that He would remove your doubts, and deliver you from your distresses.
Your assurance was the result of prayer. When at any time you have had high and rapturous joys, you have been obliged to look upon them as answers to your prayers. When you have had great deliverances out of sore troubles, and mighty helps in great dangers, you have been able to say, "I sought the Lord, and He heard me, and delivered me from all my fears."
Prayer is always the preface to blessing. It goes before the blessing as the blessing's shadow. When the sunlight of God's mercies rises upon our necessities, it casts the shadow of prayer far down upon the plain. Or, to use another illustration, when God piles up a hill of mercies, He Himself shines behind them, and He casts on our spirits the shadow of prayer, so that we may rest certain, if we are much in prayer, our pleadings are the shadows of mercy. Prayer is thus connected with the blessing to show us the value of it. If we had the blessings without asking for them, we should think them common things; but prayer makes our mercies more precious than diamonds. The things we ask for are precious, but we do not realize their preciousness until we have sought for them earnestly.

"Prayer makes the darken'd cloud withdraw;
Prayer climbs the ladder Jacob saw;
Gives exercise to faith and love;
Brings every blessing from above."
---
Directory of all news articles
Free Radio Transcripts

Free Headline News Archives

Freemasonry

What Saith Rome

Teachings from the Catechism

Bookstore

Meet the Staff

Weather Control


May Jesus Richly Bless You,
David Bay, Director
866-909-2850 Toll Free Customer Service - Order Line
803-356-2850 Customer Service - Order Line - For Out of Country Customers
803-356-2860 Fax
Thank you for visiting and Please feel free to E-mail Cutting Edge Ministries if you have any questions about our outreach ministry.