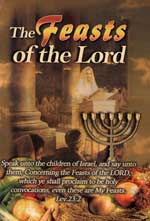 DVD
"The Feasts of the Lord In Prophecy"
Did you know that Jesus and His disciples celebrated 'Passover', not Easter?
At last, a DVD which teaches how the seven Jewish Feasts in the Old Testament accurately portray Jesus in both His first and second comings!
The Spring Feasts were Dress Rehearsals for His First Coming and were accurate to the very day!
The Fall Feasts are Dress Rehearsals for His Second Coming, also to the very day!
Your appreciation of the majesty and Omnipotent Glory of Jesus Christ will grow greatly as you see how He controls world events for the entire 6,000 years of world history, and how He has accurately predicted -- through the seven Feast Days of Israel -- His First and Second Comings, accurate to the exact day!
On Sale! Regularly $49.95, for $29.95, Saving You $20!
Five DVD Set, almost 5 hours of teaching -- http://www.cuttingedge.org/detail.cfm?ID=2168
---
---------- This Week's Hot News -------
Prophecy Being Fulfilled Right Now: "...it was diverse from all the beasts that were before it; and it had ten horns."
Before Antichrist can arise, the world's nations must be reorganized into precisely ten (10) supernations? This prophecy is being fulfilled in Daily News!
I. Libyan dictator Gaddafi may be bringing his country closer to an invasion by Western troops, as his counterattack fails.
As we post this article, strongman Gaddafi is holed up in Tripoli, completely surrounded by hostile forces.
NEWS BRIEF: "Gaddafi fails to break siege", Hindustan Times, 02 March 2011
"With escalating hostilities bringing Libya closer to civil war, Colonel Muammar al-Gaddafi's forces struck back at his opponents on three fronts, with special forces, regular army and, rebels said, fighter jets. But the rebels dismissed the attacks Monday as ineffectual ... "
This reality means that Gaddafi is increasingly isolated from his own people, as he has suffered major defections of both military and diplomatic personnel. In the last several days, Gaddafi has resorted to using military equipment against his own people, including tanks and fighter aircraft.
The West has the answer, if her leaders choose to use the power available.
"As the Pentagon began repositioning Navy warships to support a possible humanitarian or military intervention, secretary of state Hillary Clinton bluntly told the Libyan leader to surrender power 'now, without further violence or delay'."
Since Gaddafi has used military aircraft against his own people, leaders of the West are contemplating whether they want to take complete control over Libya's airspace.
"The attacks by the colonel's troops on an oil refinery in central Libya and on cities on either side of the country unsettled rebel leaders — who have maintained that they are close to liberating the country — and showed that despite defections by the military, the government may still possess powerful assets, including fighter pilots willing to bomb Libyan cities. But as Western powers debate the possible imposition of a so-called no-fly zone Russia ruled out the idea on Tuesday, as 'superfluous'."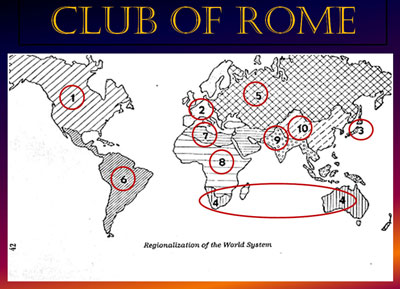 The strategy being followed in all these protest movements across Northern Africa and the Middle East is known as "The Pentagon's New Map".
As you can see from the "Club of Rome" map, Northern Africa and the Middle East comprises Supernation #7!
Since this reorganization map was published in 1972, Christians have rightly believed that this reorganization of the nations of the world into 10 supernations will fulfill Daniel 7:7-8 once it is completed. These events sweeping this region is removing strongman dictators who are resisting being melded into a regional government, replacing them with leaders much more malleable!
II. The protest in Yemen took a serious turn yesterday.
A powerful cleric called for a government overthrow, to be replaced by a fundamental Islamic government.
NEWS BRIEF: "Powerful Cleric Joins Protest to Urge Islamic Rule in Yemen", New York Times, March 1, 2011
"SANA, Yemen — As thousands of demonstrators for and against President Ali Abdullah Saleh took to the streets on Tuesday, a cleric who is a former mentor of Osama bin Laden joined them to call for the replacement of the government with an Islamic state. The cleric, Sheik Abdul Majid al-Zindani, has been on the United States Treasury Department's list of 'specially designated global terrorists' since 2004, suspected of fund-raising for Al Qaeda and other terrorist groups."
Notice that the establishment newspaper, The New York Times, slanted this article by saying that this cleric was a mentor to Osama bin Laden, thus shoving him into the terrorist category! Since everyone knows how serious of a threat terrorism is to world peace, readers of this article will tend to cast this cleric into a terrorist mindset.
"His call was a marked contrast to the message of the rebellions that brought down the leaders of Tunisia and Egypt and now threaten the rulers of Libya, Bahrain, Oman and, to this point, Yemen, where uprisings have been seen as secular and inspired by democratic goals ... his word as a spiritual leader carries considerable political and moral weight in Yemen."
The Yemeni President, meanwhile, is publicly accusing the United States and Israel for fomenting the turmoil in both his country and throughout Northern Africa and the Middle East.
"Mr. Zindani's appearance coincided with an unusual display of anti-American sentiment by Mr. Saleh, who accused Washington and Israel of fomenting unrest to destabilize the Arab world ..."
Of course, President Saleh is entirely correct! His intelligence service must have alerted him to the reality of what is occurring in this region of the world. The Global Elite is dedicated to setting the Club of Rome plan into concrete reality.
This is the issue of the unrest sweeping this part of the world.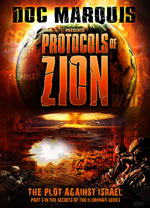 DVD
III. Radical Islamic leader, Louis Farrakhan, has resorted to threats and to demagoguery again!
This time, he is threatening that the political instability now sweeping Africa and the Middle East will one day soon come to the United States.
NEWS BRIEF: "Farrakhan: Mideast uprisings will come to US", Chicago Breaking News, 2/28/2011
"Nation of Islam leader Minister Louis Farrakhan predicted on Sunday that America faces imminent uprisings that mirror those in the Middle East. 'What you are looking at in Tunisia, in Egypt … Libya, in Bahrain … what you see happening there … you'd better prepare because it will be coming to your door', Farrakhan said in a booming voice, thousands of followers cheering in his wake."
In case you do not know, Farrakhan is considered by many to be somewhat crazy. Listen to some of his beliefs:
"The Nation of Islam believes in a UFO called 'the wheel' or 'the Mother Plane'."
"Farrakhan has described a 1985 religious experience in which he ascended into a flying saucer and heard the voice of Elijah Muhammad predicting historical events that came to pass."
"He praised Scientology and its founder L. Ron Hubbard. Farrakhan extolled the virtues of Scientology and its auditing process...."
If this scripted political pressure comes to the United States, it is because the Illuminati wants it to. Since the strategy being followed is "The Pentagon's New Map" and since it is specially aimed at backward "Non-Integrating Gap States", I doubt that this strategy would be brought to this country, a "Functioning Core" nation.
However, Farrakhan's incendiary comments do come straight out of "The Protocols of the Learned Elders of Zion".
"IT IS FROM US THAT THE ALL-ENGULFING TERROR PROCEEDS. WE HAVE IN OUR SERVICE PERSONS OF ALL OPINIONS, OF ALL DOCTRINES, RESTORATING MONARCHISTS, DEMAGOGUES, SOCIALISTS, COMMUNISTS, AND UTOPIAN DREAMERS OF EVERY KIND. We have harnessed them all to the task: EACH ONE OF THEM ON HIS OWN ACCOUNT IS BORING AWAY AT THE LAST REMNANTS OF AUTHORITY, IS STRIVING TO OVERTHROW ALL ESTABLISHED FORM OF ORDER. By these acts all States are in torture; they exhort to tranquility, are ready to sacrifice everything for peace: BUT WE WILL NOT GIVE THEM PEACE UNTIL THEY OPENLY ACKNOWLEDGE OUR INTERNATIONAL SUPER-GOVERNMENT, AND WITH SUBMISSIVENESS."
This is the goal of Farrakhan here. To "bore away at the last remnants of authority", and "striving to overthrow all established form or order"!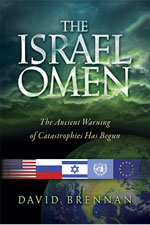 IV. Can Israel use the current upheaval in the Arab world to fashion a Palestinian State more to her liking?
NEWS BRIEF: "In Mideast, peace map is in sight: Go for two-state solution ", Boston Globe, March 1, 2011
"CONVENTIONAL WISDOM has it that with the Arab world in turmoil, this is a time for Israel to batten down the hatches, and put any talk of peace with the Palestinians on ice for awhile. But there are Israeli voices, both in and out of government, who say this is exactly the time, with the old Arab order changing, to lance the Palestinian boil and go for a two-state solution."
Is there any support amongst either the Israelis and the Palestinians for a two-state solution, i.e., the creation of a Palestinian nation out of Biblical lands God gave Israel?
"The good news is that majorities in both Israel and the West Bank favor peace and a two-state solution, polls show. And leaders on both sides have agreed in principle to land swaps to allow some Jewish settlements to stay inside Israel ... in general both peoples are for it."
Israel's leaders -- at least the Conservative ones -- know deep down in their hearts that the Palestinians want only the "peace of the grave" for all Jews and especially for the Jewish nation. Nevertheless, the global push for a Palestinian State is enormous."
Fortunately for the Jews, the Almighty God of Abraham, Jacob and Isaac is on alert! His prophecies of 2,600 years ago foresaw that Israel's enemies will come against her like a repeated flood (Zechariah 12), and that Israel's national survival would be so threatened that Michael, the Archangel of Israel, will have to come to her aid (Daniel 12:1).
But even more incredible, End Times prophecy also foretold, 2,600 years ago, that people would be determined to divide God's land with the enemy. Listen and believe:
"For, behold, in those days, and in that time, when I shall bring again the captivity of Judah and Jerusalem, I will also gather all nations, and will bring them down into the valley of Jehoshaphat, and will plead with them there for my people and for my heritage Israel, whom they have scattered among the nations, and parted my land. " (Joel 3:1-2)
God will bring judgment down upon anyone who seeks to divide, or to "part" His land! Doubt it not!
---
New Headline News Articles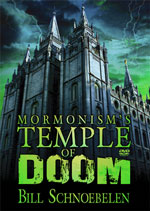 Mormon Glenn Beck Meets With Southern Baptist Billy Graham, Urging Him "To Come Together" - Yoking Believers With Unbelievers!
Beck is making major inroads to convince Evangelical leaders to support his cause. Beck has even taken control of the "Black Robed Regiment" to finally cement a bridge from Mormonism to Christianity. Genuine Christians are in dire danger of being mightily deceived. http://www.cuttingedge.org/news/n2441.cfm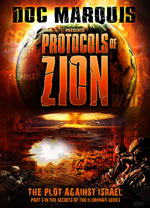 DVD
Why Is China Building Large Cities Completely Devoid of People? The answer will shock you, for a nearly unknown part of the Plan is being implemented. This development means that the appearance of the Antichrist is closer than many think possible.
http://www.cuttingedge.org/news/n2440.cfm
---
"Secrets of the Illuminati" Combo Offer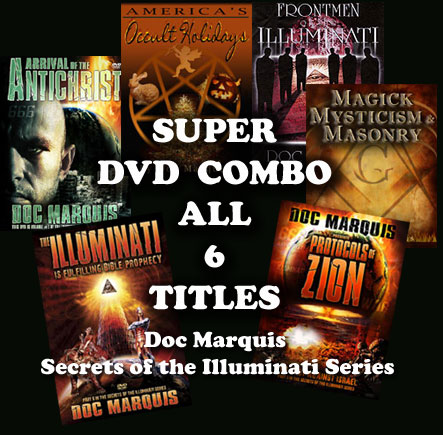 All Six Titles by Doc Marquis, 7 DVDs, over 18 hours of teaching
Regularly $229.94, Combo Price $149.94, Save $80.00!
Each of these unique DVD's provides information on a part of the Illuminati Plan which only a former Satanist / Illuminati would know. Furthermore, much of the information Doc Marquis provides is the 'Oral Plan', which is the parts of the plan to produce Antichrist which is so evil that it is never written down.
These are the titles: 1) 'Arrival of the Antichrist' ; 2) 'America's Occult Holidays'; 3) 'Front Men of the Illuminati'; 4) 'Magick, Mysticism, and Masonry' - This is THE ONE video every Mason to whom you are witnessing must see! 5) 'The Protocols of Zion: Plot Against Israel' ; 6) 'The Illuminati Is Fulfilling Bible Prophecy' "
Doc Marquis uses the King James Bible - http://www.cuttingedge.org/detail.cfm?ID=2249
---
CLOSE-OUT Special Purchase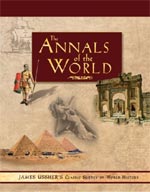 "The Annals of the World"
James Ussher's Classic Survey of World History
Regularly $39.99, Now Only $24.99
You Save $15.00!
Considered both a literary classic and an accurate historical reference from Creation to 70 A.D. For the first time, this classic work has been translated into modern English.
This treasure trove of material also contains many human interest stories from original historical documents collected by the devoted Christian historian and scholar Archbishop James Ussher. Precisely dated and referenced, this volume is much more than just a fascinating history book -- it is a work of history
Contains over 2,500 citations from the Bible
Ussher's original citations have been checked against the latest textually scholarship
Is fully indexed, with 8 appendices
Wonderful Home School resource, with 960 pages, weighing five (5) pounds!
---
Most Popular DVD In The Bookstore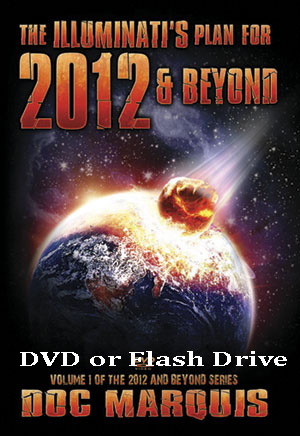 New Doc Marquis DVD - His Best Ever!
"The Illuminati's Plan For 2012 And Beyond"
2-Disc Set - Volume 1
Introductory Offer - Regularly $39.99, On Sale For $29.99
Now that you have read and heard the noise and chatter about the year 2012, you will be pleased to know the truth of the Illuminati Plan for 2012, from a man who knows the Plan thoroughly, former Illuminati Luciferian, Doc Marquis!
After watching this 'One of a Kind' DVD set, you will no longer wonder what will happen after December 21, 2012!
Is the end of the world near? Are we doomed to destruction? Do we have any hope for tomorrow beyond the year 2012? In this new, exciting and riveting 2 part DVD set renowned author and former Illuminati witch Doc Marquis takes up the daunting task of revealing the truth behind December 21, 2012.
At the end, through a unique series of question and answers along with comparisons of the Holy Scriptures Doc Marquis shall reveal the final truth behind the mystery of 2012.
2-DVD Set, nearly 4 hours - http://www.cuttingedge.org/detail.cfm?ID=2304
Will begin shipping on or before 4/15 - Cutting Edge is doing the editing, so we will be on time.
---

Purchase a 1-Year Subscription, you may select 1 FREE gift
Purchase a 2-Year Subscription, you may select 2FREE gifts
Purchase a 3-Year Subscription, you may select 3 FREE gifts
Purchase a 4-Year Subscription, you may select all 4 FREE gifts
We have changed our FREE gifts available to you when you subscribe to Headline News, adding two Pastor Hoggard DVD's to the Seminar Tapes and the Radio Collection CDROM.
"So we do not lose heart. Though our outer nature is wasting away, our inner nature is being renewed day by day."
2 Corinthians 4:16
It is true that if we depended on the on the Lord for this life alone we truly have reason to be miserable. This is not the case at all. The Lord has promised us life after death in a body which is like his glorious resurrection body. We have hope for a future life with Jesus and our loved ones; in a mansion in the heavens. Since we believe that the same Lord who raised Jesus "will raise us also with Jesus and bring us" (2 Cor. 6:14) we can conquer discouragement. We can say with Paul "we do not lose hear."
Two things are happening to us simultaneously. First, "our outer nature is wasting away." The Lord does not deny the fact that our outer man decays, weakens and dies. Our bodies are subject to deterioration and failure. This is a fact which we often postpone accepting throughout our adult lives. The reason why so many people struggle horribly with end of life issues is that they refuse to face death while they are living, but try to live denial of its reality. We Christians are taught by the Lord to deal with our deaths early, that we can spend the end of our lives on earth preparing for our wonderful future with the Lord in glory.
The second thing that is happening to us is that "our inner nature is being renewed day by day." This is a reality only in Christians, as in the Holy Spirit lives within us, feeding our spiritual life with comfort, truth and strength. Our inner nature is Christ's eternal life living within us now, by the power of the Holy Spirit. As we read God's Word, pray, worship, and love in His name, God is at work in us to give us growth and maturity in our inner nature. You can see God's work in the radiant saints who lay on their deathbed giving out blessing to others, and being at peace despite their circumstances. Let us seek the Lord ourselves, and that we might never lose heart in our sufferings, but submit to the two realities that we are experiencing. When we are weak physically, we can indeed be strong spiritually.
Dear lord, we pray that you would help us see what you are doing in our lives, that we would not grieve the death of our bodies, but rejoice in the renewal of our souls. Thank you for working in us. In Jesus Name, amen.
---
"President Bush:
Evil vs Good Fruits"
Directory of all news articles
Free Radio Transcripts

Free Headline News Archives

Freemasonry

What Saith Rome

Teachings from the Catechism

Bookstore

Meet the Staff

Weather Control

School Shootings

Understanding Clinton
May Jesus Richly Bless You,
David Bay, Director
866-909-2850 Toll Free Customer Service - Order Line
803-356-2850 Customer Service - Order Line - For Out of Country Customers
803-356-2860 Fax