WEEKLY UPDATES FROM Cutting Edge Ministries, www.cuttingedge.org
3/5/2004      Over 1,200 Articles Posted! Nearly 80,000 People Downloading A Salvation Page Per Year!
---
---------- Inspiration For the Week-------God's Word gives us permission to pray that He will fulfill the necessities of our life!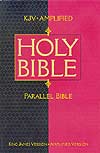 "Now set your mind and heart to seek, inquire of and require as your vital necessity the Lord your God." [1 Chronicles 22:19]
"But if from there you will seek. inquire for, and require as necessity the Lord your God, you will find Him if you truly seek Him with all your heart and mind and soul and life." [Deuteronomy 4:29]
"And they who know Your name, who have experience and acquaintance with Your mercy will lean on and confidently put their trust in You, for You, Lord, have not forsaken those who seek, inquire of and for You on the authority of God's Word and the right of their necessity". [Psalm 9:10]
"The Lord looked down from heaven upon the children of men to see if there were any who understood, dealt wisely, and sought after God, inquiring for and of Him and requiring Him of vital necessity." [Psalm 14:2]
"You have said, Seek My face, inquire for and require My presence as your vital need. My heart says to You, Your face, Your presence, Lord, will I seek, inquire for, and require of necessity and on the authority of Your Word." [Psalm 27:8]

"I sought (inquired of) the Lord and required Him of necessity and on the authority of His Word, and He heard me, and delivered me from all my fears." [Psalm 34:4]
"Glory in His holy name; let the hearts of those rejoice who seek and require the Lord as their indispensable necessity." [Psalm 105:3]
"Then you will seek Me, inquire for, and require Me as a vital necessity and find Me when you search for Me with all your heart." [Jeremiah 29:13]
[All quotations taken from Parallel Bible, KJV/Amplified Bible Commentary]
I find this knowledge very comforting! Since God has created us with certain basic necessities physically, emotionally, and mentally, His Word has given us the right to seek His face in prayer, asking Him to fulfill those needs! Isn't God good? God gives us His written permission (Bible) to seek Him as our vital necessity in many more instances, but for the sake of limited space in this newsletter, we have listed only these eight precious promises.
---------- Resource Update ----------
NOTE: We have discovered a new low-cost supplier of Bibles, commentaries and devotional books. With pleasure we offer this excellent new material to you. In this day of extreme religious apostasy, all Fundamental, Bible-believing Christians have an unprecedented need to study the Bible on their own. So many believers are becoming unchurched because they have left a church that is going Liberal and cannot find a church in their area! These products are so inexpensively priced, you will find them great gifts as well as excellent spiritual resources for your life.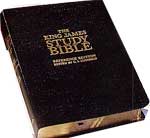 * Old Scofield Study Bible -- KJV - Leather - Only $39.99 - Retail from previous supplier was $89.99! This classic study Bible from C. I. Scofield offers a wealth of helpful features for the student of God's Word. Scofield's introductory notes, cross references, and explanatory footnotes help readers understand difficult passages, while a 96-page concordance and 42-page topical helps section aid in tracing subjects and ideas throughout the Scriptures. Scofield's classic work Rightly Dividing the Word of Truth is also included; add to that a daily Bible-reading calendar and a 72-page reference to subjects, footnotes, proper names, and definitions, and the King James Study Bible becomes an entire library of biblical knowledge! -- http://www.cuttingedge.org/detail.cfm?ID=693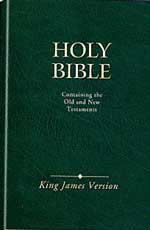 * Soul-Winning Bible -- KJV - Only $2.99 - Once a person is led to the Lord in Salvation, the most important resource you can place in their hands is the Bible! This KJV Bible includes a helpful year-long Bible reading plan, plus a page explaining the Plan of Salvation through faith in Jesus Christ. Great value at only $2.99!! -- http://www.cuttingedge.org/detail.cfm?ID=698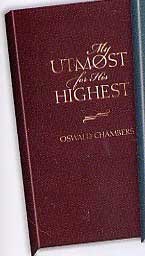 * My Utmost For His Highest - Oswald Chambers - Leatherette Cover Only $4.97 - OSWALD CHAMBERS was converted in his teen years by the ministry of Charles Spurgeon. Chambers studied art and archaeology before answering a call from God to the Christian ministry. Author of the bestseller, 'My Utmost for His Highest', Chambers is also author of more than thirty titles, all but one compiled by his wife, Gertrude Chambers.
"My Utmost For His Highest" is the best selling devotional of all time! What a wonderful way to start out each morning, drawing from the deep spiritual insights from this wonderful Man of God! - http://www.cuttingedge.org/detail.cfm?ID=694

* Jesus Wants ALL of Me - Children's Edition of My Utmost For His Highest - Only $2.99 - Wonderful children's adaptation of Oswald Chamber's "My Utmost For His Highest" devotional series. Beautifully and colorfully illustrated, this book will gently introduce your child or grandchild to God's concepts at a very early age. God has specifically promised: "Train up a child in the way he should go: and when he is old, he will not depart from it." (Prov 22:6) - http://www.cuttingedge.org/detail.cfm?ID=696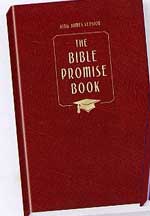 * The Bible Promise Book - Graduate Edition - KJV - Leatherette - Only $3.97 - This classic "Promise Book" has been beloved by millions. Comes in a stylish, grad-specific imprintable leatherette binding. A sure hit with parents, grandparents, friends, and churches looking for a substantial, yet affordable, present for their beloved graduates. Send your loved one off to college or out in the workplace after High School graduation with a book dedicated to showing God's precious promises. Excellent for a daily devotional guide as well. - http://www.cuttingedge.org/detail.cfm?ID=695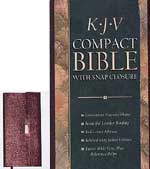 * KJV Compact Slimline Bible - Burgundy Leather - Only $19.97 - This elegant new Bible combines many useful features in a convenient compact binding - only three and a quarter inches wide by six and five-eighths inches tall. Helpful chapter headings throughout the entire Bible. Added features include an informative reference section with an overview of the entire Bible, book-by-book summaries, lists of key characters and events, encouraging passages for times of spiritual need. With more than 1,100 pages bound in leather, this KJV Compact Bible is a tremendous value at only $19.97, - http://www.cuttingedge.org/detail.cfm?ID=697

Other Resources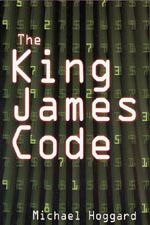 * The King James Bible Code - God's special order fills the pages of His Word, the Holy Bible. The most important battle we fight today is the battle for the Bible. We need a clear call to get back to the basics. The King James Code is not a book of secret knowledge, but a guidebook unfolding for its readers a numerical journey that starts with the beginning of creation and takes us through the end of time.

One Lord, Two Witnesses, Three Days in the Tomb, Four Gospels, Five Smooth Stones, Six Days, Seven Seals, Eight People in the Ark, Nine Fruits of the Spirit, Ten Commandments - http://www.cuttingedge.org/detail.cfm?ID=690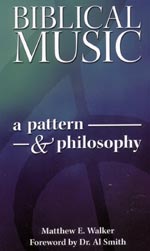 * Biblical Music - Keeping the Good Old Paths! This book is about Christian music – a vital subject for the Church of Christ. It is important that we understand what God's Word says about music and praise. Sloppy or irreverent music has no place in contemporary worship. There is no reason for churches to rely on worldly arrangements, Godless lyrics, worn-over rock tunes, or spiritless songleaders! This book helps us understand God's view of music and its importance to the church. -http://www.cuttingedge.org/detail.cfm?ID=681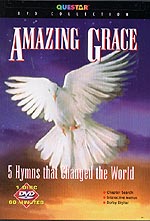 * Amazing Grace - Video - The History Behind The 5 Great Hymns That Changed The World. On this video Dr. Al. Smith takes part in telling the thrilling stories behind five favorite hymns. Your family will watch in awe as the stories of these hymns come to life in a bold new way. See how God Inspired Our Most Loved 5 Hymns of the Christian Faith:
"Amazing Grace"

"It is Well With My Soul"

"What a Friend We Have in Jesus"

"Silent Night" "How Great Thou Art"
One of the most dynamic, heart-warming, high-quality videos we have ever sold!

---------- This Weeks Hot News ----------
I. The United Nations continued this week to get more publicity and credibility as a world government. This development is the most important of the week!
NEWS BRIEF: "U.N. The Only Legitimate Government!", by DEBKAfile, Headlines, 5 March 2004
"U.N. inspector Blix says the war against Iraq was illegal even though Saddam Hussein breached UN resolutions because only the U.N. Security Council can dictate war, not individual states."
Last September, we issued an article deemed controversial at the time, entitled, "Bush's Iraq Fiasco Is Strengthening The United Nations" [NEWS1854]. Unfortunately, our conclusions seem to be coming true as each week passes. We concluded that President Bush had deliberately carried out a staged Dialectic Struggle with the United Nations that seemed designed to build up the global sovereignty of that body while simultaneously eroding confidence in the ability of individual national leaders to make the right decisions regarding peace and war.
Now, U.N. weapons inspector Blix is boldly stating the proposition that only the U.N. Security Council should be able to make war! If this principle is upheld, it is a very short step to the proposal that only the U.N. should have armed forces! While this end goal may be shocking to you, it is not shocking to those of us who have been studying the world conspiracy plan for many years. Disarmament of all the nations of the world and the simultaneous buildup of the world government was stated well before World War II.
"In the preparatory for the new world order there will be a steady and regulated disarmament. It will not be optional. No nation will be permitted to produce or organise any equipment for destructive purposes ..." ["The Externalisation of the Hierarchy", by Alice A. Bailey, House of Theosophy, p. 191; written April, 1940]
"The atomic bomb does not belong to the nations who perfected it ... It belongs to the United Nations for use or threatened use when aggressive action on the part of any nation rears its ugly head." [Ibid., p. 548; written April, 1946]
Now you know the seriousness of this "shocking" proposal. If you are shocked by Blix's statement, you just have not been informed! As far back as President John F. Kennedy (J.F.K.) our national leaders have been planning to some day lay down our arms and transfer them to the United States. Many people would still consider this action to be an act of treason. Yet, such a plan exists and is unfolding at an alarming pace. It calls for the United States to disarm itself and simultaneously build the military capability of the United Nations. Listen to John F. McManus explain:
"It all began in September 1961, when President Kennedy formally presented the official U.S. disarmament program described in State Department Publication 7277. Entitled Freedom From War: The United States Program for General and Complete Disarmament in a Peaceful World, the program calls for the nations of the world -- including the U.S. -- to disarm, turn over their military might to the UN, and make the world body an unchallengeable military power. Disarmament enthusiasts have long called upon world leaders to scrap all weapons and eliminate the potential for war. But this program is not about the elimination of weapons, but about placing all military power in the hands of one global power ... On September 25, 1961, President Kennedy addressed the UN General Assembly, declaring: "The program to be presented to this Assembly for general and complete disarmament under effective international control ... would achieve, under the eyes of an international disarmament organization, a steady reduction in force, both nuclear and conventional, until it has abolished all weapons except those needed for internal order and a new United Nations Peace Force." ["Top Down Treason", by John F. McManus, http://www.wealth4freedom.com/truth/5/topdowntreason.htm]

The only scenario by which patriotic people could possibly agree to give us their weapons to the United Nations is after a global catastrophe had occurred because leaders had insisted upon unilaterally waging war even though the global United Nations had disagreed and had tried to stop such war. The invasion of Iraq is likely the first such disastrous war carried out by a national leader acting exercising his own sovereign power. However, matters are going to have to get much, much worse before the final stage is reached when people demand that their leaders give up their arms, and transfer them to the United Nations. If the world were severely damaged by a World War III, this final stage would be reached.
Therefore, look for the United Nations to be acting in much greater authority and scope in the coming weeks, months, years. This past week we saw articles in Daily News Updates where the U.N. was considering increasing their aid to Haiti. International troops were sent to restore order to Haiti and so far, American Marines and French armed forces have entered that country.
As the global government is built up, national sovereignty will have to be eroded. Thus, look for President Bush to come under increasingly harsh criticism for his handling of the war and for the "war crimes" committed in Iraq, where we have killed many thousands of Iraqis only to discover what we knew all along: Iraq had no Weapons of Mass Destruction and no link to Al Qaeda (See Daily News Updates, 3/5/2004).
Last week, we also saw that President Bush is being taken to the International Court of Justice in The Hague, charged with war crimes. When the Iraq invasion began, the ICJ granted Bush and American officials immunity for one year from war crimes. That year is almost over, so we may be seeing Bush taken to the global court. Obviously, if the global government is to be built up, its Judicial branch -- the ICJ -- must be built up too. We are certainly seeing this occur, as Israel is before this world court charged with crimes for building her security wall. We must watch this development carefully.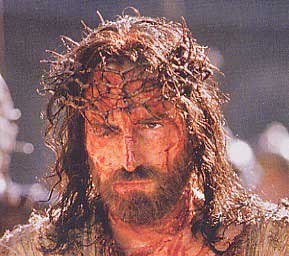 II. As "The Passion" set all records for new release (Up to $153,000,000+) as of the 3/5 Daily News Updates, we discovered significant Antichrist symbolism within the movie that fulfills Zechariah 11:17; additionally, the strong, bold, and thorough Roman Catholic nature of this film became so strong that the point is not even arguable right now! Finally, we have seen strong evidence that Evangelicals have been cooperating with Gibson to promote this film as an "evangelizing tool" for a very long time.
In NEWS1898, we demonstrate that "The Passion" contains two very strong symbols of Antichrist by portraying strange events that are not found in the Bible, nor in St. Anne Emmerich's mystic writings, nor in any New Age literature! However, they are unmistakable as solid Illuminati symbols of the coming Antichrist. These are the two symbols:
1. Demonic Virgin Mother and Divine Child -- As the Roman soldiers who professionally scourge the enemies of the Empire are beating Jesus, the female Satan is suddenly seen gliding through the crowd opposite the Virgin Mary. Suddenly, as she emerges from behind the body of a soldier, you can see that she is carrying a very white child. Since the movie has made such a point to visibly juxtapose between scenes of the Virgin Mary and of the female Satan, and since Satan is dressed in the same type of Virgin Mother outfit, this demonic scene must be intended to depict a Virgin Mother - Divine Child scenario.
If the female Satan is the opposite Virgin Mother to the Virgin Mary, then the awful white baby she is carrying must be the opposite of Jesus, whom the Bible calls Antichrist! This symbolism is quite strong. The baby suddenly turns to look upon Jesus' brutal beating with great glee. Then, when the scene shifts back to Jesus, Satan and her baby disappear, never to be seen again.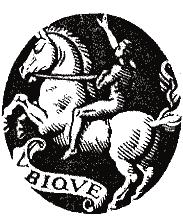 2. One-Eyed Messiah (Illuminati symbol of their planned Antichrist) was depicted for 110 minutes of this movie! About 10 minutes into this film, Caiaphas' guards viciously punched Jesus in His face so badly that His face was swollen and His right eye shut; for the rest of the movie, Jesus right eye is darkened! He is literally a one-eyed Messiah going to His death. Mac Dominick of Cutting Edge remarked about this one-eye phenomenon, not only because it was so strongly presented throughout the movie, but also because the Illuminati makes such a big deal out of their beloved All-Seeing Eye (look at the All-Seeing Eye on the back of an American One Dollar Bill, knowing that the eye hovering over the unfinished pyramid is the Egyptian god, Horus, the Lucifer of the Egyptian Mysteries -- "Masonic and Occult Symbols Illustrated, Dr. Cathy Burns, p. 326).
Then, during the Resurrection scene, in which Jesus is shown sitting at the foot of the place where the burial cloths lay, this fully restored Jesus is never shown with both eyes; the camera resolutely stays on his one eye. Then, as Jesus suddenly gets up to walk out of the tomb, you see His naked buttocks! The last scene you see is His buttocks! Now, how did this scene get into the movie, and why is it so important that Gibson would make it the very last scene you see?
Only when you realize that the Illuminati has long depicted their planned coming Antichrist as a naked one-eyed man does this scene make sense. This combination of scenes -- one-eyed Messiah and naked buttocks -- perfectly fulfills the Illuminist Antichrist symbol!
However, as we explain in NEWS1898, this depiction also fulfills Bible prophecy in Zechariah 11:17. What an amazing turn of events!
There can be no doubt but that the "Jesus" walking out of the tomb was a perfect representation of the Illuminist depiction of a one-eyed, naked Messiah! So here is the really deep question: was Messiah dying on the cross the Illuminati depiction of their coming Messiah? He was certainly one-eyed throughout the last 110 minutes, and in such a way as to fulfill the prophecy of Antichrist in Zechariah 11:17.
And, when "Jesus" walked out of the tomb, he was naked and one-eyed, the perfect personification of the CFR Antichrist.


III. Dr. James Dobson is shown to be either incompetent to advise his faithful about Roman Catholicism or to be a major tool of disinformation! Let us first review his assurance to his millions of faithful listeners and/or readers.
NEWS BRIEF: "The Greatest Story Ever Told", by Dr. James Dobson, February 2004 Newsletter, http://www.family.org/docstudy/newsletters/a0030580.cfm
"It isn't often that I find myself speaking favorably about a modern movie, but there is a film being released this month that I believe is among the most powerful and important ever made. I'm talking about The Passion of the Christ, a dramatic recounting of our Savior's final hours on earth, including His crucifixion and resurrection ... There are no specific references to unique Catholic doctrine in the film ..."
This is an untruth of such great proportions, it may well rank as one of history's greatest! This movie is Roman Catholic through and through! Not only did we see that it was a depiction of the daily Catholic Mass, but the people of Former Catholics For Christ saw 13 out of the 14 Stations of the Cross accurately shown, but also the five Sorrowful Mysteries of the Rosary! We detail all of the Roman Catholicism in this movie in NEWS1899 and urge you to carefully consider the information contained therein.
However, should you choose to not believe our testimony in this regard, we invite you to consider the expert opinion of renowned national columnist and one-time Presidential Candidate, Pat Buchanan. Pat was raised Catholic and attended the Jesuit college of Georgetown University. Listen to him tell how thoroughly Catholic "The Passion" is.
NEWS BRIEF: "Mel Gibson's triumph", by Pat Buchanan, WorldNetDaily, March 3, 2004.
"On coming away from a first, full viewing of Mel Gibson's "The Passion of the Christ," among the questions that came to mind was: What in heaven's name was all the howling about? For the all-powerful impression this emotionally draining film leaves one with is that this is what the Son of God went through for our sins and our salvation ... For Catholics, this first week of Lent was a decidedly mixed one. The magnitude of the scandal of pedophile and pervert-priests, now fully documented, testifies that Pope Paul VI was right when he warned, post Vatican II, that the smoke of Hell had entered the vestibule of the Church."
"But Gibson's "Passion" gives us a Lenten masterpiece, a beautiful moving work of art. To cradle Catholics who can recite the lines of each episode before they are uttered, it is faithful to the Gospels, to the Stations of the Cross, to the Sorrowful Mysteries of the Rosary."
Thank, you, Pat Buchanan, for setting the record straight! When a Jesuit priest tells the whole world that "The Passion" is thoroughly Roman Catholic, you should believe him! He is right. His few words validated the many pages Cutting Edge devoted in NEWS1899 to detail just how Catholic Gibson's movie is.
Let us get back to Dr. James Dobson and his Focus On The Family. If Dr. Dobson did not intentionally lie to his faithful followers, he is at least shown to be so very incompetent that no one should ever place faith in what he ever says again about any subject. For years, we have been shouting to all who will listen that Dr. Dobson has been misleading his people for a very long time. We sell a book by Dr. Cathy Burns entitled, "Focus On The Family: Little Known Facts", which detail all the New Age leaders he has supported on his radio programs over the years, plus some very other unchristian actions he has taken. It was only a couple of years ago that Dobson's Family advised that parents could read Harry Potter to their kids (NEWS1383) -- we understand Focus On The Family is now denying this truth.
But, even more damning is the book we have on our bookshelf, written by Kurt Bruner and Jim Ware of Focus On The Family, entitled, "Finding God In The Lord of the Rings"! The demonism I felt pouring through the horrible first movie was so strong, I had to leave the theater. The Abyss spirit powering this movie was much greater than in Harry Potter. Former Satanists have also testified their conviction that this movie is demonic through and through. This movie depicts a battle between a White Magic Wizard versus a Black Magick Wizard, both wielding powers and abilities that are well known to a former Satanist. This series of movies by Tolkien is pure Witchcraft through and through.
Yet, Focus On The Family is still promoting this book. You can go to the following links:
* "God Abounds in 'Lord of the Rings' " - http://www.family.org/cforum/fnif/news/a0029454.cfm
* "Finding God in the Lord of the Rings" - $13.00 Retail - http://www.family.org/resources/itempg.cfm?itemid=2604
* "Finding God in "The Lord of the Rings" - http://www.family.org/teenguys/breakmag/features/a0018699.html
When Dr. Dobson is deceiving his faithful into buying these clearly demonic books, is it any wonder he is now deceiving his people by telling them that this movie does not depict any "unique" Catholic doctrine? Is it any wonder Dobson is encouraging his people to go out to this movie in great numbers in the first week, in order to register the maximum possible numbers in Hollywood? The severe warning from the Apostle Paul comes to mind at this point:
"Let no one delude and deceive you with empty excuses and groundless arguments [for these sins], for through these things the wrath of God comes upon the sons of rebellion and disobedience." [Ephesians 5:6; Parallel Bible, KJV/Amplified Bible Commentary]
Next week, we shall issue an article entitled, "Evangelistic Hall of Shame". We shall be providing some very interesting detail about the Christian leaders promoting this movie and their other tie-ins to known Illuminist figures.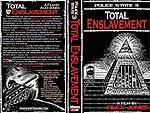 IV. The American "sheeple" citizenry are just about ready to shear! When the truck comes to a sheep farm to take the sheep to the slaughter house, the doomed sheep are reluctant to start climbing the ramp leading to the truck. However, if the sheep rancher puts a "Judas" goat at the head of the sheep and allows him to climb up the ramp first, the entire herd of sheep will meekly follow! An article appeared this week that made me sadly realize that the American "sheeple" are ready to follow that "Judas" goat.
NEWS BRIEF: "Americans Generally Comfortable With Patriot Act: Few believe it goes too far in restricting civil liberties", by Lydia Saad, The Gallup Organization, March 2, 2004.
"PRINCETON, NJ -- Few Americans say they are highly familiar with the Patriot Act, signed into law over two years ago, but most believe it is within acceptable bounds in its treatment of civil liberties. Furthermore, despite sharp criticism of the law by the American Civil Liberties Union, more Americans trust Attorney General John Ashcroft than trust the ACLU to balance the sometimes competing values of national security and civil liberties. That is the positive spin suggested by poll data relating to the counter-terrorism law passed by Congress in the panicked weeks shortly after the Sept. 11 terrorist attacks. The negative spin is that Americans are at odds with some of its specific provisions."
Cutting Edge has issued dozens of articles since 9/11, detailing the potentially grievous loss of person liberty and Constitutional protection should Patriot Acts I and II ever be enacted. In the guise of "fighting terror" and "preserving our liberties", the President has demanded, and Congress has acquiesced, fully dictatorial powers. Too many Americans believed the lie that these terror laws were never meant to be used against native-born Americans but only against those nasty Muslim terrorists, both foreign citizens and naturalized Arab-American citizens. Following 9/11, the attitude on the street seemed to be that, as long as the people whose rights were being taken away were not natural American citizens, that was all right. Few people listened when we screamed that the ultimate goal was to incarcerate American citizens -- native-born American citizens with not once drop of Arab blood coursing through their veins.
Let us now go back to this Gallup article:
"According to a Feb. 16-17 CNN/USA Today/Gallup poll, only one-quarter of Americans (26%) believe the Patriot Act goes too far in restricting people's civil liberties in order to fight terrorism. Nearly as many (21%) think it does not go far enough, while the plurality (43%) believes it is about right. That represents a more than 2-to-1 balance of opinion against the idea that the act goes too far ... Despite broad public support for the idea that the Patriot Act does not restrict civil liberties too much, pockets of resistance are evident in Gallup polling ... men are more likely than women to say the Patriot Act goes too far ..."
At this point, the focus of the article shifts to how familiarity, or the lack thereof, significantly changes how a person views the Patriot terrorism acts.
"A key aspect of public response to the Patriot Act is that Americans are largely unfamiliar with it. Only 13% say they are "very" familiar with it. Another 46% say they are "somewhat" familiar, but 41% admit they are "not too" or "not at all" familiar ... Americans' low familiarity with the Patriot Act may also explain why respondents disapprove of some government powers provided by the act when Gallup describes them, at the same time that they generally believe the act does not go too far in restricting civil liberties. Specifically:
* Seventy-one percent of Americans disapprove of the act's provision that federal agents can secretly search a U.S. citizen's home and, for an unspecified period of time, not inform the person of that search.

* A slim majority (51%) opposes requiring businesses, including hospitals, bookstores, and libraries, to turn over records in terrorism investigations without informing their patients or clients.


* Close to half of Americans (45%) disapprove of giving federal agents broad latitude in obtaining information on private citizens from financial institutions in the course of terrorism or money-laundering investigations. Only 51% approve.

The survey finds that the more familiar one is with the Patriot Act, the more likely one is to believe it trespasses on civil liberties.
Absolutely!! The more people find out about the provisions of the Patriot Act -- specifically Patriot Act II -- the more likely they will be to oppose this legislation tooth and nail. In this regard, we recommend Police State 3 video, pictured above, for it truly reports the draconian laws which these terrorism bills provide. Thank God some brave communities are actually going on record opposing these two Patriot Acts.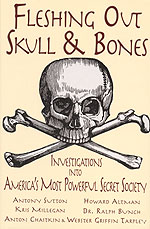 V. The final result of the Democrat Primaries is now in, earlier than ever before in history: Masonic Skull & Bones John Kerry is opposing Masonic Skull & Bones George Bush for the Presidency. Therefore, it really now does not matter for whom we vote, for a bona fide Skull & Bones Adept is going to guide this country for the next four years. The question of the hour is: which man does the Illuminati want in the White House through 2008?
Remembering that labels are worthless, let us examine the label each man brings to the contest:
President Bush is the Republican Candidate -- He bills himself as a "compassionate" and "caring" Christian, and has become the unofficial leader of the Christian Right (NEWS1596). The Republican Candidate for any office is also supposed to be a "conservative" on fiscal matters, reigning in spending and working to reduce the size of government. Republicans are also supposed to care about balanced budgets and paying down the national debt. Republicans are also supposed to place more confidence in market forces than in government programs.
Senator Kerry is the Democrat Candidate -- He bills himself as caring for the common, working class man, even though recent news reports indicate he would be one of the richest Presidents in history. John Forbes Kerry (J.F.K.) is the quintessential Liberal Democrat, in the John Kennedy/Ted Kennedy/Bill Clinton mold. However, some readers might argue with me that John Kennedy was really not that Liberal, and they have an historic point; however, recent history has been largely rewritten to portray John Kennedy as a typical Liberal. Democrats are supposed to have more faith in regulatory, intrusive government than in either individual citizens or the market place. Liberals are supposed to believe in high taxes and even higher spending.
Both these candidates are carrying the label they are supposed to carry. However, history since Ronald Reagan shows how worthless labels truly are. No matter whether we have had a Democrat or a Republican in office, the general Illuminati plan for more intrusive, larger government that taxes high and spends higher and continues the wasteful programs of its predecessors, continues, seemingly without limit. When President Bush, for example, came into office, Conservatives held their breath, awaiting him to roll back many of the thousands of Executive Orders Clinton signed while in office, many of them in the last days of office; however, Bush quietly decided not to change one Executive Order. In like manner, Bush continued Clinton's pro-gay policy (NEWS1652), while beginning to spend so much money that we are now trillions more in debt than ever before.
As a matter of fact, Americans have traditionally been more at risk of losing individual rights and liberties when a Republican is in the White House than a Democrat. How can this be? Conservatives carefully watch Democrat politicians and scream "loud and long" when they try to pass any offensive legislation; however, the same Conservative citizens are strangely asleep and quiet when one of their "own" begins to pass the same offensive legislation that they screamed about when a Democrat proposed it! Can you imagine the uproar amongst Conservatives if Bill Clinton and Janet Reno argued, after 9/11, that they need dictatorial powers that would enable police to enter your home without a warrant, arrest you with no official notice of your charges, take you to an unknown jail facility, denying you legal counsel, being able to try you in absolute secrecy, and have the authority to execute you with no public notice, not even telling your family?
Why, Conservatives would have arisen as one to demand true impeachment of President Clinton and Attorney General Reno; yet, because one of their "own" made the same demands, Conservatives lift not one voice in protest.
Who will win this Presidential race? The Illuminati will decide and we shall just have to wait to see. However, as I have stated before, I have noticed that, when the Illuminati wants the emphasis to be on Foreign Affairs, they will cause a Republican to rise to the White House, but if they want the emphasis to be on Domestic Affairs, they will cause a Democrat to win. If any of you doubt that our elections are rigged, just remember the sage advice given by that old Illuminist politician who never lost a race and whose percentage of victory never dipped below 91%:
"He who casts a vote counts for nothing; but, he who counts the vote counts for everything." [Josef Stalin, "Elected" Dictator, Soviet Union]
And, "Old Joe" made this statement before electronic voting machines arrived, making the stealing of elections that much easier!
VI. Iraq seemed to plunge closer to Civil War this past week. As we have been reporting in past weeks, Iraqi insurgents continued to target other Iraqis who are collaborating with Coalition Forces. In particular, individual Muslim religious groups seem to delight in attacking each other.
NEWS BRIEF: "Messy reality gives lie to hopes for a clean exit from Iraq", by Steve Chapman, baltimoresun.com, March 5, 2004

"CHICAGO - On Monday, after the approval of an interim constitution by the Iraqi Governing Council, one member proclaimed, 'This is a great day in the history of Iraq, an unforgettable day'. Tuesday became unforgettable as well when suicide bombers at Shiite Muslim shrines killed well over 100 people. The new constitution is advertised as laying the foundation for democracy, human rights and harmony among Iraq's contending groups. But it's hard to lay a foundation in a minefield, particularly when the mines keep detonating. Iraq is either on the verge of a new national unity or on the verge of a full-scale civil war. Take your pick."
In March, 2003, when British and American forces were getting ready to invade Iraq, we posted an article in which we quoted the Muslim plan regarding Iraq. Since this strategy was employed after Saddam beat his tactical retreat, and since our forces have fallen into the very "swamp" envisioned, let us review that article.
NEWS1799: NEWS BRIEF: "Iran Preparing To 'Light Many Fires' To Defeat The Americans", The Jerusalem Post, March 21, 2003

" 'The American Great Satan will never accept an Islamic system. It is coming to Iraq to complete its encirclement of our Islamic Republic before it moves against us. To help the Americans conquer Iraq easily would be suicidal for our revolution.' [Khamenei"s chief foreign policy adviser, former Iranian foreign minister Ali-Akbar Velayati]. Velayati claims that the US has two aims in the Middle East: preventing the destruction of the 'Zionist entity' and control of Arab oil."
"UNLIKE THE accommodationists who foresee an easy American victory, the confrontationists believe that US involvement in Iraq could become 'the beginning of its end.' He explains:
" 'Iraq is a swamp', Khamenei said in his address to the guards. 'The Great Satan will get caught in that swamp; and that will speed up its inevitable collapse'. In a recent article Velayati spelled out a strategy aimed at 'confronting the Great Satan in a number of fronts.' "
He then spelled out those "number of fronts".
1. Iraq

2. Afghanistan

3. Azerbaijan

4. Israel
Since these words were spoken, we have seen American forces slowly sinking into the morass of the sticky swamp which Arab and Muslim leaders originally envisioned. They wanted American forces to rather easily take Iraq, for then they could resort to guerilla tactics in Iraq, while slowly dragging us under with attacks and struggle in each of these four areas.
Today, Bush and Rumsfeld are desperately seeking a way out of this mess. We have begged the United Nations to take control of this chaotic situation, but Annan has deftly side-stepped our pleas. We are also seeking to turn sovereign authority over to an "Iraqi Government" by June 30, even though we know that militant Muslims will have no trouble seizing control very rapidly.
Just as in Vietnam, America is organizing and "training" an army and a national police force. These "indigenous" forces will give us the fig leaf by which we can exit the country, depending upon our propaganda Mass Media to spin the cover story; however, in this instance, I will be surprised if we leave before the Arabs drag Israel into the war.
Let us now talk briefly about Israel.
VII. Israel Prime Minister Sharon continues to push with his unilateral withdrawal plan, even in the combined face of political and legal difficulties. In fact, even though he seems like a man beset with overwhelming troubles, Sharon just won a five-year extension of power!
NEWS BRIEF: "Muckrakers Notwithstanding, Sharon Government Wins Full Five-Year Term", DEBKAfile Special Report, March 3, 2004
"It looks like the Israeli media are going to have Ariel Sharon to kick around a bit longer.
Justice Dalia Dorner, chairman of the Central Elections Committee, ruled on Wednesday, March 3, the day she retired from the bench, that the next general election should take place on schedule in November 2007 ... The decision was a blow to the jackals of the Israeli press who tore into the prime minister over what they called a bombshell discovery that he had once conducted business down on his farm with the former father-in-law of Elhanan Tennenbaum, the rogue reserve officer at the center of a prisoner swap with Lebanon's Hizballah terrorists. When the hard facts were picked out of the inferences, the bombshell proved no better than a nine-hour wonder."
Israelis opposed to Sharon's unilateral withdrawal plans seemingly seized upon this sudden "scandal" in hopes that they could force him out of office with this issue, as they had been totally stymied in their political efforts to derail his policies. However, this new "scandal" died a rather quick death when everyone realized the facts simply did not support the accusation. However, as this article points out, Sharon has brought this crisis upon himself in large part because of his methods.
"In a way, Sharon has brought it on himself. His style of government is far from open, democratic or a true power-sharing with his partners. He tends to keep his cards close to his chest until he is ready to lay down the law. His ministers find him high-handed and secretive. He erodes his right-wing power base every time he trumpets plans to evacuate Jewish settlements, while the doves and pro-negotiation factions do not believe him."
Speaking of Sharon's plans to dismantle "illegal" Jewish settlements, that effort seems to be fully under way.
NEWS BRIEF: "Some settlers ordered to leave West Bank", ABC News Online, March 5, 2004
"Israel's government has told Jewish settlers in nine West Bank outposts to leave or be evicted. But the settlers have vowed to appeal to Israel's highest court to block any attempt to remove them. US envoys are due in Israel next week to discuss a proposal by the Prime Minister Ariel Sharon that Israel take unilateral steps to "disengage from" the Palestinians, by removing most Jewish settlements from the Gaza Strip."
Notice that Sharon's plan is finally physically moving Jewish citizens out of enclaves situated within Palestinian areas and into protected Jewish cities and towns. After much of the security barrier begun in November, 2000, has been completed, Sharon is finally moving citizens out of problematic settlements. Cutting Edge postulated, in 1998, that Israel was going to take annihilating action against the Palestinians that would fulfill Obadiah 15-18. As we stated then, no Israeli leader would want to kill his own people, so we should look for measures to separate Palestinians from Jews, to the point where virtually no Jews would be left amongst the Palestinians.
From November, 2000, to today, the security barrier and now the moving of settlements seems to be designed to achieve the very separation we envisioned. To completely understand what is likely the hidden plan of Sharon's government, read the following articles:
* NEWS1422 -- "The Coming Prophesied Annihilation of the Palestinians"
* NEWS1620 -- "Prime Minister Sharon States That Israel Will Create 'Buffer Zones' To Physically Separate Themselves From Palestinians"
* NEWS1625 -- "Jewish Professor Accuses Sharon Government of Planning 'Ethnic Cleansing' In Israel"
* NEWS1643 -- "Fervent Masonic Desire To Rebuild Solomon's Temple Is The Driving Force Behind Middle East Politics"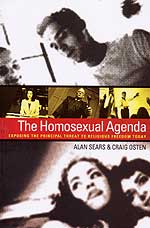 VIII. America seemed more like a resurgent Sodom and Gomorrah last week than ever in our short national history! Suddenly, seemingly out of nowhere, streams of gay and lesbian couples surged forward in city after city, demanding "marriage licenses". Incredibly, most cities had officials who were more than willing to break the law in order to grant marriage certificates to these homosexual couples.
NEWS BRIEF: "Same-sex marriage drive sweeps nation: Gay couples wed in New York, Oregon, By Tomas Alex Tizon and Josh Getlin / Los Angeles Times, reprinted in Detroit News, March 4, 2004.
"PORTLAND, Ore. — The national debate over same-sex marriage erupted from coast to coast Wednesday, as exuberant gay and lesbian couples braved rain and wind to exchange wedding vows in Portland, Ore., while the mayors of two New York towns vowed to defy a state attorney general's warning that such marriages are illegal. Meanwhile, in Washington, D.C., Senate Republican Majority Leader Bill Frist of Tennessee predicted that gay marriages would spread through all 50 states unless Congress approves a constitutional amendment banning such unions ... Oregon and New York are among 12 states whose laws do not specifically address the issue of same-sex marriage ... Only Massachusetts law allows specifically for gay marriages, beginning May 17."
Suddenly, it seemed as though America was being swept by a demonic force determined to shove through the last obstacles standing in the way of full acceptance of gay and lesbian marriages. Is it possible that this country is about to see Step 6 of the Six-Step Attitudinal Change Plan (NEWS1055) finally enacted? These protests seemed eerily similar to the final dramatic push African-Americans made in the last stages of the Civil Rights struggle. Once politicians realized they could not jail every protesting Black in America, political changes occurred very rapidly. If we are at this final stage, America just might be ready to become the Sodom and Gomorrah about which we have been warning for years.
Predictably, our politicians publicly responded by proposing the most difficult, and hence, least likely to succeed, plan of action.
NEWS BRIEF: "Legal, civil rights arguments fuel Congress' gay marriage debate", By Lolita C. Baldor, Associated Press, Reprinted in Boston Globe, 3/3/2004
"WASHINGTON (AP) Determined to stop gay marriages, Republican senators said Wednesday that they will move later this month to consider several versions of a constitutional amendment to block the same-sex unions. But opponents on both sides of the political aisle said supporters fall far short of the votes needed in the House and Senate to amend the Constitution. And any attempt to do so, said Sen. Russ Feingold, D-Wis., is a 'divisive political exercise' aimed at influencing this year's election."
Indeed, the path to a Constitutional Amendment was deliberately made so hard to achieve and so long to accomplish, that it is doubtful any success can be achieved. But, if you are a President Bush running for reelection and wanting to appeal to your Christian supporters, this is a heaven-sent proposal. Bush can propose all he wants, but he knows that any success is at least 5 years away!
Furthermore, even if individual states enact aggressive traditional family legislation, the same Supreme Court that legalized Sodomy last year stands ready to strike down these state laws as well. At the same time as prophecies continue to point to the soon appearance of Antichrist, Western Society is truly "lurching towards Sodom" -- and Divine Judgment.
---------- New Articles Posted This Week ----------
* "WARNING ABOUT 'MARK OF THE BEAST': GOD WILL NEITHER FORGIVE NOR REMOVE THE 'MARK' FROM ANYONE WHO HAS TAKEN IT - Incredibly, Tim LaHaye depicts in his "Armageddon" book of the "Left Behind" series that God removed the "Mark of the Beast" from the Christian leader, Chang! After depicting that a Christian can take the "Mark" and still be OK with God, LaHaye now depicts that a person who has taken the Mark can pray and God will remove it! -- http://www.cuttingedge.org/news/n1897.cfm

"Let no one delude and deceive you with empty excuses and groundless arguments [for these sins], for through these things the wrath of God comes upon the sons of rebellion and disobedience."

[Ephesians 5:6; Parallel Bible,

KJV/Amplified Bible Commentary

]
* "WHY IS ANTICHRIST SYMBOLISM PREVALENTLY SHOWN IN 'THE PASSION'?" On two occasions in "The Passion", we see Antichrist symbolism. When you understand the symbolism of "Jesus'" naked buttocks in the last scene, you will understand that the movie depicts an Illuminist "signature" in addition to another, more direct, Antichrist symbol. -- http://www.cuttingedge.org/news/n1898.cfm
* "THE PASSION' OF ROME: TO BRING ALL WAYWARD CATHOLICS HOME" Rebecca Sexton and several people of Former Catholics For Christ viewed "The Passion" twice and discovered that, not only is the movie solidly Traditional Catholic, it also seems clearly designed to call former Catholics back to the Roman Fold! -- http://www.cuttingedge.org/news/n1899.cfm
* "CUTTING EDGE INITIAL EYEWITNESS REPORT ON 'THE PASSION". "The Passion" is everything we have said about it -- and much, much more! -- http://www.cuttingedge.org/news/n1896.cfm
"A little leaven (a slight inclination to error, or a few false teachers) leavens the whole lump [it perverts the whole conception of faith or misleads the whole church]." [Galatians 5:9; Parallel Bible, KJV/Amplified Bible Commentary]
---------- Monthly Outreach Report ---------- Remember, February had only 29 days!
English -- User Sessions: 395,253
Page Views: 1,168,344

Number of People Downloading Salvation Page: 4,690
Portuguese -- User Sessions: 80,687
Page Views: 280,279

Number of People Downloading Salvation Pages: 2,384
Finnish -- User Sessions: 6,643
Number of People Downloading Salvation Pages: 270
Total Number of People Downloading Salvation Page: 7,344 or 10.5 per hour!
Our Spanish site continues to explode, now that we have redesigned the site and are getting many more new articles added daily. In December, the Spanish site saw only 272 people downloading a Salvation Page, while in January, 491 people did so; in February, 679 people downloaded a Salvation Page. That is a 305% increase in just three months. Please continue to pray for this site, as 358,000,000 people speak Spanish, 170,000,000 speak Portuguese and 350,000,000 people speak English. There are many souls to save! Will you pray that our Lord Jesus will bring people to Salvation through Cutting Edge?
---------Conclusion----------------"He is precious." 1 Peter 2:7
As all the rivers run into the sea, so all delights centre in our Beloved. The glances of His eyes outshine the sun: the beauties of His face are fairer than the choicest flowers: no fragrance is like the breath of His mouth. Gems of the mine, and pearls from the sea, are worthless things when measured by His preciousness. Peter tells us that Jesus is precious, but he did not and could not tell us how precious, nor could any of us compute the value of God's unspeakable gift. Words cannot set forth the preciousness of the Lord Jesus to His people, nor fully tell how essential He is to their satisfaction and happiness. Believer, have you not found in the midst of plenty a sore famine if your Lord has been absent? The sun was shining, but Christ had hidden Himself, and all the world was black to you; or it was night, and since the bright and morning star was gone, no other star could yield you so much as a ray of light.
What a howling wilderness is this world without our Lord! If once He hideth Himself from us, withered are the flowers of our garden; our pleasant fruits decay; the birds suspend their songs, and a tempest overturns our hopes. All earth's candles cannot make daylight if the Sun of Righteousness be eclipsed. He is the soul of our soul, the light of our light, the life of our life. Dear reader, what wouldst thou do in the world without Him, when thou wakest up and lookest forward to the day's battle? What wouldst thou do at night, when thou comest home jaded and weary, if there were no door of fellowship between thee and Christ? Blessed be His name, He will not suffer us to try our lot without Him, for Jesus never forsakes His own. Yet, let the thought of what life would be without Him enhance His preciousness. ["Morning and Evening Devotions", by C.H. Spurgeon, A.W. Tozer CDROM Library]
=======================================================
May Jesus Richly Bless You,
David Bay, Director
866-909-2850 Toll Free Customer Service - Order Line
803-356-2850 Toll Free Customer Service - Order Line
803-356-2860 Fax