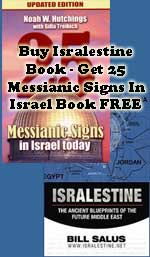 FREE Book Offer
Buy "Isralestine" Book - Get "25 Messianic Signs In Israel" Book FREE"
This offer is limited to stock on hand. Two books on Israel's prophetic future from two completely different angles.
1) "Isralestine" examines the historical roots of hatred toward Israel going all the way back to the conflict between Esau and Isaac. Author demonstrates this hatred eventually consumed all nations around Israel so that the Jewish people became encircled by their enemies. God's End Times prophecy foretold that the time would come when God would execute His judgment upon all nations who have hated Israel. This judgment includes the Palestinians, who are the House of Esau and of Edom. Once Israel defeats her encircling enemies she will expand out to become "Greater Israel" as God foretold.
2) "25 Messianic Signs In Israel" gives you a solid glimpse into how close to the end of all things we truly are. You will understand how the observant Jews in Israel and Bible believing Messianic Jews, could both believe the End of the Age is finally here. Dr. Hutchings details the most important 25 Prophetic Signs occurring in Israel right now -- today -- that herald the coming of Antichrist. Our newspapers and Internet news sites do not report most of these prophetic events occurring. This is hot news, indeed!
Get "25 Messianic Signs" Book FREE -- http://www.cuttingedge.org/detail.cfm?ID=1998
---------- This Weeks Hot News ----------

I. Heavy government regulation is starting to bite hard throughout the economy -- just as the Fascist model requires!
NEWS BRIEF: "Banks may pay dearly for government aid", International Herald Tribune, March 11, 2009
"WASHINGTON: The list of demands keeps getting longer. U.S. financial institutions that are getting government bailout funds have been told to put off evictions and modify mortgages for distressed homeowners. They must let shareholders vote on executive pay packages. They must lower dividends, cancel employee training and morale-boosting exercises, and withdraw job offers to foreign citizens."
These list of demands must appear to be outrageous to any citizen who has not yet come to grips with the reality that the purpose of this entire crisis has been to bury the old system called Capitalism so the new system called Fascism can be instituted.
I read an article in my local newspaper in February where a gentleman expressed outrage that President Obama would dare demand that executive pay be limited. This man said that Obama was ignorant of the fact that he had no authority to make such a demand of a privately owned company.
Oh, yes he does, in this newly created Fascist Economy! In the Capitalist Economy, the government treads lightly, intervening only in extreme cases where fraud or monopoly is present; but the Fascist Economy demands heavy government regulation every single day of the year.
Let us return now to our featured news story, as we discover that the Obama Administration is counting on public outrage to enable the government to reach even further into the banking industry with its myriads of bureaucratic regulations.
"As public outrage swells over the rapidly growing cost of bailing out financial institutions, the administration of President Barack Obama and lawmakers are attaching more and more strings to rescue funds ... Some bankers say the conditions have become so onerous that they want to give the bailout money back ... One of the biggest concerns of the banks is that the program enables Congress and the administration to add new conditions at any time." (Emphasis added)
This is the "brave new economy" into which we have been thrust. Furthermore, the government now cannot be expelled from the inner sanctums of these banks by simply paying the monies back. If history has taught us anything, it is that, once the 900-pound government gorilla has gotten through your front door, it will prove impossible to throw him out.
Even companies who have refused government bailout loans will discover that they are now subject to the same regulatory powers to which companies who have accepted the funds now find themselves subject. The government will simply say that it must regulate all banks or all insurance companies or all automakers in order to make absolutely certain that no company can ever hurt the American people again. All protestations from companies who have managed their business affairs correctly and prudently will fall on deaf ears.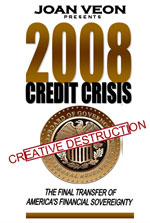 DVD
II. Right on cue, Federal Reserve Chairman Bernanke told his buddies at the Council on Foreign Relations (CFR) that he needs MORE REGULATION!
He further recommended that such regulation be expanded globally!
NEWS BRIEF: "Bernanke Tells CFR: New Financial Authority Is Needed", by Steve Watson, Prison Planet, March 10, 2009
"Federal Reserve Chairman Ben Bernanke has told an elite gathering that a new overarching financial authority should be created by the government and empowered with sweeping new regulatory responsibilities."
The Illuminati always creates a huge crisis whenever it wants to move the country into accepting the changes it wants to implement. During such a crisis, a panicked people will not only accept changes they would normally oppose vehemently, but they will be so scared they will demand that the government implement the onerous changes - and without delay.
This economic crisis is no different. Notice the bold words used in this sentence.
"new overarching financial authority'
"empowered with sweeping new regulatory responsibilities"
These are heavy-duty words and soon will be backed by equally heavy-duty laws and regulations.
Now, listen as Bernanke believes such new heavy-duty regulations should expand worldwide.
"Bernanke also coyly indicted to the renowned globalist group that he believes a new international order could be fomented out of the crisis. 'We must have a strategy that regulates the financial system as a whole, in a holistic way, not just its individual components', Bernanke said in a speech to the Council on Foreign Relations."
Then, Bernanke verifies what we said in our first news story, above.
"Large firms will require 'especially close' oversight in the future, Bernanke noted, adding that regulators need the authority to seize such firms. 'Some of the policies I propose can be implemented and developed under the existing authorities of financial regulators, indeed we are in the process now of doing just that. But in other cases, Congressional action will be necessary to create the requisite authorities and responsibilities'. Bernanke said."
This statement nails the door shut, proving that the 900-pound government gorilla can never be thrown out of the boardroom. When the Fed Chairman said that "regulators need the authority to seize such firms", he is hinting that all privately-owned firms the government wants to control will be controlled eventually, even if their current financial situation is excellent and they have taken no bailout funds.
The owners of Ford Motor Company are forewarned.
Do you remember the mantra of the Global Warming fanatics? When they are shown that facts do not fit their theories, they state that mankind needs to immediately implement steps to "solve" the problem because if we wait to see the evidence, it will be too late to prevent catastrophe.
Government regulators will argue along the same lines. They will argue that they be given the authority to regulate even well-run companies, because if they wait until problems emerge, it will be too late to save the world's economies from catastrophe!
Believe it nor not.
---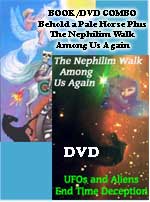 Book/DVD Combo
"Behold Pale Horse Book + Nephilim Walk Among Us Again DVD"
The demonic angels of Genesis 6 are walking among us again, in fulfillment of prophecy! We examine this fascinating subject from two completely different vantage points.
Cooper relates in his book, "Behold A Pale Horse" how he personally saw UFO's in the sky while he was in Navy Intelligence; he devotes over 40 pages to talking about UFO's and Aliens, puzzled as to what it all means.
Dominick reports in his DVD, "Nephilim Walk Among Us Again" that aliens are among the population today, as in the days of Genesis 6. He then shows how Bible scholars have long expected that demons would come to earth again as men, taking wives to themselves. This phenomenon is now occurring, giving us further confidence that the End of the Age is truly drawing nigh
Regularly $50.94, Now Only $39.94 - You Save $11.00!
http://www.cuttingedge.org/detail.cfm?ID=1999
---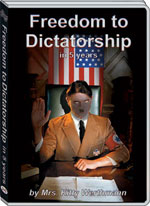 DVD
III. America has just endured a dictatorship these past eight years!
President Obama will not relinquish any of the gains in dictatorial power which Bush gained for the White House, but will use those powers in a heartbeat if he is the President when World War III begins.
And, President Bush will have led the way.
NEWS BRIEF: "America had a dictator for eight years: George W. Bush", by David Edwards and Stephen C. Webster, The Raw Story, March 6, 2009
"It was a casual refrain near the dawning of former President George W. Bush's political career on the national stage. Most took it as a joke. 'If this was a dictatorship it'd be a heck of a lot easier', he so memorably said. 'Just so long as I'm the dictator'."
His presidency now a smoldering memory, Harper's contributing editor Scott Horton thinks that perhaps he wasn't kidding after all. In a March 3 column, Horton extrapolated on 'George W. Bush's Disposable Constitution' ... Since the Monday release of nine previously-secret Bush administration legal memos claiming that the president has the power to ignore the Constitution when fighting terrorism, experts have almost unanimously denounced both their legal reasoning and their conclusions. 'These memos provide the very definition of tyranny', Constitutional law professor Jonathan Turley told MSNBC's Keith Olbermann on Tuesday. 'These memos include everything that a petty despot would want'."
Forget "petty despot"! George Bush became a dictator on a mighty big stage.
President George W. Bush gained authoritarian powers that met or exceeded the dictatorships of Adolf Hitler and Joseph Stalin! When you combine the powers which Bush seized through his false interpretations of the Constitution with the powers gained by Patriot Acts I and II, you have a most powerful tyranny on paper, hanging over this entire country like a Damocles Sword, awaiting only the beginning of the planned provocation which shall trigger it all.
We appreciate the fact that, finally, President Bush is being exposed in national media for the dictator he truly turned out to be, but Cutting Edge was warning within weeks after the 9/11 attacks that the objective of the attacks was to allow Bush to gain dictatorial powers for the White House. We just wish we have been listened to in late, 2001 and early, 2002!
Let us quickly review the articles we wrote, warning that dictatorship was one of the goals of 9/11:
NEWS1550 - "Bitter Fruits of Bush's War On Terrorism -- Proposed Loss of Personal And Constitutional Freedoms (Posted September 27, 2001)
NEWS1553 - "Bush Administration Is Already Redefining Terrorist?" (Posted October 4, 2001)
NEWS1575 -- "Rush Toward Dictatorship! Bush Administration To Use Civil War Era 'Seditious Law' That Jails People Who Just Criticize Government" (Posted November 10, 2001)
NEWS1680 -- "Bush/Ashcroft Begin Implementation of A Police State Citizen's Spy Program As America's March To Dictatorship Continues" (Posted July 13, 2002)
NEWS1691 -- "President Bush Authorizes Summary Execution of 'U.S. Enemies' Both Within and Without The United States" - Reuters News