WEEKLY UPDATES FROM Cutting Edge Ministries, www.cuttingedge.org
3/12/2004      Over 1,200 Articles Posted! Nearly 80,000 People Downloading A Salvation Page Per Year! (Isa 55:11)
---
---------- Inspiration For the Week---""Man . . . is of few days, and full of trouble." Job 14:1
It may be of great service to us, before we fall asleep, to remember this mournful fact, for it may lead us to set loose by earthly things. There is nothing very pleasant in the recollection that we are not above the shafts of adversity, but it may humble us and prevent our boasting like the Psalmist in our morning's portion. "My mountain standeth firm: I shall never be moved." It may stay us from taking too deep root in this soil from which we are so soon to be transplanted into the heavenly garden. Let us recollect the frail tenure upon which we hold our temporal mercies. If we would remember that all the trees of earth are marked for the woodman's axe, we should not be so ready to build our nests in them. We should love, but we should love with the love which expects death, and which reckons upon separations. Our dear relations are but loaned to us, and the hour when we must return them to the lender's hand may be even at the door. The like is certainly true of our worldly goods. Do not riches take to themselves wings and fly away?
Our health is equally precarious. Frail flowers of the field, we must not reckon upon blooming for ever. There is a time appointed for weakness and sickness, when we shall have to glorify God by suffering, and not by earnest activity. There is no single point in which we can hope to escape from the sharp arrows of affliction; out of our few days there is not one secure from sorrow. Man's life is a cask full of bitter wine; he who looks for joy in it had better seek for honey in an ocean of brine. Beloved reader, set not your affections upon things of earth: but seek those things which are above, for here the moth devoureth, and the thief breaketh through, but there all joys are perpetual and eternal. The path of trouble is the way home. Lord, make this thought a pillow for many a weary head! ["C.H. Spurgeon, "Morning and Evening", A.W. Tozer CDROM Library; Emphasis added]

---------- Resource Update ----------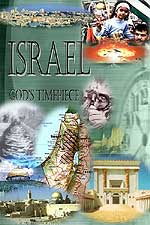 * TWO-FOR-ONE SALE! Buy one, get the other FREE! Get Cutting Edge On CDROM, with all the Passion articles plus the DVD, "Israel, God's Timepiece: Will Arab, Israeli Conflict Begin WWIII"? both for only $19.99. Normally, the retail for each is $19.99, so you will save a full 50%. Consider each separately:
1) Entire Cutting Edge Website on CDROM, including "The Passion" articles, plus Cutting Edge bookstore, Headline News Articles, Archived Headline News Articles, "What Saith Rome?", Freemasonry Corner, and so much more -- on one CDROM. Regularly $19.99
2) Our best-selling video "Israel: God's Timepiece -Will Arab-Israeli War Touch Off World War III", on DVD. Two full hours of instruction on current events in Israel that will sound like your daily newspaper! This seminar examines the Arab-Israeli conflict, from Old Testament times to our Modern Times. Starts with the God's scattering of the Jews – The diaspora -- to the founding of Israel in 1948, and finally to the current conflict. Mac shows the prophetic significance of the events about to explode. He shows what God's prophetic plan is for Israel, prophecy so clear that everyone – including all Arabs – can know the precise outcome of all hostilities. This video will keep you on the edge of your seats as you can just sense the closeness of the prophetic hour. 2 hours long - Regularly $19.99
May not play on older DVD machines. -- http://www.cuttingedge.org/detail.cfm?ID=700

On this promotion, you receive both these items for the single price of $19.99
RESURRECTION DAY GIFTS!
Resurrection Day is April 11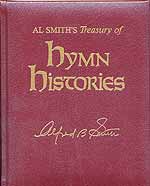 * Hymn Histories in beautiful genuine burgundy bonded leather -- Perfect for daily devotions. Learn the authentic, inspiring, and often unknown, stories behind the writing of over 115 favorite hymns and Gospel songs. Each church hymn book is a repository of rich, varied, and Holy Spirit inspired history! Our old hymns have taught doctrine and have inspired millions of believers simply because the Holy Spirit moved in the hearts and minds of the songwriter at a moment in time, bringing the rich words to mind. As you read the stories behind these 115 beloved hymns, you will laugh and cry as you see the Holy Spirit moving to create the hymn. You will laugh and you will cry.
One side shows the song just as it appears in a hymnal, while the other page contains the history behind that song.
Isn't is sad when a Contemporary Church throws these rich old hymns out, refusing to heed God's warning to "Return unto the old paths, walk in them, ye shall find rest for your souls."? [ Jer 6:16]
Lifetime purchase as volume is bound in genuine bonded leather, 308 pages, size of a large Bible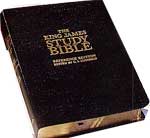 * Old Scofield Study Bible -- KJV - Leather - For this week, we shall include a leather bookmark with each Bible. Each bookmark is inscribed with a favorite Bible verse. Was originally $89.99, now only $39.99! This classic study Bible from C. I. Scofield offers a wealth of helpful features for the student of God's Word. Scofield's introductory notes, cross references, and explanatory footnotes help readers understand difficult passages, while a 96-page concordance and 42-page topical helps section aid in tracing subjects and ideas throughout the Scriptures. Scofield's classic work Rightly Dividing the Word of Truth is also included; add to that a daily Bible-reading calendar and a 72-page reference to subjects, footnotes, proper names, and definitions, and the King James Study Bible becomes an entire library of biblical knowledge! Jesus' Words are printed in Red - http://www.cuttingedge.org/detail.cfm?ID=693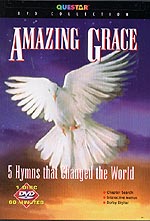 * Amazing Grace - DVD - The History Behind The 5 Great Hymns That Changed The World - On this video Dr. Al. Smith takes part in telling the thrilling stories behind five favorite hymns. Your family will watch in awe as the stories of these hymns come to life in a bold new way. See how God Inspired Our Most Loved 5 Hymns of the Christian Faith - INCLUDES "Amazing Grace"; "It is Well With My Soul"; "What a Friend We Have in Jesus"; "Silent Night"; "How Great Thou Art" -- One of the most dynamic, heart-warming, high-quality DVD's we have ever sold! - http://www.cuttingedge.org/detail.cfm?ID=689

Also available in Video - http://www.cuttingedge.org/detail.cfm?ID=688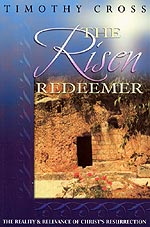 * The RISEN Redeemer! -Reality and Relevance - NO historic event can begin to compare to the resurrection of the Lord Jesus Christ from the dead. It was a momentous event that transformed not only the world but also countless precious souls. The Resurrection is one of the fundamentals of the faith - at the center of Biblical Christianity there is an empty tomb! Jesus' Resurrection has been called "the most attested fact in history". This work will be instrumental in dispelling any doubt about the historical veracity of the resurrection. This author examines the Biblical evidence for resurrection and the implications for the believer. You will be drawn closer to the Savior Who died to rise again, to redeem you unto eternity in Heaven! http://www.cuttingedge.org/detail.cfm?ID=682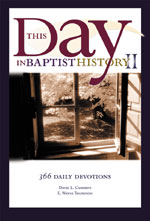 * This Day In Baptist History II - 366-Day Devotions - The Baptist heritage is one so glorious that we would greatly enrich our spiritual lives if we knew about those dedicated saints of old! Sadly, the history of the Baptists has largely been written out of religious and secular history books, even though the Baptist movement predated Martin Luther by centuries! you shall learn the glorious and bloodstained paths of our Baptist forefathers. As the Apostle Paul stated: "Wherefore seeing we also are compassed about with so great a cloud of witnesses, let us lay aside every weight, and the sin which doth so easily beset us, and let us run with patience the race that is set before us, Looking unto Jesus the author and finisher of our faith" [Heb 12:1-2] - http://www.cuttingedge.org/detail.cfm?ID=676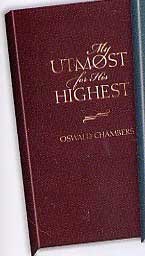 * My Utmost For His Highest - Oswald Chambers - Leatherette Cover for only $4.97 - OSWALD CHAMBERS was converted in his teen years by the ministry of Charles Spurgeon. Chambers studied art and archaeology before answering a call from God to the Christian ministry. Author of the bestseller, 'My Utmost for His Highest', Chambers is also author of more than thirty titles, all but one compiled by his wife. The best selling devotional of all time! What a wonderful way to start out each morning, drawing from the deep spiritual insights from this wonderful Man of God! - http://www.cuttingedge.org/detail.cfm?ID=694

* Jesus Wants ALL of Me - Children's Edition of My Utmost For His Highest - Wonderful children's adaptation of Oswald Chamber's "My Utmost For His Highest" devotional series. Beautifully and colorfully illustrated, this book will gently introduce your child or grandchild to God's concepts at a very early age.
God has specifically promised: "Train up a child in the way he should go: and when he is old, he will not depart from it." (Prov 22:6) http://www.cuttingedge.org/detail.cfm?ID=696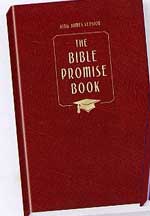 * The Bible Promise Book - Graduate Edition - KJV - Leatherette Cover for only $3.97 - This classic "Promise Book" has been beloved by millions. Comes in a stylish, grad-specific imprintable leatherette binding. A sure hit with parents, grandparents, friends, and churches looking for a substantial, yet affordable, present for their beloved graduates. Send your loved one off to college or out in the workplace after High School graduation with a book dedicated to showing God's precious promises. Excellent for a daily devotional guide as well. -http://www.cuttingedge.org/detail.cfm?ID=695



Special Note: At a time when Church Apostasy is swelling to its prophesied height, and when the best-selling Christian book is "The Purpose Driven Church", genuine believers need to make a special effort to return back to our richly genuine spiritual roots, going back to the time when Christian leaders were properly rooted and grounded in God's Bible! Furthermore, we need to ensure that our loved ones have this material placed in their hands. These suggested gift items are inexpensively priced so you can give them as gifts to your children and grandchildren.
PAGAN ROOTS OF EASTER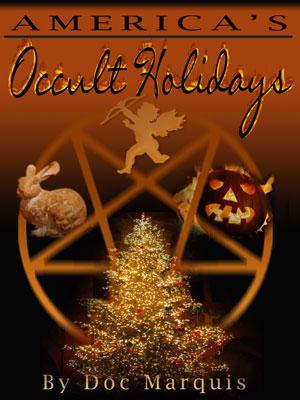 * America's Occult Holidays - Video by Doc Marquis - Too many Christians are enthusiastically celebrating pagan holidays, thinking they are Christian. Once you understand how very pagan America and the rest of the Western world has become, you can see how God's judgment cannot be far behind. In this video, former Illuminist Satanist, Doc Marquis, demonstrates the truth -- our holidays have been copied from Satanism and just given Christian names. You will be shocked to realize how very pagan our annual celebrations are! You will be shocked to realize how most of the symbols used in our holidays originated within Satanism. - http://www.cuttingedge.org/detail.cfm?ID=587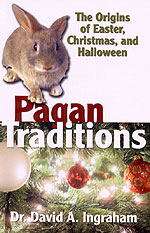 * Pagan Traditions of Holidays - You wouldn't DREAM of dabbling with idolatry . . . would you? You have NEVER embraced witchcraft and the occult . . . have you? Surely the Easter bunny, the Christmas tree, and the black cat of Halloween are innocent ways of enjoying the holidays . . .aren't they? Not sure? Then let this book answer your questions and let it raise a few of its own. - http://www.cuttingedge.org/detail.cfm?ID=383


---------- This Weeks Hot News ----------
I. The hidden link between our invasion of Iraq, Australia's invasion of The Solomon Islands, and Indonesia's invasion of The Aceh Province last year became a lot clearer this week when the President of Venezuela suddenly publicly warned the U.S. of war if we invaded his country. What on earth is he speaking of and how does this development link with Iraq, The Solomon Islands and The Aceh Province? Let us first review the pertinent news stories and then explain them.
NEWS BRIEF: "Venezuela leader vows war if U.S. invades", by Alice M. Chacon, Seattle-Press Intelligencer, March 7, 2004
"CARACAS, Venezuela -- President Hugo Chavez on Sunday vowed to freeze oil exports to the United States and wage a "100-year war" if Washington ever tried to invade Venezuela ... Chavez accused the United States of ousting former Haitian President Jean-Bertrand Aristide and warned Washington not to "even think about trying something similar in Venezuela."
Now, isn't it extremely interesting that President Chavez linked our invasion of Haiti to an attack on Venezuela? How could the two possibly be linked? As we explain in NEWS1833 and NEWS1900, the Illuminati has drawn up a very special map of the world in which they have divided the countries into two broad groups: Nations that are "Functioning Core" and nations that are in the "Non-Functioning Gap"! These two categories came from an article written in March, 2003 by an analyst of the US Naval War College. This treatise explains why the United States, European Union countries and other advanced states invaded countries like Iraq, Liberia, The Solomon Islands, and the Aceh Province. Let us just discuss the bare essentials here, for our two articles, quoted above, explain the details, as well as provide maps demonstrating this incredible plan.
NEWS BRIEF: "The Pentagon's New Map", by Thomas P. M. Barnett, U.S. Naval War College, Esquire Magazine, March 2003, p. 174-79, 227-9.
"Our next war in the Gulf will mark a historic tipping point -- the moment when Washington takes real ownership of strategic security in the age of globalization." [P. 174]
The author is a member of the U.S. Naval War College, espousing the Illuminist thinking that there are only two types of nations in the world today:
1. Nations who are already functioning in the new Global System or who are clearly, firmly and quickly going in that direction -- the "Functioning Core"
2. Nations who are not now functioning in the Global System and are not likely to do so in the foreseeable future, unless they are kicked into it by U.S. or European troops, or by the threat of invasion. These nations are called the "Non-Functioning Gap".
The strategy being followed by the United States and the European Union is to "shrink the gap", taking "real ownership of strategic security" in the process!
As the maps we show on NEWS1833 and NEWS1900 demonstrate, Iraq and the entire Middle East -- except for Israel -- are members of the "Non-Functioning Gap". In other words, they cannot now enter the planned global economy, government and religion -- especially the economy where buying and selling will depend upon a sophisticated computer network which will operate according to an implantable chip! We invaded Iraq and threaten to invade Iran, Syria, Lebanon, Saudi Arabia and Pakistan, simply to kick-start them into taking actions which will modernize their countries quickly. The concept is that, if we invade one country in a region, the rest of the countries within that region will take the required actions on their own. Australia is the "Sheriff" in the Pacific, Indonesia is the "Sheriff" in her region and Thailand the "Sheriff" in Southeast Asian nations around the rim of China.
Now, let us go back to Venezuela. Her leaders undoubtedly know this plan. When they saw US and French forces landing in Haiti, they knew their country might be next. A quote within the US Naval War College article, quoted above, merits repeating, noting that this article was written March, 2003 -- one year ago!
"Haiti -- Efforts to build a nation in 1990 were disappointing. Expect more intervention and soon."
We did invade Haiti again, did we not? On February 28, 2004, a force of heavily armed white men took President Aristide out of his presidential palace and whisked him off to exile in an African nation. Within days, a more compliant Prime Minister was named. Let us review this story.
NEWS BRIEF: "Haiti's new prime minister reportedly calls for broader role by U.S.", The State.com, Mar. 10, 2004, posted on 3/11 Daily News Updates
"With violence still simmering and U.S. Marines reporting their second kill, the man picked on Tuesday to be Haiti's new prime minister urged a broader role for American forces in bringing peace to his nation ... The mission for 1,600 U.S. troops in Haiti now is to protect important sites such as government buildings and the airport, and pave way for UN forces."
Just as the Naval War College article stipulated, American forces removed a resistant leader by force of arms and replaced him with a more compliant leader. Notice also that French forces also landed and that the ultimate plan calls for the United Nations to take control. Watch your Daily News, for the United Nations is being steadily built up to be the ultimate global government.
Venezuelan leaders looked at events unfolding in Haiti, wondering if they might be next. You see, as the map in NEWS1900 demonstrates, both Haiti and Venezuela are considered to be members of the "Non-Functioning Gap". We also included a map of the Caribbean Sea region in NEWS1900 showing that just a 650 mile stretch of water separates US Marines in Haiti from the capitol of Venezuela. The Naval War College article states that, instead of invading every targeted country, American naval forces may just show up offshore as a not too subtle warning, or our forces may enter the country as "peacekeeping" forces! Have you taken time to count the number of countries in which we have "peacekeepers" stationed?
Now, you know why Venezuela was so nervous!
But, the plot also thickened greatly last week!
Just a couple days ago, the forces of Zimbabwe seized a U.S. - registered aircraft holding mercenaries. Let us review this story, for it has great bearing on this "Non-Functioning Gap" strategy.
NEWS BRIEF: "Zimbabwe Grabs US Registered Plane Carrying 'Mercenaries'", rense.com, 3-8-4, posted Daily News Updates 3/9/2004.
"(Reuters) -- Zimbabwe has seized a U.S.-registered cargo plane with 64 suspected mercenaries of various nationalities and a cargo of 'military materiel' ... A United States of America-registered Boeing 727-100 cargo plane was detained last night at about 1930 hours (12:30 ET) at Harare International Airport after its owners had made a false declaration of its cargo and crew,' Mohadi said in a statement. 'The plane was actually carrying 64 suspected mercenaries of various nationalities', he said, adding that an investigation had also revealed 'military materiel' in the cargo ... fuller investigations were under way to establish the identity of the men and the nature of their mission. There was no word on where the airplane arrived from, or whether Zimbabwe was its destination ... Zimbabwe's President Robert Mugabe has been engaged in a bitter war of words with both the United States and Britain ... Mugabe in turn accuses Western powers of attempting to undermine his government ..."
On the next day, a South African news source -- news24.com -- carried several articles which hinted that, perhaps, this plane originated from South Africa. In fact, these articles indicate that mercenaries from South Africa were involved in undermining and overthrowing another state, Equatorial Guinea. Listen:
NEWS BRIEF: "'SA (South African) man' tells of coup plot", March 10, 2004, news24.com
"Malabo - The leader of a group of suspected mercenaries arrested in Equatorial Guinea said on national television on Wednesday their mission was to abduct President Teodoro Obiang Nguema and force him into exile ... Obiang, who came to power in the small, oil-rich west African nation in a 1979 coup, on Tuesday announced the arrest of a group of 15 mercenaries he said wanted to overthrow his regime. 'A group of mercenaries entered the country and was studying plans to carry out a coup d'etat in Equatorial Guinea,' he said, quoted by national radio. The 15 were found to be in possession of maps of the capital, Malabo, and satellite telephones, Obiang said."
NEWS BRIEF: "SA group heading for 'coup'", March 10, 2004, news24.com
"Pretoria - Fifteen South Africans who were arrested in Equatorial Guinea last weekend, were in the country with the 'main aim' to kill the country's head of state in an assassination attempt. Following President President Obiang Nguema's murder, a second group of mercenaries from South Africa would have undertaken a coup détat. This is the second group now being held in Zimbabwe after their aircraft was impounded on Sunday evening."
Now, you know the significance of the 64 mercenaries seized by Zimbabwe; they were to be the second group of mercenaries to land in Equatorial Guinea after the first group had assassinated the president. This second group would then overthrow the established government!
A quick examination of the map drawn according to the US Naval War College article -- NEWS1833 and NEWS1900 -- show that both Zimbabwe and Equatorial Guinea are part of the African "Non-Functioning Gap" countries, while South Africa is the only nation on the entire continent that is part of the "Functioning Core". Now, listen to the very next sentence in our article we are now quoting:
"He added they were linked to the planeload of men who have been detained since the weekend in Zimbabwe." [Ibid.]
Therefore, in just a couple of days, we see two countries targeted by mercenaries coming apparently from South Africa -- Zimbabwe and Equatorial Guinea. Since Africa is wholly comprised of "Non-Functioning Gap" countries, one can only wonder if South Africa is functioning as the "Sheriff" in this part of the world to bring about the necessary leadership changes -- regime changes -- needed to move these countries into the "Functioning Core".
Once you understand this concept, news stories like these will finally make sense. This strategy is so important, we devoted an usual amount of space to it. Watch carefully, for the appearance of Antichrist may be roughly gauged by how quickly these nations are converted to core states.
II. Global Terrorism and the threat of more global terrorism gripped the world last week. Before we start examining these news events, let us stop to remind ourselves of the fact that Terrorism is a strategy the Illuminati designed to so grip the peoples of the world with such fear that a coercive global government could be established. The beginning of this tale begins in 1917.
"... the secret societies were planning as far back as 1917 to invent an artificial threat ... in order to bring humanity together in a one-world government which they call the New World Order." ["Behold A Pale Horse", by New Age author, William Cooper, p. 27]
In my study of the occult and the Illuminati plan, I sensed that Arafat and his terrorists were used in the 1970's to test the concept that terrorism could be the tool by which to bring about this global unification. Then, when Arafat proved in the early 1980's that his Muslim militants could be persuaded to blow themselves up in suicide bombings, the Illuminati knew they had their terrorist weapon. Today, that weapon has been honed and developed to where Muslim extremists are portrayed as being the greatest threat to mankind in modern history. The only proposed solution to this threat is a coercive United Nations government.
With this in mind, let us now examine these most pertinent articles. Remember our original warning that this war in Iraq had nothing whatsoever to do with Weapons of Mass Destruction, but everything to do with the planned New World Order. How accurate our warnings have turned out to be.
NEWS BRIEF: "Iraq demands a New World Order: Tony Blair's call deserves our support ". The Guardian (London), Sunday March 7, 2004

"The Prime Minister ... has sensibly chosen instead to try to set his government's foreign policy within a newly defined world order ... There is ... a new threat of terrorism fueled by religious fundamentalists who are careless of human life. He cited evidence from intelligence sources of sophisticated networks and of the weapons they can deploy ... Tony Blair argued for a multi-pronged response to the influences that fuel terrorism. Human rights must be asserted universally. Poverty, notably in Africa, must be reduced. There must be justice for Palestine ... More controversial was his claim that we should adjust the international legal framework and United Nations system to respond to the reality of twenty-first-century terrorism. The UN had to be more aggressive in asserting and enforcing democracy, the rule of law and religious tolerance."
Earlier this week, we issued a most important article entitled, "President Bush's Iraq Fiasco Is Steering The World Into A Concrete, Coercive United Nations Government", NEWS1901. We noted many of the same elements contained in this Guardian article, above. Notice that Blair specifically mentioned the role of religious "fundamentalists" who were fueling this movement into terrorism. If you watch the news very carefully, you will realize that the Illuminati has little use for religious fundamentalists of any religion, whether it be Muslim, Orthodox Jews, or Fundamentalist Christians. The Illuminati lumps all such religious fundamentalists into one convenient group.
Now, let us examine very recent examples of terrorism throughout the world.
NEWS BRIEF: "Spain Mourns as Hunt for Terrorists Continues", Fox News, Friday, March 12, 2004
"MADRID, Spain — Millions of Spaniards stood under umbrellas in the chilly rain Friday in a massive, silent vigil for the victims of the train blasts that killed nearly 200 people a day earlier ... investigators continued to search for the culprits. On Friday, the Basque separatist terror group ETA denied responsibility ... The Spanish capital city on Friday was eerily reminiscent of New York after terrorists hijacked commercial airliners on Sept. 11, 2001 and crashed them into the World Trade Center ... Spain vowed Friday to find out who planted 10 devastating train bombs in the worst terrorist attack ever launched on the country, with the investigation focusing on a suspicious van found nearby."
Even as the Spanish police were strongly suspecting the homegrown Basque separatist terror group, Al Qaeda conveniently left all sorts of clues in a van nearby and then publicly claimed responsibility. Of course, the Illuminati would want Al Qaeda to be blamed, for that would fit more nicely into their global terror plans. Let us now go to the article in which Spain reported the suspicious van.
NEWS BRIEF: "Spain Says Suspect Van Had Arabic Tapes", Yahoo News, Thu Mar 11, 2004
"MADRID, Spain (Reuters) - Spanish investigators said Thursday they had found a van containing seven detonators and a tape in Arabic, the first suggestion of any possible militant Islamist link to Madrid bombings that killed 192 people. Spanish Interior Minister Angel Acebes said the tape contained verses from the Koran used in teaching. The van, which was stolen in Madrid Feb. 28, contained no other clues, he added ... The van was found in Alcala de Henares, the starting point of one of the bombed trains."
Then, just to make sure Al Qaeda received the blame, a story quickly appeared where that organization took the blame.
NEWS BRIEF: "Huge demonstrations in Spain protesting Madrid's deadly attack", Jerusalem Post, Mar. 12, 2004
"Many people in Spain see ETA responsible, despite a message received on Friday by the Brigade of Abu Hafs al-Masri, in the name of al-Qaida, claiming responsibility for the attack. The claim, received by e-mail at the London-based al-Quds al-Arabi newspaper, said the brigade's 'death squad' had penetrated 'one of the pillars of the crusade alliance, Spain. This is part of settling old accounts with Spain, the crusader, and America's ally in its war against Islam,' the message read."
Once Al Qaeda is now officially held responsible for this terrible Spanish terrorist attack, then our government can begin to whip up the threat index, for Al Qaeda is the terrorist straw man against we are supposedly fighting. It did not take long for this angle to show itself.
NEWS BRIEF: "Spanish Rail Attack Serves Notice That U.S. Remains Vulnerable to Terror", By Curt Anderson Associated Press Writer, Mar 12, 2004
"WASHINGTON (AP) - Despite security upgrades, new surveillance systems and tightened explosives regulations, America remains vulnerable to a terrorist attack like the deadly bombings on Spanish trains, U.S. officials and terrorism experts said Friday. The simplicity of the timed backpack bombs placed on Spanish commuter trains demonstrates that such an attack can be carried out, they said."
"We can't stop terrorism. All we can do is reduce the risks to levels that people can accept,' said Anthony Cordesman, a national security analyst at the Center for Strategic and International Studies, a Washington think tank. Homeland security and law enforcement officials said they have no specific intelligence indicating terrorists are planning a similar attack in the United States. But as recently as Jan. 28, the FBI issued a bulletin to state and local law enforcement officials describing "a continued terrorist interest" in striking American rail systems. Such an attack, the FBI bulletin said, 'could cause substantial loss of life' and have an 'impact on public confidence resulting in massive economic loss'."
Even though Homeland Security says it has no specific information that terrorists are planning a rail attack on American targets similar to the Spanish attack, CIA Chief Tenet warned Congress on March 9 that Al Qaeda is planning on a "Spectacular" attack.
NEWS BRIEF: "Tenet: 'Spectacular Attack' Main Goal of Terrorists", Fox News, March 9, 2004.
"WASHINGTON — The most significant threat facing the United States comes from a loosened Al Qaeda and splintered extremist organizations intent on attacking U.S. interests, CIA Director George Tenet said Tuesday. "A spectacular attack on the U.S. homeland remains the brass ring many strive for with or without Al Qaeda leadership," Tenet testified before the Senate Armed Services Committee."
This headline warning of "A spectacular attack on the U.S. homeland" or "next attack could be greater than 9/11" is one of those repeating headlines of which we reported several weeks ago in NEWS1888. If you have not yet studied this article, you should, for only then can you appreciate the degree to which we have been manipulated these many months since the 9/11 attacks.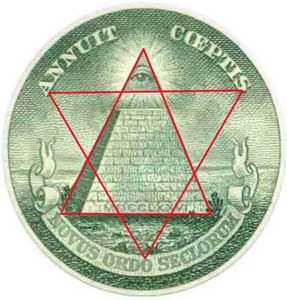 With this in mind, you can appreciate the specific warning Al Qaeda gave today in the immediate aftermath of claiming responsibility for the Spanish bombings.
NEWS BRIEF: "E-Mail: Attack on U.S. '90 Percent Ready' ", Fox News, march 12, 2004.
"CAIRO, Egypt — An Arabic newspaper said Thursday it had received a claim of responsibility for the Madrid train bombings issued in the name of Al Qaeda. The claim also said that a major attack against America was '90 percent ready'. The five-page e-mail claim, signed by the shadowy Brigade of Abu Hafs al-Masri, was received at Al-Quds al-Arabi's London offices. It said the brigade's 'death squad' had penetrated 'one of the pillars of the crusade alliance, Spain,' and carried out what it called Operation Death Trains.
"This is part of settling old accounts with Spain, the crusader, and America's ally in its war against Islam," the claim said.
When a major bombing attack does occur in American cities, remember the culprits are not likely to be the phantom Al Qaeda, but the worldwide Illuminati. A quick check on the back of an American One Dollar Bill reveals that the Satanic Egyptian Mysteries symbol adopted by the Illuminati still remains. The All-Seeing Eye of Horus (Lucifer) hovering over the unfinished pyramid still proclaims that the plan is to tear down the Old World Order so the Novus Ordo Seclorum (New World Order) can be established. In many previous articles, we reveal that, after the three wars of World War III have begun, major terrorism will erupt throughout the United States, in the European Union, and in any country where citizens still go to the polls. In the New World Order, there is no place whatsoever for elected governments.
Right on schedule, we heard announcements that American officials were heightening security on all commuter rail lines. Homeland Security may get their chance to jump into action soon. With this thought in mind, let us see some advancements Homeland Security is making in their preparation to switch this country from an elected government to a dictatorship.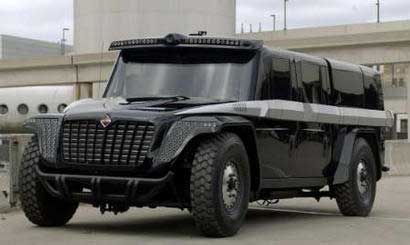 III. Homeland Security and DARPA are quickly making great strides in weaponry to use against those nasty Muslim terrorists, and/or average American citizens.
NEWS BRIEF: "US Army Unveils New Anti-Terrorism Combat Vehicle Built Specifically For Homeland Security", Yahoo News, March 12, 2004
"The Army's new Smar Truck lll concept, designed for America's homeland security, or for use in a war zone, sits outside Cobo Center March 6, 2004 before being put on display for it's March 8 unveiling at the Society of Automotive Engineers 2004 World Congress. Built in partnership with International Truck and Engine Corporation, the vehicle showcases the latest in armor protection, and detection and deterrent capabilities. Smar Truck lll is equipped with a weapons station module featuring a remote controlled .50-caliber machine gun which rises from the back of the vehicle and has sniper-detection directional sound capabilities."
You must admit, this truck is one mean looking vehicle! How would you like to see three or four of these trucks coming up your street during a time of Code Red, when the entire country will be under tight martial law. Remember General Tommy Franks, who said recently that our Constitution would probably not survive the next terror attack and the Code Red that would quickly come? Listen again to General Franks:
NEWS BRIEF: "Gen. Franks Doubts Constitution Will Survive WMD Attack", NewsMax.com, Nov. 21, 2003
"Gen. Tommy Franks says that if the United States is hit with a weapon of mass destruction that inflicts large casualties, the Constitution will likely be discarded in favor of a military form of government."
Doubt it not! When the planned terror strikes begin to fall in multiple American cities, the true target will be patriotic Americans who do not want to slip into dictatorship, not those phantom Muslim terrorists who supposedly caused all the terrorism in the first place. Toward this end, the new truck for Homeland Security seems well armed.
However, DARPA, the Pentagon's supersecret Research and Development department now subservient to Homeland Security, is busily getting ready to field an army of super robotic soldiers to go along with the truck pictured above. Listen:
NEWS BRIEF: "Move over Bionic Man, make room for BLEEX: New robotic legs could produce an army of super troopers", MSNBC News, March 10, 2004
"BERKELEY, Calif. - Move over Bionic Man and make room for BLEEX — the Berkeley Lower Extremities Exoskeleton, with strap-on robotic legs designed to turn an ordinary human into a super strider. Ultimately intended to help people like soldiers or firefighters carry heavy loads for long distances, these boots are made for marching. 'The design of this exoskeleton really benefits from human intellect and the strength of the machine', says Homayoon Kazerooni, who directs the Robotics and Human Engineering Laboratory at the University of California-Berkeley. The exoskeleton consists of a pair of mechanical metal leg braces that include a power unit and a backpack-like frame. The braces are attached to a modified pair of Army boots and are also connected, although less rigidly, to the user's legs. More than 40 sensors and hydraulic mechanisms function like a human nervous system, constantly calculating how to distribute the weight being borne and create a minimal load for the wearer."
Up to this point, you do not readily see the military application of this technology. However, down toward the end of the article, you read that DARPA is enthusiastically funding this program.
"In lab experiments, says Kazerooni, testers have walked around in the 100-pound exoskeleton plus a 70-pound backpack and felt as if they were carrying just five pounds. Eventually, the device could help rescuers haul heavy equipment up high-rise buildings or turn tired troops into striding super soldiers ... BLEEX is funded by the Defense Advanced Research Projects Agency, the Pentagon research and development arm, and was among the projects being showcased at a DARPA tech symposium this week in Anaheim."
When DARPA funds a project, you know that technology is near and dear to the heart of the Illuminati. "We have written extensively on this supersecret agency. If you are not familiar with this agency, take a few moments to read about it. You may be very surprised as you realize that, sometimes, what you do not know does matter greatly!
NEWS1739 -- WE CAN NOW SEE THE HIDEOUS, OCCULT FACE OF PRESIDENT BUSH'S HOMELAND SECURITY AGENCY, THE U.S.A. PATRIOT ACT AND ALL OF ITS SUPPORTING LAWS! DARPA part of "Information Awareness Office"

NEWS1875 -- D.A.R.P.A. IS FUNDING AN IMPLANTABLE CHIP FAR MORE ADVANCED THAN"DIGITAL ANGEL"! M.M.E.A. - MULTIPLE MICRO ELECTRODE ARRAY IS SO ADVANCED IT CAN FULFILL REV 13:16-18! Part 1 of 5
NEWS1875b -- D.A.R.P.A. IS FUNDING AN IMPLANTABLE CHIP FAR MORE ADVANCED THAN"DIGITAL ANGEL"! M.M.E.A. - MULTIPLE MICRO ELECTRODE ARRAY - Part 2 of 5 - Funding source always reveals the ultimate goal the Illuminati has in mind for this human implantable chip
NEWS1875c - M.M.E.A. - MULTIPLE MICRO ELECTRODE ARRAY IS SEEN BY OCCULTISTS AS "TRANSCENDENCE", A MEANS BY WHICH MANKIND SHALL MAKE THAT "PARADIGM JUMP" IN CONSCIOUSNESS TO BECOME GOD! - Part 3 of 5 - This technology is just another church, a place to worship"
NEWS1875d - M.M.E.A. - MULTIPLE MICRO ELECTRODE ARRAY IMPLANTABLE CHIP -- IS IT JUST ANOTHER "SATANIC INSERT" WHICH HAVE BEEN USED BY COVENS FOR OVER 4,000 YEARS? - Part 4 of 5
NEWS1875e - M.M.E.A. - MULTIPLE MICRO ELECTRODE ARRAY IMPLANTABLE CHIP: BUYING AND SELLING IS EASIER THAN YOU MIGHT THINK! -- Part 5 of 5 - Technology to "buy and sell" with the M.M.E.A. chip is both simple and in use right now!
How would you like to see several of these trucks, accompanied by dozens of solders wearing an advanced version of this BLEEX technology? Would you be scared enough to surrender your guns without a fight?
IV. As the California Supreme Court mercifully put an end to this rush to Gay - Lesbian marriages, other states took action in similar fashion.
In last week's newsletter, we noted the sudden rush toward Gay - Lesbian marriages and/or civil unions that was propelling America into a modern-day Sodom. This week, courts and legislatures quickly moved into the fray, giving traditional marriage citizens a much-needed victory. Let us examine the news.
NEWS BRIEF: "California Supreme Court Orders Halt to Gay Marriages", Fox News, March 10, 2004
"SAN FRANCISCO — The California Supreme Court ordered an immediate halt to gay marriages in San Francisco on Thursday and said it would hear arguments in May or June on whether Mayor Gavin Newsom had the authority to allow such marriages. Teary-eyed gay couples were turned away at City Hall, where more than 3,700 same-sex couples have been wed since Feb. 12 ... The action by California's highest court came two weeks after state Attorney General Bill Lockyer (search) and a conservative group asked the seven justices to immediately block the gay marriages. The dispute began when San Francisco Mayor Gavin Newsom ordered his administration to issue same-sex marriage licenses. A steady stream of gay and lesbians from two dozen states have traveled to be married at City Hall, just a block from where the Supreme Court sits. Newsom's defiance of California law prompted a host of other municipalities across the nation to follow suit ..."
Thankfully, California was restored to law and order, at least temporarily. If the California Supreme Court rules in full session that Gay - Lesbian marriages were unlawful, gays have one of three options. Actually, they could pursue all, seeing which one would yield victory first. Gays could appeal to the U.S. Supreme Court, the same court who legalized Sodomy last Summer. This course of action seems most promising to the gay community. Secondly, gays could lobby state legislators to overturn current laws that make gay marriages illegal; however, if the state high court rules that the State Constitution prohibits gay marriages, then the issue is more complicated and would take more time to overturn.
Finally, legislators might leave the issue of "gay marriage" on the sidelines as they pursue legalizing "civil unions"! This term means "marriage" in every sense of the word, including the conferring of spousal rights across the board. We shall report on this issue in Massachusetts in a few moments. However, remember that President Bush has already stated that he would support state's rights to decide this issue, even if states turned to the "civil union" label. Remember this duplicity whenever any person begins to wax eloquently about how Christian Bush is.
Since Governor Schwarzenegger is pro-gay, it would seem the gay - lesbian community would have an inside track to success in that pivotal state.
NEWS BRIEF: "A hunt for middle ground: Travaglini voices confidence on a marriage accord today", Boston Globe, 3/11/2004

"A compromise constitutional amendment that would ban gay marriage but also establish same-sex civil unions appears to be gaining support as Massachusetts lawmakers reconvene today four weeks after their earlier constitutional convention adjourned in chaos and deadlock ... 'there is movement that is beneficial to reaching a consensus ... there is movement that is beneficial to reaching a consensus ... It's a done deal," said one Senate colleague ..."
"The proposed amendment would define marriage as solely the union of a man and a woman, and establish civil unions that would 'provide entirely the same benefits, protections, rights, and responsibilities that are afforded to couples married under Massachusetts law'. Some gay marriage supporters might support the compromise as part of a strategy to block other proposals to ban gay marriage or, in another view, to eventually block the compromise from reaching the 2006 ballot."
Thus, you can see the strategy being followed here. Rather than lose the battle to establish "gay marriage", simply abandon the term and call the union by another name; "civil union" seems to be the preferred title. The demonic spirit sweeping this nation right now will continue, until all obstacles to gay marriage/civil union are removed and America is truly the new Sodom.
V. Scandinavia shows us the very real danger to marriage that Gay - Lesbian civil unions can pose to society. Listen to this sad story.
NEWS BRIEF: "Death of marriage in Scandinavia", Boston Globe, By Stanley Kurtz, 3/10/2004
"IN THE Massachusetts Supreme Judicial Court's dueling opinions on same-sex marriage, each side places the burden of proof on the other. The majority in the Goodridge decision insists there is "no rational reason" for defining marriage as the union of a man and a woman. The minority chides the majority for its "blind faith" that there are no potential dangers to so radical a change. Both sides lack evidence on the real-world effects of same-sex marriage. Yet evidence is in. Marriage is dying in Scandinavia, which has had marriage-like same-sex registered partnerships for over a decade.
"Data from European demographers and statistical bureaus show that a majority of children in Sweden and Norway are now born out of wedlock, as are 60 percent of first-born children in Denmark. In socially liberal districts of Norway, where the idea of same-sex registered partnerships is widely accepted, marriage itself has almost entirely disappeared."
Satan would like nothing better than to destroy marriage between a man and a woman, for that institution was directly ordained by God in the Garden of Eden. As we get closer to the time when this Satanic goal is realized, please understand that God's judgment will not be far behind. Just as God destroyed Sodom and Gomorra, he will destroy this country once it has totally given itself over to this type of abomination. I can just hear God saying now:
"For her sins have reached unto heaven, and God hath remembered her iniquities. Reward her even as she rewarded you, and double unto her double according to her works: in the cup which she hath filled fill to her double." [Rev 18:5-6]
It is difficult to imagine the sins of a nation stacking up so high that, in God's estimation, they reach to Heaven. But, this type of sin stacks up very rapidly!

VI. First Amendment rights are under attack again, as the House passed an indecency act that paves the way for abridgment of our rights to Free Speech.
NEWS BRIEF: "House votes to increase indecency fines for broadcasters", By Jonathan D. Salant / Associated Press, reprinted in Detroit News, March 11, 2004
"WASHINGTON -- The House overwhelmingly passed legislation Thursday substantially increasing the maximum fine for radio and TV indecency. The vote was 391-22. Similar legislation is pending in the Senate ... The bill would raise the maximum fine for a broadcast license-holder from $27,500 to $500,000. The fine for a performer would jump from $11,000 to $500,000 ... Critics said the legislation would undermine free speech rights. 'We're moving in a direction of undermining the First Amendment,' said Rep. Ron Paul, R-Texas."
When I heard that several "shock jock" disc jockeys had been taken off the air because of their obscenity, I had a terrible feeling that the "solution" would be to so write the bill that the Free Speech protections would be eliminated. Under the terms of this bill, anyone guilty of "hate speech" can be fined $500,000. Remember that society is moving toward a redefinition of what constitutes "hate speech". The time is soon coming whenever anyone says that Jesus Christ is the only Way to heaven, that person is guilty of "hate speech".
Similarly, the time is coming whenever any Christian who objects to homosexuality on the basis that the Bible condemns it and calls it an abomination, that person is also guilty of "hate speech". Already, Canada has proposed and is actively considering, a bill that would state that the Bible is a "hate speech" book. This is the slippery slope down which we are slipping.
This entire issue is a perfect illustration of the Illuminist Dialectic Struggle. This tactic declares that "conflict brings about change, and controlled conflict brings about controlled change". Therefore, the key is to set up a staged struggle in which the Illuminati controls both sides. If two sides are not naturally present, the Illuminati sets up people on both ends of the spectrum, so that a "battle" can ensue. The epitome of such controlled struggle is going to occur in the presidential campaign this year as Bonesman Kerry is "battling" Bonesman Bush!
In this indecency issue, the "solution" that will be passed will be to so strictly define indecency that anyone who simply states his opinion in a controversial subject like those I mentioned above will be guilty and assessed a $500,000 fine! Thank goodness that, for right now, the FCC has no jurisdiction over the Internet. However, the time will soon come when this medium will also come under government control, probably United Nations control! Then, we are all cooked.
This potential loss of First Amendment freedoms is the second such hit we have taken in recent months. As we explain in NEWS1879, entitled, "U.S. SUPREME COURT SEVERELY ERODES FIRST AMENDMENT RIGHT TO "FREE SPEECH" BY UPHOLDING THE CONSTITUTIONALITY OF "CAMPAIGN-FINANCE REFORM"
Little by little, all our freedoms and liberties are being eroded away.
VII. American authorities stand accused of torturing prisoners at Guantanamo Bay terrorist prison. Enlightened Americans have always understood that our own freedoms and liberties from the excesses of dictatorship were best served by drawing a wide line around the way in which we treat foreigners and prisoners of war. If we begin to act toward these people the way in which dictators treat all prisoners, the likelihood that one day American authorities would begin to mistreat American citizens would increase dramatically.
Since the beginning of this War on Terror -- back in November 2001 -- we posted news stories that American oficials were "considering torture" against terrorist suspects who had no opportunity to defend themselves in a court of law. We also ran stories that indicated that US authorities were shipping "terror" suspects to friendly foreign countries who have no compunction against torture. Now, British detainees recently released from Guantanamo are talking to British authorities and are revealing that US authorities have long torutred prisoners at Guantanamo Bay prison.
NEWS BRIEF: "This creeping sickness: So now we know: torture is routinely used by the US in Guantánamo Bay", The Guardian (London), March 13, 2004.
"Truly we live in dark times. A sure sign that the nights are getting longer, even as springtime approaches, comes from the intensity of anxieties about torture. All the time there are reports of new atrocities - in Sudan, among British victims in Saudi Arabia, and of course in the war on terror. Later this month in Geneva, the World Organisation Against Torture will tell the UN Commission on Human Rights that "since the attacks of September 11, numerous states have adopted or announced measures that are incompatible with their obligations under international law". At the same time that we face new atrocities in Madrid, we hear the voices of the first Britons released from Guantánamo Bay where, according to former detainee Jamal al-Harith, they endured a regime of unremitting cruelty. He describes systematic humiliation, clearly aimed at corroding the humanity of the victims, and which included exposing devout Muslims to insult by prostitutes."
As if this news was not bad enough, we now learn of similar techniques used against terror suspects in Afghanistan.
"In late 2002, the Washington Post revealed: 'Deep in side the forbidden zone at the US-occupied Bagram airbase in Afghanistan ... sits a cluster of shipping containers protected by a triple-layer of concertina wire. The containers hold the most valuable prizes in the war on terrorism - captured al-Qaida operatives and Taliban commanders'.The newspaper went on to describe the process of "rendering", which sends uncooperative prisoners to obedient allies where unsqueamish interrogations are not deemed unlawful. Guantánamo Bay, outside normal legal constraints, holds over 600 detainees who are beyond the reach of judicial processes anywhere in the world."
Many Americans foolishly believe that torture is acceptable because we are "at war against terror". I am telling you to remember what we said, above, that this supposed war on terror is a creation of the Illuminati whose pawns are militant Muslim terrorists. If we tolerate torture against terrorists now, the time will soon come when you will be the victim! Mark my words.
---------- New Articles Posted This Week ----------
* Are You Facing Suicide? Perspective of A Personal Encounter , by Cliff Cinamon -- p218.html
* "THE PASSION" - EVANGELICAL'S HALL OF SHAME - MOVIE MAY BE HISTORIC DIVIDING LINE IN REVEALING SPIRITUAL TRUTH VS DECEPTION! This Roman Catholic movie should be the dividing line between Christian leaders standing for enlightened Truth and those leaders deceiving their flocks! Let us examine the falsehoods being told about "The Passion" so you can see the depth of deception in these Evangelical groups who are mis-leading their faithful followers. The All-Seeing Eye in the pyramid atop Saint Emmeric tells the whole story! -- n1902.cfm

* PRESIDENT BUSH'S IRAQ FIASCO IS STEERING THE WORLD INTO A CONCRETE, COERCIVE UNITED NATIONS GOVERNMENT! "Only the U.N. Security Council can dictate war, not individual states" - (U.N.'s Blix) // "UN Secretary General, Kofi Annan, set up a committee of 'wise men and women' " -- Once you understand the significance of these words, you will realize it is later in the prophetic hour than you might have believed -- n1901.cfm
* AFTER INVADING HAITI - AGAIN - IS AN INVASION OF VENEZUELA POSSIBLE? Venezuelan President Chavez abruptly warned the U.S. to not even think about invading his country after watching American Marines land in Haiti. Chavez undoubtedly knows the Illuminati considers Venezuela a "Non-Integrating State" (NEWS1833). Does Chavez fear Venezuela is next? -- n1900.cfm
* "THE PASSION" OF ROME: TO BRING ALL WAYWARD CATHOLICS HOME" Rebecca Sexton and several people of Former Catholics For Christ viewed "The Passion" twice and discovered that, not only is the movie solidly Traditional Catholic, it also seems clearly designed to call former Catholics back to the Roman Fold! -- n1899.cfm
* New "Passion" Section -- n1900.cfm -- We have gathered all our articles on "The Passion" on to this page for your convenience. These articles will still appear in their normal place on the Headline News page, but you can find all articles relating to this movie on this page.
---------Conclusion-------"And the heavens shall praise thy wonders, O Lord; thy faithfulness also in the congregation of the saints" - Psalm 89:5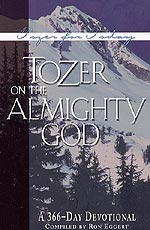 Some people are afraid of color. They think that spirituality consists in being drab. But God made color! He made all shades of colors. Look at the sunset -- what is it to you, just something 'scientific'? Do you think that God splashed the lovely, beautiful sky with rose, cerise, blue and white, and wasn't smiling when He did so? Is that just an accident of nature, scientifically explained? If you believe that, you've got too much learning for your own good! Go empty your head and ask the Holy Spirit to fill your heart, and you'll be better off.
The Holy Spirit wrote 150 psalms and in those psalms He celebrates the wonders of God's creation. We ought to stop thinking like scientists and think like psalmists. The infinite God is enjoying Himself. Somebody is having a good time in heaven and earth and sea and sky. Somebody is painting the sky. Somebody is making trees to grow where only gashes were a year ago. Somebody is causing the ice to melt out of the river and the fish to swim and the birds to sing and lay their blue eggs and build their nests and hatch their young. Somebody's running the universe!
Indeed, Lord, the heavens shall praise Your wonders! Thank you for running the universe with beauty, variety, intricacy and color. Amen ["Tozer For Today: Tozer On The Almighty God", 366-Day Devotional, March 11; Emphasis added]
=======================================================
May Jesus Richly Bless You,
David Bay, Director
866-909-2850 Toll Free Customer Service - Order Line
803-356-2850 Toll Free Customer Service - Order Line
803-356-2860 Fax