---------- This Week's Hot News -------
Special BIBLICAL Admonition
"HE WHO dwells in the secret place of the Most High shall remain stable and fixed under the shadow of the Almighty Whose power no foe can withstand." (Psalm 91:1)
The disaster in Japan fueling rumors so exaggerated it is almost unbelievable. Followers of Jesus and His Bible must stay "stable and fixed", not allowing ourselves to be swept away by this unprecedented tsunami of rumor and fear and fabricated "facts".
Now, let us look at this unfolding story.
---
I. While Japan's nuclear crisis is getting worse at this hour, we still have no indication that her multiple nuclear disasters will cause a worldwide contamination or an economic collapse.
Also, the "Radiation" disaster text message was a FAKE!
NEWS BRIEF: "New Chernobyl 'extremely unlikely' in Japan", CBS News, March 15, 2011
"As alarming as developments may sound at a nuclear plant damaged in Friday's disaster in Japan, a radiation release similar to the one in the 1986 tragedy at Chernobyl is "extremely unlikely," a nuclear energy expert said on 'The Early Show' Tuesday."
For the past 48 hours, many people on the Internet have been screaming "The sky is falling, the sky is falling", doing their best "Chicken Little" impersonation. I have been appalled at the number of panicking emails coming into my inbox! People are so scared they cannot be bothered to check the facts.
At first, this nuclear expert on CBS laid out the stark facts of the deteriorating situation.
" 'The last 24 hours have been a particularly bad time for even this dreadful crisis', James Acton, an associate in the Nuclear Policy Program at the Carnegie Endowment and a Stanton Nuclear Security Fellow, observed to co-anchor Erica Hill. "We've seen two explosions already in units one and three, but this third explosion, unlike the other two, was actually inside the containment building that surrounds the reactor. And that's significant, because it's going to make it harder to prevent the release of radioactivity. And the spent fuel, the used nuclear fuel sitting in the pools, the fact that that has caught fire, is also serious, because it now means that there is another pathway to reach the environment'."
Still, he concludes, a global catastrophe is unlikely; even a regional contamination which Chernobyl produced is unlikely.
"Still, Acton said, 'I think a catastrophic release of radiation on the scale of the Chernobyl accident is extremely unlikely. But containing smaller releases of radiation that are nonetheless very serious is becoming increasingly hard'."
The major reasons that this nuclear disaster will not reach the Chernobyl stage is easy to understand:
1) Japanese engineers and building standards are exceedingly higher than the Russians;
2) Nuclear engineers have learned a lot of disaster preparedness since the 1986 Chernobyl disaster;
3) Japanese preparedness standards and training are incredibly better than the Russians.
Still, Japan is hurting very badly right now. Let us return to Acton as he describes the national situation with which Japan is struggling.
" 'We have to remember throughout all of this that Japan was hit by the largest earthquake in its history, a massive tsunami', Acton pointed out'. And that entire region at the moment is in absolute turmoil, as people don't have houses. So, this is not a food or water -- this is not a crisis that the Japanese government can manage in any perfect way. There is no good solution to this and, to some extent, the authorities are being forced to make it up as they go along, given the extraordinary challenges they're facing right now'."
Now, let us return to the disinformation pouring out on the airwaves and on the Internet.
NEWS BRIEF: "'Radiation' text message is fake", BBC News 15 March 2011
"A fake text message warning people that radiation from the Fukushima nuclear plant has leaked beyond Japan has been panicking people across Asia. The SMS message, purporting to come from the BBC, has been circulating around Asian countries since Monday. It warns people to take necessary precautions against possible effects of radiation."
BBC News denies that it ever sent such a text warning:
"The BBC has issued no such flash but the hoax has caused particular panic in the Philippines ... Disasters such as that currently unfolding in Japan often trigger a rise in scam texts and e-mails intended to fool users into downloading malware or simply to spread panic."
From nervous emails hitting my inbox, can testify to the fact that many people are panicking and that many false stories are circulating the web. Panic is the order of the day.
The Philippine Department of Science and Technology held a news conference to attempt to reassure its people that disaster was likely to reach the Philippines.
"In the Philippines, the Department of Science and Technology has held a press conference to reassure the public that they are safe even if radiation levels in Japan continue to rise. On Tuesday morning, reactor 2 at the Fukushima Dai-ichi nuclear plant became the third to explode in four days. Radiation has reached harmful levels but there is no suggestion that it is affecting anything other than the immediate area. Officials have extended the danger zone, warning residents within 30km (18 miles) to evacuate or stay indoors."

One theme of these panic stories is that the entire world's economy is going to collapse over this disaster.
DVD
II. The Global Economy should be able to withstand the Japanese disaster.
NEWS BRIEF: "Global Stock Rally May Withstand Earthquake", Business Week News, March 14, 2011
"Stocks in Japan extended losses as trading resumed, though the worst earthquake on record in the third-biggest economy is unlikely to dent the two-year bull market in global equities ... Lost production from the Tohoku region where the 8.9-magnitude quake struck might not be enough to spur a recession, Bank of America Corp. said. The Bank of Japan said it will pump a record 12 trillion yen ($146 billion) into the financial system.
"The purely economic consequences will be modest: some reconstruction, some more government spending," said Charles de Vaulx, a manager at New York-based International Value Advisers LLC, where he co-manages the $1.8 billion IVA International Fund including Japanese stock. "No major international consequences, either, except maybe helping drive long-term rates higher. We do not expect to make any significant changes to our portfolio as a result of this tragedy'."
Once again, we see that we all must stay "stable and fixed" when disaster occurs, keeping our minds of Scripture, on Prophecy, and one the facts at hand. Remember, we must keep our eyes on the one prophecy which tells us how close the world is to the World War III designed to produce Antichrist:
"There Is Only ONE Sequential Prophecy Which Shall Provide Us A Clear Gauge By Which We Can Know The Approximate Time That Antichrist Will Arise!"
Subtitle: "As daily events occur at a rapid pace now, clearly moving the world toward the appearance of Antichrist, people are anxiously believing that the Man of Sin can arise within one or two years. Let us examine that one prophecy by which we can know that Antichrist's coming is truly close. You will most likely be shocked at what we learn." NEWS2363
Keep your eyes on the formation of the prophesied 10 Super Kingdoms as we explain.
NOTE: This newsletter continues below our special New Items section
---
New Bookstore Items
New Book "The Fall of Satan: His Horrific Nature Starkly Revealed"

The ruler of darkness… the Tempter… the Great Red Dragon… Apollyon; the Destroyer… One being is revealed to have all these titles and more… names that reveal his horrific nature… All names given to Satan, your adversary who comes like a lion "seeking whom he may devour" (1 Peter 5:8).
Today, many question and even mock the very existence of Satan, as well as the reality of evil. Even in the Church, there are few biblical resources on the subject to counter the destructive claims raised in today's humanistic culture. In The Fall of Satan: Rebels in the Garden you will discover the answers to 35 captivating questions, such as: 1) How could one created good become so absorbed by evil? 2) Why would God, who is not evil, allow evil to continue to exist? 3) Did sin begin with Adam or was its origin found in Satan? 4) When did Satan rebel against God's authority?
Where can the answers be found to such provocative, spiritual questions that have been asked so many times over? Carefully consider the biblical response, since it is the only completely reliable foundation for information about Satan. As our absolute authority, we must reject unqualified conclusions drawn from sources outside the Bible, such as the current ideas and traditions of the culture. No believer should be unaware of these sound answers found in the Bible.
6 x 9 • 176 pages • Paper -Watch Trailer for This Book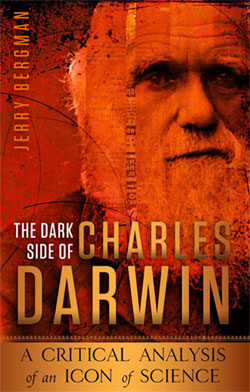 "The Dark Side To Charles Darwin"
New Book by Dr. Jerry Bergman
Did you know the really dark side of Charles Darwin? This daring and compelling book takes its readers behind the popular facade of a man revered worldwide as a scientific pioneer, and unveils what kind of disturbing person Darwin really was. The book reveals disturbing facts that will help you:1) Perceive Darwin firsthand through the eyes of family and friends, and his own correspondence 2) Discern this darkly troubled man, struggling with physical and mental health issues 3) Uncover his views on eugenics and racism, and his belief that women were less evolved than men.
Thoroughly documented, this book reveals Darwin's extremely devious methods of attempting to prove his so-called scientific beliefs, and his plot to 'murder God' by challenging the then-dominant biblical worldview.
Dr. Jerry Bergman has taught biology, genetics, chemistry, biochemistry, anthropology, geology, and microbiology at the college level for over 30 years. He has 9 degrees, including 7 graduate degrees, and has authored over 800 publications.
5 1/2 x 8 1/2 • 256 pages • Paper - Watch Trailer for This Book
---
III. A Regional Military Force is carrying out a regional intervention.
This is a MAJOR Development!
NEWS BRIEF: "Gulf military force enters Bahrain to help deal with unrest", The Star News, March 14, 2011
"A Saudi-led military force crossed into Bahrain to bolster the nation's embattled Sunni rulers in a move protesters denounced as an occupation that threatens the kingdom 'with an undeclared war'."
"The deployment of troops from the six-member Gulf Cooperation Council, done at the request of Bahrain, is the first foreign military operation to quell the unrest that has rattled the Arab world since uprisings began in December."
As a former US Army Intelligence Analyst stationed for three years at a Pentagon-level facility in Okinawa, Japan, I can tell you that this is a VERY big development.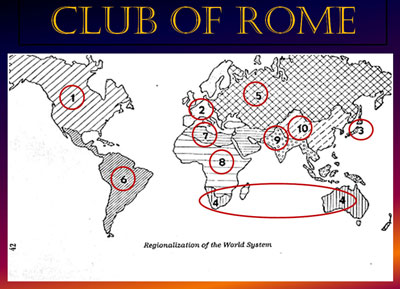 We have been saying for the past three months that Regional Nation #7 of this Club of Rome Plan is being created by these "Egypt-style" dissent sweeping North Africa and the Middle East.
Now, for the first time, a Regional Military Force has been abruptly thrown into the breach in Bahrain.
If successful, this regional military force will set a precedent that a regional government can be set into place through the use of a regional military intervention.
In dealing with Libya, might we see a similar regional military intervention? After all, dictator Gaddafi is murdering his own people, destroying his own oil facilities and creating a civil war, all in the face of nearly universal condemnation from leaders around the world.
A regional military intervention is possible now that the Gulf Cooperation Council has ordered troops to intervene in Bahrain.
IV. The Ivory Coast falls into Regional Government #8, and its resistant dictator may be facing military intervention!
In many cases, the planned event is preceded by an academic announcement.
NEWS BRIEF: "Gbagbo should be forced out militarily: Editorial", By Kofi Akosah-Sarpong, Ghana Dot.com News, March 13, 2011
"Africans cannot bet on unreasoning dictators like Dr. Gbagbo any more. The bet is on African people's freedoms and democratic rights. In the end, the biggest futility is not removing tyrants of Dr. Gbagbo's breed. The continued occupation of Dr. Gbagbo at the Presidential Palace in Abidjan represents instability not only to Cote D'Ivoire but the entire Africa. The failure of consistent diplomacy in bringing reason and humanity to Dr. Gbagbo's illegal attempts to cling to power at all cost, despite all indications saying he shouldn't, mean Africans and the international community should resort to military means to remove Dr. Gbagbo from Abidjan and bring order to Cote d'Ivoire."
With the Ivory Coast continuing its freefall into civil war, do not be surprised to hear that a regional force -- probably from the A.U. (African Union) has intervened into this area of Africa.
Remember what is going on here:
Regional Governments #7 and #8 of the Club of Rome Plan are being created through deliberate instability and the removal of resistant dictators.
Prophecy Being Fulfilled Right Now: "...it was diverse from all the beasts that were before it; and it had ten horns."
Before Antichrist can arise, the world's nations must be reorganized into precisely ten (10) supernations? This prophecy is being fulfilled in Daily News!
---
New Headline News Articles
The National Association of Evangelicals is getting ready to align with the Church of Jesus Christ of Latter-Day Saints! http://www.cuttingedge.org/news/n2442.cfm
Mormon Glenn Beck Meets With Southern Baptist Billy Graham, Urging Him "To Come Together" - Yoking Believers With Unbelievers!
Beck is making major inroads to convince Evangelical leaders to support his cause. Beck has even taken control of the "Black Robed Regiment" to finally cement a bridge from Mormonism to Christianity. Genuine Christians are in dire danger of being mightily deceived. http://www.cuttingedge.org/news/n2441.cfm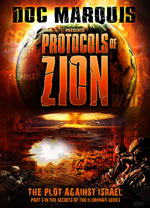 DVD
Why Is China Building Large Cities Completely Devoid of People? The answer will shock you, for a nearly unknown part of the Plan is being implemented. This development means that the appearance of the Antichrist is closer than many think possible.
http://www.cuttingedge.org/news/n2440.cfm
---
"Secrets of the Illuminati" Combo Offer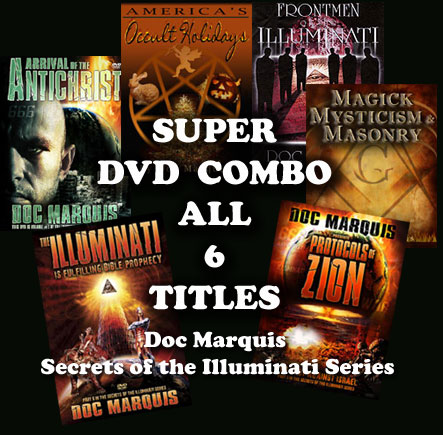 All Six Titles by Doc Marquis, 7 DVDs, over 18 hours of teaching
Regularly $229.94, Combo Price $149.94, Save $80.00!
Each of these unique DVD's provides information on a part of the Illuminati Plan which only a former Satanist / Illuminati would know. Furthermore, much of the information Doc Marquis provides is the 'Oral Plan', which is the parts of the plan to produce Antichrist which is so evil that it is never written down. These are the titles: 1) 'Arrival of the Antichrist' ; 2) 'America's Occult Holidays'; 3) 'Front Men of the Illuminati'; 4) 'Magick, Mysticism, and Masonry' - This is THE ONE video every Mason to whom you are witnessing must see! 5) 'The Protocols of Zion: Plot Against Israel' ; 6) 'The Illuminati Is Fulfilling Bible Prophecy' "
Doc Marquis uses the King James Bible - http://www.cuttingedge.org/detail.cfm?ID=2249
---
Most Popular DVD In The Bookstore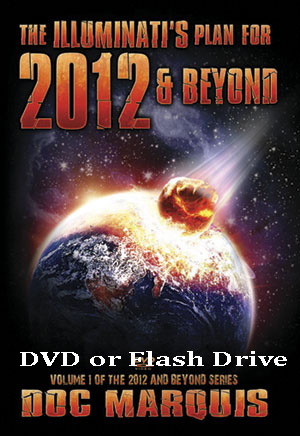 New Doc Marquis DVD - His Best Ever!
"The Illuminati's Plan For 2012 And Beyond"
2-Disc Set - Volume 1
Introductory Offer - Regularly $39.99, On Sale For $29.99
Now that you have read and heard the noise and chatter about the year 2012, you will be pleased to know the truth of the Illuminati Plan for 2012, from a man who knows the Plan thoroughly, former Illuminati Luciferian, Doc Marquis!
After watching this 'One of a Kind' DVD set, you will no longer wonder what will happen after December 21, 2012!
Is the end of the world near? Are we doomed to destruction? Do we have any hope for tomorrow beyond the year 2012? In this new, exciting and riveting 2 part DVD set renowned author and former Illuminati witch Doc Marquis takes up the daunting task of revealing the truth behind December 21, 2012.
At the end, through a unique series of question and answers along with comparisons of the Holy Scriptures Doc Marquis shall reveal the final truth behind the mystery of 2012.
2-DVD Set, nearly 4 hours - http://www.cuttingedge.org/detail.cfm?ID=2304
Will begin shipping on or before 4/15 - Cutting Edge is doing the editing, so we will be on time.
---

Purchase a 1-Year Subscription, you may select 1 FREE gift
Purchase a 2-Year Subscription, you may select 2FREE gifts
Purchase a 3-Year Subscription, you may select 3 FREE gifts
Purchase a 4-Year Subscription, you may select all 4 FREE gifts
We have changed our FREE gifts available to you when you subscribe to Headline News, adding two Pastor Hoggard DVD's to the Seminar Tapes and the Radio Collection CDROM.
---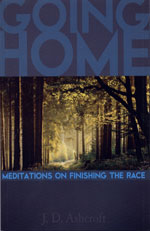 --------Concluding Inspiration ---------"ONE WAY"
"I am the way, and the truth, and the life. No one comes to the Father but by me." John 14:6
A Friend knows the song of our hearts and hums it to us when we forget the tune. Lest we forget for an instant the most important principle we must believe if we would properly prepare for a Christian death, let us meditate on this promise given by Jesus to his disciples.
Jesus says "I am the way", "No one comes to the Father except through me."
Thomas a Kempis wisely wrote, "without a way no man may go." (Imitation of Christ, 3:55). We do not and cannot reach heaven on our own, without Jesus Christ our head. Jesus is the way in which we ought to go to heaven, through Him and Him alone, for there is no other salvation from sin, death, and hell.
Jesus said "I am the way and the truth", "No one comes to the father except through me."
Thomas wrote "without the truth no man may know." Jesus is "the truth which we ought to believe." He is the Son of God, the perfect sacrificial victim, who died to take away the sins of the world. He is the one whose Word is fully trustworthy, and can never fail.
Jesus said "I am the way and the truth and the life", "no one comes to the Father except through me."
Thomas wrote that "without life no man may live." He is 'the life for which we ought to hope'.
Again Thomas wrote that Jesus is 'the Way that cannot be defiled, the truth which cannot be deceived, and the Life that never shall come to and end."
"No one come to the Father except through me."
These are the Words of the Lord. Let us cleave to them with all our hearts, because "if you confess with your mouth that Jesus is Lord, and believe in your heart that God raised Him from the dead, you will be saved" (Rom. 10:9).
Dear lord, we thank you for the wonderful things we have to look forward to in heaven. We are happy that eternity will be free of death, mourning, tears and pain! We look forward to our life in the new Jerusalem with you and all our brethren. We are no longer afraid, but embrace your sovereign will for us, in Jesus Name, amen.
---
"President Bush:
Evil vs Good Fruits"
Directory of all news articles
Free Radio Transcripts

Free Headline News Archives

Freemasonry

What Saith Rome

Teachings from the Catechism

Bookstore

Meet the Staff

Weather Control

School Shootings

Understanding Clinton
May Jesus Richly Bless You,
David Bay, Director
866-909-2850 Toll Free Customer Service - Order Line
803-356-2850 Customer Service - Order Line - For Out of Country Customers
803-356-2860 Fax