WEEKLY UPDATES FROM Cutting Edge Ministries, www.cuttingedge.org
3/25/2006      Over 1,400 Articles Posted! Nearly 150,000 People Downloading A Salvation Page Per Year! (Psalm 127:1)
---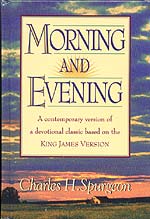 ---------Inspiration For the Week-------""Underneath are the everlasting arms." Deuteronomy 33:27
God--the eternal God--is Himself our support at all times, and especially when we are sinking in deep trouble. There are seasons when the Christian sinks very low in humiliation. Under a deep sense of his great sinfulness, he is humbled before God till he scarcely knows how to pray, because he appears, in his own sight, so worthless. Well, child of God, remember that when thou art at thy worst and lowest, yet "underneath" thee "are everlasting arms." Sin may drag thee ever so low, but Christ's great atonement is still under all. You may have descended into the deeps, but you cannot have fallen so low as "the uttermost"; and to the uttermost He saves. Again, the Christian sometimes sinks very deeply in sore trial from without. Every earthly prop is cut away. What then? Still underneath him are "the everlasting arms." He cannot fall so deep in distress and affliction but what the covenant grace of an ever-faithful God will still encircle him. The Christian may be sinking under trouble from within through fierce conflict, but even then he cannot be brought so low as to be beyond the reach of the "everlasting arms"--they are underneath him; and, while thus sustained, all Satan's efforts to harm him avail nothing.

This assurance of support is a comfort to any weary but earnest worker in the service of God. It implies a promise of strength for each day, grace for each need, and power for each duty. And, further, when death comes, the promise shall still hold good. When we stand in the midst of Jordan, we shall be able to say with David, "I will fear no evil, for Thou art with me." We shall descend into the grave, but we shall go no lower, for the eternal arms prevent our further fall. All through life, and at its close, we shall be upheld by the "everlasting arms"--arms that neither flag nor lose their strength, for "the everlasting God fainteth not, neither is weary."
(C.H. Spurgeon, "Morning and Evening Devotions"

)
-------------Bookstore Resources----------------------The "Reading Room" Is Now Expanded!

Last Wednesday, we sent out an email alert to our readers, telling you that we had created a "Reading Room", where you could read a number of pages -- sometimes an entire chapter if the author so desires -- before you actually buy the book. This feature proved to be so popular, we have now added the following 2 books to this section, in addition to the 4 books already in this area.
These two new books available now for your perusal are: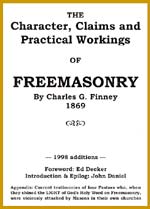 * "Evangelist Charles Finney Speaks Out On Freemasonry In 1869: Character, Claims and Practical Workings" -- Quoted in "Secret Mysteries of America's Beginnings: The New Atlantis"
Did you know that noted Christian Evangelist Charles Finney was a Freemason and Lawyer before the Holy Spirit gloriously saved him? With his intimate knowledge of the rituals, degrees and oaths, Finney devastates all claims Freemasonry makes to being a Christian organization.
Finney compares these secret practices to the Light of God's Word. His deep analysis of Freemasonry is the most brilliant I have ever read. Finney uses his training as a pastor and Bible scholar to analyze Masonry from the inside out and in so doing, cuts Masonry to shreds; yet he does so in God's sweet Love
288 pages -- http://www.cuttingedge.org/detail.cfm?ID=790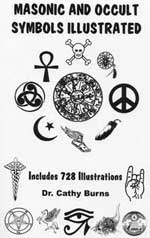 * "Masonic and Occult Symbols Illustrated"
You shall know the truth the Masonic symbols teach! Dr. Burns proves that Freemasonry uses exactly the same symbols in their teachings that Satanists use! She uncovers the hidden meanings behind these symbols, and allows you to recognize that you come in contact with many of these symbols everyday of your life!
Now you shall be deceived no longer. Great for Visible Lodge Masons, who have been deliberately lied to all the time they have been in the Lodge!
We shall be regularly adding to our list of books available for perusal in our "Reading Room".

Combination Offers Save You Money!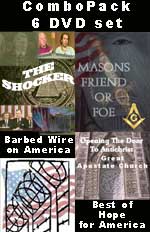 * COMBO OFFER: "Best of Hope For America" - DVD
Regularly $99.96, On Sale $79.96, Save $20 over buying them individually -- Nearly 11 hours of instruction in 6 DVD's
1) "Shocker", 2-DVD Set -- One of our best-sellers! 12 of the Most Shocking Subjects of These Last Years. Through film and news clips, Wegener shows the 12 most shocking subjects to cross his desk in the last few years. Just when you think you have seen, or heard it all, this DVD will show just how very weird this world has gotten. Subject includes UFO's, Masons, Executive Orders, MJTF, high-technology, concentration camps, the silence of the church, abortion, and more. Almost 3 hours
2) "Barbed Wire" - In great film clips, Wegener details the coming plan to institute global dictatorship. What do: Detention centers, Depopulation, Demilitarization, Foreign Troops on U.S. soil, Mother Gaia worship, Martial Law, and the Anti-terrorism bill have in common? They are all in our immediate future, unless enough Americans wake up to what is planned for us. Great film footage, a must see for all Americans. Over 2 full hours
3) "Great Apostate Church" - Over 3 1/2 hours. Unity of, and tolerance for, ALL religions of the earth, from Roman Catholics to Muslims, to New Age, to Shamans and Witchdoctors, is clearly the trend we see today as the world rushes to Antichrist and his False Prophet. See revealing film clips, quotes, and footage of world-renowned prominent religious leaders and understand the false "gospel" they teach. You will hear prominent Christian leaders state false doctrine from their own lips that you would never believe had you not seen them speak.
4) "Mason: Friend or Foe: - Many of our leaders have sworn allegiance to a Masonic Order of one type of another. Our current election features two brothers in a Masonically-based secret society called "Skull & Bones". What are these leaders pledging their allegiance to and how deeply entrenched are their goals to America today? Since Freemasonry has attempted so strenuously to claim that they are just a good old boy fraternity that does good works and has a good time, most Americans would be shocked to learn the bitter truth behind that facade. 2 hours, 40 minutes of instruction
http://www.cuttingedge.org/detail.cfm?ID=1282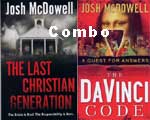 * COMBO OFFER: "Last Christian Generation Book" PLUS "DaVinci Code Book" FREE
Best Book Offer Ever! Two books for only $12.99!
"Last Christian Generation" - The majority of our churched young people do not believe Jesus is the Son of God, that the Holy Spirit is a real entity, and think 'doing good' earns them a place in heaven. Just as disturbing is that their attitudes and behavior are virtually no different than those of non-Christians.
In this defining message of his 40 years of ministry, Josh McDowell strikes at the heart of the problem and offers a clear solution. "We must bring this new generation face to face with who Christ really is, They know the facts, but they don't know Him, believing distorted views of Christianity.
"The Last Christian Generation" documents the urgency of the crisis but also provides a fresh revelation of the heart of God
"DaVinci Code: Quest For Answers" - Dan Brown's novel has sold over 36 million copies in 44 languages. The movie is certain to shatter box office records. The story makes many assertions that defy foundational Christian beliefs: - that Jesus was not the Son of God and was not born of a virgin. - that Jesus was married to Mary Magdalene, and they had children. - that Jesus was just a man and a charismatic leader, and the early church manipulated historical accounts of Him and made Him a God just to challenge other religions of the day. -
Green Key Books is pleased to offer the only tool you'll need to effectively confront the controversy with confidence. http://www.cuttingedge.org/detail.cfm?ID=1280

* COMBO OFFER: "Best of Cutting Edge" DVD's - 4/DVD Set Saving You $17.00!
Regularly $95.96, On Sale $79.96
Set contains almost 8 hours of instruction! Gain the unique Cutting Edge teaching on these four very important topics.
"DaVinci Decoded: Truth or Myth" -- Millions of people have read Dan Brown's best seller, the DaVinci Code. This book, though a novel, claims to be based on historical facts that not only question, but blatantly attack the deity of Jesus Christ and the divine inspiration of the Holy Scriptures. The simple fact of this matter is that Antichrist cannot arise and successfully claim his lineage back to King David without people believing the Merovingian Blood Line lie taught by the DaVinci Code. This book prepares people for Antichrist! Is 2 hours long. Also has 150 colorful PowerPoint slides
"Outcome-Based Religion: Apostasy, Purpose, and the Paradigm Shift" -- Rick Warren's "Purpose Driven Church" movement is truly sweeping America today and soon will sweep the world. Unfortunately, the developers of the methods and practices currently implemented to build this New Paradigm Church have not considered the Word of God as a valid source document in the developmental process. Cutting Edge believes it is highly likely this church movement is fulfilling the "Church of Laodicea" prophecy of Revelation 3!
"Nephilim Walk Among us Again - End Time Deception" -- Jesus warned in Mathew 24 that "For as the days of Noe were, so shall also the coming of the son of man be". Mr. Dominick explains just what was happening in the days of Noah and how Angels married Human women and had Children by them, known as Nephilim. And, he explains why prophecy teaches they shall walk among men again at the End of the Age!
"Israel: God's Timepiece -- Will Arab, Israeli Conflict Begin WWIII?" -- Both the Bible and the Illuminati Plan say that Israel is the key to the timing of all Last Days events. Watch Israel, as Mr. Dominick explains in great detail.
http://www.cuttingedge.org/detail.cfm?ID=1272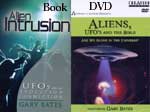 * Book/DVD Combination Offer! Book "Alien Intrusion" with DVD "Aliens, UFO's, and the BIBLE"
"Alien Intrusion" book presents on the most haunting and persistent mysteries of our era. UFO's have been sighted in every country and throughout the centuries. This book examines all the relevant issues, such as Roswell and alien autopsies, astronaut Gordon Cooper's sightings, claims of official silence, alien abductions and UFO phenomena. This book is a landmark volume that brings together the most important evidences and comes to conclusions which are far more sinister -- yet profound -- than most could ever imagine. What you are seeing is not always what it seems
DVD "Alien and UFO Sightings" is an intriguing video which examines whether sighted spacecraft could really be reality, or are they sophisticated illusion? Author and lecturer Gary Bates speaks especially about the connection between UFO phenomenon and Evolution teachings. UFO beliefs are rapidly escalating amongst our people, challenging Christianity.
Save $9.00 over buying these two items individually -- http://www.cuttingedge.org/detail.cfm?ID=995
Badly Needed Fundamental Bible Understandings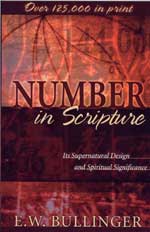 * "Number In Scripture: Its Supernatural Design and Spiritual Significance", by E.W. Bullinger
This classic reference book on Biblical numerology provides a complete synopsis of the spiritual significance of numbers found in the Bible.
Did you know that Satan got his fascination with numbers and many of his definitions of certain numbers from God's consistent usage of numbers? Truly, Satan never had an original idea; he just copied from God.
Christians worship the Creator Who created numbers, while Satanists ignore the Creator and worship the creature (Numbers) instead.
Cutting Edge is so pleased this old reference book is now back in print, for it is a masterpiece and will dramatically increase your faith.
320 pages, easy to read, yet deep in significance -- http://www.cuttingedge.org/detail.cfm?ID=1273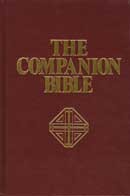 * "Companion Bible Large Print - Old Classic KJV Study Bible" by E.W. Bullinger
A classic one-volume study Bible in the King James Version. Helps include: 198 appendices including explanations of Hebrew words and their uses, charts, parallel passages, maps, lists of proper names, calendars, and Biblical timelines.
This is a most popular study Bible in this large print edition.
2,176 pages -- http://www.cuttingedge.org/detail.cfm?ID=1276
* "Companion Bible Hardback - Old Classic KJV Study Bible" by E.W. Bullinger
A classic one-volume study Bible in the King James Version. Helps include: 1) 198 appendices including explanations of Hebrew words and their uses, 2) charts, 3) parallel passages, 4) maps, 5)lists of proper names, 6)calendars, and 7)Biblical timelines.
This is a most popular study Bible in this great study edition. The brilliant, analytical mind so evident in "Number In Scripture" is clearly on display in this study Bible.
2,176 page -- http://www.cuttingedge.org/detail.cfm?ID=1277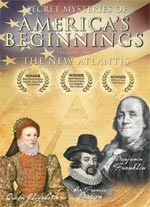 Please allow us to clear up any misunderstanding or confusion as to why we submitted "Secret Mysteries of America's Beginnings" to the film festivals; most Christians understand that Hollywood does not represent our moral or world views; Certainly, Cutting Edge does not desire Hollywood's approval on the content of this video. So why would we want to submit this film to any portion of Hollywood?
The answer is simple:
Since I was a major Toy Buyer for two major corporations for over 10 years, I understand the work habits and the thinking of major buyers. These buyers work 60-65 hours weekly and are always over-worked. If a representative had told me when I was a buyer that he had a new video nearly 3 hours long, produced by a new company which had no track record of any success, and had only one product to offer, I would never have set aside 3 hours in my busy schedule to view the whole video; in fact, just the knowledge that the video was 3 hours would have discouraged me from sitting down to even view a portion of the video, to see if the quality was such that I wanted to carry it.
Representatives working with us early reported exactly this type of resistance from the "decision-makers" at retail. How do we overcome this resistance? We attempt to get experts in the film industry to decree that this film is exceedingly high quality. We have done that, as you will see below. Now, video buyers will buy the video without previewing it first, because they are relying upon the "stamp of quality approval".
New York Film Festival's Written Evaluation of "Secret Mysteries of America's Beginnings: The New Atlantis"
Rating: 4+ Out of 4
"The production value rated a 4. Professional editing. Professional DVD packaging. The cinematography rated a 4. Professional cinematography. The content rated a 4. The content in this film is equivalent and/or better than the content on the History Channel. The script rated a 4."
Please pray that God will allow this video to reach untold numbers of secular people with truths they will not hear anywhere else. This video tells them two major facts they will never see from any other source: 1) The true reason President Bush took the world into war in Afghanistan and Iraq; 2) That the end goal of Sir Francis Bacon's Plan is to stage the appearance of the Masonic Christ. Prophetic Scripture will identify him as Antichrist.
Volumes 2, 3, and 4 will be even more specific in telling people -- both Christian and secular -- truths they will never hear anywhere else.
---------- This Weeks Hot News ----------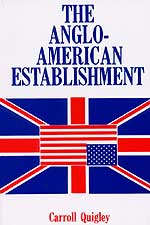 I. As the flap continues over foreign ownership of critically important American ports, a story appeared which validated a Cutting Edge article of over 2 years ago! American authorities do have the capability of sensing nuclear bomb materials!

NEWS BRIEF: "U.S. Hiring Hong Kong Co. to Scan Nukes", My Way News, March 23, 2006
"WASHINGTON (AP) - In the aftermath of the Dubai ports dispute, the Bush administration is hiring a Hong Kong conglomerate to help detect nuclear materials inside cargo passing through the Bahamas to the United States and elsewhere. The administration acknowledges the no-bid contract with Hutchison Whampoa Ltd. represents the first time a foreign company will be involved in running a sophisticated U.S. radiation detector at an overseas port without American customs agents present."
If you thought allowing an Islamic based company to operate 21 key sea ports in the United States, how do you feel about turning control of the operation of detecting nuclear materials over to the Chinese? You see, Hong Kong is no longer controlled by the English; the city is tightly under the control of the Chinese dictatorial government. While China has allowed Hong Kong more freedom of operation than other cities on the Mainland, Chinese political control agents are still everywhere in the city, making sure that nothing is done by private companies which would run counter to official government policy.
Let us now return to this article for more information:
"While President Bush recently reassured Congress that foreigners would not manage security at U.S. ports, the Hutchison deal in the Bahamas illustrates how the administration is relying on foreign companies at overseas ports to safeguard cargo headed to the United States ... its billionaire chairman, Li Ka-Shing, also has substantial business ties to China's government that have raised U.S. concerns over the years. Li Ka-Shing is pretty close to a lot of senior leaders of the Chinese government and the Chinese Communist Party', said Larry M. Wortzel, head of a U.S. government commission that studies China security and economic issues." (Ibid.)

China is our avowed enemy. Her generals have threatened to attack our cities if we interfere in China's controversy with Taiwan. American officials have expressed concern about China's military build-up and her future status as an enemy. China has consistently opposed our Iranian and Iraqi policies and has gone out of her way to sign huge oil and gas contracts with Iran.
In short, China looks like an enemy, is arming like an enemy, is talking like an enemy, and is acting like an enemy. Thus, America would do well to conclude that China is our enemy and defensively act to protect our interests.
Then, why on this green earth does the Bush Administration hire a Hong Kong company controlled by the hostile government of China to run the operation designed to detect nuclear bombs and/or terrorist devices passing through our ports? Further, not only is this action insane, but the deal is a "no-bid contract", which means that Bush officials are probably lining their pockets by giving out a fat paycheck to Hutchison Whampoa Ltd.
Since Homeland Security has expressed concern over and over again that terrorists are likely to try to sneak nuclear devices into our cities, why would the Bush Administration pave the way for terrorists to sneak nukes through our ports? Since the Illuminati Card Game depicted New York City being attacked by nuclear armed terrorists, why should President Bush make it that much easier for this type of horrific attack to occur?
We hope that the same grieving outcry which occurred after the Dubai Ports deal was announced will occur again this time, but much stronger.
However terrible the idea is to allow a Chinese company controlled by the Mainland Government to control the detection of nukes passing through our ports, this story does shockingly validate a controversial Cutting Edge teaching posted about 2 years ago. In our article, we reveal that American and Russian satellites have the capability of detecting nuclear devices all over the world, pinpointing their exact location. Our article is:
NEWS1928 -- "DEBUNKING THE PROPAGANDA LIE THAT TERRORISTS CAN HIT THE UNITED STATES WITH A NUCLEAR TERRORIST WEAPON!"
Please allow us to briefly quote from our article.
"NEWS BRIEF: "US Satellite Detection Of Portable Nuclear Weapons", Rense.com, 11-7-2001
"If an internal nuclear attack ever occurs in this country without a major failure of our satellite assets...perhaps we should rethink just who the enemy really is..."
These opening words are shocking, and they are intended to be. The writer wanted all of us to know that America has the technical capability to stop any terrorist in his tracks if he ever dares try to sneak nuclear weapons into this country. Let us now review the "rest of the story".
"As you have probably heard from the major news networks, there is some concern about the so-called portable nuclear devices developed by the old USSR. Their former head of the KGB has confirmed the existence of 150 portable devices: 100 of which are presently unaccounted for ... none of these devices are missing; We know exactly where these devices are located at any given point in time."
"This is how we know: During the 1980's I worked as a Senior Systems Engineer for several DOD companies in San Diego (Advanced Digital Systems and SAIC). While in this position I was tasked with developing a 'Fleet Satellite Catastrophic Restoral Plan' for the Joint Chiefs of Staff. My group was to develop a method for satellite intelligence restoral in the event of a space born nuclear strike by the Soviet Union. In the course of this study, we had to review all satellite capabilities and characteristics: both current and projected through the early ninety's. A series of satellites planned to begin deployment in 1989 ... They carry special sensor devices (Developed by SAIC) that can detect high-velocity spin-off particles from enriched uranium (necessary for nuclear devices). Due to the small size and velocity of these particles, no amount of shielding can block them: not lead, not earth (sub-terrainian). Radiation hazards from these particles are minimal due to limited quantity. Our satellites are fool-proof in detecting and pin-pointing the locations of enriched uranium throughout the world." (Ibid., Emphasis added)
Did you realize our satellites had this capability? They can accurately sense the "high-velocity spin-off particles from enriched uranium", even if the device is encased in lead or buried in the earth! This capability means that we know the exact location of every nuclear warhead in the world. We know where every single Russian warhead is.
And we certainly knew that Saddam Hussein did not have nuclear warheads!"
For the remainder of this article, we quoted several other sources which validated the understanding that American satellites can sense the location of every nuclear device on earth -- including those passing through our sea ports. The nuclear detection technology which this Chinese company is now going to be operating in some of our ports undoubtedly employs the exact same technology.
We appreciate this news article which validates our earlier teaching on this most sensitive issue!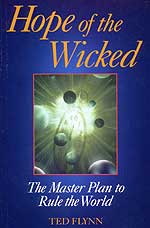 II. Foreign ownership of vital Western assets continues, seemingly unabated!
This first article details how White House is intending to change the rules so foreign airlines can take control of American airlines, in a deal which would be far larger than the Dubai Ports issue ever would have been!
NEWS BRIEF: "Transcript: LOU DOBBS: The Bush White House is again on collision course with Congress. Transportation Secretary Norman Mineta says he will proceed with a rule change that would allow foreign airlines to take control of U.S. airlines. That, despite the fact that early this month Republicans and Democrats in the House made it very plain they do not like and will not tolerate the prospective change", CNN Transcript, March 17, 2006
"DOBBS: The Bush White House is again on collision course with Congress. Transportation Secretary Norman Mineta says he will proceed with a rule change that would allow foreign airlines to take control of U.S. airlines. That, despite the fact that early this month Republicans and Democrats in the House made it very plain they do not like and will not tolerate the prospective change.
BILL TUCKER, CNN CORRESPONDENT (voice-over): Congress, at least on the House side, is making its opposition known to a plan granting foreign investors control over domestic airlines. In a hearing last month, in a letter at the beginning of March, and again on the floor last week...
REP. PETER DEFAZIO (D), OREGON: The issue is bigger than the UAE takeover of the U.S. port facilities. It's about other foreign takeovers of our assets. The administration is still rushing ahead to allow foreign airlines to control U.S. airlines.
TUCKER: The anger is directed at a rule change by the Department of Transportation which would give foreign investors control of the day-to-day operations of an airline.
UNIDENTIFIED MALE: It makes no sense. It's crazy to turn the operational control of U.S. airlines over to foreign investors, and if I have anything to say about it, we're going to stop it.
TUCKER: The DOT thinks the change is being blown out of perspective. Quote, "The Department's proposal would require U.S. citizens to maintain control of all decisions affecting the security, safety and national defense obligations of domestic airlines."
But foreign investors could have control over what planes to buy, which routes to fly, who staffs the planes. They could hold the purse strings.
CAPT. DUANE WOERTH, AIR LINE PILOTS ASSN.: This needs to be stopped. Congress should prohibit this ... TUCKER: If the administration pushes the rule change, expect a fight. There's already legislation in the House with 160 co-sponsors to stop it. The importance of or domestic airlines to our military cannot be overstated.
So far in just Operation Iraqi Freedom, over 1.5 million military personnel have flown overseas on U.S. commercial aircraft and 320,000 tons of military equipment carried."
Can you sense the reality that President Bush may be implementing the Illuminati Plan to globalize all aspects of American society so that we can properly meld into the coming global system?
This next news story details how Islamic interests are about to gain access to the most secret and sensitive military technology on earth!

NEWS BRIEF: "Fears grow over new Dubai revolt: Investigation into deal by which Dubai International Capital has bought a British firm manufacturing sensitive military hardware! By Stephanie Kirchgaessner in Washington and James Boxell in London, March 21 2006
"Arab and US officials are growing nervous at the prospect of a second congressional uprising against the acquisition of American assets by a Middle Eastern-controlled company in the wake of the Dubai Ports World debacle.
"A person familiar with the thinking of both the US and United Arab Emirates said officials were concerned that the pending investigation of Dubai International Capital's £700m ($1.2bn) purchase of Doncasters, a privately-held British aerospace manufacturer that works on sensitive US weapons programmes, including the Joint Strike Fighter, could provoke a similar backlash and further damage the relationship between the two countries."
Again, this story makes absolutely no sense. The British government has allowed the Islamic based Dubai International Capital to buy a British manufacturer who produces military airplanes like the Joint Strike Fighter! That would be tantamount to allowing a German company just prior to World War II to buy and operate one of our key airplane manufacturing plants. Such a German company certainly would have passed on military capability secrets to the Hitler government. Today, Islamic governments would absolutely love to gain NATO's "cutting edge technology" which is planned to go into the Joint Strike Fighter.
And, anxiously awaiting in the wings to also receive this high technology is the Russian government, whose President Putin just weeks ago called the "protector and defender of Islam".


III. Has the time come for President George Bush to deliberately bring down America so she can be melded into the United Nations Government as a meek, weak country?
First, a step backward in time for a history lesson.
NEWS BRIEF: "US living on borrowed time - and money - "military overstretch" - where conquering nations engaged in more foreign military adventures than their economic resources could support - led to the eventual decline and fall of empires', Asia Times, By Julian Delasantellis, March 24, 2006
"In 1987, Yale historian Paul Kennedy published The Rise and Fall of the Great Powers, in which he argued that 'military overstretch' - where conquering nations engaged in more foreign military adventures than their economic resources could support - led to the eventual decline and fall of empires. So far, the US attempt at dominion that commenced in 2001 has not been threatened in this manner because, in essence, the nation has been able to borrow the costs simultaneously to maintain both its new empire and its avaricious middle-class consumerist lifestyle."
"But the times, they are a-changing. Buried deep in the arcanum of some recently released economic statistics are indications that the world is tiring of its role as America's charge card. So far the United States has easily financed its endeavors in Iraq, as well as undiminished levels of domestic social-welfare spending, not by the traditional solution of raising taxes (in fact, taxes have been cut numerous times since 2001, an occurrence unheard of during previous wars) but by running huge budget deficits, such as fiscal year 2006's projected shortfall of US$423 billion. Accompanying the federal budget deficit is the huge US trade deficit, burgeoning out of control as more and more of previously domestically produced consumption items are outsourced to foreign, mostly Chinese, manufacture. The stimulative US budget fiscal position assures that Americans will have all the money needed to buy them."
How can this unusual and unnatural economic situation occur?
"The United States dollar is what is called a 'reserve currency', ie, foreigners are willing to hold dollars even though they can't easily use them as the domestic currency in their home markets. Without the selling that would accompany all the exporters to the United States trading their dollars for their home currencies, the US dollar stays higher than the economic fundamentals would theorize it should, and the great American global shopping spree can continue."
What are the fundamentals which indicate that this national situation of living well beyond our means might not continue forever?
"If you've ever looked at the back page of The Economist magazine you'll have seen the huge foreign-exchange reserves being built by countries that have recently been the winners in the global trading game. As of December, the International Monetary Fund lists Japan's reserves at $847 billion, China's at $819 billion, Taiwan's at $253 billion, South Korea's at $210 billion, Russia's at $194 billion, and India's at $137 billion. These reserves, held overwhelmingly as US dollars, are the potential gasoline just waiting for the match to set alight a huge global economic conflagration. If somebody starts selling his dollar reserves, even if it's only a portion of his dollar portfolio, other countries could be forced into panic selling of their huge dollar reserves. The foreign-exchange markets are the biggest and most liquid in the world, but whether they would be able to absorb the amount of selling that could emerge from portfolio adjustments this large is a very open question. More likely there would be a sharp overshoot in the dollar-selling, leading to a perhaps 20-30% decline in dollar values within a very short time. For the US, this would mean a sharp rise in the prices of everything it imports, especially crude oil."
"... the great run of US prosperity would be over. Worldwide, along with the global contractionary effects of US economic growth suddenly stopping or going into reverse, the effect of an almost instantaneous 20% haircut in the value of the world's financial reserves would be no picnic, either. On the first day of class, business teachers like me love to introduce our sleepy students to the concept of TANSTAAFL - there ain't no such thing as a free lunch. The United States may soon be introduced to the concept of TANSTAAFE - there ain't no such thing as a free empire. Specifically, will the nation still think it's so important to control the sands of Samarra, or the streets of Fallujah, or, for that matter, those of Baghdad if, like the signs say in US doctors' offices, 'payment is expected at the time of service'?"
Economic collapse is certainly part of the World War III plan which will produce Antichrist. Once the war begins between Israel and her Arab neighbors, the American economy will sink according to the factors listed above, and will accelerate once the nuclear confrontation on the Korean Peninsula begins, will further accelerate when China invades Taiwan, and will positively hit hyper-speed once the planned terror attacks begin occurring against our cities.
But, because the Illuminati has determined that Americans must be kept feeling prosperous until the very last moment before the world war begins, these horrific conditions will not spring into reality early. Remember, Israel is the key to sensing the timing of these horrific events -- in both Prophetic Scripture and the Illuminati Plan. Watch the withdrawal of Jewish settlers from the West Bank, for Israel will not be ready to go to war until she has pulled back all her citizens.
Now, let us examine another instance in which President Bush is bringing this country down so it can be a regular nation being melded into the United Nations government.
Bringing down our beloved military so it can be melded into the United Nations military? Is this why we committed too few troops to win an outright victory, while exposing over one million of our soldiers to fatal doses of Depleted Uranium?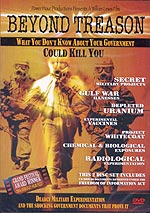 NEWS BRIEF: "Depleted Uranium In India, Spreading Worldwide": They Kill Us For Sport , From Karl W B Schwarz, Rense.com, 3-20-6
"Depleted uranium is a deadly toy in the hands of the ruling bloodlines. A particle of DU ingested or inhaled can cause one or more of the 90+ seriously debilitating diseases, fatal or temporarily non-fatal. [see list of 91 diseases, Annex 1] The half life of DU is 4.5 billion years, and it can destroy living things and the environment; most importantly it can destroy perfectly healthy lives. Depleted uranium has been used in at least the last four wars by the United States and its allies: Gulf War 1, Bosnia and Kosovo in the Balkans, Afghanistan and Gulf War 2. The last two of the four wars, all illegal, took place in 2001 (Afghanistan) and 2003 (Iraq). Effects of the contamination can manifest from within a few hours to five years.

"Evidences clearly indicate that depleted uranium is blowing in the wind all over the world. [3] Its effects on health are showing up in distant lands. Earlier, gulf war veterans and local civilians were affected; now, of all the places, the US is showing six-fold increase in just lung cancer cases.[4] ... The worst contamination would of course occur at and around the theatres of war, but region within 1000 mile radius would face serious depleted uranium contamination. [1] 1000-mile radius means a total area of 3.14 million square mile. The two circles in the map represent an area of 6.28 million square miles and, deducting say 20% for the overlapping area, the net affected area is just over 5 million square mile. The total land area of earth is about 57.3 million square mile, which implies that roughly 8% of total land area of the earth is now severely contaminated. And I am not including Bosnia and Kosovo theatres of war, which has seriously affected the Balkans as well as the NATO troops.[8]
Did you get that shocking piece of information? "roughly 8% of total land area of the earth is now severely contaminated"?
We have often wondered why Bush/Rumsfeld committed less than one-half the manpower the Pentagon said they needed, wondering if the real purpose of the Iraq and Afghanistan wars was to spread deadly D.U. over a huge area of the entire world's "Non-Integrating States". This article more than confirms this long-held suspicion. We encourage you to read it in its entirety, for the information is priceless and the map of the regions affected will sober you.
How many people in this "Non-Integrating States" region is now contaminated with this deadly D.U.? Prepare to be shocked.
"Referring to the map, with Afghanistan's capital Kabul as the centre, depleted uranium affected region includes Pakistan, entire northwest India, parts of Nepal, parts of China, major regions of Central Asian Republics, Iran, and the Gulf countries, including Dubai and Abu Dhabi, two major financial and trading centres. Taking Baghdad as the centre, the regions affected includes the entire West Asia, parts of Egypt, parts of Greece, Cyprus, regions around the Caspian Sea and islands in the eastern Mediterranean ... The total estimated population within the two circles was about 857 million (See Table) in July 2005." (Ibid., Emphasis added)
Nearly one billion (1,000,000,000) people are thus being daily exposed to deadly Depleted Uranium! Since a person will begin dying if they breath in just ONE tiny speck of D.U. contaminated dust, the chances of 75% of these people dying in the next 20 years is incredibly high. One day, before the White Throne Judgment, President George Bush, Defense Secretary Rumsfeld, generals of the Pentagon, and everyone who aided and abetted this incredible crime will stand condemned for the deliberate genocide of 857 million people! These people will include all Evangelical pastors who stand in their pulpits and do everything in their power to persuade members of their flock that Bush is a Christian and needs to be supported and who deliberatly ignore every bit of evidence to the contrary!
Yet, in all the current news articles accusing President Bush of war crimes, very few ever mention Depleted Uranium as the major crime of which he should be accused. Mass Media is evidently an accomplice in this horrible crime. What else is new?

NEWS BRIEF: "God Forgive America", Another Day In The Empire, March 23rd 2006
"Instead of 'God Bless America', we should put 'God Forgive America' bumperstickers on our cars. Americans, as participants in horrendous war crimes, should ask for forgiveness. America is a killer nation—not only do we kill Iraqis and Afghans, but we are in the process of killing ourselves."
For the next several paragraphs, the author lists the medical afflictions with which Depleted Uranium Poisoning afflicts its victims. Since we have already reported these horrific effects in our Depleted Uranium Section, we shall not cover them in this newsletter, but shall just continue with this author's dialogue.
"In short, we will pay for the crimes of our government—a government several magnitudes more destructive than the Nazis—and so will our children, and our children's children ... Bush tells us nuclear war (and using depleted uranium is indeed nuclear war) is required in order to save us from 'al-Qaeda', a phantom created by the very government Bush represents ... God forgive Americans who tune out reality in preference for televised football games and sit-coms while a pathological government kills hundreds of thousands of innocent people in their names. If you believe in God, now is the time to ask for forgiveness. Now is the time to get off the sofa and out of the gym or mall and demand that your government stop murdering not only Iraqis and Afghans, but the entire planet with depleted uranium and other war-making toxins and poisons. It will be too late on the day you sit helplessly by and watch in horror as your child dies from cancer caused by depleted uranium blowing in the wind. 'I am death, shatterer of worlds', declared Robert Oppenheimer, head of the Manhattan Project, quoting the Bhagavad-Gita, after the explosion of the first atomic bomb."
"Let's call a spade a spade—this largely ignored horror has a name: omnicide, the murder of all life on the planet. God forgive America" (Ibid.)
What does Prophecy predict?
Seal Two -- "And when he had opened the second seal, I heard the second beast say, Come and see. And there went out another horse that was red: and power was given to him that sat thereon to take peace from the earth, and that they should kill one another: and there was given unto him a great sword." (Rev 6:3-4)
Seal Four -- "And when he had opened the fourth seal, I heard the voice of the fourth beast say, Come and see. And I looked, and behold a pale horse: and his name that sat on him was Death, and Hell followed with him. And power was given unto them over the fourth part of the earth, to kill with sword, and with hunger, and with death, and with the beasts of the earth."
(Rev 6:7-8)
America's second Skull & Bones President in the past two decades is leading the way in possibly setting up the final scenario by which 25% of the people of the world may die. War will break out and many of the deaths will occur from that, but Depleted Uranium is slowly working its way toward its final climax, reaching its killing height at the time these prophecies are fulfilled.
But, God will not forgive an America whose inhabitants have not asked for forgiveness; rather, He will judge her -- "For her sins have reached unto heaven, and God hath remembered her iniquities." (Rev 18:5)
"Therefore shall her plagues come in one day, death, and mourning, and famine; and she shall be utterly burned with fire: for strong is the Lord God who judgeth her." (Rev 18:8)

Read our teaching on why we firmly believe the Economic Babylon of Revelation 18 is the United States of America! (NEWS1830)
IV. Even as Avian Bird Flu is depicted as spreading over the entire globe, we thank BBC News for having the courage to actually tell the truth!
NEWS BRIEF: "Clue to slow human bird flu jump", BBC News, 22 March 2006
"Scientists believe they may have discovered a reason why the deadly H5N1 bird flu virus cannot yet jump easily between humans. Flu viruses which target man tend to attach to cells further up the airway - maximizing their chances of being passed on by coughing or sneezing. Researchers found the bird flu virus attaches itself to cells deep down in the human airways ... The H5N1 strain of bird flu has spread across Europe, Africa and parts of Asia, and has killed more than 100 people worldwide and infected about 180 since it re-emerged in 2003.
"But it still cannot jump easily from human to human."
As usual, we are warned of dire consequences should this virus actually change to pass from human to human.
"Scientists fear that if it mutates and gains that ability, it could result in a human flu pandemic, with millions of deaths world-wide." (Ibid.)
Remember our revelation in NEWS2088 that Avian Bird Flu is simply SARS renamed? Quoting pertinent sections:
I asked myself whether Avian Bird Flu could possibly be related to SARS, or perhaps even the same disease, just renamed. I sent an email to that doctor of a foreign army who had given me such good, solid medical advice on both Depleted Uranium poisoning and on SARS. I posed this question to this military doctor.
"Is this current Avian Bird Flu a renaming of SARS? SARS was identified as a 'genetic marker' disease aimed specifically at Orientals. And, this Avian Bird Flu seems to be striking primarily Orientals. Is the Avian Bird Flu a renaming of SARS?"
This is the answer email I received, from the doctor of a foreign army:
"Remember that the name SARS means that it is a syndrome ... It appears that they are putting ANOTHER name to this disease: Avian Bird Flu. I conclude that:
1. Either the birds were the first carriers of the disease - the vector - that spread to humans OR
2. Humans were the original vector and it spread to birds, mutated and became much more dangerous this year.
"What appears to be a bioweapon for Oriental DNA became or will become much more by transmission to birds and cats, then mutated virus re-transmits to humans as a different type of the same H5N1 strain. Remember that China has always maintained that SARS was a bioweapon aimed at Orientals ... I have watched it spread to Thailand and Malaysia and other nations that are not PURE Oriental. Saudi Arabia has already banned poultry products coming from Thailand. BIG PROBLEM still, because much of the construction labor done in the Arab countries over here are done by Thai workers, and others from the bird flu regions. If the bird flu is transmitted by a worker, then everyone will be in danger, despite the ban on poultry products. These countries will have to seal their borders to humans as well."
Another source is also saying that Avian Bird Flu is simply SARS Renamed.
NEWS BRIEF: "At One Time They Called SARS Bird Flu Says Internist Researcher Lawrence Broxmeyer MD", PR News Now, May 21, 2005
"May 21, 2005 -- In the middle of March, 2003 an unusual but deadly outbreak of 'atypical pneumonia' in a Hong Kong hospital ward started incapacitating Chinese medical personnel. Within one week, its case rate, through contact spread, spiraled and it began to appear not only in other countries in the region, but Europe, North America and Australia.
Researcher Lawrence Broxmeyer MD relates: "CDC began supporting the World Health Organization (WHO) in the investigation of a multi-country outbreak of the 'atypical pneumonia' of unknown etiology, referred to as severe acute respiratory syndrome (SARS). "SARS" says Lawrence Broxmeyer MD, "appeared to be infectious. Fever, followed by rapidly progressive respiratory compromise were the signs and symptoms from which the syndrome derived its name. But its microbiologic origins remained unclear. Virologists were certain that SARS, which at one point looked to be fast evolving into the first global health crisis of the 21st century, was a virus, but the path leading to their conclusion seemed full of confusion."
" 'Confusing', according to Lawrence Broxmeyer, MD 'because the Chinese first isolated an avian influenza A (HSN) virus, however this 'bird flu', possibly from poultry, was soon ruled out .... on April 16, 2003, a novel coronavirus, never before seen in human or animals was proclaimed by WHO officials to cause SARS' .... "Then there was, once again, all of this talk of 'viruses' jumping species, this time the corona virus. But 'jumping species' is no catchword for 'viruses', although these days it seems to be used as one', emphasized Lawrence Broxmeyer, MD."
Therefore, Avian Bird Flu is simply a genetically created disease which shall be triggered at the right moment to mutate so that it can pass easily from human to human. Then, a very strong "population reduction" disease carried by birds throughout the world will be unleashed on mankind. And, the End of the Age prophecy will be fulfilled:
"There will be ... pestilences (plagues: malignant and contagious or infectious epidemic diseases which are deadly and devastating)" - [Luke 21:11; Parallel Bible, KJV/Amplified Bible Commentary)
V. De-escalating tensions over Iran were clearly in view this week. Even as some war rhetoric continued to fly, concrete steps to reduce the tensions were clearly visible. The Illuminati is clearly not ready yet to spark World War III.
NEWS BRIEF: "Russia digs in against U.N. Council action on Iran", The Star News, March 23, 2006
"UNITED NATIONS (Reuters) - Russia's foreign minister on Wednesday firmly rejected a draft U.N. Security Council statement aimed at pressuring Iran to stop enriching uranium, despite a new offer of amendments by Western powers .... The next step is likely to be bilateral contacts among ministers of the council's five veto-wielding permanent members, the United States, France, Britain, China and Russia. The five powers' U.N. ambassadors met again on Wednesday but failed to reach agreement on a draft council statement proposed by France and Britain, participants said.
"Russian Foreign Minister Sergei Lavrov said in Beijing, 'The draft includes points that effectively lay the groundwork for sanctions against Iran. We will hardly be able to support this version of the draft', he added, according to Moscow's Interfax news agency. Lavrov said the draft text was 'effectively aimed at removing the Iranian nuclear issue from the IAEA (International Atomic Energy Agency) agenda and referring it to the U.N. Security Council. It is wrong'."
"The next step is likely to be bilateral contacts among ministers of the council's five veto-wielding permanent members, the United States, France, Britain, China and Russia."
Right on cue, Russia is prepared to exercise her veto authority in the UN Security Council in order to stymie any effort to censure Iran through the United Nations. As we stated before, China and Russia maneuvered this issue into the UN and away from any unilateral actions by the United States, Great Britain, or Israel. Once these three powers agreed to take this issue before the UN Security Council, Russia and China had won the battle.
This next story reiterates that China and Russia are of one accord on this Iranian issue.
NEWS BRIEF: "China repeats that it is in accord with Russia on Iran", Reuters News, March 23, 2006
"BEIJING (Reuters) - China said on Thursday, a day after Russian President Vladimir Putin left Beijing, that Beijing and Moscow are in accord on Iran's nuclear standoff with the West ... A spokesman for China's Foreign Ministry, Qin Gang, said President Hu Jintao and Putin discussed Iran during Putin's two-day visit. 'China and Russia exchanged views and both sides agreed the Iran nuclear issue should be resolved through diplomatic means', Qin told reporters. Hu and Putin agreed that 'all the related parties should display flexibility and patience', Qin added. "China supports Russia's active efforts to appropriately resolve the Iran nuclear issue."
"Russia, backed by China, wants to delete large sections of the draft statement the Security Council has been studying for nearly two weeks as a first reaction to Iran's nuclear research, which the West believes is a cover for bomb-making. Iran insists it wants only to produce electric power ... Qin said on Tuesday China supported a Russian compromise proposal that would allow Iran to use nuclear fuel enriched in an internationally monitored plant on Russian soil, easing fears that Tehran could divert atomic material to develop weapons."
With this kind of major power backing, Iran seems ready to ride out the battle.
Iran and Russia are cooperating at this time, and will one day cooperate to fulfill Ezekiel 38-39. Listen to the Scripture:
"Son of man, set your face against Gog, of the land of Magog, the prince of Rosh, of Meshech, and of Tubal, and prophesy against him, And say, Thus says the Lord God: Behold, I am against you, O Gog, chief prince (ruler) of Rosh, of Meshech, and of Tubal. And I will turn you back and put hooks into your jaws, and I will bring you forth and all your army, horses and horsemen, all of them clothed in full armor, a great company with buckler and shield, all of them handling swords-- Persia, Cush, and Put or Libya with them, all of them with shield and helmet ..."
The "prince of Rosh" is modern-day Russia and "Meshech" is the ancient name for Moscow. Clearly, this prophecy is saying that God will turn Russia around and bring her against Israel; note that "Persia" (Iran) is marching with her. This prophetic fact is one of the big reasons I do not believe that Iran will be attacked by either Israel or America.
This reality is the substance of the next news article.
NEWS BRIEF: "US wants to cool down Israel through talks with Iran", Islamic Republic News Agency, March 22, 2006
"A noted defence analyst in Pakistan on Wednesday welcomed Iran's and the US' readiness for talks over the Iraq situation. Lieutenant General (Ret'd) and ex-chief of Inter-Services Intelligence (ISI) Hameed Gul hailed the US' and Iran's decision to hold parleys on Iraq, saying the American nod for talks was aimed at cooling down Israel. He maintained during an interview with IRNA that the Zionist regime appeared bent on resorting to military action against the Islamic Republic but that the US was opposed to any such extreme measure keeping in view its precarious position in Afghanistan and Iraq. 'In case Israel mounts military operation against Iran there is likelihood of eruption of World War III as oil supplies across the world will be disrupted', he contended."
The general is absolutely correct: should Israel attack Iran, World War III will ensue, before Israel has pulled out her settlers from the West Bank -- an operation likely to take to the end of this year, at least. Believe me, the Illuminati is not going to allow World War III to begin until Israel has completed both her Security Fence and the settler withdrawal.
This next story speaks directly to the supposed threat the plan the Iranians were said to be pursuing of allowing her crude oil to be purchased in Euros, a plan which would begin to undermine American Dollar dominance. Some analysts have suggested that one of the reasons President Bush was threatening Iran with war was to prevent her from allowing her oil to be purchased in Euros.
NEWS BRIEF: "Iran denies reports it will open euro oil exchange", Russian News and Information Agency, March 20, 2006
"TEHRAN, March 20 (RIA Novosti) - Iran denied Monday media reports that it was to open a euro-based oil exchange. 'We have no information on opening an oil exchange in the free economic zone on Kish Island [southern Iran]', a spokesman for the Iranian Oil Ministry told RIA Novosti ... Some media reported Monday that oil would be traded exclusively in the European currency at the Iranian exchange. Experts said the transition to euro from dollar in payments for oil could cause a default of the U.S. currency. All oil deals are currently made in dollars, allowing Washington to maintain permanent demand for the national currency."
Suddenly, the air seems to be quietly seeping out of this balloon. The trend toward de-escalation of this rhetorical conflict seems firm.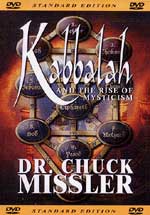 VI. The deliberate campaign to discredit President Bush continued this past week. Remember, the objective is to bring him down to absolute political ruin, so National Sovereignty and Fundamental Christianity can be discredited so badly that no national leader could ever again make a major decision again unless the UN allows him, and so that the prophesied persecution of Christianity can begin.
NEWS BRIEF: "Democrat leader blasts 'dangerously incompetent' Bush", Ireland On-Line, 23/03/2006
"Senate Democratic Leader Harry Reid has called US president George Bush 'dangerously incompetent' and says the administration should be doing more to prevent increasing sectarian violence in Iraq ... Reid said the US was 'failing three different ways in Iraq'. Military efforts had lagged, the economy was crippled by decreased oil and electricity production, and attempts to form a representative government were behind schedule ... Reid also criticised Bush's statement on Tuesday that his successor in the White House would probably be responsible for deciding when US troops leave Iraq."
" 'To me it shows how dangerously incompetent he is', Reid said. 'Stay the course, mission accomplished, bring 'em on'…the American people are sick of that. We need to change course in Iraq … I think the president burying his head in the sand is not going to do the trick'."
"I don't know how you define civil war. We know they're killing an average of 50 Iraqis a day. At least it's a low-grade civil war', he said."
When a Democrat House Representative calls the President of the United States "incompetent", that statement represents a significant escalation of the political rhetoric.
This next segment may make you want to cry, for it reveals the cold-hearted nature of our political and military leaders.

NEWS BRIEF: "Iraq misadventure has left Bush alone in the world", by Gary Younge, Dawn News, March 21, 2006
"LONDON: Shortly before the first Gulf war the recently retired chairman of the United States joint chiefs of staff, Admiral William Crowe, went for lunch with his successor, Colin Powell. In words that resonate today, Crowe warned Powell that 'a war in the Middle East — killing thousands of Arabs for whatever noble purpose — would set back the US in the region for a long time. And that was to say nothing of the Americans who might die'."
"But despite his own misgivings, Crowe clearly believed military intervention was likely in the interests of presidential prestige. 'It takes two things to be a great president', he told Powell. 'First you have to have a war. All the great presidents have had their wars. Two, you have to find a war where you are attacked'."
Given this historical truth, can you see how the attacks of 9/11 were such a "godsend" to President Bush? His nation had been attacked -- if you believe the official version -- and now he could launch a war which could elevate him to the zenith of historical accounting, making him a "great President". Yet, Bush has not achieved anything of historical greatness, as this next segment makes quite clear.
"Six years into his presidency it is difficult to think of a single, substantial foreign policy initiative that US president George Bush has pursued that did not involve war, or the threat of it. There is good reason for this. It is the one area in which America reigns supreme ... Yet, greatness eludes him ... in displaying his strength in such a brash, brazen, reckless and ruthless manner, Bush has asserted power and lost authority and influence both at home and abroad.
"With his approval ratings at Nixonian lows and the mid-term elections on the horizon, many of his fellow Republicans regard him as a liability. Stumbling across the political landscape, rallying support for lost causes, he resembles Ernest Harrowden in The Picture of Dorian Gray, a character whom Oscar Wilde described as 'one of those middle-aged mediocrities, who have no enemies, but are thoroughly disliked by their friends'."
"In practice this translates into a perverse version of carrot-and-stick diplomacy. Offer your adversary a carrot and then threaten to whack them with the stick while they are eating it."
"But as events in Iraq have soured, the ability of the Bush administration to deliver on these threats has diminished considerably. With its military overstretched and its diplomatic goodwill spent, it has been forced back to the table from a relative position of weakness, because nobody trusts it or particularly fears it. If anything, both Iran and North Korea have been emboldened by its failures in the Gulf."
" ... in invading Iraq, Bush fulfilled only half of Crowe's criteria for a great presidency. Despite efforts to convince the world otherwise, the war for which he will be remembered — Iraq — had nothing to do with why the US was attacked on September 11. On its own, that would be a moral issue of lying to the public. What has transformed it into a political problem is the dire situation on the ground in Iraq. The most important single factor that shapes Americans' attitudes to any war is whether they think America will win... Over the past year, the percentage of Americans who believe the US is 'certain to win' has plummeted from 79% to 22%; those who are either certain it will not win or believe this to be unlikely have risen from 1% to 41%.
"They are in big trouble Bush's speeches, even as late as December, managed to shore up public opinion a little bit. But what you can do with speeches at this point is pretty limited. It's not even clear who's listening'." (Ibid.)
Remember immediately after American forces occupied Baghdad and ripped down Saddam's statue? In the midst of American jubilation, Cutting Edge warned, "We don't know exactly how this will play out, but this war must be seen in the end as a disaster for President Bush". The Illuminati had fought two world wars, and the Korean War, in order to destroy the concept of National Sovereignty, i.e., the authority of a national leader to take action he feels is right for his nation, no matter what the international community decreed.
Since Bush ordered the Iraqi invasion on the basis of his authority as a national sovereign, if he was successful in Iraq, the concept that no sovereign could act against the United Nations would be very damaged, perhaps irrevocably. For this reason, Bush's war in Iraq had to ultimately fail. We knew the overall Plan in April, 2003, just not the specific steps needed to get to that point. Now we know -- and President Bush is ultimately going to be thoroughly discredited -- for ordering the invasion even though the UN refused to authorize the attack.

Now, let us examine a story which shows a familiar tactic the President is using to defend his policies -- creating a rhetorical "straw man" and then demolishing him.
NEWS BRIEF: "AP's Bush 'Straw Man' Story: News Analysis Or Unlabeled Opinion?", by Joe Strupp, Editor & Publisher, March 22, 2006
"The story, posted by AP last weekend, cited the president's habit of using phrases such as "some say" or "some believe" when introducing a viewpoint that challenges his own. One example Loven noted was Bush saying 'some look at the challenges in Iraq and conclude that the war is lost and not worth another dime or another day'. She also cited his recent statement that 'some say that if you're Muslim you can't be free'."
"Loven then contends that 'hardly anyone in mainstream political debate has made such assertions'. But she notes that Bush, in presenting opposing views in such a 'straw man' way, sets himself up well to fire back, often appearing in defense of his viewpoint or as an underdog. 'The device usually is code for Democrats or other White House opponents', Loven writes about the 'some' to which he refers. 'In describing what they advocate, Bush often omits an important nuance or substitutes an extreme stance that bears little resemblance to their actual position'. She adds that 'he typically then says he 'strongly disagrees' -- conveniently knocking down a straw man of his own making."
We have noted how President Bush and his speechwriter make much use of the occult technique known as "Neuro-Linguistic Programming" -- a type of speechmaking designed to appeal to the subconscious level of the targeted audience. In this manner, Bush can appeal to his christian and/or conservative base by using code words as he speaks. However, this type of speechmaking is more rhetorical -- more of a debating tactic.
By creating his own enemy -- the "straw man" -- President Bush can then act tough, like a Texas cowboy, as he demolishes the weak enemy he has just created. Another tactic, another technique, to control his masses of supporters.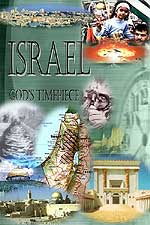 VHS

or DVD

-- Israel - God's Timepiece
VII. Israel plans to hold its election on March 28.
NEWS BRIEF: "IDF Elevated to Highest Terror Alert Ahead of Elections", Israel National News, March 24, 2006
"Defense Minister Shaul Mofaz has ordered security forces to the highest possible state of alert, ahead of national elections this Tuesday. Strict anti-terror measures will take effect Sunday. As national elections near, terrorists have been increasing activity on all fronts within Israel and along Israel's borders. Several terror incidents were perpetrated during the past week, while others were prevented by security forces operating with maximum vigilance. A state of emergency has been declared through the end of the month. Mofaz insists that terrorists must not be allowed to influence Israel's democratic process by perpetrating large-scale attacks. "We must do everything to protect Israeli citizens on Election Day," Mofaz stated during a security evaluation held in his Tel Aviv office."
Remembering the proven propensity of Palestinian terrorists to carry out large-scale terror attacks which began in 1982, I do not doubt for a minute that terrorists would love to try to wreck Israel's election process. Since Israel has withdrawn from The Gaza Strip, the Palestinian ire against the Jew has dramatically increased, making this pre-election process that much more perilous.
The #1 issue of the hour is whether Unilateral Withdrawal will carry forward. Toward that end, the Kadima Party is totally committed. Evidently, voters agree with this policy -- that is, if you believe polls and election results. Remember, Israel has been planning this forced evacuation of its citizens from areas primarily Palestinian since 1990! Current politicians cannot be allowed to fail at this late date.

NEWS BRIEF: "Israel's Kadima still leads with 34 to 36 seats in polls", China View, March 22, 2006
"JERUSALEM, March 22 (Xinhua) -- Israel's centrist Kadima party still leads in public polls with 34 to 36 seats as the country is heading to its general elections on March 28 .... With less than a week before the elections, latest polls indicate that Kadima, with a projected 34 to 36 seats, is well ahead of its two major rivals, the center-left Labor with 17 to 21 seats and the center-right Likud with only 14 seats in the 120-member Knesset ... However, the expected voter turnout remains low with only 65 percent saying they would definitely go to vote on the election day next Tuesday, said the Ha'aretz poll."
"The Ha'aretz poll suggests that Acting Prime Minister Ehud Olmert, who heads the Kadima in the elections, will not have to sacrifice too many government guidelines or senior portfolios when forming a coalition after the elections."
If the Kadima Party gains such a solid majority it will not have to form a fragile Coalition government, and the rough road to Unilateral Withdrawal will be smoothed considerably.
All new readers have to be reminded that what these Unilateral Withdrawals are accomplishing is removing Jewish setters from "harm's way" so that, once they have been removed, Israel can treat the entire Gaza Strip and West Bank as an enemy "fire zone" and annihilate all Palestinians once and for all. This exceedingly harsh destruction of an entire people will fulfill God's End of the Age prophecy against the "House of Esau" -- the Palestinians -- in Obadiah 15-18. Read NEWS1422 for full details; remember, this article was posted in October, 2000.
The following articles provide more detail to the original NEWS1422: NEWS1620 and NEWS2095.
Discerning conservative Jews know all too well the short-term destruction this withdrawal will bring to the poor Jews caught up in it.
NEWS BRIEF: "Kadima withdrawal will bring Kassam terror rockets to Tel Aviv", Jerusalem Watchman, March 23, 2006
"It's insane, but if the myriad polls assaulting us in the final countdown to March 28 convey anything like an accurate forecast, most Israelis are poised to vote for parties that will place the country's largest population centers directly in the line of Arab fire ... According to the pundits, Kadima head Ehud Olmert will almost certainly be asked to form the next government. And yesterday he insisted that he will not allow any parties that do not support his 'convergence plan' to join. This 'convergence' plan (Olmert's version of Ariel Sharon's 'disengagement') will see Israel's 'final borders' unilaterally drawn in the coming months ... From behind the wall and fence that will mark this boundary line, rockets and mortars will soon begin to fall on Tel Aviv, Herzliya and Netanya – the cities on Israel's coastal plain."
"What's so bizarre about this is that far and away the majority of those who vote left live in this coastal plain – a 60 km-long stretch of land that runs up the Mediterranean from just south of Tel Aviv to just north of Netanya. Narrow, its width shrinks from a little over 20km at its widest point to just 15 km at its narrowest. Also located here is Israel's sole international airport, in a very real sense its lifeline with the rest of the world. It's a plain – flat land. Looming over it are the mountains of Samaria and Judea – the high ground Olmert has decided to abandon once and for all. A full 75 percent of the entire population of Israel lives in this small coastal area. The rocket rain that, since last August, has daily tormented the people living near the Gaza Strip will soon be falling on their heads."
'Soon the undiminished threat from north and south will be supplemented by the new threat from the east; a threat made possible by Olmert's Kadima together with Labor and other non-Zionist parties that despise Israel's illustrious history and are willing to scorn her God-given birthright. The country will be attacked on three fronts. Tel Aviv's Jews have by and large shown little interest in, and demonstrated little sympathy for, the threatened Israeli populations in the north and the south. If they succeed in putting Olmert into office they will soon be endangered too."
This entire withdrawal plan is insane -- if you accept Conventional Wisdom and simple logic. Only when you realize that what Israel is really preparing to do is to carry out the prophesied genocide does this entire crazy Unilateral Withdrawal Plan makes sense. Israel is inviting attack, knowing that she has the superior firepower that will prevail even if the enemy horde is scaling the gates! This predictable all-out Palestinian attack will give Israel the excuse to launch her deadly counterattack.
Listen to God's fearsome judgment against the Palestinians, the modern-day descendent of the "House of Esau".
"And the house of Jacob shall be a fire, and the house of Joseph a flame, and the house of Esau for stubble, and they shall kindle in them, and devour them; and there shall not be any remaining of the house of Esau; for the LORD hath spoken it." (Obadiah 1:18)
THIS preparation to fulfill this prophecy is the key to understanding the timing of the next terrorist attack, the attack on Iran (if it is to ever occur), the onset of World War III, the collapse of the world's economies, and a host of other planned events. None of these planned events will occur until Israel has removed her settlers from the "killing zone".
Now, let us look at the preceding verse, Obadiah 17: "But upon mount Zion shall be deliverance, and there shall be holiness; and the house of Jacob shall possess their possessions. (Obadiah 1:17)
This verse means that, once Israel annihilates the Palestinians, she will reocuppy the lands she is now giving up and she will expand her control - to all the lands God promised Abraham. These lands include all Lebanon, Syria up to Damascus, Jordan's provinces of Edom and Moab, Western Iraq up to the Euphrates River, and the Sinai.
Therefore, Israel is just carrying out a "strategic retreat" when she withdraws from the Gaza Strip and West Bank. She is not giving up these lands permanently.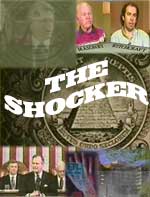 VII. Despite sunny assurances from President Bush as to how wonderfully events are occurring in Iraq, fearsomely bloody attacks rent the country. And, American ally Jordan trumpeted forth a somber warning.
NEWS BRIEF: "Jordanian prince warns of Iraq's 'disintegration' ", The Manila Times, March 23, 2006
"SAO PAULO: Prince Hassan bin Talal of Jordan warned here Tuesday that Iraq was at risk of splintering into a "mosaic" of minorities that could affect the entire region. 'My fear is that we are descending in a spiral of concerns over the future into a disintegration—a mosaic of ethnic and sectarian minorities which could affect the region as a whole', he said at a news conference in the cosmopolitan Brazilian city of Sao Paulo ... The prince spoke after a meeting of the Club of Rome at the headquarters of the Sao Paulo state federation of industries. Talal is president of the global think tank, which is a nonprofit, nongovernmental organization that brings together scientists, economists, business leaders and politicians."
Notice that the Jordanian prince was speaking to the infamous Illuminist "Club of Rome". Now you know what kind of ruler the Jordanian king truly is, and which side he is on.
"The uncle of Jordan's King Abdullah II criticized as semantics a debate unleashed by statements Sunday by former Iraqi interim Prime Minister Iyad Allawi, who insisted his country is in the grips of civil war. US generals and officials disagreed with Allawi, saying the country was not yet in a civil war. 'We are facing a situation of potential disintegration in the region as a whole', the prince said."
The prince is warning about regional disintegration, a warning we have been shouting for three years. When you deliberately break up the iron-fisted rule of a dictator like Saddam Hussein, and then refuse to commit the numbers of troops you need to successfully defeat the insurgency, you are planning to fail. Of course, failure to establish Iraq as a firm democracy seems part of the Illuminati plan -- for the real goal was to eradicate with D.U. numerous "Non-Integrating States", whose economies could never successfully meld into the coming planned global economy.

NEWS BRIEF: "Gunmen Free Captives, Kill 20 at Iraq Jail", By VANESSA ARRINGTON, Netscape News, March 21, 2006
"BAGHDAD, Iraq (AP) - About 100 masked gunmen stormed a jail near the Iranian border at dawn Tuesday - cutting phone wires, firing rocket-propelled grenades and killing 20 security men - in an operation that freed 18 fellow insurgents who had been captured in police raids just two days earlier. Police also said 15 other captives were sprung in the daring assault on the Muqdadiyah lockup and at least 10 insurgents were killed ... With the telephone lines cut, the insurgents had 90 minutes to battle their way into the law enforcement compound before police reinforcements showed up from the nearby villages of Wajihiyah and Abu Saida."
"By the time the insurgents fled, taking away the bodies of many of their dead compatriots, nearly two dozen cars were shot up and set on fire and the jail was a charred mass of twisted bunk bed frames and smoldering mattresses ... Both U.S. and Iraqi military officials had said last year that the area was no longer an insurgent stronghold, but Tuesday's attack showed the militants still could assemble a large force, capable of operating in the region virtually at will. The insurgency's strength, spiraling sectarian violence and the continuing stalemate over forming a government in Iraq have led politicians and foreign policy experts to say Iraq was on the brink or perhaps in the midst of civil war."

NEWS BRIEF: "US Troops Shooting Any Iraqi Who Moves", by Patrick Cockburn, Counter Punch, March 22, 2006
"The US military is investigating two incidents in which American soldiers killed at least 26 Iraqi civilians and then claimed that they were either guerrillas or had died in cross fire. The growing evidence of retaliatory killings of unarmed Iraqi families, often including children, by US soldiers seemingly bent on punishing Iraqis after an attack, will spark comparisons with the massacre of Vietnamese villagers at My Lai in 1968. US troops have been notorious among Iraqis for their willingness to shoot any Iraqi they see in the aftermath of an insurgent attack. But it is only now that convincing and detailed information is becoming available about the killings."
"... an official investigation found that 15 of the civilians had been deliberately killed by US soldiers. The Marines claim they heard shots coming from the direction of Waleed's house. They burst in to the house and Eman heard shots from her father's room. They then entered the living room, where the rest of the family was gathered. She said: "I couldn't see their faces very well - only their guns sticking in to the doorway. I watched them shoot my grandfather, first in the chest and then in the head. Then they killed my granny."
"The US soldiers started shooting in to the corner of the room where Eman and her eight-year-old brother, Abdul Rahman, were cowering. The other adults in the room tried to protect the two children with their bodies and were all shot dead. Eman and her brother were both wounded. 'We were lying there, bleeding and it hurt so much. Afterwards some Iraqi soldiers came. They carried us in their arms. I was crying, shouting, 'why did you do this to our family?' And one Iraqi soldier tells me, 'we didn't do it. The Americans did it'."
The British have long criticized the American attitude toward Iraqi citizens, claiming that the Americans consider these civilians to be sub-human -- a fact Cutting Edge has written much about since the invasion began.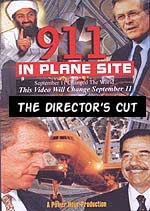 IX. Actor Charlie Sheen threw gasoline on the smoldering debate as to whether the official 9/11 story was true. Reaction was huge.
NEWS BRIEF: "Actor Charlie Sheen Questions Official 9/11 Story", by Alex Jones, Prison Planet, March 20, 2006
"Actor Charlie Sheen has joined a growing army of other highly credible public figures in questioning the official story of 9/11 and calling for a new independent investigation of the attack and the circumstances surrounding it. Over the past two years, scores of highly regarded individuals have gone public to express their serious doubts about 9/11. These include former presidential advisor and CIA analyst Ray McGovern, the father of Reaganomics and former Assistant Secretary of the US Treasury Paul Craig Roberts, BYU physics Professor Steven Jones, former German defense minister Andreas von Buelow, former MI5 officer David Shayler, former Blair cabinet member Michael Meacher, former Chief Economist for the Department of Labor during President George W. Bush's first term Morgan Reynolds and many more."
"Sheen agreed that the biggest conspiracy theory was put out by the government itself and prefaced his argument by quoting Theodore Roosevelt in stating, 'That we are to stand by the President right or wrong is not only unpatriotic and servile, but is morally treasonable to the American public' ... 'It seems to me like 19 amateurs with box cutters taking over four commercial airliners and hitting 75% of their targets, that feels like a conspiracy theory. It raises a lot of questions'."
"Sheen described his immediate skepticism regarding the official reason for the collapse of the twin towers and building 7 on the day of 9/11.
"I was up early and we were gonna do a pre-shoot on Spin City, the show I used to do, I was watching the news and the north tower was burning. I saw the south tower hit live, that famous wide shot where it disappears behind the building and then we see the tremendous fireball. There was a feeling, it just didn't look any commercial jetliner I've flown on any time in my life and then when the buildings came down later on that day I said to my brother 'call me insane, but did it sorta look like those buildings came down in a controlled demolition'?"
"Sheen questioned the plausibility of a fireballs traveling 1100 feet down an elevator shaft and causing damage to the lobbies of the towers as seen in video footage, especially when contrasted with eyewitness accounts of bombs and explosions in the basement levels of the buildings. Regarding building 7, which wasn't hit by a plane, Sheen highlighted the use of the term "pull," a demolition industry term for pulling the outer walls of the building towards the center in an implosion, as was used by Larry Silverstein in a September 2002 PBS documentary when he said that the decision to "pull" building 7 was made before its collapse. This technique ensures the building collapses in its own footprint and can clearly be seen during the collapse of building 7 with the classic 'crimp' being visible."
"Sheen referenced firefighters in the buildings who were eyewitnesses to demolition style implosions and bombs. Sheen outlined his disbelief that the official story of what happened at the Pentagon matched the physical evidence. 'Show us this incredible maneuvering, just show it to us. Just show us how this particular plane pulled off these maneuvers. 270 degree turn at 500 miles and hour descending 7,000 feet in two and a half minutes, skimming across treetops the last 500 meters. We have not been able to confirm that a large commercial airliner hit the Pentagon because the government has seized and refused to release any footage that would show the impact."
We appreciate the fact that an actor the stature of Charlie Sheen has now come forward, making the same points we have been making for over four years now. Please take the time to review our video, "9/11: DIRECTOR'S CUT In Plane Site - Absolute Proof That 9/11 Was Inside Job and Is Now Being Massively Covered Up", for it meticulously destroys the government's official "conspiracy theory"!
When President Bush is finally discredited, will the obviously contrived events of 9/11 be added to his account? We have to wait to see.
---------- Articles Posted ----------
"32-DEGREE FREEMASON COMPLAINS THAT CUTTING EDGE HAS MISREPRESENTED MASONIC BELIEF IN GOD. HE INSISTS THAT THE GOD MASONS WORSHIPS IS THE SAME GOD CHRISTIANS WORSHIP" -- Study of Masonic authors and texts reveals the degree to which this high-level Mason has been consistently lied to by his own superiors! Remember, Masonry is the "Father of Lies" -- we prove it! -- http://www.cuttingedge.org/news/n2121.cfm

* "NUCLEAR ARMED IRAN VS. AMERICA -- WHOM SHOULD THE WORLD FEAR?" -- Since both Iran and America have possessed nuclear weapons for years now, the world can rightly judge whom we should fear regarding how responsible respective leaders have been in using nuclear weapons in warfare. You will discover the nation of which the world should be fearful is the United States -- who has launched four (4) nuclear wars since 1991! -- http://www.cuttingedge.org/news/n2120.cfm
* "PROOF POSITIVE THAT THE BUSH GOVERNMENT DOES NOT HAVE OUR BEST INTERESTS AT HEART!' -- In the "terrorist trial" of Zacarias Moussaoui, the presiding judge angrily suspended proceedings once he learned that Federal Government prosecutors "coached the witnesses" testifying against Moussaoui! Telling witnesses what they are to say on the stand is highly illegal, but considering this was a Death Penalty trial, the prosecutors were acting intentionally to send a possibly innocent man to his death!
Today, the government's victim may be Zacarias Moussaoui - tomorrow, the government's victim may be John Jones or Suzy Smith! -- http://www.cuttingedge.org/news/n2119.cfm

* "ALCOHOLIC WINE II" -- Another Look At Why Fermented Wine Is Not Appropriate For A Communion Service -- http://www.cuttingedge.org/articles/p260.htm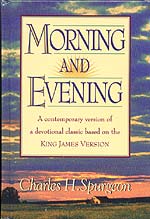 ---------Conclusion----------------"He that cleaveth wood shall be endangered thereby." Ecclesiastes 10:9
Oppressors may get their will of poor and needy men as easily as they can split logs of wood, but they had better mind, for it is a dangerous business, and a splinter from a tree has often killed the woodman. Jesus is persecuted in every injured saint, and He is mighty to avenge His beloved ones. Success in treading down the poor and needy is a thing to be trembled at: if there be no danger to persecutors here there will be great danger hereafter.

To cleave wood is a common every-day business, and yet it has its dangers; so then, reader, there are dangers connected with your calling and daily life which it will be well for you to be aware of. We refer not to hazards by flood and field, or by disease and sudden death, but to perils of a spiritual sort. Your occupation may be as humble as log splitting, and yet the devil can tempt you in it. You may be a domestic servant, a farm labourer, or a mechanic, and you may be greatly screened from temptations to the grosser vices, and yet some secret sin may do you damage. Those who dwell at home, and mingle not with the rough world, may yet be endangered by their very seclusion. Nowhere is he safe who thinks himself so. Pride may enter a poor man's heart; avarice may reign in a cottager's bosom; uncleanness may venture into the quietest home; and anger, and envy, and malice may insinuate themselves into the most rural abode. Even in speaking a few words to a servant we may sin; a little purchase at a shop may be the first link in a chain of temptations; the mere looking out of a window may be the beginning of evil. O Lord, how exposed we are! How shall we be secured! To keep ourselves is work too hard for us: only Thou Thyself art able to preserve us in such a world of evils. Spread Thy wings over us, and we, like little chickens, will cower down beneath Thee, and feel ourselves safe! (C.H. Spurgeon, "Morning and Evening Devotions")
=======================================================
May Jesus Richly Bless You,
David Bay, Director
866-909-2850 Toll Free Customer Service - Order Line
803-356-2850 Toll Free Customer Service - Order Line
803-356-2860 Fax