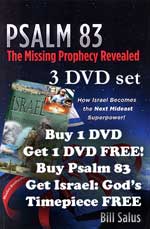 Syrian Government Is Collapsing
In Psalm 83, God lists the nation of Assyria (which includes modern Syria) as one of the nations planning to attack Israel as part of a regional Arab confederacy. The news stories listed below show that Syria may well be in the final stages of a most dangerous collapse.
Is the War of Psalm 83 about to begin?
NEWS BRIEF: "UN to Move Staff Out of Conflict-Ridden Syria", Israel National News, 3/25/2013
"The United Nations is moving about half of its 100 international staff still in Syria out of the country due to the growing danger ..."
NEWS BRIEF: "Jordan shuts Syria border crossing", The Jerusalem Post, 3/25/2013
"Jordan closed its main border crossing with Syria on Monday after two days of fighting there between Syrian troops and rebel fighters..."
Both of these incidents can be seen as a prelude to war. Just prior to the breakout of war, nations remove or dramatically reduce their diplomatic staff. Also just prior to the breakout of war, neighboring nations close their border to prevent a huge influx of refugees.
If Syria participates in an attack on Israel, Isaiah 17:1 will be literally fulfilled, as Israel has already made the threat.
"The mournful, inspired prediction (a burden to be lifted up) concerning Damascus, capital of Syria,. Behold, Damascus will cease to be a city and will become a heap of ruins." (Isaiah 17:1)
Is the 'Psalm 83 War' about to commence? These two DVD titles will enable you to know which nations will be attacking Israel and provide you with maps of the region! Buy 'Psalm 83' DVD and get 'Israel: God's Timepiece' DVD absolutely FREE. Regularly $44.98, Now only $19.99 in this Special Offer, over 6 hours of teaching.
Is this the best value on the Internet - 6 hours of teaching for only $19.99!
Hot New DVD
"Church in the End Times DVD: Weathering The Coming Storm"
by Dr. Chuck Missler
What are Christians called to do during these turbulent times? How can you make a difference in your family, among your friends, and within your community?
This DVD follows the wonderful success of the 'Weathering the Coming Storm' series where Dr. Chuck Missler and Ron Matsen dealt with global, national, and personal issues impacting all of our lives today.
'Church in the End Times' serves as the NEXT STEP in equipping ourselves with the tools and insights we need to be a guiding light to a world coping in the Last Days darkness of chaos and deceit.
Over 2 hours - http://www.cuttingedge.org/detail.cfm?ID=2507
---------- This Week's Hot News-------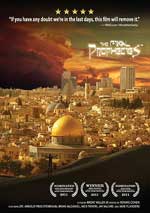 I. "Wars and Rumors of Wars" continue to bombard us -- North Korea announces all-out war preparedness.
She also announces that her target list now includes aiming her missiles at Hawaii, Guam and Mainland America.
NEWS BRIEF: "N. Korea says military to enter top combat ready posture: U.S. Hawaii, Guam called 'targets' ", Yonhap News Agency, 3/26/2013
"North Korea's military will put its missile and artillery units into combat ready posture in order to protect its sovereignty, the country's state media said Tuesday. Officials in Seoul said the level of the war posture may mean the highest alert."
The North Korean high command further explains its heightened combat readiness.
" 'From this moment, the Supreme Command puts all of its field artillery including strategic rocket units and long-range artillery units into the No. 1 combat ready posture', the Korean People's Army's Supreme Command said in a statement carried by the (North) Korean Central News Agency. The artillery units target the U.S. mainland, Hawaii and Guam and other U.S. military bases in the Pacific as well as South Korea', the statement said."
North Korea is well-known for her strident hyperbole, but this action is catching observers by surprise. You see, these are actions, not words. History is replete with strong warnings followed by an increase in military preparedness, and finally, a military attack.
Therefore, diplomats throughout the world are concerned as the new and very unpredictable North Korean dictator struts before news cameras, wielding a significant nuclear arsenal and the missiles with which he can strike these targets: Hawaii, Guam, and the U.S. mainland. Please take a few moments to read an article we posted in March, 2003.
NEWS1781, entitled "NORTH KOREA HAS 100 NUCLEAR WARHEAD ARSENAL AND INTERCONTINENTAL BALLISTIC MISSILES TO DELIVER THEM TO NEW YORK CITY!"
The Plan of the Illuminati has a very real and a most deadly part for North Korea and her nuclear warheads to play in the World War III scenario. Listen:
"A hair-raising nuclear confrontation in Korea may, towards the end of the period, threaten man's very survival."
The very fact that the North Korean dictator is making these threats and ordering his army to attack foreign targets tells us that the world has entered into the "end of the period" of the plan to start the global war designed to stage Antichrist on the world scene.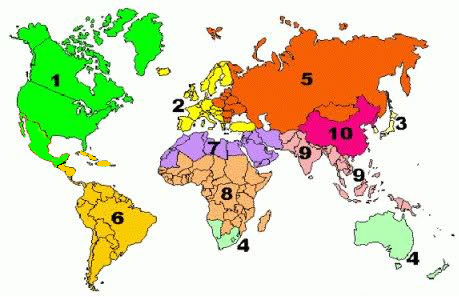 II. President Obama is taking one more step to create the North American Union.
He is proposing that all illegal immigrants be provided a clear and easy path to full citizenship.
NEWS BRIEF: "Obama Repeats Call for 'Pathway' to Citizenship for Illegal Aliens ", CNS News, 3/25/2013
"President Barack Obama on Monday reiterated his call for a 'pathway' to citizenship for illegal aliens and said one of his goals is to ensure that 'citizens don't have to wait years before their loved ones are able to join them in America'."
"He also said he wants Congress to take up immigration legislation next month."
One of politic's "dirty little secrets" is that this issue of granting illegal immigrants a "pathway" to "citizenship" is really a "pathway" to creating the North American Union, which is Supernation #1 in the Club of Rome map, shown above.
Republican President George W. Bush and Democrat President William Clinton both advocated that illegal immigrants be provided citizenship, but the political muscle of Conservative Republicans prevented this action being taken.
But, now that Barack Obama has been reelected and is heavily backed by a growing number of Hispanics, the time may be right to ram this legislation through.
However, remember that this "citizenship" being bantered about is NOT American citizenship. No, these illegal immigrants will be made citizens of the North American Union, just as American and Canadian citizens will be.
When this legislation finally is enacted, we all shall be North American citizens!
I cannot think of a more sneaky way to implement this Supernation #1, eliminating our national sovereignty, than this tactic. Can you?
Rush Limbaugh warned that, if the Democrats can pass this legislation into law, the Republican Party will be dead.
NEWS BRIEF: "Limbaugh Warns: Amnesty Would Be 'A Death Sentence for the Republicans' ", CNS News, March 25, 2013
"On his March 19th show Rush Limbaugh declared that amnesty for illegal aliens would be 'a death sentence for the Republicans'."
How can this one action possibly result in the death of an American political party which has successfully survived since President Abraham Lincoln founded it? Rush continues:
"That's because amnesty includes the ability to legally vote, Limbaugh reasoned. Citing poll data, Limbaugh said that 70 percent of Hispanics "say that they believe that government should be the primary source of prosperity." Therefore, Rush says, 'Let's say you have ten million illegals, seven million of them are automatically gonna vote Democrat. Republican Party's finished'."
Limbaugh is right. Why do you think Democrats have vigorously attacked any effort of any law in the past 40 years which is designed to ensure that people not eligible to vote cannot vote. Democrats have successfully fought this concept in dozens and dozens of instances througholut these 40 years.
Today, illegal immigrants can ride Democrat buses from one voting booth to another to another and vote in all of them. The leadership of the Democrat Party seized on this illegal immigration issue as the most important and effective way they could ensure generations of unbroken political power.
Unfortunately, America is at this point right now.
III. In complete harmony with "Climate Change" propaganda, this next news article laments the fact that human beings are moving back into the coastal regions just devastated by storms.
NEWS BRIEF: Into The Maelstrom: US coastal population grows as storms intensify", Science Magazine, NBC News, March 25, 2013
"The percentage of the U.S. population living in counties adjacent to coastline has reached nearly 40 percent in recent years, meaning more of us are exposed to extreme — and extremely costly — coastal storms such as Sandy and Isaac, according to a government report released Monday."
"These coastal counties account for less than 10 percent of the U.S. land area, excluding Alaska, meaning that this growing population is packing into a finite amount of space, one that's increasingly threatened by rising seas, storm surge flooding and damaging winds. 'The real issue is the density, the density is growing enormously', the report's editor, Kristin Crossett of the National Oceanic and Atmospheric Administration (NOAA) National Ocean Service, told NBC News. "
The Global Elite wants people to live away from coastal areas, and are distressed when average citizens have the money to move back after a disaster, enabled with their insurance policies. But, since these Elite always are thinking ahead, they have developed the most draconian solution imaginable.
What is this solution? The United Nations has redrawn the map of every single nation on Earth, mandating which areas humans can live in and which they will be forbidden to live. This horrific map is called "Rewilding" and is drawn up by the United Nations Biodiversity treaties.
The Illuminati has created a most sinister plan entitled the "Rewilding of America". This is their ultimate goal, and it is toward this most horrible end that events are inexoribly moving.
Mikhail Gorbachev, former leader of the old U.S.S.R. Gorbachev said that the "threat of environmental crisis will be the 'international disaster key' that will unlock the New World Order." ["A Special Report: The Wildlands Project Unleashes Its War On Mankind", by Marilyn Brannan, Associate Editor, Monetary & Economic Review, p. 5.]
Extreme Environmentalism is designed to be the leading force in moving the world into the New World Order. The New World Order Plan calls for a rapid and forced reduction in the world's population from the present 6 billion to only 2 billion.4 This Plan also envisions severely restricted usage of the land, all over the world, and a return back to the kind of economy which existed worldwide about 300 years ago.
Before you scoff, let me remind you of the words of Jose Argulles, writing in his "25-Year Plan For The Earth". Arguelles calls for a "5-year phase-out of our industrial civilization", to be implemented by the United Nations! As if this information is not shocking enough, then Arguelles drops the real bomb, as he reveals the Plan for the period, 1997-2002. This 5-year plan will be "Known as the Era of Reseeding, it will thin out major population centers. The human population will be resettled." ["Progress As If Survival Mattered", Friends of the Earth: 1981, p. 68-70, quoting David Brower, Friends of the Earth Chairman, former head of Sierra Club, as quoted in "A Planned Deception: The Staging of a New Age 'Messiah', by Constance E. Cumbey, Pointe Publishers, Inc., East Detroit, MI, 1985, p. 164-5.]
Did you catch that last statement? The human population WILL BE resettled. Major population centers WILL BE thinned out. What no one is telling you is that these areas to be set aside in New World Order planning will be swept of all human living and/or development, as part of the United Nations Biodiversity Protection program, created in 1972. This plan literally conceives of setting aside huge areas of the world where no humans can live -- will be allowed to live -- or work, or play. While this plan is global and is being instituted globally, we will limit our study of it to the United States. [The entire plan is published in a report entitled, "Our Global Neighborhood: The Report of the Commission On Global Governance", Oxford University Press, ISBN 0-19-827997-3, 410 pages long.]
ow, let us refer to this map of the United States, pictured here.
This plan in America is called the "Rewilding" of America. This term means to re-wild this continent. In other words, they plan to sweep aside all evidences of human endeavor, i.e., homes, businesses, structures, entire cities, allowing the land to go back to its natural state, before the wicked White Man took the land from the Native Americans (Indians). Using Presidential Directive, normally exercised through various Federal Government agencies, this "rewilding" project will be accomplished by declaring huge tracts of land completely off limits to humans. These tracts of land would be called 'reserves'. Reserves would "include wilderness areas and national parks while inner buffer zones would permit no agriculture, no more than 0.5 miles of road per square mile of land, primitive camping, and only light selection harvesting of forests. The June 25, 1993, issue of Science magazine reports that the plan calls for 23.4% of the land to be put into wilderness (no human use) and 26.2% into corridors and human buffer zones (very limited use by humans)." [Op. Cit., Brannan, p. 2.]
This is 50% of America!!
One of the great sensitivities United Nations planners exhibited when creating this plan was coastal areas. They truly wanted to sweep coastal areas of all human endeavor. Quite possibly, these planners got their desire to sweep coastal areas from New Age prophecies which predict massive flooding along the coastal areas. We have reprinted the flooding map of the United States below.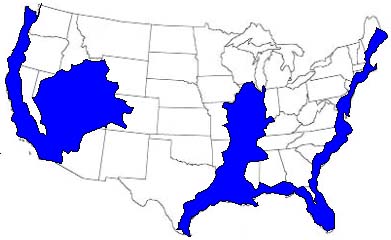 The theme of earth destruction resounds through many of the New Age and Occult prophecies. One of the first to foretell of coming cataclysms at the end of this century was Edgar Cayce, who was known as "The Sleeping Prophet". Cayce's predictions concerning this issue of coastal flooding are startling.
Note that no one disaster will cause all the coastal flooding shown on this map. Coastal flooding as you see here is predicted to be the result of multiple disasters.
Of particlar note is the fact that most of the Gulf Coast is predicted to suffer some sort of cataclysmic disaster which would not only flood the coast, but extend up into the Mississippi River Basin!
Since United Nations leaders are Mother Earth believers, they will be anxious to impliment this "rewilding" project, as it moves people away from the coastal areas. We must be very aware of this future draconian United Nations plan, and act to prevent our legislators from placing America under the the sovereignty of the U.N.
Such surrender of our national sovereignty will prove totally disastrous!
Conservatives who have been urging the United States to get out of the United Nations were completely correct. Do not ever forget that the Rockefellers donated the land in New York City to build the United Nations headquarters because the reason for the U. N. was to be the global government which the Masonic Christ (Antichrist) would control when he came to the world scene!
---
NEW Countdown To Eternity - Volume 5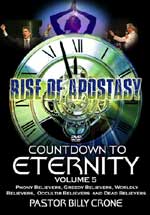 "Countdown To Eternity" DVD: Volume 5
"Phony Believers, Greedy Believers, Worldly Believers, Occult Believers, Dead Believers"
Regularly $39.99, Now Only $19.99
Pastor Billy Crone alerts Christians to several more key prophecies which are uniquely coming to pass right now, in Today's News!
These are the key prophecies he covers:
* Phony Believers
* Greedy Believers
* Worldly Believers Part 1
* Worldly Believers Part 2
* Occultic Believers and
* Dead Believers
Pastor Crone lists major prophetic signs God has given to lovingly wake us up so we'd repent and be saved before it's too late. These prophetic signs are many, but there are 10 REALLY IMPORTANT ones to which we seriously need to pay attention.
Nearly four hours long, 2-DVD Set -- http://www.cuttingedge.org/detail.cfm?ID=2508
NEW COUNTDOWN TO ETERNITY COMBINATION DVD OFFER
"COMBO OFFER: Countdown To Eternity End Times" DVD's
by Pastor Billy Crone
Regularly $79.96, Now Only $49.96 in this Combination Offer
The 'Countdown' To Eternity 5-Volume series takes a look at 10 major prophetic signs God has given to lovingly wake us up so we'd repent and be saved before it's too late. This fresh look at world events through the lens of prophecy is intended to convince unbelievers that the End of the Age is upon us NOW and to urge them to repent while the Age of Grace is still being offered by Jesus.
Each Volume has 2 DVD's lasting 4 hours, so this combination offer has 8 DVD's lasting 16 hours! http://www.cuttingedge.org/detail.cfm?ID=2505
---
More Powerful NEW Headline News Articles For Our Faithful Supporters
Your faithful support enables us to keep Cutting Edge free for everyone else. Our readers have always loved the indepth correct news analysis found in our "Headline News Analysis".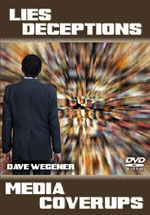 "10th Anniversary of the Iraqi War: At Last, Mass Media Is Admitting The War Was Launched On Lies And Is A Monumental Failure"
Cutting Edge was trumpeting this fact months before Bush's invasion! We knew the Illuminati had planned this war at the 1954 Bilderberg Meeting and we had filtered this knowledge through Bible prophecy and found a precise match.

Iraq's "Operation Enduring Freedom" meant only the 'freedom of the grave" for millions, but the worst is yet to come.
Part 1 of a Series Entitled, "Iraq War: Mad Dash On The 33rd Parallel"
"Powerful Current Positive Proof That America's Economy Is Fascist"
Capitalism is dead and buried. It will take less than a decade to move the entire economy to a Fascist economic system. This development is a major step toward the New World Order.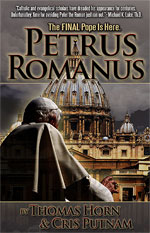 Is The Planned Moment Arriving For The Pope To Preside Over The Building of A Combination Worship Center For All Monotheistic Faiths In Jerusalem?
Israel has signed an historic agreement with the Vatican, giving the Pope a seat at King David's Tomb. Is Rome planning to soon move the throne of the Papacy to Jerusalem? Moving the Papal throne from Rome to Jerusalem would carry enormous End Times religious global implications.

President Obama's State of the Union Address - February 12, 2013 -- Utopian Socialist / Elitist Vision
America's 44th President set forth a Socialist / Elitist vision of a future America which will thrill the Liberals and infuriate the Conservatives. Get ready to be infuriated
"America Is Leading Western Powers In A Full-Scale Invasion of Africa!"
Now that the wars in Iraq and Afghanistan are winding down, the West is in full invasion mode destabilizing a major part of the "Non-Functioning Gap" region of the world. The "Pentagon's New Map Strategy" is being brilliantly followed. Have you noticed? Mass Media is either clueless as to what is occurring or they are part of a worldwide coverup.
==============================================
Support this ministry today with your subscription and get access to this article and ALL headline news articles at Cutting Edge. Your subscription will help us reach a lost world for Jesus Christ. Here is how.
If you will send in a new subscription or renew an existing one, we will give you your choice of the following gifts FREE. Subscribe Now
---
More Values On The Net
Select From 105 Titles!
$9.99 DVD's - Up to 75% Off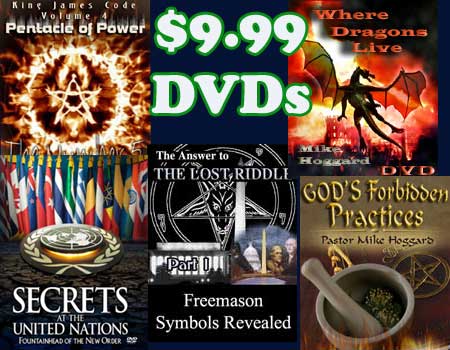 NEW TITLES $9.99 DVD Selection
Also Visit our $4.99 Offers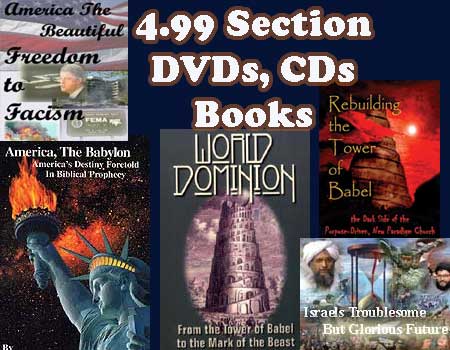 ---

---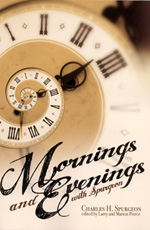 --------Concluding Inspiration ---------"When He cometh in the glory of His Father with the holy angels." Mark 8:38

If we have been partakers with Jesus in His shame, we shall be sharers with Him in the lustre which shall surround Him when He appears again in glory.
Art thou, beloved one, with Christ Jesus? Does a vital union knit thee to Him? Then thou art today with Him in His shame; thou hast taken up His cross, and gone with Him without the camp bearing His reproach; thou shalt doubtless be with Him when the cross is exchanged for the crown.
But judge thyself this evening; for if thou art not with Him in the regeneration, neither shalt thou be with Him when He shall come in His glory. If thou start back from the black side of communion, thou shalt not understand its bright, its happy period, when the King shall come, and all His holy angels with Him. What! are angels with Him? And yet He took not up angels—He took up the seed of Abraham. Are the holy angels with Him? Come, my soul, if thou art indeed His own beloved, thou canst not be far from Him. If His friends and His neighbours are called together to see His glory, what thinkest thou if thou art married to Him? Shalt thou be distant? Though it be a day of judgment, yet thou canst not be far from that heart which, having admitted angels into intimacy, has admitted thee into union. Has He not said to thee, O my soul, "I will betroth thee unto Me in righteousness, and in judgment, and in lovingkindness"? Have not His own lips said it, "I am married unto thee, and My delight is in thee"? If the angels, who are but friends and neighbours, shall be with Him, it is abundantly certain that His own beloved Hephzibah, in whom is all His delight, shall be near to Him, and sit at His right hand. Here is a morning star of hope for thee, of such exceeding brilliance, that it may well light up the darkest and most desolate experience.
---
Directory of all news articles
Free Radio Transcripts

Free Headline News Archives

Freemasonry

What Saith Rome

Teachings from the Catechism

Bookstore

Meet the Staff

Weather Control


May Jesus Richly Bless You,
David Bay, Director
866-909-2850 Toll Free Customer Service - Order Line
803-356-2850 Customer Service - Order Line - For Out of Country Customers
803-356-2860 Fax
Thank you for visiting and Please feel free to E-mail Cutting Edge Ministries if you have any questions about our outreach ministry.