Popular DVD's - Back In Stock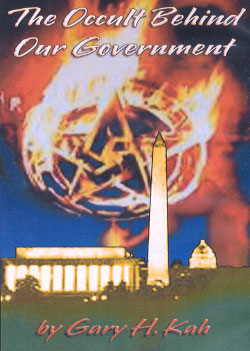 "The Occult Behind Our Government"
DVD by Gary Kah
Have you noticed the extreme dishonesty and even cruelty of the American Government at times? Our politicians on both sides of the political aisle lie to us continuously, and our government established the bloody right to an abortion, protecting that evil practice with all its might and means.
The American Government is getting increasingly occult and intrusive in our lives. Through the Health Care Law, government officials will even be determining which people are allowed to be given life-saving treatment and which will be allowed to die.
Gary Kah, author of En Route To Global Occupation, is a former high-ranking government official who reveals the plans to force a new Satanic World Government and then exposes the Satanic Religion behind the entire conspiracy. 2 hours 30 minutes - http://www.cuttingedge.org/detail.cfm?ID=1875
If our government is controlled by Satanic Forces, the information provided by this next DVD makes a great deal of sense.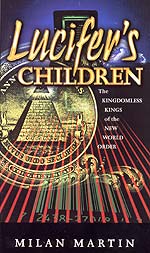 "Lucifer's Children" - DVD
Milan Martin creates one of the most impressive DVD's on the Black Magick world of the evil Elite ever seen. Having read over 300 books and researched for five years, Milan begins with Plato and his warped ideas. He progresses to the Nazis and ends with the Elite of today.
You will learn about the VRIL society, the THULE society, the BLACK SUN organization, Rosicrucians, Golden Dawn Society, Himmler, Hitler, hypnosis, I.G. Farbin, Christian Illuminism, CIA black budgets, FBI division five, Joint Intelligence Objectives Agency, Jekyll Island, Ku Klux Klan, Order of the Black Rose, Tavistock Institute, Teutonic Knights, and much more.
2 hrs. 40 min. -- http://www.cuttingedge.org/detail.cfm?ID=1396
---
---------- This Week's Hot News --------
DVD
I. Federal agents are now boldly accusing the 'christian' militia in Michigan of plotting to overthrow the U.S. government!
Is a propaganda case being built which will one day be used to arrest Christian leaders and accuse them of plotting to overthrow the government?
This premise is not too far-fetched, for the Illuminati Plan speaks of just such a blueprint.
NEWS BRIEF: "Christian Militia accused of plotting war on US government", Excite News, March 30, 2010
"WHEATLAND TOWNSHIP, Mich. (AP) - A ninth alleged member of a Christian militia group that prepared to battle the Antichrist and the U.S. government was arrested after the FBI played recorded messages from family and friends, who urged the man to give himself up, over loudspeakers outside a home in rural Michigan. Joshua Matthew Stone peacefully surrendered to heavily armed authorities Monday night. His father and seven others believed to be part of the Michigan-based Hutaree appeared in court earlier on charges they plotted to kill a police officer and slaughter scores more by bombing the funeral - all in hopes of touching off an uprising against the government."
This scene seems almost unreal. In fact, it sounds as though pandemonium had set in, with pleas being loudly broadcast outside this man's home. Add in numerous FBI special agents and many family and friends, and it seems that the situation was chaotic.
Furthermore, the charges are outlandish. It does not seem as though any person could actually believe that only nine people could incite a significant uprising against the United States government.
But, if these charges are meant to begin a process of propaganda against genuine Christians, then this unfolding scenario makes sense.
United States authorities say they believe they have smashed the conspiracy.
"Most of the arrests came during weekend raids in Michigan, Indiana and Ohio. FBI agents moved quickly against Hutaree because members planned an attack sometime in April, prosecutors said. Authorities seized guns but would not say whether they found explosives. The arrests dealt 'a severe blow to a dangerous organization that today stands accused of conspiring to levy war against the United States', Attorney General Eric Holder said."
Notice the card shown above, one of the many cards in the Illuminati Card Game. Each of the cards is designed to show an action which the Illuminati is going to take in order to overthrow and destroy this present order so that a New World Order can be set in place.
This card tells us that the Illuminati plans to deliver "death to all fanatics".
Therefore, I believe it possible that the Illuminati may have created this group and brought it to this point just so they could make a case against everyone who believes literally in prophecy. We shall discuss this probability later in this segment.
How does a propagandist go about to discredit a huge religious movement that was instrumental in the founding of this nation and still claims about 30 million adherents?
1) The first step is to make a dramatic move against a fringe christian organization whose stated goals are so startling and so repugnant to the vast majority of American citizens that they can thoroughly discredit the fringe group.
2) Then, as the long, drawn-out process of a trial starts, the facts from this trial are so incendiary that the average American citizen just plainly gets mad.
3) The verdict should be so heavy that people are surprised by it, but they conclude that this men must be guilty or else the punishment would not be so strong.
4) The idea slowly takes shape in people's minds that any other conspiracy nuts who might be close to these men in their anti-government position should be arrested and given the same harsh punishment.
5) Gradually, the focus moves toward the center. While people originally believed that this 'christian' militia was so radical that few people shared their beliefs, the propaganda expert slowly controls the flow of news so that more and more Christians who are toward the center are tainted with the same broad brush as the nine original men.
The Waco conflagration is a good example as to how this propaganda brush can move inexorably toward the people in the center. After government forces had killed everyone at Waco, President Bill Clinton took public note of David Koresh's literal belief in the Book of Revelation. Looking straight into the camera, President Clinton intoned, "Maybe we should take a close look at anyone who literally believes in the Book of Revelation'!
Wham! Just like that, the propagandist painted tens of millions of Americans with the extremely broad brush of the "dangers" inherent in a literal belief in the Book of Revelation. Evidence that Koresh's really believed literally in the Book of Revelation is sketchy at best; but, what is not debatable is that Clinton took Koresh's' supposed belief in Revelation all the way to the center, where tens of millions of Americans most certainly live.
That is how propaganda works and I believe we may be seeing the first specific blow being dealt the genuine body of Christians in this country. The process will take time to complete, but the day will come when the secular American looks upon genuine Christians with the type of horror and disgust now reserved for the terrorist.
DVD
II. The nasty word, "Amnesty" for illegal aliens is once again popping up in the news.
"Amnesty" will quickly turn into "North American Citizen"!
NEWS BRIEF: "Next cramdown on taxpayers? It's amnesty and it's ba-a-ck!", World Net Daily, March 29, 2010
"A former member of Congress says last weekend's shooting death of an Arizona rancher on his own land is what will happen more and more unless America takes back its own borders – even as President Obama makes promises that ultimately could reward those who break federal laws to gain entrance to the U.S."
"Obama's latest promises on immigration came as Congress passed his unprecedented takeover of health care ... 'I have always pledged to be your partner as we work to fix our broken immigration system, and that's a commitment I reaffirm today," he said in a video message to open-borders supporters rallying in Washington the same day Congress approved 'Obamacare'."
This next segment comes as close to the truth as any in a long time.
"... Democrats view illegal aliens as votes, and too many Republicans see the illegals as cheap laborers."
Indeed, this issue is bipartisan. Republican President George W. Bush had eight long years in which he could have secured the Mexican-American borders. But, he did not. Bill Clinton likewise did not secure the border. President Obama is also not going to secure the border.
Why on earth have these Presidents so completely "dropped the ball" on this issue?
The answer is simple: these politicians -- Democrat and Republican alike -- do not share your view and my view that these illegal aliens who have come across the border by the tens of millions should be punished in any way.
Their worldview on this subject is far different than ours, but they have not told you yet. These politicians understand that the ultimate goal is to eliminate the borders with Mexico to the south and Canada to the north, so that the North American Union may be established!
Once NAFTA is created, then the problem over illegal immigrants will disappear in a flash! All illegal immigrants will instantly become North American citizens. At that moment, all such immigrants will be granted 'de facto' amnesty, because their new citizenship will automatically grant it.
This is the real goal of our politicians, as they are marching in lockstep toward the creation of supernation #1 -- North American Union -- of the Illuminati's global plan to redraw all sovereign nations into only 10 supernations. And, that, my friends, in another step in fulfilling the 2,600-year-old prophecy of Daniel 7:7-8 (Read full details in NEWS1002, entitled, "NAFTA: The Shocking 'Rest of the Story' ")
As this news of amnesty and of securing our borders unfolds in your daily news, do not allow yourself to be distracted from keeping your eye on the correct target. The phony public rhetoric will try to keep you focused on these false words; rather, stay focused on the creation of the North American Union which will become the final solution of the illegal immigrant crisis.
DVD
III. Female Islamic suicide bombers struck a Moscow subway station during rush hour, killing at least 38 people.
The New York City subway authority immediately took precautionary steps in light of this Russian attack.
NEWS BRIEF: "Female suicide bombers blamed in Moscow subway attacks", CNN World News, March 29, 2010
"Moscow, Russia (CNN) -- Russian investigators combing two subway stations attacked by female suicide bombers think Chechen rebels may have been behind the rush-hour strike that killed dozens of people. 'Our preliminary assessment is that this act of terror was committed by a terrorist group from the North Caucasus region', Alexander Bortnikov of the Federal Security Service said of the investigation at one of the blast sites ... Prime Minister Vladimir Putin said the "terrorists" responsible for the Moscow subway attacks Monday 'will be destroyed'."
What measures are Russian authorities planning to institute to prevent another suicide terrorist attack?
"We are providing Moscow metro with additional CCTV cameras. Today's events show we should not only continue this work but to make it more effective. Changes in legislation may be necessary."
Since suicide bombers wear their bombs strapped underneath clothes, I am uncertain exactly how additional surveillance cameras would stop future bombing. However, a dictatorial government wants as many surveillance cameras as possible, for it enhances their ability to track and arrest dissidents.
Immediately, American authorities began to implement new procedures based solely on the Moscow attacks.
"New York Police Department Deputy Commissioner Paul Browne said police are stepping up security in the New York City subway system."
"In Washington, Metro, the operator of the city's transit system, said it is expanding security in light of the Moscow attacks. Coincidentally, it had a terror drill this past weekend and is holding another one Monday."
"In Atlanta, Georgia, MARTA's police department has heightened security measures throughout the transit system."
Then, the outrage spread to other places on the globe.
"British Prime Minister Gordon Brown said he was 'appalled' by the incident ... "
"Interpol, the international police agency, condemned the attacks and offered help to Russian authorities in the investigation."
Since Russia is attempting to draw the nations into her orbit which are planned to be part of the Illuminati 1-Nation Reorganization Plan, it might be deemed necessary to spawn terrorist attacks on her soil which would present the Russian government with the necessary terror crisis which would facilitate the creation of the Russian / Eastern Europe supernation -- #5 (NEWS1002)
A dictatorial government can facilitate the creation of a supernation than a messy, slow and noisy democracy.
UPDATE:
Indeed, Wednesday headlines screamed the necessity of Russia implementing new police type powers in order to deal with the terrorism racking Russia.
NEWS BRIEF: "President Medvedev Calls for New Anti-Terrorism Laws as Russia Mourns ", Voice of America News, 30 March 2010
"Russian President Dmitri Medvedev is calling for new laws to combat terrorism, as Moscow holds a day of mourning for 39 people killed Monday in twin suicide bombings on Moscow's metro. In televised remarks, the president also called for new measures to increase safety in public transportation and other public places."
"... authorities say the bombings in central Moscow were carried out by two women with links to Islamist insurgents in Russia's restive southern republics. Monday's bombings are the first in the Russian capital in six years."
Just as President Bush and the Congress used the 9/11 attacks as the excuse to pass tough new dictatorial laws, Russia's leaders are carrying out the same tactic. When a strategy works, you might as well use it again and again and again, and in countries all around the world.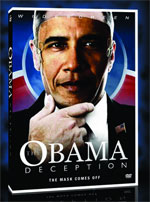 DVD
IV. Israeli citizens are increasingly coming to the belief that President Obama is Islamic in his inner heart and is becoming the major threat to Israel's continued existence.
NEWS BRIEF: "Obama tears up Israel's carte blanche", Times Online, March 28, 2010
"'Let me know if there is anything new," was Barack Obama's final, somewhat contemptuous, instruction to Binyamin Netanyahu, the Israeli prime minister, whom he left in a room at the White House and subsequently stiffed for dinner ... There's now a widening irritation in Washington over Netanyahu's refusal to accept that Israeli intransigence over settlements is badly hurting America's interests around the world. This is a real change."
"... Israel's role as an ally has become muddied. How do you trust an ally that steals British citizens' identities for an assassination? How can the United States make overtures to moderate Arab regimes concerning, say, Iran if the Israelis keep poking the Arab world in the eye over settlements?"
"So who will blink first? Netanyahu can tolerate only a certain amount of international isolation, especially if he wants real American support on Iran. And, in truth, very few of either party support expansion of settlements on the West Bank or in the part of Jerusalem that would be a future Palestinian capital. If Obama were to propose a detailed American two-state solution, he could move the ball forward. In many ways he already has. Simply by challenging Netanyahu so publicly, he has made the Cairo speech he delivered last June seem less of a mirage."
"Remember healthcare. The key thing to understand about Obama is his persistence. And the key thing Netanyahu needs to be reminded of is: Obama has a gift for getting his enemies to destroy themselves."
Remember the Bible and God's many prophecies to Israel at the End of the Age. Many Christians today are not well informed concerning God's wonderful promises to Israel and to her End of the Age security. Therefore, we encourage you to read our treatise on these iron-clad promises of God.
Please read NEWS1010, entitled, "God's Modern Day Miracle -- Israel A Nation Again".
Once you see God's unconditional promises that she will never be plucked off the land again, you will understand that, while Israel is going to suffer greatly during the upcoming trial of Antichrist, Israel will never, ever be destroyed.
NOTE: This newsletter continues below the Twitter announcement.