WEEKLY UPDATES FROM Cutting Edge Ministries, www.cuttingedge.org
4/2/2004      Over 1,200 Articles Posted! Over 100,000 People Downloading A Salvation Page Per Year! (Isa 55:11)
---
---------- Inspiration For the Week--------- "He was numbered with the transgressors." Isaiah 53:12
Why did Jesus suffer Himself to be enrolled amongst sinners? This wonderful condescension was justified by many powerful reasons. In such a character He could the better become their advocate. In some trials there is an identification of the counsellor with the client, nor can they be looked upon in the eye of the law as apart from one another. Now, when the sinner is brought to the bar, Jesus appears there Himself. He stands to answer the accusation. He points to His side, His hands, His feet, and challenges Justice to bring anything against the sinners whom He represents; He pleads His blood, and pleads so triumphantly, being numbered with them and having a part with them, that the Judge proclaims, "Let them go their way; deliver them from going down into the pit, for He hath found a ransom."
Our Lord Jesus was numbered with the transgressors in order that they might feel their hearts drawn towards Him. Who can be afraid of one who is written in the same list with us? Surely we may come boldly to Him, and confess our guilt. He who is numbered with us cannot condemn us. Was He not put down in the transgressor's list that we might be written in the red roll of the saints? He was holy, and written among the holy; we were guilty, and numbered among the guilty; He transfers His name from yonder list to this black indictment, and our names are taken from the indictment and written in the roll of acceptance, for there is a complete transfer made between Jesus and His people. All our estate of misery and sin Jesus has taken; and all that Jesus has comes to us. His righteousness, His blood, and everything that He hath He gives us as our dowry. Rejoice, believer, in your union to Him who was numbered among the transgressors; and prove that you are truly saved by being manifestly numbered with those who are new creatures in Him. [C.H. Spurgeon, "Morning and Evening Devotions", http://www.cuttingedge.org/detail.cfm?ID=599

]
Praise Jesus for all eternity! Notice this true Gospel account of the genuine meaning of Calvary. Please notice that Mary was NOT a Co-Redeemer with Jesus as "The Passion" so falsely portrays. May the truth of Jesus' sacrifice go throughout all the world.
---------- Bookstore Update ----------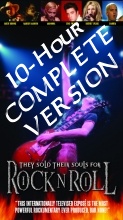 * "They Sold Their Souls For Rock-n-Roll" - 10 full hours - Promotional Offer -- Contains 6 additional updated hours of Rock-n-Roll video clips like the "Lesbian Wedding" of Britney Spears, Christini Aguilar, and Madonna, an event the entire world witnessed as these three divas exchanged lesbian kisses on TV! However, few people realize that these lesbian kisses capped off a simulated Lesbian Wedding!
This full length video series contains 10 hours of eye-popping rare and some never before seen footage that will leave you picking your jaw off the ground, as you see hundreds of artists -- most of whom were not covered in the abbreviated 4-hour version -- being used by Satan to destroy many lives. Come behind the scenes with us as we expose the deceptive agendas of many of yesterday and today's secular artists, such as: Elvis, The Doors, Led Zeppelin, U2, Creed, Madonna, Britney Spears, DMX, Tupac, Tori Amos and many more.
It's time to remove the blinders - guard yourself and those you love from one of Satan's most powerful tools!
This video takes you backstage, showing the true nature and face of Rock stars from the 1950's through today.
Because we realize many of you have purchased the original four-hour video, we are offering the following FREE merchandise if you buy this greatly expanded video: We will give you Seminar 1 on CDROM in MP3 format FREE, which demonstrates the devastating cultural changes produced in our culture by Rock Music and shows how it has changed our culture exactly as the Dialectic Struggle would dictate - Retail is $9.99. We shall also give FREE Bill Schnoebelen's booklet, "Straight Talk On Rock Music and The Church", a $2.49 retail. Thus, you will be getting $12.48 in FREE merchandise when you purchase this blockbuster video expose' on Rock Music. -- http://www.cuttingedge.org/detail.cfm?ID=710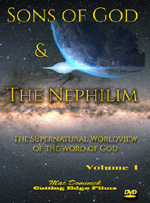 * "The Nephilim Walk Among us Again - End Time Deception" -- DVD - w/FREE Bonus Audio Tape -- Held over for one more week because of strong popularity. Jesus warned in Matthew 24 that "For as the days of Noe were, so shall also the coming of the son of man be". This video features Cutting Edge staff teacher and lecturer, Mac Dominick, who takes us through a Biblical study of Genesis chapter 6 and other books of the Bible to explain just what was happening in the days of Noah and how Angels married Human women and had Children by them, known as Nephilim.

Until April 10, when you order this video, we shall include as a bonus a FREE audio tape, "Aliens, Antichrist and UFO's". This Cutting Edge video will take you through the Bible and show why we believe that this has now happened again. Watch and learn why the Nephilim are back! What are demons, aliens and UFOs and what do they have to do with the days of Noah and the Nephilim spoken of in Genesis that were on the "Earth in those days and thereafter"?
The time is now "thereafter"!
May not play in some older DVD players. - http://www.cuttingedge.org/detail.cfm?ID=709

Bookstore Materials Detailing The Coming UN Government As We Discuss In This Newsletter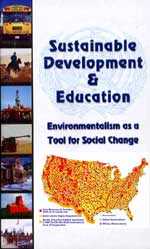 * "U.N. Sustainable Development Now Permeates Education: Extreme Environmentalism Is The Tool For Social Change" - Video - In 2003 UNESCO launched a determined drive to force socialist, Illuminist educational principles into the curricula of every nation in the world. This plan, called Agenda 21, strives to control every aspect of human behavior and actions so that humans will "learn" to live "sustainably" within the limited resources of Mother Earth, according to the New Age religion, pantheism. The type of government planned to control this society will be one of the most repressive in world history.
Private Property is targeted for extinction, even though economists know that only economies protecting Private Property rights are able to generate personal and national wealth. In the guise of promising to liberate the poor, this plan will do just the opposite.
This world nightmare is rolling down the tracks, seemingly unstoppable. Later in this newsletter, we detail how the UN is assuming more and more of the functions of an individual sovereign government, as the Daily News validates this new video! - http://www.cuttingedge.org/detail.cfm?ID=707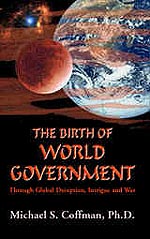 * "Birth of World Government Through Deception, Intrigue, War" -- Book - So, you don't believe world government is being formed? The vast majority of Americans refuse to believe that world government is forming right before our eyes! Even Christians are being deceived. Through unprecedented delusion, pastors, churches, rabbis, and synagogues are promoting this agenda! People simply cannot believe that an absolute totalitarian dictatorship based on satanic mystic pantheism will soon rule every human being on earth. While the average American is denying it, world government is forming and being implemented by the U.S., Europe, Russian, China and throughout the U.N. - http://www.cuttingedge.org/detail.cfm?ID=427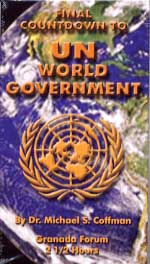 * "Final Countdown To World Government" -- 2 1/2 hour Video - Dr. Michael Coffman, CEO of Sovereignty International, uses actual UN, EU, and US documents to prove how globalist Illuminists have quietly manipulated world events to bring mankind to the brink of world government. Using actual quotes from these priceless documents and related graphics, Dr. Coffman weaves the spellbinding story that puts all the pieces together. You will see how radical environmental issues justifies world government; you will see the link between the UN and you, the private citizen; you will see the emerging antichristian, anti-human world religion, and many more related topics. - http://www.cuttingedge.org/detail.cfm?ID=430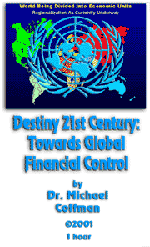 * "Destiny 21st Century: Toward Global Financial Control" - Video - Quietly, behind the scenes, the UN is continuing to implement its agenda to create a world religion and global government. Major thrust is to restructure global financial system to shift all economic power to Bank for International Settlements controlled by private central banks throughout the world. At the heart of this effort is the plan to carve up the world into global economic regions, as many as 10 economic regions. -- http://www.cuttingedge.org/detail.cfm?ID=428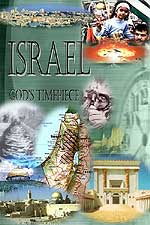 * "Israel: God's Timepiece -- Will Arab, Israeli Conflict Begin WWIII?" -- DVD - As the world trembles on the brink of all-out Regional War, people are asking, "Will Arab – Israeli Conflict Start World War III?" Two full hours of instruction on current events in Israel that will sound like your daily newspaper! This seminar examines the Arab-Israeli conflict, from Old Testament times to our Modern Times. Starts with the God's scattering of the Jews – The Diaspora -- to the founding of Israel in 1948, and finally to the current conflict. The Palestinian issue is thoroughly dealt with, not only in terms of the current struggle, but God's severe plans for them.

Maps, charts, and pictures makes sense of the places and locations that we hear every day on the news. Mac Dominick of Cutting Edge Ministry strongly demonstrates the Anti-Semitism shown by most of the Mass Media as they report daily events. Mac shows the prophetic significance of the events about to explode. He shows what God's prophetic plan is for Israel, prophecy so clear that everyone – including all Arabs – can know the precise outcome of all hostilities. This video will keep you on the edge of your seats as you can just sense the closeness of the prophetic hour. 2 hours

Later in this newsletter, you will read about Prime Minister Sharon's "unilateral disengagement" plan and how this fits into the prophetic picture just as this video proclaims. - http://www.cuttingedge.org/detail.cfm?ID=706

---------- This Weeks Hot News ----------
I. Disaster struck strongly in Iraq on Wednesday, 3/31, when five Marines and four civilians engaged in "security" work died in a single day. Let us review the sordid story, concentrating on the reaction of the savage crowd after the four civilians were murdered.
NEWS BRIEF: "In Fallujah Al Qaeda Reminds Americans of Mogadishu", DEBKAfile, March 31, 2004
"Nine Americans died in and around Fallujah 30 miles west of Baghdad in a particularly horrendous spasm of blood-letting Wednesday, March 31. Exactly one week after assuming responsibility for the most intractable town in Iraq in a troop rotation, the California-based 1st Marine Expeditionary Force suffered the loss of five men in a single attack: a bomb exploded under their vehicle in a village near Fallujah. Inside the city, gunmen attacked two civilian cars carrying four US civilian contractors. The cars were torched by a dancing lynch mob which screaming Islamic slogans dragged the bodies through the city, dismembered and decapitated them and hanged them by their feet."
At a time when numerous Mass Media outlets are trying to tell us how great things are going in Iraq, these attacks bring matters into fresh focus. Matters are not proceeding as well as our government is trying to portray. The Iraqi people never did embrace Coalition Forces as "liberators"; this vicious attack simply demonstrates that hatred toward our troops and our occupation seem to run very, very deep. Notice the sequence of events in this story. First, gunmen attacked the two civilian cars, successfully murdering them, even though they were armed and wearing flak jackets. Then, a mob gathers, is filled with unimaginable rage, burns the cars and drags the bodies out to be mutilated and humiliated.
My interest in the four murdered civilians ratcheted upward the moment I learned of their previous occupations. Let us review this story:
NEWS BRIEF: "Three of Four Civilians Killed in Fallujah ID'd", Fox News, Thursday, April 01, 2004
"WILLOUGHBY, Ohio — Two Army veterans and a former Navy SEAL were among four American contractors killed in Iraq, their bodies mutilated and dragged through the streets. Family members and a spokesperson said Thursday that Jerko 'Jerry' Zovko, 32, Michael Teague, 38, and Scott Helvenston, 38, died with another civilian Wednesday after they were hit by rocket-propelled grenades in a rebel ambush. The victims worked for Blackwater Security Consulting, one of five subsidiaries of Blackwater USA based in North Carolina."
The official story is that these men worked for a security company, a "government subcontractor providing security for the delivery of food in the Fallujah area."
As usual, I always suspect the official cover story. In this instance, when I read that two of these men were former Army veterans and one a Navy SEAL, I strongly suspected that they were really performing undercover work -- possibly intelligence -- for Coalition Forces. If this is true, then it might explain the ruthless reaction by the mob. DEBKAfile Intelligence has issued several headline warnings in the past several months that Iraqi insurgents had successfully infiltrated the Coalition Command, possibly at a very high level. Therefore, it seems logical that the gunmen might have been directed to a particular ambush spot, ready to attack the two cars when they reached that spot. Then, provocateur agents could have alerted the people in the area that these four men were undercover agents of the Coalition, thus triggering the unbelievable mob rage.
Let us now return to this Fox News article to see the impressive credentials of these "food security specialists".
"Jerry Zovko joined the Army in 1991 at age 19. He spoke five languages fluently -- English, Croatian, Spanish, Russian and Arabic. He was a member of the 82nd Airborne Division at Fort Bragg in North Carolina ... "
"Teague, of Clarksville, Tenn., was a 12-year Army veteran who earned a Bronze Star for service in Afghanistan and also served in Panama and Grenada..."
"Helvenston lived in Leesburg, Fla., before joining the Navy when he was 17. He served with the Navy SEALs for 12 years and later worked as a fitness promoter, starting a company called Amphibian Athletics. He also was an actor and stunt man for movies including 'G.I. Jane' ..." [Ibid.]
The identity of the fourth victim has yet to be released.
The firm for which these men worked is called Blackwater USA. The last paragraph in this Fox News article listed the work Blackwater USA does for the government, and it does seem its credentials are much more than you would expect from a "food security provider".
"Privately owned Blackwater USA's range of paramilitary services include providing firearms and small-groups training facilities for Navy SEALs, police department SWAT teams and former special operations personnel." [Ibid.]
Did you catch that pertinent information? Blackwater provided a "range of paramilitary services", almost certainly NOT related to providing security for food deliveries!

II. The Pentagon admitted this past week that they had evacuated from the Iraqi Theater a great many more injured and/or incapacitated soldiers than they ever admitted -- up to 18,000.
NEWS BRIEF: "Medical evacuations in Iraq war hit 18,000", by Mark Benjamin, UPI, reprinted in The Washington Times, April 01, 2004
"WASHINGTON, March 31 (UPI) -- In the first year of war in Iraq, the military has made 18,004 medical evacuations during Operation Iraqi Freedom, the Pentagon's top health official told Congress Tuesday. The new data, through March 13, is nearly two-thirds higher than the 11,200 evacuations through Feb. 5 cited just last month to Congress by the same official ... "
Ten months ago, we printed our first warning about the terrible medical conditions facing each soldier serving in Iraq. This warning was based largely on a Cutting Edge subscriber who serves as a medical doctor in the Army Reserve of a Middle Eastern country and fully trained in modern desert warfare. We printed this warning in NEWS1843, with a follow-up report in our Newsletter081603. Listen to this medical doctor describe the four potentially deadly elements facing each soldier in Iraq.
1. Searing heat between 120-150° - This tremendous heat will not relent until mid-October
2. Local biting insects that deliver a toxic pathogen with which the native Iraqis have to contend daily
3. A cocktail of vaccines that were administered prior to landing in Iraq. As in Gulf War I, these vaccines are highly toxic
4. Exposure to Depleted Uranium in the air, in the water in some areas, and in the dust everywhere. As Amy Worthington states in her article in The Idaho Observer, "The US and British troops are the walking dead."
5. Unknown and unpredictable mutations of physical maladies caused by the above combination of toxic elements


In the daily campaign in Iraq, soldiers are breathing in the toxic Depleted Uranium, and many of them are being constantly bitten by the local insects. These two elements join the toxic vaccine already in the body. Because of the unrelenting, searing heat, nearly every soldier is dehydrated to some degree, thus allowing this deadly combination of toxins to build up to dangerously concentrated levels. Further, this doctor related how American scientists keeping watch over the radioactive poisoning of the Pacific islands at which France and the United States conducted nuclear tests several decades ago, are constantly finding mutated organisms that have never been identified before! Uranium poisoning in our soldiers is very likely mutating with these other elements to create strange and deadly organisms for which the soldiers have not been prepared to face.

The way in which these five elements combine to make the solider sick, or to kill him, will vary widely with each soldier. The age of the soldier plays a part, as does the individual genetic code, as does the health of the immune system. Thus, soldiers will be getting sick at various points along the time spectrum. Further, the exact cause of death will vary so widely that it will be difficult to prove any single cause. Some soldiers will die of pneumonia, some of internal organ meltdown, some of apparent heart attack, and some will die of maladies perhaps not yet seen in medical science.
You see, soldiers will be getting sick and/or dying from a broad variety of ailments. This wide variety will make it almost impossible for an outsider to pinpoint any one single cause and conversely, make it easier for the government to deny that there is any single cause. Thus, as in this Washington Times article, the various ailments for which these 18,000 soldiers were evacuated seems bewildering and extremely confusing. However, one Army veteran was not that confused as to what was going on. Listen to his testimony:
" 'Is it a question of incompetent medical care or a question of a well-organized government system that achieves just what it is supposed to achieve?', retired Army Reserve First Sgt. Gerry Mosley, who served in Iraq, asked the panel. 'Use people, strip them of all human dignity, disrespect them, wear them down, and be pleased when soldiers no longer have the physical and mental capacities to continue to fight to have the same rights and respect as those American citizens for whom we have fought to preserve those entitlements'."
The retired Army Major who has also advised me on this issue of Depleted Uranium and toxic vaccinations was so bold as to state that the Pentagon views each soldier as no more than cannon fodder, to be used and then discarded. After all, there are plenty more bodies where these came from!
The issue of Depleted Uranium poisoning continues to raise its ugly head and promises to get even more widely known once men returning from Iraq begin to get sick in very large numbers. Joyce Riley, spokesman for the Gulf War Veterans Association, told me to check a particular website regularly for the most accurate, up-to-date information concerning Depleted Uranium -- this website is: www.traprockpeace.org
Last week, a startling expose' on D.U. munitions was posted by a retired "Chief of the Naval Staff, India", Admiral Vishnu Bhagwatt. Ever since I learned about D.U. last Summer, I wondered when competent, trained military men from other countries were going to start speaking up against the pollution we are spreading throughout the world with our Depleted Uranium military machine. Admiral Bhagwatt spoke up forcefully and scientifically.
NEWS BRIEF: "Silent WMD's -- Effects of Depleted Uranium", by Admiral Vishnu Bhagwatt, February 29, 2004, traprockpeace.org , http://traprockpeace.org/bhagwat_du_29feb04.pdf
"DU weapons emit 'Alpha' particle dose to a single cell from U-238, which is 50 times the annual dose level. Cancer is initiated with one alpha particle, its daughter isotopes effect generations as the isotopes bio-concentrate in plants and animals and travel up the food chain. It is a nuclear weapon ... They enter the body through the lungs, the digestive system, or breaks in the skin. One gram of DU releases more than 12,000 particles per second. The radiation slowly kills the cells that make life possible. The Gulf War Syndrome of 1991 did just that (reported by Dr. Asaf Durakovic, Professor of Medicine, Georgetown University)."
This paragraph is simply pregnant with understanding, so let us stop for a moment to digest just what we have learned.
1. Cancer is initiated in a person when that person ingests just "one alpha particle"! This is consistent with what our original sources told us. When either a soldier or a civilian breathes in just one dust speck contaminated with DU, that person will ultimately get cancer. The process may take 3-12 years, but that person will eventually die. Dust blows throughout arid Iraq, thus making it likely that most of our soldiers and Iraqi civilians, will ultimately breathe in a speck of dust contaminated from an exploded DU munitions. Later in his report, Admiral Bhagwatt reported that this contaminated dust has spread in a 1,000-mile radius from Baghdad!

2. D.U. is scientifically considered to be a "nuclear weapon". Thus, each of our last three Presidents have waged a silent nuclear war against countries with majority Muslim populations: Iraq in 1991; Kosovo in 1999; Afghanistan in 2001 and Iraq in 2003.

3. Since D.U. poisons the air, the dust, the water and the food chain, my original sources were right again when they warned that we were rendering Iraq unsuitable for human habitation. This process is likely to take a generation, but it will occur.

4. The 1991 "Gulf War Syndrome" was largely D.U. poisoning. As our medical officer in a foreign army warned, the D.U. interacts dangerously and unpredictably with the toxic vaccinations to produce a variety of maladies amongst its victims.
Whenever I have written that we are quite possibly poisoning the entire land, people have objected, saying that we did not ruin the land of Japan by detonating atomic bombs over Nagasaki and Hiroshima. Not being either a scientist or a trained military officer, I could not offer a reasonable explanation for this indisputable fact. The good Indian Admiral has done just that, quantifying the disaster in terms laymen can understand.
Let us now go back to the article by Admiral Bhagwatt:
"The induction of DU weapons in 1991 in Iraq ... broke a 46-year taboo. This Trojan Horse of nuclear war ... continues to be used more and more. DU remains radioactive longer than the age of the earth (estimated at 4.5 billion years). The long-term effects from over a decade of DU exposures ... are devastating. The increased quantities of radioactive material ... used in Afghanistan are 3 to 5 times greater than Iraq, 1991. In Iraq, 2003, they are already estimated to be 6 to 10 times 1991, and will travel through a larger area and affect many more people, babies and unborn. Countries within a 1000-mile radius of Baghdad and Kabul are being affected by radiation poisoning ..." [Ibid.]
Those pastors and Christian teachers who are spreading the word that America's conquest of Iraq was prophetic because it will allow Ancient Babylon to be rebuilt to its past splendor, a city which would dominate the world as the prophesied Antichrist Economic Babylon of Revelation 18 clearly dominates, are going to be mightily embarrassed when the entire world wakes up to the realization that no one can live in Iraq anymore because of D.U. poisoning. Ancient Babylon lies less than 20 miles from Baghdad.
The good Admiral then drops the real bombshell quantification statistic:
"If we think cancer is a problem now, wait until more DU is released in wars against terror and for 'regime change' and on 'mistaken' Intelligence reports. More than 500 tons of DU munitions have been dispensed in Afghanistan. Professor Yagasaki calculated that 800 tons of DU is the atomicity equivalent to 83,000 Nagasaki bombs in a paper presented at the 'World Uranium Weapons Conference' in Hamburg in October 2003) ... The amount of DU used in Iraq in 2003 is equivalent to nearly 250,000 Nagasaki bombs." [Ibid.]
Therefore, the answer to the people who said our bombing of Nagasaki and Hiroshima did not permanently pollute Japan have their answer from Admiral Bhagwatt. Had we exploded 250,000 Nagasaki-type bombs in 1945, Japan would likely uninhabitable today because of radiation pollution. Iraq is not only in deep trouble because of our 2003 bombing, but also because this is the second time in 12 years we have subjected that country to "Trojan Horse" nuclear warfare. Now, can you see why the Iraqi people got so very, very angry when the four American civilians were ambushed in Iraq on March 31.
We shall be posting a major article on this subject of DU this coming week.

III. Tim LaHaye issued his 12th and final "Left Behind" book entitled, "Glorious Appearing: The End of Days" on March 30. We have written three major articles on the Left Behind danger. Let us review these articles before we examine this latest book.
NEWS1886 --- Warning! You cannot Take The Mark of the Beast For Any Reason And Still Go To Heaven - Part 1 of 2 - The Left Behind series portrays the lie that a person who is "forced" to take the "Mark of the Beast" may still be in right standing with God and go to Heaven!
NEWS1886b - Warning! You cannot Take The Mark of the Beast For Any Reason And Still Go To Heaven - Part 2 of 2 - This Part 2 demonstrates that no one can take the "Mark of the Beast" and still go to Heaven!
NEWS1897
--
Warning! God Will Neither Nor Remove The Mark of the Beast From Anyone Who Has Taken It
- After depicting that a Christian can take the "Mark" and still be OK with God, LaHaye now depicts that a person who has taken the Mark can pray and God will remove it!
We have repeatedly spoken of the concept of a "disinformation agent" as I learned it from US Army Intelligence. I believe Tim LaHaye is just such a disinformation agent. "Disinformation Agents" will produce 75-90% good information, but will mislead at the critical moment, usually at the moment the battle is joined, and the outcome is hanging in the balance. These deep spies will work very hard and very long in order to build up their credibility with their peers and with their superiors. When the critical moment comes, the disinformation agent will begin to give his superiors false information, hoping that false information will cause his targeted country to lose the battle. Sometimes, disinformation spies will work very hard for 20 years in order to be in position at just the right time to serve his handlers for 20 critical minutes.
Listen to the Matthew Henry Commentary as he speaks to this issue:
"There should appear false prophets (v. 11-24); the deceivers would pretend to divine inspiration, an immediate mission, and a spirit of prophecy, when it was all a lie. Some think, the seducers here pointed to were ... settled teachers in the church, and had gained reputation as such, but afterward betrayed the truth they had taught, and revolted to error; and from such the danger is the greater, because least suspected. One false traitor in the garrison may do more mischief than a thousand avowed enemies without."
Let us repeat: "One false traitor in the garrison may do more mischief than a thousand avowed enemies without." How can this be possible? Counterfeit false religious leaders look and sound so very genuine they are trusted by a multitude of undiscerning people.
We believe it highly likely that LaHaye is just such a "false traitor in the garrison". After working in Christian ministries for many decades, he is now in a critical position of trust that allows him to write and publish 12 books addressing the uniquely held Christian doctrine called the "Rapture of the Church". After the first few books seemed relatively true to the Bible, LaHaye began to deviate as he showed one of his main characters -- Chang -- having been physically forced to take the Mark of the Beast. We have read the occult plan to give the Mark to the world, and it does not call for people to be physically held down so the Mark can be inserted. Oh, no, Satan wants to be worshipped voluntarily. Anyone who will not take his Mark will simply be beheaded - that is the limit to the "forcing".
This occult plan is also consistent with Scripture.
Then, in his book, "The Mark of the Beast" and "Desecration", we see Chang telling other Christians that his Satanic Mark actually worked to his advantage as he served as a spy in Antichrist's Headquarters. In "Armageddon", Chang prays to God with the chief holy man in Petra, Tsion Ben-Judah, asking Him to remove the Mark. God hears the prayer and removes the Mark. Nowhere in Scripture is it even hinted that a person can take the Mark of the Beast and still be in right standing with God, or that God will remove the Mark.
We have stated our concern that people who are actually facing the officials of Antichrist administering the taking of the Mark procedure will justify in their frightened, troubled state of mind that they can be like Chang. Certainly, they can convince themselves that they are being "forced" to take the Mark; after all, they would not do so were they not being threatened with beheading. Many people will convince themselves that they can take this Mark and still go to Heaven, based upon what LaHaye portrayed in Left Behind.
Now, the final trap has been set in "Left Behind: Glorious Appearing - The End of Days" because Jesus Personally tells Chang that he was in no danger of losing his salvation when he had the Mark of the Beast implanted. Listen to Jesus talk to Chang:
"I rejoiced with the angels when you learned of Me and turned to Me and were used for My glory in the lair of Antichrist. And I was there when the mark of the beast was forced upon you and you feared that you had lost your salvation. I have loved you from eternity past with an everlasting love and I have looked forward to this day." [Page 326]
The trap is now set for the unbeliever or the marginal, carnal Christian! Not knowing the true Biblical prohibition of taking the Mark of the Beast, these people will remember when a Christian author wrote the Left Behind series, depicting that a person being "forced" to take the mark can be forgiven, can have the Mark removed through prayer and can expect Jesus to compliment them as He did Chang!
You might protest, saying no one could actually believe this series when the Bible so clearly teaches otherwise? Listen to this quote from a lady shopping at a Christian bookstore for the "Glorious Appearing".
NEWS BRIEF: "On tour with the harbingers of doom: US readers flock to meet evangelists at helm of a publishing phenomenon", The Guardian (London), Gary Younge. April 1, 2004.
"Robin Bales has seen the signs - war, terrorism, microchips in animals and corporate logos tattooed on the foreheads of the young. As prophesied in the book of Revelation, she explains, the end of the world is nigh ... Scan the Christian Supply store in Spartanburg and you will see everything from The Bible's Way to Weight Loss to Bible Bingo, along with T-shirts, keyrings, CDs and toys bearing scripture and car registration plates asking: "Got Jesus?"
Then, this article revealed the true attitude so many people have today:
" 'Americans don't just have to rely on the Bible anymore', says Sarah Golightly, one of the few African-Americans who came to the launch. 'God is showing himself in many ways through movies, books and audio'." [Ibid.]
This attitude is exactly the kind of deception being portrayed in the Left Behind series. Told by LaHaye and others that the series is true to Scripture -- when it most definitely is not -- the undiscerning Christian, as well as the rank unbeliever, are now convinced that people 'don't just have to rely on the Bible anymore' ". To tens of millions of people facing the officials of Antichrist and contemplating their fateful decision as to whether they should take the Mark of the Beast, they shall remember the "Revelation of Left Behind" which tells them they can take the Mark if it is "forced" upon them and still go to Heaven.
These people will have no idea that the Bible says something much different. Listen to the pertinent Scripture:
"And the third angel followed them, saying with a loud voice, If any man worship the beast and his image, and receive his mark in his forehead, or in his hand, The same shall drink of the wine of the wrath of God, which is poured out without mixture into the cup of his indignation; and he shall be tormented with fire and brimstone in the presence of the holy angels, and in the presence of the Lamb: And the smoke of their torment ascendeth up for ever and ever: and they have no rest day nor night, who worship the beast and his image, and whosoever receiveth the mark of his name." [Rev 14:9-11]

"And the first (angel) went, and poured out his vial upon the earth; and there fell a noisome and grievous sore upon the men which had the mark of the beast, and upon them which worshipped his image." [Rev 16:2]

"And the beast was taken, and with him the false prophet that wrought miracles before him, with which he deceived them that had received the mark of the beast, and them that worshipped his image. These both were cast alive into a lake of fire burning with brimstone." [Rev 19:20]

Please note that two kinds of people in these passages are cast into the "Lake of Fire and Brimstone" -- the people who took the Mark and the Antichrist and his False Prophet. ALL people who take the Mark will be cast into the Lake of Fire forever and forever! Do not be deceived!
At the very time people who call themselves Christian believe that they don't need to rely just on the Bible anymore, Jesus is telling His fundamentalist, Philadelphia Christians just the opposite; He is telling them that the reason He is going to Rapture them out is because they have faithfully kept His Word (Bible). Listen:
"Because thou hast kept the word of my patience, I also will keep thee from the hour of temptation, which shall come upon all the world, to try them that dwell upon the earth." [Rev 3:10]
Jesus is speaking of the Rapture here! He is going to Rapture out all those faithful, Fundamental Christians who insist upon clinging to God's great Word, relying upon nothing else!
Let us quickly address another issue here before we move onward. At the end of this Guardian article, LaHaye ties his Left Behind series to Mel Gibson's movie, "The Passion". Listen carefully:
"Referring to Mel Gibson's film, LaHaye said: "I think the world is waking up to the fact that there are a great many people who support wholesome movies and maybe we'll have a whole new field of faith-based movies. People complain that The Passion is violent and wonder if children should see it ... But they're used to violence. Good grief, television and the internet abound with it. But that's senseless violence. This is purposeful violence. Children end up asking why Jesus was committed to go through that." [Ibid.]
There IS a linkage between "The Passion", the Left Behind series, the Da Vinci Code, and Rick Warren's Purpose-Driven Church phenomenon. We shall be exploring this issue in a forthcoming video entitled, "Passion, Purpose, and The Paradigm Shift". Cutting Edge Director, David Bay and Vice President Mac Dominick shall be narrating the video, while Becky Sexton of Former Catholics For Christ shall be speaking from her unique perspective as a former Catholic. This video should be out no later than May 1.
We are convinced all these factors are linked to produce the most dramatic shift in religious values the world has ever seen. The time of the appearing of the occult "Great One" appears to be drawing nigh.

IV. Federal Courts delivered a stark and dramatic blow to our 4th Amendment rights last week! After seeing Congress deliver blows to our First and Second Amendment rights (NEWS1877), we now see in horror that a Judicial move is now afoot to strike down our Fourth Amendment rights. Our court system severely damaged our Fourth Amendment privileges twice in one week
Let us review the wording of this Constitutional amendment.
"Amendment IV -- The right of the people to be secure in their persons, houses, papers, and effects, against unreasonable searches and seizures, shall not be violated, and no warrants shall issue, but upon probable cause, supported by oath or affirmation, and particularly describing the place to be searched, and the persons or things to be seized."
Our Forefathers knew how tyrants can abuse their citizens. To prevent the police from being able to intimidate the citizenry by bursting into homes and private property with no reason to be there other than sheer intimidation, our Forefathers carefully subjected the police forces throughout the nation to both Constitutional limits and civilian Judicial oversight. This system has served us very well, protecting us against the dreaded "knock on the door in the middle of the night" so prevalent in dictatorial systems of government. That terrible day may be quickly approaching here in America.
NEWS BRIEF: "Court Opens Door To Searches Without Warrants", WDSU-6, The New Orleans Channel.com, March 29, 2004

"NEW ORLEANS -- It's a groundbreaking court decision that legal experts say will affect everyone: Police officers in Louisiana no longer need a search or arrest warrant to conduct a brief search of your home or business. Leaders in law enforcement say it will keep officers safe, but others argue it's a privilege that could be abused. The decision in United States v. Kelly Gould, No. 0230629cr0, was made March 24 by the New Orleans-based 5th Circuit Court of Appeals ... The ruling stems from a lawsuit filed in Denham Springs in 2000, in which defendant Gould filed a motion to suppress information gleaned from a search of his home. The motion was granted by district court, and the government appealed this decision. The March 24 ruling by the 5th Circuit is an affirmation of that appeal."
Officers were tipped off that Gould planned to kill 2 judges, unidentified police officers and destroy telephone company transformers. Once the police learned that Gould's past included several felony charges and that he was "a convicted felon for violent charges", they went to his home where they were told by someone on the scene that he was asleep. Officers were allowed into his home, where they discovered he was no longer in his bedroom. As officers were searching his closet, they discovered several firearms. Finding Gould outside, they arrested him on charges of " being a felon in possession of firearms".
The Court ruled that the officers acted in good faith when they entered Gould's apartment without a warrant, searched without a warrant, and seized the firearms without a warrant. One judge dissented against the majority ruling, with a warning that will probably prove "prophetic".
"One judge, Judge Grady Jolly, said he concurred in part and dissented in part with the majority opinion. Judge Jerry Smith, however, completely disagreed with the majority ruling, saying: "I have no doubt that the deputy sheriffs believed that they were acting reasonably and with good intentions. But the old adage warns us that 'the road to hell is paved with good intentions.'" [Ibid.]
Indeed, the time is coming soon when we shall all remember this admonition: the "road to hell is paved with good intentions". As we have noted before, all laws that turn out to be disastrous are initially sold to the people with high-flying rhetoric. Even Hitler's early proposals sounded like such good news!
Now, let us review another case this past week in which the Supreme Court damaged our Fourth Amendment, i.e., regarding our "identification papers".
NEWS BRIEF: "EDITORIAL: The road to the police state: Must Americans show their 'papers please'?", The Legal Law Journal, March 27, 2004

"Some U.S. Supreme Court justices Monday appeared to scoff at a Nevada man's claim that he should not be required to give his name to police. 'I cannot imagine any responsible citizen objecting to giving his name', said law-and-order Justice Antonin Scalia. 'The exercise of a constitutional right should not be incriminating', replied Robert Dolan, a deputy state public defender from Winnemucca."
"In 2000, Northern Nevada cattle rancher Larry Hiibel, standing beside his parked truck, was approached by a Humboldt County deputy. The officer asked Mr. Hiibel for proof of identification 11 separate times; in each instance Mr. Hiibel refused, saying he'd done nothing wrong. Finally, Mr. Hiibel was arrested and convicted of resisting and obstructing an officer in the performance of his duties. By a 4-3 vote, the Nevada Supreme Court rejected Mr. Hiibel's appeal, ruling any privacy right guaranteed by the Fourth Amendment to the U.S. Constitution is 'outweighed by the benefits to officers and community safety' by allowing police to force people to provide ID, anywhere."
"But under that logic, what right could not be trumped by 'police convenience'? Using his patrol car computer terminal, the modern American police officer can learn more about a citizen from today's government-issued photo ID than was contained in the infamous 'travel papers' required of any citizen of the Third Reich. Mr. Hiibel was not even in his motor vehicle. He was jailed for no more than stubbornness and silence. If police can demand our ID by the side of a public road, what about in our backyards ... or in our bedrooms?"
We could not have said the matter any more forcefully! Under all repressive regimes in history, any police officer had the authority under any circumstances, to approach a citizen, demanding that he or she show their identification papers or face jail. This authority struck fear in the hearts of all citizens and proved to be a most effective manner in which to keep the population under severe subjugation!
One Constitutional protection after another is being steadily stripped away. Soon, when the time arrives for the planned wars, terrorism, and panics that will usher in Antichrist, we shall all understand the complexity of this plan to move us into our dictatorship gradually, one relatively small step at a time. Of course, by that time, it will be too late.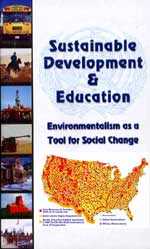 V. The United Nations continued its march to becoming the most powerful government in the world. In past newsletters and articles, we have noted that the number one goal of the globalists is to gradually maneuver the United Nations into the spot where they are the most powerful government in the world, to whom each formerly sovereign nation bows their knee. We have written some very important articles on this subject; if you have not yet read them, we encourage you to do so. They are:
NEWS1901

- President Bush's Iraq Fiasco Is Steering The World Into A Concrete, Coercive United Nations Government

NEWS1892

-- U.N. Official Proposes That All Governments Give Up Their Nuclear Weapons And Other Weapons of Mass Destruction

NEWS1195

-- United Nations Establishes Global Judicial Tribunal, The World Court - A Huge Step Toward The New World Order of Antichrist
Now that you have read these preparatory articles, the news we are about to share with you will make a lot more sense. You will be able to see how the events of your Daily News are gradually building up the credibility and the strength of the United Nations, until the point is reached one day when that body will be the supreme sovereign government in the world. At that point, Antichrist can arise to take control, just as Bible prophecy foretells.
NEWS BRIEF: "UN steps into Iraq sovereignty handover debate", Middle East Online, March 29, 2004
"BAGHDAD - Iraqi leaders began meetings Monday with a UN team of experts advising them on the process of regaining sovereignty for their war-torn country from the US-led coalition by the end of June, officials said ... The UN team is made up of technical experts and will advise on holding elections, conducting a census and assembling a caretaker government set to take power after the coalition's deadline for the handover. The team, which started its visit Friday amid political wrangling over the country's interim constitution, will be joined later this week by a UN political delegation headed by special envoy Lakhdar Brahimi."
This process of planning for elections which would hand sovereignty of Iraq over to Iraqi officials started out as an American enterprise. Slowly, however, through miscues and bold insurgent attacks, the United States began to ask the UN to "consider" coming back into the country. When the newly-elected Spanish Prime Minister stated that he was going to withdraw the 1,300 Spanish troops unless the UN assumed operational control, the pace of a UN assumption of the entire process began to pick up speed.
NEWS BRIEF: "World Court Orders U.S. to Review Mexican Cases", MyWay News, by Anthony Deutsch, March 31, 2004
"THE HAGUE, Netherlands (AP) - The World Court ruled Wednesday that the United States violated the rights of 51 Mexicans on death row to receive diplomatic help, and ordered Washington to review their cases. The ruling by the International Court of Justice could mean a reprieve or another chance of appeal for the inmates, including one scheduled to die May 18 in Oklahoma. It also could have implications for other foreign citizens in U.S. prisons who were not told they could receive help from their governments.

"Some states were seeking advice Wednesday from the U.S. State Department, but several officials said they doubted the ruling would affect their execution plans ... U.S. officials will study the decision carefully, said State Department spokesman Adam Ereli, adding that the United States has tried to comply with the requirement that consular access be granted to Mexican and other citizens detained on U.S. soil."
In NEWS1195, written in 1998, we warned that the establishment of a permanent World Court was an extremely serious development in the drive to establish a world government. This ruling proves that point very well. The World Court has ORDERED the United States government to take a certain action, and the US government "will study the decision carefully"! Just the fact that we are going to "study" the situation lends credibility to the entire World Court order! And when our State Department notes that is "has tried to comply" with the requirement of the World Court in the matter of granting consular access to Mexican nationals on our soil lends further credence to the United Nations being the top sovereign nation in the world.
The time will come when a World Court decision will be just as binding upon each one of our states as the Supreme Court is binding right now. That is the plan.
NEWS BRIEF: "UN's agriculture arm calls for funds to dissuade Afghan farmers from opium crop", UN News Centre, 29 March 2004
"The United Nations Food and Agriculture Organization (FAO) today appealed for $60 million to help stimulate Afghanistan's rural economy so that farmers are deterred from turning to opium production for their income ... FAO's Representative in Afghanistan, Serge Verniau, said, "rural poverty and the lack of income are the main reasons why farmers produce opium." He said it may take more than a decade to set up sustainable, alternative income opportunities. The $60 million requested by FAO is designed to support projects in Afghanistan's four main poppy-producing provinces, and includes funds for crop production, irrigation, animal health, plant protection and nutrition education."
This story reads like a subcommittee of the United States Congress debating whether to go to the aid of Nebraska farmers! Notice that the UN feels responsible to maintain the "crop production, irrigation, animal health, plant protection and nutrition education" of Afghanistan, in the same vein as the US Congress would feel responsible in those areas for individual American states.
Take note of seemingly innocuous stories as this one, for the plan is to gradually move the UN into areas of sovereignty without raising anyone's ire. Daily stories such as this one will also implant in people's minds a subtle message that the UN belongs in such areas as this, because they are the world's government.
NEWS BRIEF: "Security Council to tackle draft resolution on spread of WMDs, President says", UN News Centre, 2 April 2004
"The Security Council is poised this month to discuss a draft resolution dealing with the spread of weapons of mass destruction (WMDs) to non-State actors, the Ambassador of Germany, which holds the presidency of the 15-member body for April, said today. Speaking at a press briefing on the Council's monthly work programme, Ambassador Gunter Pleuger predicted that the most politically sensitive discussion would concern the draft resolution on WMDs, around which a "positive groundswell" was forming to let the Security Council solve the problem through a resolution, which would be binding international law."
Since the 9/11 attacks, the United States has assumed the responsibility to stop the spread of WMD throughout the world. To accomplish this task, President Bush enunciated the very dangerous doctrine of "Unilateral Intervention", otherwise known as "Pre-emptive Strike", against a nation suspected of having WMD. Since our massive "intelligence failure" in Iraq, this doctrine has increasingly become discredited. Now, the United Nations is preparing to assume the responsibility for policing WMD amongst the nations of the world -- just as we predicted in August, 2003, in our NEWS1854.
NEWS BRIEF: "UN war crimes tribunal jails Bosnian Serb for 10 years for burning down village", UN News Centre, 30 March 2004
"The United Nations war crimes tribunal for the former Yugoslavia today sentenced a Bosnian Serb man to 10 years in jail for his role in the burning down of a predominantly Muslim village in May 1992. Sitting in The Hague, three judges of the International Criminal Tribunal for the former Yugoslavia (ICTY) issued their sentence against Miroslav Deronjic, who had previously pleaded guilty to one count of persecutions as a crime against humanity."
Once again, the United Nations is assuming the role normally reserved to individual sovereign states.
NEWS BRIEF: "UN war crimes tribunal reinstates genocide charge for Bosnian Serb", UN News Centre, 19 March 2004
"The Appeals Chamber of the United Nations war crimes tribunal for the former Yugoslavia today reinstated a charge of genocide against a Bosnian Serb former government minister facing trial for his role in the deaths of hundreds of Croats and Muslims and the forcible relocation of thousands of others during the Balkan wars of the early 1990s. Five judges of the International Criminal Tribunal for the former Yugoslavia (ICTY), sitting in The Hague, agreed unanimously that the Trial Chamber had erred last November when it acquitted Radoslav Brdjanin of one count of genocide. Mr. Brdjanin, 56, also faces charges of crimes against humanity, violations of the laws or customs of war and grave breaches of the 1949 Geneva Conventions."
NEWS BRIEF: "U.N. to appoint counter-terrorism czar", By William M. Reilly, UPI United Nations Correspondent, reprinted in The Washington Times, March 29, 2004
"UNITED NATIONS, March 26 (UPI) -- In a bid to revitalize the U.N. Security Council's Counter Terrorism Committee, the panel Friday approved a resolution establishing an office to oversee its efforts and an executive director to run it."
Now the UN is setting up the apparatus whereby they will gradually assume responsibility for the "War On Terrorism"! But, the undiscerning citizen will believe that this action makes sense; after all, that person will reason, Terrorism is a global threat, so why not counter it with a global effort led by the United Nations?
NEWS BRIEF: "UN peacekeeping chief tells of major challenges ahead as missions expand", UN News Centre, 29 March 2004
"With the Security Council set to create or expand its peacekeeping missions "on an almost unprecedented scale," the United Nations faces considerable political, logistical, recruitment and security challenges, the UN's most senior peacekeeping official said today. Jean-Marie Guéhenno, Under-Secretary-General for Peacekeeping Operations, made the remarks in his regular report to the Special Committee on Peacekeeping Operations, a General Assembly body set up to review operations and recommend ways to reform peacekeeping missions."
In NEWS1833, where we detail the plan to force all "Non-Integrating" nations to take actions necessary to make them "Functioning Core" nations, one of the coercive military threats designed to force this change was called "Peacekeeping". Listen as we quote our feature article, NEWS1833:
"A country's potential to warrant a U.S. military response is inversely related to its globalization connectivity." [P. 227]
Later in NEWS1833, we reported:
"On page 176, the author puts this matter in a different way: 'Any time American troops show up -- be it combat, a battle group pulling up off the coast as a 'reminder', or a peacekeeping mission -- it tends to be in a place that is relatively disconnected from the world, where globalization hasn't taken root because of a repressive regime, abject poverty, or the lack of a robust legal system. It's these places that incubate global terrorism. Draw a line around these military engagements and you've got what I call the Non-Integrating Gap."
Therefore, when the UN announces that it is expanding its "peacekeeping" mission "on an almost unprecedented scale", you have to understand that what is really happening is that the UN is preparing to take the coercive role forcing "Non-Integrating" nations into making changes to become "Functioning Core"! Up to now, this coercive role has been taken by the United States, the European Union, Australia, Indonesia, and Thailand.
Once again, the UN is preparing to take over an important role which has been heretofore reserved for individual sovereign states.

We could go on and on, listing all the news stories which demonstrate that the UN is gradually taking to itself all the functions which have always been carried out by individual sovereign governments. The day will soon arrive when a United Nations dominated by antichristian forces, will begin to declare American laws invalid and begin to take actions that will directly remove all "objectionable" elements within any country on earth. The judges sitting on the World Court, and the officials of the UN sitting in New York City, will not be subject to any demands or action by any group of citizens. They will be answerable to no one.
As that day approaches, you can be sure Antichrist is soon to arrive, to take over the power reserved for him by the final rulers of the End of the Age, in precise fulfillment of Revelation 17:17.
VI. The US Supreme Court is deciding whether the Pledge of Allegiance should be stripped of its reference to "under God"!
NEWS BRIEF: "Skeptical Supreme Court weighs Pledge case: Justices debate whether saying 'under God' is reciting a prayer", From Bill Mears, CNN Washington Bureau, Wednesday, March 24, 2004
"WASHINGTON (CNN) -- The Supreme Court Wednesday appeared skeptical that the Pledge of Allegiance was an unconstitutional government endorsement of religion, dampening calls by a California atheist to end the ceremony in his daughter's public school, and nationwide ... At issue is whether the teacher-led Pledge should be banned for its use of the words "under God." Constitutional scholars have debated for years whether the pledge serves as both a patriotic oath and a form of public prayer. A key aspect of the case is a family's custody dispute, underpinning important legal and social questions."
Even though we understand that the "God" stamped on our money and in our Pledge of Allegiance is not the God of the Bible, but the Freemason "God" [free002, NEWS1104, NEWS1071, NEWS1072], we also understand that this case would further remove traditional religious values from discussion of issues within this country. God was thrown out of our Public Schools in 1963, speeding our precipitous spiritual decline. Ten years later, the Supreme Court ruled that we could legally kill unborn babies within the womb, moving America over the line of Divine Judgment.
Now, as the world is speeding toward an appointment with Antichrist, the process seems poised to be completed. Once "God" is removed from our national consciousness, our students and our citizenry will be wide open to the entire gamut of polytheistic gods and goddesses that the United Nations and the Illuminati truly worship. If the Supreme Court removes God from the Pledge, that will be another sign that the end of the age is almost here.
VII. President Bush signed into law the "Laci Peterson" act, in which the Federal Government recognizes that an unborn baby is a person, not just a lump of tissue mass called a fetus!
NEWS BRIEF: "President Bush inks pro-fetus legislation: Law makes it a crime to hurt unborn in some assaults on women", By Jennifer Loven, Detroit News, April 2, 2004
"WASHINGTON — Accompanied by grieving families, President Bush Thursday signed into law new protections for the unborn that for the first time make it a separate federal crime to harm a fetus during an assault on the mother. 'If the crime is murder and the unborn child's life ends, justice demands a full accounting under the law', Bush said before signing the measure, a major priority for many of the president's most loyal political supporters. 'The suffering of two victims can never equal only one offense.' Abortion-rights proponents, meanwhile, called the measure an assault on reproductive freedom because it represents the first recognition of federal legal rights for an embryo or fetus as a person separate from the woman ... The legislation defines an "unborn child" as a child in utero at "any stage of development."
While we have not yet read every word of this new law, we certainly applaud the new reality that the Federal Government's Executive Branch has officially recognized that the unborn baby within the mother's womb is a full person, deserving of all the protections given adult Americans. We just wish that this law would actually stop abortions in their tracks. Listen to the reason that this bill will not stop abortion:
"But the law wouldn't apply to crimes such as that in the Peterson case. It applies only to harm to a fetus while a federal crime, such as a terrorist attack or drug-related shooting, is being committed against the pregnant mother."
Nevertheless, this new law is a step in the right direction, because it legally recognizes that an unborn baby is a real person. However, the same Godless Supreme Court which ruled last Summer that Sodomy was now legal throughout the country will be ruling on the Constitutionality of this new law. Don't get your hopes up too high that this bill will actually stop abortion.
If our reading of the fine print of this bill does not reveal any hidden language, we shall place this action as a "Good Fruit" on President Bush's table of "Evil Fruits vs Good Fruits".
VIII. President Bush seemed to stamp his approval on Prime Minister Sharon's plan of unilateral withdrawal from the Biblical lands of Gaza and at least a portion of the West Bank.
NEWS BRIEF: "Pace picking up for Gaza retreat", By Jerusalem Newswire Editorial Staff, April 1, 2004

"Barring Divine intervention, Jews could soon be squeezed like paste from a tube out of vital parts of Israel's ancient homeland, and into the tiny and indefensible confines of its pre-1967 borders. Momentum is gathering for acceptance and implementation of Prime Minister Ariel Sharon's plan to unilaterally remove his countrymen from the Gaza Strip and, for starters, from at least four Judea-Samaria communities. Ironically, a unilateral retreat was a major plank in the platform of former-Labor Party chief Amram Mitzna, who Sharon thrashed at the polls in January 2003. Despite this, national surveys indicate that a majority of Israelis, war-weary from years of unrelenting Arab terrorism, today support this retreat. The Palestinian Authority, which at first vehemently opposed it, is now encouraging Sharon to move ahead."
As we have stated on numerous occasions, Sharon's action makes no sense whatsoever -- on the surface. After 9/11, President Bush announced that he would no longer tolerate terrorists in any country, under any circumstances. Bush ordered our forces to invade Afghanistan in 2001 and Iraq in 2003, in pursuit of those "terrorists" operating from those countries. Bush declared war on terrorist leaders and ordered two invasions in two years to back up that threat.
Yet, President Bush coddled the greatest terrorist leader in modern history, Yassir Arafat of the Palestinian Authority. Even though Arafat has been ordering suicide attacks on Israelis since the early 1980's, we still ordered Sharon to treat him as a leader of the Palestinian State [NEWS1807, NEWS1817, NEWS1819], worthy of being a "partner for peace".
After each and every deadly attack perpetrated by Arafat's terrorist organizations, American and European Union officials would publicly "encourage" Sharon to react with "restraint". Usually, that "restrained reaction" would come in the form of a meaningless Israeli air attack on worthless military targets, quite often empty buildings located within the Palestinian Authority.
Now, Sharon's ultimate reaction is to seemingly reward Palestinian terror over these past three decades by retreating into the tiny pre-1967 borders, a territory almost military indefensible. Sharon is prepared to nullify much of the military edge the IDF possesses over her Arab enemies by withdrawing into such a small territory. What is going on and why is Sharon taking this action?
First, Sharon is following the Illuminati plan to establish International Guarantees over Israel, which means International control. Watch for Israel to demand US and UN guarantees that his action will not result in Israel's demise. We may even see international peacekeepers taking operational control of all Israel. If this happens, a "combination Temple/Church/Mosque" may finally be established in Jerusalem, fulfilling the "New Jerusalem Covenant" plan as detailed in NEWS1052.
This plan envisions that, once such a combination worship center is established, the power of Orthodox Jewry will permanently decline, thus finally "breaking the Middle East logjam", an action that is supposed to finally bring peace.
Secondly, Sharon's action may set the stage for International Control over the Temple Mount area. Whenever the UN gains control over the Temple Mount, the destruction of the Dome of the Rock, the appearance of Antichrist, and the construction of his new Temple can finally move forward. For centuries, Freemasons the world over have committed themselves to just such a Temple rebuilding scenario [NEWS1643 for full details].
Finally, Sharon's unilateral withdrawal calls for the physical removal of all Jewish citizens from areas within the Palestinian areas. In 1997, when Cutting Edge first noted that the "House of Esau" prophesied to be annihilated in the End of the Age prophecy in Obadiah, we stated that the one factor for which to watch is a separation of populations. Since no Israeli leader would want to kill Jewish citizens as he is annihilating the Palestinians, he would take action to physically separate the populations. In November, 2000, the IDF began building the Security Wall, which began the process of separating populations; now, Sharon's unilateral withdrawal is physically removing Jewish citizens from their settlements outside the Security Wall, as these settlements are scattered within the sea of Palestinians.
Once this unilateral disengagement is completed, no Jewish citizen would be left in Palestinian areas, allowing the annihilation to occur. Please read NEWS1422 and NEWS1620 for full details as to how this shocking prophecy is likely to be fulfilled in your Daily News!
The only question is how quickly Sharon will carry out his unilateral withdrawal. Will he fight the process through the legal system and the political establishment? If he does, this withdrawal could drag out through 2005; however, if he orders an abrupt IDF withdrawal, like Prime Minister Ehud Barak ordered in Lebanon, the schedule would be moved forward dramatically.
Watch these developments, for they are the most dramatic and prophetically revealing of any events now occurring in the world today.
---------- Articles Posted ----------
* "SIGNS AND LYING WONDERS: Satan Can Perform Any Miracle That God Will Allow!" -- http://www.cuttingedge.org/articles/p220.html
* "BUSH ADMINISTRATION IS DEADLY SERIOUS ABOUT "SHRINKING THE GAP" -- HAS THE WORLD WAR II ERA O.S.S. BEEN RE-CREATED? U.S. Special Forces are being attached to U.S. Embassies throughout the "Non-Integrating Gap" region. Expect repeated coups and attempted coups in Third World countries as the drive to bring them into the "Functioning Core" gains steam! - http://www.cuttingedge.org/news/n1906.cfm
* "NATIONAL DISASTER!! CONGRESS CHANGES LANGUAGE OF FEDERAL MARRIAGE AMENDMENT TO ALLOW GAY "CIVIL UNIONS"! Once Liberal Congressmen and President Bush had the support for "Civil Union" language from Dr. James Dobson of Focus On The Family, they rushed to bring a perfectly worthless "Defense of Marriage" bill to the floor of Congress! - http://www.cuttingedge.org/news/n1905.cfm

* "ISRAEL ASSASSINATES CLERICAL FOUNDER OF HAMAS ON 3/22 -- EXACTLY 11 DAYS AFTER MADRID -- PROVING ILLUMINATI IS STILL FOLLOWING THEIR SCHEDULE: When Israel used a missile to assassinate a quadriplegic, partially blind, elderly Muslim cleric, she handed enemy propagandists a tremendously rich treasure trove of material to be used to inflame the masses against Israel. Is this assassination destined to be equivalent to the assassination of the Austrian Archduke Franz Ferdinand which ignited World War I? -- http://www.cuttingedge.org/news/n1904.cfm
* "THE NEW PARADIGM HALL OF FAME: THE PIED PIPERS OF THE 21st CENTURY CHURCH" - http://www.cuttingedge.org/news/n1506ch12.html
* "THE PASSION" - EVANGELICAL LEADER'S HALL OF SHAME - MOVIE MAY BE HISTORIC DIVIDING LINE IN REVEALING SPIRITUAL TRUTH VS DECEPTION! - http://www.cuttingedge.org/news/n1902.cfm


---------- Monthly Outreach Report ---------- "To God be the glory"!
English -- User Sessions: 481,757
Page Views: 1,516,338
Number of People Downloading Salvation Page: 5,658

Portuguese -- User Sessions: 103,011
Page Views: 330,348
Number of People Downloading Salvation: 2,754

Finnish -- User Sessions: 12,703
Number of People Downloading Salvation Pages: 710

Total Number of People Downloading Salvation Page: 9,122 or 12.6 per hour!
"So shall My word be that goes forth out of My mouth: it shall not return to Me void [without producing any effect, useless], but it shall accomplish that which I please and purpose, and it shall prosper in the thing for which I sent it." (Isaiah 55:11; Parallel Bible, KJV/Amplified Bible Commentary)

---------Conclusion----------------"And she did eat, and was sufficed, and left." Ruth 2:14
Whenever we are privileged to eat of the bread which Jesus gives, we are, like Ruth, satisfied with the full and sweet repast. When Jesus is the host no guest goes empty from the table. Our head is satisfied with the precious truth which Christ reveals; our heart is content with Jesus, as the altogether lovely object of affection; our hope is satisfied, for whom have we in heaven but Jesus? and our desire is satiated, for what can we wish for more than "to know Christ and to be found in Him"? Jesus fills our conscience till it is at perfect peace; our judgment with persuasion of the certainty of His teachings; our memory with recollections of what He has done, and our imagination with the prospects of what He is yet to do. As Ruth was "sufficed, and left," so is it with us.
We have had deep draughts; we have thought that we could take in all of Christ; but when we have done our best we have had to leave a vast remainder. We have sat at the table of the Lord's love, and said, "Nothing but the infinite can ever satisfy me; I am such a great sinner that I must have infinite merit to wash my sin away;" but we have had our sin removed, and found that there was merit to spare; we have had our hunger relieved at the feast of sacred love, and found that there was a redundance of spiritual meat remaining. There are certain sweet things in the Word of God which we have not enjoyed yet, and which we are obliged to leave for awhile; for we are like the disciples to whom Jesus said, "I have yet many things to say unto you, but ye cannot bear them now." Yes, there are graces to which we have not attained; places of fellowship nearer to Christ which we have not reached; and heights of communion which our feet have not climbed. At every banquet of love there are many baskets of fragments left. Let us magnify the liberality of our glorious Boaz. [C.H. Spurgeon, "Morning and Evening Devotions", A.W. Tozer CDROM Library]
=======================================================
May Jesus Richly Bless You,
David Bay, Director
866-909-2850 Toll Free Customer Service - Order Line
803-356-2850 Toll Free Customer Service - Order Line
803-356-2860 Fax
customerservice@cuttingedge.org