Easter Proven To Be Deeply Pagan, Not Christian!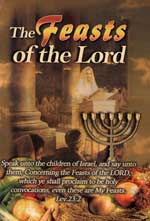 "The Feasts of the Lord In Prophecy"
Jesus celebrated Passover, Not Easter!
DVD with FREE Booklet - 5-DVD Set, almost 5 hours
Regularly $49.95, Now Only $29.95, Saving You $20!
At last, a DVD which teaches how the seven Jewish Feasts in the Old Testament accurately portray Jesus in both His first and second comings!
The Spring Feasts were Dress Rehearsals for His First Coming and were accurate to the very day!
The Fall Feasts are Dress Rehearsals for His Second Coming, also to the very day!
Your appreciation of the majesty and Omnipotent Glory of Jesus Christ will grow greatly as you see how He controls world events for the entire 6,000 years of world history, and how He has accurately predicted -- through the seven Feast Days of Israel -- His First and Second Comings, accurate to the exact day! http://cuttingedge.org/detail.cfm?ID=2168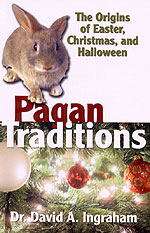 "Pagan Traditions: The REAL Origins of Easter, Christmas, and Halloween"

Book by David A. Ingraham, Only $9.99

YOU wouldn't DREAM of dabbling in idolatry or Witchcraft -- would you? YOU have NEVER embraced Witchcraft and the occult -- have you?

Surely, the Easter Bunny, the Christmas Tree, and all of Halloween's symbols and legends, are innocent ways of enjoying the holidays -- aren't they?

You will discover that the practices of our holidays come straight out of ancient Witchcraft religions, such as the Babylonian Religion, the Egyptian Mysteries, the unbelievably cruel Druid religion, and many more

As you learn that these holidays are steeped in Satanism, your Holy Spirit filled heart will tell you what you need to do. http://cuttingedge.org/detail.cfm?ID=1757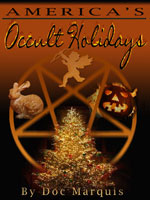 "America's Occult Holidays"
DVD by Former Satanist Doc Marquis
Regularly $29.99, Now On Sale For Only $22.99, Saving You $7.00
Former Satanist, Doc Marquis, delivers a knockout punch against the practice of all our major holidays, providing details only a former Witch would know.
Doc begins by demonstrating how the Illuminati effected the change in our calendar and how that change has affected a dramatic change in our everyday lives. The Illuminati copied heathen holidays from Satanism and then just gave them Christian names. You will be shocked to realize how very pagan our annual celebrations are! You will be shocked to realize how most of the symbols used in our holidays originated deeply within Satanism. http://cuttingedge.org/detail.cfm?ID=1460
Download printable Occult calendar shown in this video
---------- This Week's Hot News -------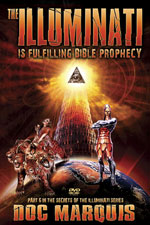 DVD
I. The International Community is intervening with a heavy hand in Libya and the Ivory Coast, while threatening Bahrain and Yemen!
President Obama was very serious last week when he said that the Libyan conflict was a golden opportunity to bring the International Community into the conflict.
NEWS BRIEF: "Foreign Intervention In Ivory Coast! U.N., France strike at Ivory Coast leader's forces", The Washington Post, April 5, 2011
"U.N. peacekeepers and French troops launched military operations against loyalists of Ivory Coast's longtime strongman Monday, a significant escalation of force that effectively placed peacekeepers on one side of the West African country's deepening civil war. " (Emphasis added)
Before the nations comprising the GCC (Gulf Cooperation Council) invaded tiny Bahrain to put down protestors, the idea of outside military intervention was repugnant to civilized society. National Sovereignty beats so strongly in the hearts of most people throughout the world that it has proven very difficult to intervene in the internal affairs of most conflicts throughout the world.
Even as the Global Elite began assembling forces to intervene in Libya, great efforts were initiated to make it look like the intervention was being carried out because of "humanitarian concerns"; supposedly, Libyan dictator Gaddafi was mass murdering his own people.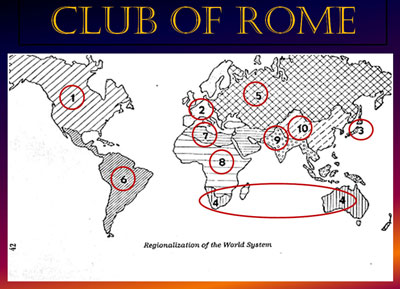 Now, however, the gloves are off and so is the mask! Now, United Nations and French forces have intervened in the conflict in the Ivory Coast, a nation chosen as an example of every other nation in Nations #7 and #8 in the Club of Rome Plan that they had better submit quickly to the formation of these regional governments or they would suffer the same fate as the Ivory Coast.
Already, plans are apparently being laid to expand the instances in which foreign intervention is planned!
NEWS BRIEF: "Ivory Coast: UN air strikes show West's new appetite for military action ", The Telegraph News (London), 4 April 2011
"The UN air strikes in Ivory Coast suggest Libya was no fluke: the West's appetite for military action has recovered robustly from the diplomatic trauma of the Iraq war. the past three weeks have found the council – this time with a less noisy Anglo-American wing – willing to pass stunningly powerful resolutions allowing missile strikes against murderous leaders. Both resolution 1973 on Libya and resolution 1975 on Ivory Coast give external forces the authority to take 'all necessary' measures to protect civilians from violence – practically a carte blanche."
"A Western diplomat at the UN last night said the resolutions showed members were taking seriously the "Responsibility to Protect" doctrine, adopted in 2006, promising "timely and decisive action" against atrocities ... The diplomat said that crucial in both cases had been the endorsement of action by the respective regional authorities – on Libya, the Arab League and on Ivory Coast, Ecowas and the African Union. "
You see, the strategy known as "The Pentagon's New Map" -- as we outlined in the DVD, "The Illuminati Is Fulfilling Bible Prophecy" -- is being followed to the letter in this region. Forces from the "Functioning Core" states are heaping immense pressure upon nations in the "Non-Integrating Gap" countries to dissolve their current governments so a Regional Government can take power. To facilitate this transfer of power, the Global Elite has created regional Arab organizations, like the Arab League and the African Union, so that it appears that the Arabs want the same political reorganization as the Functioning Core states want!
This brilliant strategy is working like a charm! Perhaps as soon as the end of this year, all resistant strongman dictators within these two regions will have been ousted, and replaced by compliant "democratic" governments!
As military intervention by outside forces takes hold and becomes the expected norm, no individual dictator can be expected to resist for very long. This is the Plan of the Club of Rome for Regional Governments #7 and #8, and it seems to be working "like magic"!
II. Yemen's current pro-West President seems about to fall.
NEWS BRIEF: "Yemen's Government Is About To Collapse -- Here's What You Need To", Business Insider, April 4, 2011
"Today, Yemen itself is months, perhaps weeks, away from collapse. The regime of Ali Abdullah Saleh has lost the support of its people, the support of the few allies it had in the region and, most important, the support of the United States."
President Saleh has ruled for 33 years, so he is a prime candidate for removal! Since Saleh is such an "old guard" dictator, he is resistant to the concept of surrendering his national authority to a regional government.
Listen to the state of this country he has ruled for so long.
"Yemen is a country entirely comprised of haves and have nots. There is no middle class. There is no real industry. There is no real economy. It's a failed state, ruled by a failed leader..."
The one ray of hope turns out to be a woman, the head of the "democratic reform" movement.
"There is one ray of hope: a dissident leader named Tawakkol Karman, who has emerged as the voice of the democratic opposition. It is widely assumed that she will be assassinated by Muslim Brotherhood-like Islamists at the moment she is no longer useful to them."
Soon, the powerful dictator of Yemen will be gone and will be replaced by a weaker government which will provide no meaningful resistance to a regional government!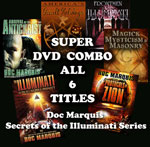 III. CNN News has just announced that the battle in Libya is being fought to establish the New World Order!
NEWS BRIEF: "In Your Face: CNN Segment on Libya Entitled 'New World Order' ", InfoWars, March 30, 2011
When CNN ran a news analysis report on the conflict in Libya, the headline at the bottom of the page boldly proclaimed, "The New World Order"!
The list of the "experts" being interviewed read like a "Who's Who" of the Illuminati.
"The clip features the usual NWO suspects, including Richard Haass, president of the Council on Foreign Relations since July 2003; former U.S. rep Jane Harman, soon to be the boss of the globalist training center, the Woodrow Wilson International Center for Scholars; the neocon Robert Kagan, who is a senior fellow at the Brookings Institution and a PNAC co-founder, and the neocon and former CIA director under Clinton, James Woolsey, who is a self-described "Joe Lieberman Democrat" (meaning he advocates bombing small and defenseless Muslim countries) who is also a PNAC supporter and former member of the CIA .... Freedom House ..."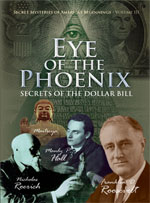 DVD
No one can be deceived any longer: this conflict is being waged in order to bring about the global dictatorship known as the "New World Order". This new order is exactly the same as the "Novus Ordo Seclorum" on the back of our One Dollar Bill, a Masonic / Egyptian design officially created by the Continental Congress in 1782.
There is nothing "New" about the New World Order, as it has been planned for 500 years. Occult planners call this new Antichrist system "New" only because they intend to overthrow the current "Old World Order" and replace it with their newly created global Tower of Babel!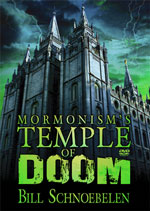 DVD
IV. While President Obama quietly declares his re-election bid, Mitt Romney is already running unofficially!
NEWS BRIEF: "President Obama officially launches 2012 reelection campaign without a remark ", The Hill News, April 4, 2011
"President Obama on Monday officially launched his campaign for a second term in office with a video message that featured no remarks from Obama and only a few glimpses of the president. In both style and substance, Obama de-emphasized himself in his formal reelection announcement, instead turning attention to the volunteers and grassroots supporters who helped deliver him the White House in 2008."
President Obama might just find that he has a lot less "grassroots support" than he did four years ago. Many of his supporters feel angered by the positions which Obama the President took which were at complete odds with the position taken before the election by Obama the Candidate.
Has President Obama continued too many Bush-era policies to be able to fire up his political base again? This next segment identifies just some of the problems facing the President now.
"Obama's reelection launch comes at a high-stakes moment during his third year in office. The president has spent the better part of the last month dealing with U.S.-led airstrikes in Libya while seeking to strike a budget deal with congressional Republicans that would avert a government shutdown. He'll now start a campaign that has set the audacious goal of raising $1 billion, much of which must come from a liberal base that has become disenchanted with some of the president's policies."
Meanwhile, Mitt Romney continues to build his reputation as the GOP front-runner.
NEWS BRIEF: "Shadows of 2012: Gimme Mitt!", Black & White News, April 1, 2011
"Conventional wisdom suggests that Mitt Romney will be the Republican candidate for president. He's an establishment candidate with appeal to fiscal conservatives and a massive fundraising operation. Plus, he's run for president before, and having lost to Senator John McCain (R-Arizona) in 2008, Republicans would respect that he's waited his turn and reward him with the nomination."
"But this is far from a conventional election cycle. Some of Romney's formative experiences – such as his Mormon faith and his leadership of the federally supported Salt Lake City Olympics – may not jibe with evangelical or Tea Party Republicans. More likely to upset Tea Party supporters, though, is the health care reform Romney signed while governor of Massachusetts."
Many analysts believe that Romney can defuse the Massachusetts RomneyCare program by simply claiming that he realizes that this program was a huge mistake and then ask voters for their forgiveness.
News last week surprised me, as I am sure it did you, that Romney holds the lead amongst Tea Party voters!
As of this moment, it does look as though the Democrats will field 32nd Degree Prince Hall Mason, President Obama, for re-election, while the Republicans will field Mormon Elder, Mitt Romney. the only real question is how Mormon Jon Huntsman -- a strong Liberal -- fits into this scenario. Even though he served as a Republican Governor of Utah, Huntsman served President Obama as Ambassador to China. Certainly, Huntsman's Liberal credentials would ally nicely with those of the President.
Wouldn't it be interesting if Mormons were running on opposite sides of the ticket this year?
Mitt Romney could be the GOP and/or Tea Party candidate.
Jon Huntsman might be drafted to run as Vice President with Obama!
Remember what makes Mormonism so onerous: It was "created by witches for witches" and teaches that Jesus and Lucifer are brothers!
If this is the year of a Mormon for President, it is a tell-tale sign of the lateness of the prophetic hour!
---
New Headline News Article
Beware!! Republican and Tea Party Leaders Are Beginning To Sound The Fraudulent Warning That 'Liberal Judges' Are Threatening 'Conservative' Values!
Their phony solution? Political activism which will elect Conservative officials and judges! (Remember: Terri Schiavo was killed by Republican Judges - Republican judges provided the majority to legalize Sodomy and Abortion with Roe vs Wade)
"Truth is not what is; truth is what people think it is." (Adolf Hitler)
"What luck for rulers that people do not think." (Adolf Hitler)
http://www.cuttingedge.org/news/n2444.cfm
---
New Book
"The Fall of Satan: His Horrific Nature Starkly Revealed"

The ruler of darkness… the Tempter… the Great Red Dragon… Apollyon; the Destroyer… One being is revealed to have all these titles and more… names that reveal his horrific nature… All names given to Satan, your adversary who comes like a lion "seeking whom he may devour" (1 Peter 5:8).
Today, many question and even mock the very existence of Satan, as well as the reality of evil. Even in the Church, there are few biblical resources on the subject to counter the destructive claims raised in today's humanistic culture. In The Fall of Satan: Rebels in the Garden you will discover the answers to 35 captivating questions, such as: 1) How could one created good become so absorbed by evil? 2) Why would God, who is not evil, allow evil to continue to exist? 3) Did sin begin with Adam or was its origin found in Satan? 4) When did Satan rebel against God's authority?
Where can the answers be found to such provocative, spiritual questions that have been asked so many times over? Carefully consider the biblical response, since it is the only completely reliable foundation for information about Satan. As our absolute authority, we must reject unqualified conclusions drawn from sources outside the Bible, such as the current ideas and traditions of the culture. No believer should be unaware of these sound answers found in the Bible.
6 x 9 • 176 pages • Paper -Watch Promo for This Book
---
New Headline News Articles
The National Association of Evangelicals is getting ready to align with the Church of Jesus Christ of Latter-Day Saints! http://www.cuttingedge.org/news/n2442.cfm
Mormon Glenn Beck Meets With Southern Baptist Billy Graham, Urging Him "To Come Together" - Yoking Believers With Unbelievers!
Beck is making major inroads to convince Evangelical leaders to support his cause. Beck has even taken control of the "Black Robed Regiment" to finally cement a bridge from Mormonism to Christianity. Genuine Christians are in dire danger of being mightily deceived. http://www.cuttingedge.org/news/n2441.cfm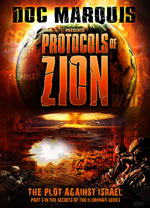 DVD
Why Is China Building Large Cities Completely Devoid of People? The answer will shock you, for a nearly unknown part of the Plan is being implemented. This development means that the appearance of the Antichrist is closer than many think possible.
http://www.cuttingedge.org/news/n2440.cfm
---
Close-Out Bookstore Item -- Save $15.00!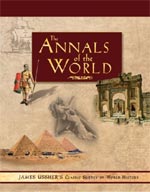 "The Annals of the World"
James Ussher's Classic Survey of World History"
Regularly $34.99, Close-out At $19.99
Wonderful Home School resource, with 960 pages, weighs 5 pounds!
Considered both a literary classic and an accurate historical reference from Creation to 70 A.D. For the first time, this classic work has been translated into modern English.
This treasure trove of material also contains many human interest stories from original historical documents collected by the devoted Christian historian and scholar Archbishop James Ussher. Precisely dated and referenced, this volume is much more than just a fascinating history book -- it is a work of history
Contains over 2,500 citations from the Bible - Is fully indexed, with 8 appendices
A "one-of-a-kind" historical homeschool resource and we have limited stock on hand!
---
Most Popular DVD In The Bookstore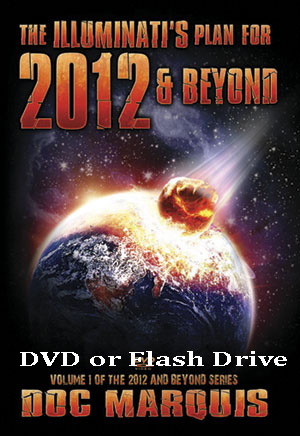 New Doc Marquis DVD - His Best Ever!
"The Illuminati's Plan For 2012 And Beyond"
2-Disc Set - Volume 1
Now that you have read and heard the noise and chatter about the year 2012, you will be pleased to know the truth of the Illuminati Plan for 2012, from a man who knows the Plan thoroughly, former Illuminati Luciferian, Doc Marquis!
After watching this 'One of a Kind' DVD set, you will no longer wonder what will happen after December 21, 2012!
Is the end of the world near? Are we doomed to destruction? Do we have any hope for tomorrow beyond the year 2012? In this new, exciting and riveting 2 part DVD set renowned author and former Illuminati witch Doc Marquis takes up the daunting task of revealing the truth behind December 21, 2012.
At the end, through a unique series of question and answers along with comparisons of the Holy Scriptures Doc Marquis shall reveal the final truth behind the mystery of 2012.
2-DVD Set, nearly 4 hours - http://www.cuttingedge.org/detail.cfm?ID=2304
---

Purchase a 1-Year Subscription, you may select 1 FREE gift
Purchase a 2-Year Subscription, you may select 2FREE gifts
Purchase a 3-Year Subscription, you may select 3 FREE gifts
Purchase a 4-Year Subscription, you may select all 4 FREE gifts
We have changed our FREE gifts available to you when you subscribe to Headline News, adding two Pastor Hoggard DVD's to the Seminar Tapes and the Radio Collection CDROM.
---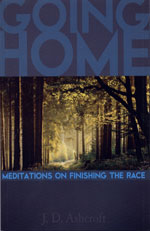 --------Concluding Inspiration ---------"ONE WAY"
"I am the way, and the truth, and the life. No one comes to the Father but by me." John 14:6
A Friend knows the song of our hearts and hums it to us when we forget the tune. Lest we forget for an instant the most important principle we must believe if we would properly prepare for a Christian death, let us meditate on this promise given by Jesus to his disciples.
Jesus says "I am the way", "No one comes to the Father except through me."
Thomas a Kempis wisely wrote, "without a way no man may go." (Imitation of Christ, 3:55). We do not and cannot reach heaven on our own, without Jesus Christ our head. Jesus is the way in which we ought to go to heaven, through Him and Him alone, for there is no other salvation from sin, death, and hell.
Jesus said "I am the way and the truth", "No one comes to the father except through me."
Thomas wrote "without the truth no man may know." Jesus is "the truth which we ought to believe." He is the Son of God, the perfect sacrificial victim, who died to take away the sins of the world. He is the one whose Word is fully trustworthy, and can never fail.
Jesus said "I am the way and the truth and the life", "no one comes to the Father except through me."
Thomas wrote that "without life no man may live." He is 'the life for which we ought to hope'.
Again Thomas wrote that Jesus is 'the Way that cannot be defiled, the truth which cannot be deceived, and the Life that never shall come to and end."
"No one come to the Father except through me."
These are the Words of the Lord. Let us cleave to them with all our hearts, because "if you confess with your mouth that Jesus is Lord, and believe in your heart that God raised Him from the dead, you will be saved" (Rom. 10:9).
Dear lord, we thank you for the wonderful things we have to look forward to in heaven. We are happy that eternity will be free of death, mourning, tears and pain! We look forward to our life in the new Jerusalem with you and all our brethren. We are no longer afraid, but embrace your sovereign will for us, in Jesus Name, amen.
---
"President Bush:
Evil vs Good Fruits"
Directory of all news articles
Free Radio Transcripts

Free Headline News Archives

Freemasonry

What Saith Rome

Teachings from the Catechism

Bookstore

Meet the Staff

Weather Control

School Shootings

Understanding Clinton
May Jesus Richly Bless You,
David Bay, Director
866-909-2850 Toll Free Customer Service - Order Line
803-356-2850 Customer Service - Order Line - For Out of Country Customers
803-356-2860 Fax