Bill Salus' masterful book, "Isralestine", pictured above, details the significance of this prophecy very well. The time is quickly approaching when frustrated and weak Palestinian leaders are going to make a national announcement of a new nation, a proclamation for which they lack the power to turn that pronouncement into reality.
And, you and I have been watching these events occur day by day. We literally have a cat-bird seat over the entire stage.
DVD
II. People should not worry about this new "Christian Militia" and start worrying about the Secular Militia.
NEWS BRIEF: "What About The Secular Militia"?, by Coach Dave Daubenmire, NewsWithViews, April 1, 2010
"Call me Mr. Black Helicopter or try and write me off as a "conspiracy theorist" but something is really fishy about the recent arrest of the "Christian Militia" in Michigan. I have learned over the years that there is more to most stories than meets the eyes. This is just too convenient for me. A few months ago we found out that our Department of Homeland Insecurity had determined that the greatest threat to America weren't the 'Hitler's in Headscarves' (Thanks Dr. Savage), but Mom and Pop American's who had the temerity to take their frustrations to the streets. "
Cutting Edge has been warning since 1998 that the Federal Government really had its eyes set upon the average American citizen, especially the genuinely saved Conservative Christian. The Illuminati has admitted of having difficulty with only two foes in its march to a New World Order.
The first intractable foe is National Patriotism. Since the goal is to overthrow every sovereign nation so a global government can be formed, it is a real problem when citizens remain so patriotic that they resist any change to overthrow their precious government.
The second foe is the Born Again, Conservative Christian, who hold literally to their Bibles. Liberal Christians are not a problem, since they really don't hold tightly to Biblical doctrine and can be moved by emotion and intellectualism. For this reason, I look suspiciously upon this Michigan Christian militia who is supposed to be aiming for the overthrow of the American government.
Let us now return to our featured editorial:
"Well right on cue, our friends at the FBI were able to break up a 'right-wing' group of 'Christian Militia' who were planning to 'kill the police'. How convenient that the Feds were on the alert, staging the raid, poisoning public opinion, and proving Janet Napolitano to be a prophet.. We all know how violent those Christians are...allowing saliva to fly from their mouths when yelling at legislative larcenists ... I have no idea who this "Christian" Militia is, but are they inferring that the "Christian" Militia is more dangerous than, say, the "Muslim" Militia?"
At this point, Coach Dave takes a stand which I appreciate.
"Let's be clear. Christian's don't kill cops. If this 'militia' threatened to do so then they are not Christians, no matter how much DHS wishes they were."
Amen! However, the vast majority of Americans are not discerning enough to make this distinction, and that is where the danger arises. We genuine Christians are being painted with the broad bush of the propagandist and that can turn against us so terribly that we could be set up for persecution as this propaganda campaign unfolds. Let us just hope that one of these so-called "Christian militia" doesn't make an inept attempt to blow an airliner out of the sky, for that kind of incident could be used as the excuse to really clamp down hard.
Christian, are you sold out to Jesus enough that you can withstand persecution for His sake? All you have to do to discover the answer to that question is to look at your everyday life; if you are too timid and afraid to stand for Jesus now, you will never stand for him when you are persecuted and perhaps even martyred.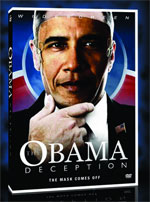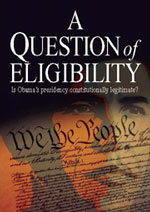 III. Did the First Lady really say that her husband was born in Kenya?
NEWS BRIEF: "Did Michelle say Barack born in Kenya? Video clip of reference in speech goes viral on Internet", By Jerome R. Corsi, World Net Daily, April 5, 2010
"A video of Michelle Obama telling a group of homosexual-rights activists that Kenya was her husband's "home country" went viral over the Easter weekend. The video, posted April 3 on YouTube and forwarded by a score of Internet e-mails, shows Michelle Obama saying, "When we took our trip to Africa and visited his home country in Kenya, we took a public HIV test."
"The clip comes from a June 2008 campaign speech she delivered to the Gay & Lesbian Leadership Council of the Democratic National Committee in New York City, as reported by Reuters."
"Many who circulated a link to the video clip concluded the first lady was acknowledging her husband was born in Kenya and, therefore, not eligible for the Oval Office under the requirement of Article 2, Section 1 of the Constitution that the president be a 'natural born citizen'."
However, others disagreed, saying that Michelle Obama was merely trying to polish her husband's reputation in the American Civil Rights Movement. That viewpoint seems very lame and weak to me. In matters of interpreting anything, the best way to proceed is to literally take what is said or written.
If this approach is taken, then we may have Michelle Obama inadvertently admitting that her husband was born in Kenya. If that is the case, then the DVD's above, "The Obama Deception" and "A Question of Eligibility" become exceedingly pertinent.
If Barack Obama is proven to be not naturally born in America, then all his programs and laws which he has signed while in the Oval Office will be instantly voided. America would be plunged into a Constitutional crisis, the likes of which we have never seen.
Chaos could reign. What are those famous Masonic sayings?
"Out of Order, Chaos"!
"Conflict brings about change; Controlled Conflict brings about Controlled Change".
We might just see a Constitutional crisis over this matter; and rest assured, out of this chaos will come changes the Illuminati wants badly.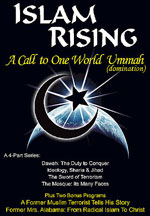 DVD
IV. The Iraqi War is not over yet!
Sunnis and Shi'ite groups are battling each other over control of the new central government.
NEWS BRIEF: "Dozens killed, more than 100 wounded in Baghdad blasts", by Leila Fadel and Aziz Alwan, The Washington Post, April 6, 2010
"BAGHDAD -- A series of at least seven bombings ripped through the heart of mostly poor Shiite neighborhoods in the capital Tuesday, killing about 35 people and wounding more than 100, security officials said. The morning attacks seemed aimed at inciting sectarian fighting by targeting the homes of Shiite civilians."
Notice that these Arabic journalists know that this fighting is being caused by a conflict between Sunni and Shi'ite factions. The mythical al-Qaeda has nothing whatsoever to do with this renewed bloodshed.
"Violence has been increasing in the Baghdad area following parliamentary elections that left a security vacuum as political parties jockey for power. Bombings on Sunday killed at least 30, and 24 people were brutally executed south of the city on Friday."
"In at least five of the attacks Tuesday morning, people rented out rooms or stores in or around residential apartment buildings, put explosive devices inside and detonated them in less than an hour, security officials said. A similar tactic was used on Election Day, when more than 30 people were killed."
Iraq will continue to be bloodied and shaken to her foundations, until the time comes when God's judgment finally falls on Ancient Babylon (Iraq). We have long felt that President Bush's invasion set of events which shall completely destroy Ancient Babylon (NEWS2150, entitled "Iraq Now Splitting Into Three Nations -- Is Bible Prophecy Being Fulfilled!?")
The unprecedented devastation wreaked upon the land by the combined armies from all over the world is now completed, and America is leaving. What remains now is the foretold civil war, followed by the Kurds (Medes) invading a very weakened south to finish God's physical judgment.
Let us review this unfolding prophecy:
"Therefore I will make the heavens tremble; and the earth shall be shaken out of its place at the wrath of the Lord of hosts in the day of His fierce anger. And like the chased roe or gazelle, and like sheep that no man gathers, each [foreign resident] will turn to his own people, and each will flee to his own land. Everyone who is found will be thrust through, and everyone who is connected with the slain and is caught will fall by the sword. Their infants also will be dashed to pieces before their eyes; their houses will be plundered and their wives ravished." [Isaiah 13:13-16; Parallel Bible, Amplified Bible Commentary]
Once again, this verse contains the End of the Age language used so commonly for this period of time, to describe God's furious judgments pouring down upon a wicked world.
This verse may also apply to the last judgment upon this poor land, when God brings the Medes against the land of Babylon. The modern day descendants of the Medes may be the Kurds, who are right now caught in the middle of this conflict, but who are very eager to destroy Iraq in revenge for the terrible atrocities inflicted upon them by Saddam Hussein. Easton's Illustrated Dictionary lists the Medes as part of the Assyrian Empire, which covers the area of today's Iraq, Syria, Lebanon. This area borders on the mountainous border of Iran (Persia).
If the Kurds are going to be turned at the very end of the age against the now hapless Iraqi citizens after their destruction by American-led forces, then the description of this destruction in the following verses makes a lot of sense.
"Behold, I will stir up the Medes against them, who have no regard for silver and do not delight in gold [and thus cannot be bribed]. Their bows will cut down the young men [of Babylon]; and they will have no pity on the fruit of the womb, their eyes will not spare children. And Babylon, the glory of kingdoms, the beauty of the Chaldeans' pride, shall be like Sodom and Gomorrah when God overthrew them. [Babylon] shall never be inhabited or dwelt in from generation to generation; neither shall the Arab pitch his tent there, nor shall the shepherds make their sheepfolds there. But wild beasts of the desert will lie down there, and the people's houses will be full of dolefully howling creatures; and ostriches will dwell there, and wild goats [like demons] will dance there. And wolves and howling creatures will cry and answer in the deserted castles, and jackals in the pleasant palaces. And [Babylon's] time has nearly come, and her days will not be prolonged." [Isaiah 13:17-22]
As the world enters into the Tribulation period, the emphasis will be on Israel and Antichrist. Little attention will be paid to the annihilation of the few survivors of Iraq, as the Kurds may finish God's judgment. However, for this type of judgment to occur in Iraq today, at the hands of the Kurds (Medes), that people will have to split from the current nation of Iraq and form their own country, with their own military.
That is exactly what is happening right now, today!
I believe the Sunnis and Shi'ites will battle and battle until both sides are literally bled white; at that moment, a newly energized Kurdish army may use the weakened state of their perennial enemies to launch a savage attack on the south. At long last, the Kurds could avenge their huge genocidal losses inflicted by Saddam Hussein!
At this point, Ancient Babylon will become what God foretold it would become.