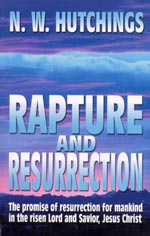 Celebrating Resurrection Day
Analysis Article
Jesus' Triumphal Ride On Palm Sunday - Fulfillment of the Most Precise, the Most Incredible Prophecy In The Entire Bible!
God foretold the EXACT DAY Messiah would be presented to the people and the Jews missed it!
Sadly, most people have never, ever heard of this wonderful prophecy -- certainly not from our pulpits! Imagine, Jesus fulfilled 484 Year Prophecy to the day!!
An exciting study of Daniel 9:24-27
---
---------- This Weeks Hot News ----------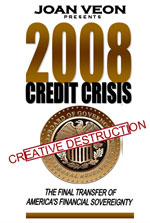 DVD Sale
I. The G-20 financial summit took great strides toward the creation of a global currency!
NEWS BRIEF: "G20 moves the world a step closer to a global currency", The Telegraph News, 07 Apr 2009
"The world is a step closer to a global currency, backed by a global central bank, running monetary policy for all humanity."
In October, we noted that the Central Banks of all the developed nations in the world -- including those of Islamic nations -- were uniquely acting in concert. They were coordinating their policies, which gave the world a de facto global economy! Not only is this coordination continuing, but the G-20 Summit officially created the beginnings of a global currency!
But, now notice that the Elite are so bold as to declare a "Global Central Bank"!
Truly, as Joan Veon declares in her DVD, above, "2008 Credit Crisis: Creative Destruction", the global economy is no longer "coming upon us"; it is here now!
"A single clause in Point 19 of the communiqué issued by the G20 leaders amounts to revolution in the global financial order.
'We have agreed to support a general SDR allocation which will inject $250bn (£170bn) into the world economy and increase global liquidity', it said. SDRs are Special Drawing Rights, a synthetic paper currency issued by the International Monetary Fund that has lain dormant for half a century.'
"In effect, the G20 leaders have activated the IMF's power to create money and begin global 'quantitative easing'. In doing so, they are putting a de facto world currency into play. It is outside the control of any sovereign body."
Did you catch that last sentence? This newly functioning global currency is "outside the control of any sovereign body"!!
This is the essence of global authority. This is the beginning of global government. Since the new political global government is emerging on the horizon, the time has come for a workable global currency to be introduced. In this manner, the global economy with its global currency will be ready when the global dictatorship is dramatically imposed.
Are you ready? Are you even aware what is happening?
The tide of good economic news coming from the Obama White House and its obedient Mass Media continues.
NEWS BRIEF: "Market's Message: The Tide Is Turning Bullish, More Confident", Yahoo Financial News, April 4, 2009
"There was a general sense of optimism this weekend in San Diego, where I attended a hedge fund conference and separate tribute dinner for newsletter legend Richard Russell. Among those in attendance - and feeling at least cautiously optimistic - was Prieur du Plessis, noted blogger and executive chairman of Plexus Asset Management, a South African-based firm with about $2 billion of assets ... "
In this next segment, notice the empahsis on the global economy.
"While the global economy remains 'murky' and America's banks the 'elephant in the room', Plessis believes a 'bottoming area' has been established. He expects emerging markets, notably China and resource-rich nations like Brazil will continue their recent outperformance."
As we have stated before, President Obama must be seen as brilliantly solving this huge disaster. While the American public will initally "cut him some slack" because he did not create this problem, they will hold him accountable for ensuring that his Stimulus Plan will cure our economic ills.
The White House is now on the spot to perform. Since the Illuminati expects Obama to bring in the New World Order (NEWS2336), he must be a popular, "teflon" President. Therefore, his office and a compliant Press must start to bring in good news in order to stimulate consumer confidence. That effort has now begun. This is not to say that no negative articles will be printed, but it does mean that enough economic confidence articles will appear so that the consumer is encouraged to start spending and borrowing again.
The Illuminati is achieving their goal of a controlled global economy -- not a ruined one.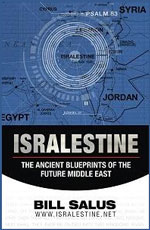 II. Former Prime Minister Tony Blair agrees with our analysis: Israeli PM Netanyahu supports the Palestinian State!
The Obama White House immediately moves to announce firm support for the "two-state solution"!
NEWS BRIEF: "Blair: Bibi Supports Palestinian State", by Maayana Miskin, Israel National News, 4/06/2009
"United States President Barack Obama and United Nations Middle East envoy Tony Blair pushed this week for the creation of a Palestinian Authority-led Arab state in Judea, Samaria and Gaza. Blair met with Prime Minister Binyamin Netanyahu on Monday. He later told journalists that Netanyahu supports the creation of a PA state in principle."
Blair then underscored the importance which the Illuminati places on this "two-state solution".
"The creation of a PA state is crucial, said Blair, who said such a state was 'the only solution that will ever work'. Netanyahu would agree to give up Judea and Samaria to a PA state 'if the right context can be created', he added."
What do Blair and Netanyahu mean when they say "'if the right context can be created"?
This phrase ties in tightly to the "Road Map" plan, which promises the Palestinians they can have their state, but only if they stop terrorist acts against the Jewish state. Up to this point, radical elements within the Palestinian camp have refused to be controlled, even a temporary control which would allow their state to be created. For this reason, Hamas must be brought under control, either by overthrow or by a "Unity Government" with Fatah, under Abbas. The problem with the Unity Government is that Hamas leadership understands that Abbas is a Freemason, and is tightly controlled by the Global Elite.
When you see Hamas brought under the thumb of the Illuminati, you will know the creation of the Palestinian State is very close.
President Obama immediately reiterated his support for a Palestinian State.
NEWS BRIEF: "Obama: We are committed to Annapolis", The Jerusalem Post, April 7, 2009
"US President Barack Obama on Monday reiterated his country's commitment to previous understandings, including the process launched at Annapolis in 2007, in promoting a peace agreement between Israel and its neighbors. Obama, who was addressing the Turkish parliament, also voiced unequivocal support for a two-state solution, days after Foreign Minister Avigdor Lieberman said Israel was not bound by the Annapolis talks."
" 'Let me be clear', Obama said, 'the United States strongly supports the goal of two states, Israel and Palestine, living side by side in peace and security. That is a goal shared by Palestinians, Israelis, and people of good will around the world. That is a goal that the parties agreed to in the road map and at Annapolis. And that is a goal that I will actively pursue as president."
The difference between the Road Map to a Palestinian State and the Annapolis agreements are not large. The Road Map places a greater emphasis on the Palestinians stopping their terror campaign; therefore, the new Netanyahu government prefers to abide by the Road Map.
But, however it is achieved, a Palestinian Nation will be declared.
Do you remember our Headline News Article of several months ago on Obama's vision for the Palestinians? Please take a moment to read NEWS2338, ""President Obama Immediately Throws His Weight Behind Masonic President Abbas of the Palestinian Authority In A Renewed Drive To Create A Palestinian State"
A Palestinian Nation will be proclaimed, for prophecy demands it -- just as the book, above, Isralestine reveals.
---
"Must-See" NEW DVD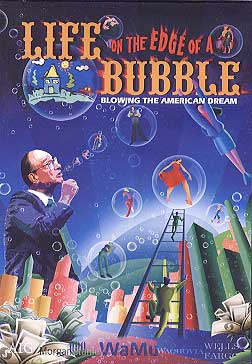 "Life On The Edge of A Bubble: 200 Years of Planned Economic Collapse - 'Blowing The American Dream' "
Financial Crisis. Panic. Bailout. Dire headlines urged quick action to prevent the collapse of the financial system. The crisis appeared to materialize out of nowhere.
Examine 200 YEARS of DELIBERATE financial erosion which have brought us to this crisis point -- -1) Laced with forgotten commercials, original advertisements and less-than-popular wisdom of the time; 2) View the current economic crisis in a whole new light through VINTAGE footage collected from over 800 film reels of rare government public service announcements, animations, news reels, and unique period pieces; 3) Supported by political commentary, statistical data, and governmental reports; 4) Compare the stories told by elected officials and financial experts. Why have their stories changed? 5) Also includes a special documentary short on the early economy and genesis of our banking system
First documentary to bring to light the financial shenanigans of the real invisible hand that has distorted the free market, eroded trust in our financial and political institutions, and threatened the promise of the American Dream. This video might reach someone who does not like boring statistical presentations
NOTE: Video is 1 hour, 42 minutes
You will enjoy being enlightened while at the same time being entertained. Available April 15 -- http://www.cuttingedge.org/detail.cfm?ID=2011
Regularly $19.99, On Sale $14.99
Watch two dynamic trailers - "John Wayne" trailer, plus "Financial Overview"
---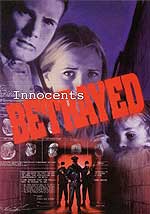 DVD
III. Three more tragic shootings have occurred, bringing the issue of private gun ownership close to the boiling point.
When is the anger of undiscerning American citizens going to hit "critical mass", allowing the coming dictatorship to disarm us all?
NEWS BRIEF: "Korean Christians killed in shooting spree in California", The Telegraph News, 08 Apr 2009
"The gunman opened fire at a Korean Christian retreat centre in Southern California Tuesday night, killing one person and wounding three others. The gunman was believed to be among the injured at the Kkottongnae Retreat Camp. Investigators were unsure what prompted the attack, sheriff's spokesman Dennis Gutierrez said ... Police described the shooter as a Korean man in his 70s and an official said the language barrier was making it difficult to get all the facts."
In the state of Washington, a distraught father killed his five children before committing suicide.
NEWS BRIEF: "Father Kills Five Children in Third U.S. Multiple Shooting ", By Jeran Wittenstein, Bloomberg Financial News, April 6,2009
"A U.S. father killed his five children and then shot himself after learning his wife was leaving him. The children, ranging in age from 7 to 16, may have been shot dead with a rifle ... by James Harrison early on April 4. Four of the children were found in their beds in the family's mobile home near Graham, about 25 miles (40 kilometers) southeast of Tacoma. The fifth, a girl, was found in a bathroom, after what appeared to have been a struggle..."
Another deadly gun shooting in Germany is causing angst and anger.
NEWS BRIEF: "German kills relative in Bavarian courthouse shooting spree", The Telegraph News, 07 Apr 2009
"A man shot two people dead and gravely injured four others in a dispute over an alleged inheritance in a Bavarian courthouse. The mid-morning shooting took place at the regional court in Landshut, 45 miles northeast of Munich. Helicopters were used to evacuate the wounded to hospitals.
" 'It's a bloodbath in there', an unidentified woman told the NTV news channel after escaping from the building. Several people were seen streaming from the building in the aftermatch of the shooting with blood running down their faces, either from their own wounds or from victims nearby. Police spokesman Leonard Mayer said the attack "came out of the blue", with shots fired in several courtrooms. 'There are presumably many wounded, but a few dead too', Mayer said."
In conformity to the Illuminati type of public mass murder, the gunman committed suicide before authorities could close in.
"The shooter, whose identity is still not known, is believed to have killed himself shortly after the incident. The man is said to be 60. It is unclear how he got his gun – a large-calibre handgun - past metal detectors and security guards into the court building."
While America particularly has experienced public mass murder by gunmen over the past two decades, I cannot remember any time when so many shootings have occurred in such a short period of time. This new tragic reality makes me believe we might have already entered into a period where the "final birth pangs" which will produce a national gun confiscation campaign might not be far off.
For this reason, we have brought several new Gun Control Bookstore resources so you can spread the knowledge far and wide that governments who force their citizens to give up their guns rapidly establish an Absolute Dictatorship!
These are the additional Gun Control resources in our bookstore.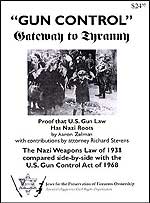 Hitler's Nazi Weapons Law of March 18, 1938
"Those who refuse to learn from history are doomed to repeat it".
This dynamic book contains the German language original of the Nazi Weapons Law of March 18, 1938, a page-by-page translation, and then a page-by-page comparison with the U.S. Gun Control Act of 1968.
The similarities are striking.
As the Obama Administration moves to make all gun ownership illegal, this book is absolutely REQUIRED READING for all discerning people.
History teaches that no Absolute Dictatorship can be established if ordinary citizens are not disarmed first. These public shootings are designed to so outrage people against guns that the majority of citizens will allow all guns to be confiscated. http://www.cuttingedge.org/detail.cfm?ID=2003
"Death By Gun Control" Book: Disarmed people are neither free nor safe - they become criminals' prey and tyrants' playthings. What disarms the citizens? The idea of "gun control."
"Dial 911 And Die": Gun control" survives as an idea because most Americans believe one single huge myth: 'You don't need a gun because the police protect you from crime'. Perhaps no other lie in history has been told big enough, often enough, so that citizens actually believe that, if they give up their guns, the police can and will protect them from armed "bad guys".
"Innocents Betrayed" DVD: Most parents will do anything to protect the lives of their precious children; yet, they naively trust history's greatest killer of innocents -- government! This video that will open eyes. Destroy myths. Change minds. Save lives.
New Headline News Article
"Are Guns The Real Enemy?"
We Have Met The Enemy And He Is The Undiscerning PEOPLE Among Us!
http://www.cuttingedge.org/news/n2352.cfm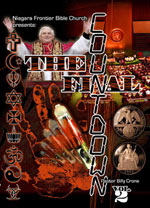 DVD
IV. President Obama may be gaining dictatorial authority over the Internet!
NEWS BRIEF: "Cybersecurity Bill Gives Obama Dictatorial Power Over Internet ", by Kurt Nimmo, InfoWars, April 6, 2009
"As we reported on March 22 when Jay Rockefeller was peddling nonsense about a pimple-faced kid in Latvia taking down the power grid in America with a laptop computer, the current wave of fear-mongering about cyber terrorism is just that — unsubstantiated fear-mongering. Critical networks are largely protected and "nightmarish tales of their vulnerability tend to be largely apocryphal," according to Gabriel Weimann, author of Terror on the Internet. 'Psychological, political, and economic forces have combined to promote the fear of cyberterrorism'."
As we have repeated over and over again since the attacks of 9/11, the threat of terrorism is nearly as effective in persuading people to accept a loss of freedoms as terrorism itself. For this reason, Jesus warned us that both "War" and "Rumors of War" would be strong signs that the End of the Age is near.
The threat of more terror attacks allowed Congress and President Bush to push through Patriot Acts I and II and a host of similar bills which take away our Constitutional rights and impose an Absolute Dictatorship. The only reason we are still free today is because the time has not yet arrived when the Illuminati will enact all these laws. When that time comes, all authorities needed to quickly impose an unprecedented dictatorship will swing into action at once, producing a synergy of forces which will prove unstoppable. Adolf Hitler successfully used this tactic from 1933-1939, at which time he moved so quickly to change Germany into a dictatorship, virtually every German was shocked to complete psychological numbness as Hitler's goons swiftly slapped the entire country under lock and key.
In this manner, let us now continue to examine this Cybersecurity Bill.
"Indeed, there are political forces are behind Senate bills No. 773 and 778, introduced by Sen. Jay Rockefeller, who declared last month that we would all be better off if the internet was never invented. Rockefeller meant the government would be better off if the internet was never invented. If the internet was never invented, the corporate media would dominate news and information and alternative media restricted to print would have a far more difficult time counter balancing government propaganda. Government and the elite behind it are sincerely worried about the fact increasing numbers of people get their news from alternative media sources on the internet and corporate media newspapers are falling like dominoes."
While this may be true, the Illuminati will not act to take down the new favorite plaything of the peoples of the developed world until the time comes for initiating the World War III which shall produce their Masonic Christ. Until that time, the trend toward globalisation and a cashless economy will continue to be strongly advanced by the Internet.
"Rockefeller's bills introduced in the Senate — known as the Cybersecurity Act of 2009 — would create yet another government bureaucracy, the Office of the National Cybersecurity Advisor. It would report directly to Obama. Rockefeller's legislation would grant "the Secretary of Commerce access to all privately owned information networks deemed to be critical to the nation's infrastructure "without regard to any provision of law, regulation, rule or policy restricting such access" (see a working draft of the legislation here). "
"In other words, Obama would have a Cyber Czar in the Commerce Department and the power to shut down the internet."
Cutting Edge has been expecting this type of legal authority to shut down the Internet for some time now. After all, the Internet is the only Mass Media/Entertainment venue which is not controlled by the government.
The only issue is timing. We believe this bill -- if it becomes law -- will not be enforced until the beginning of World War III. Just like the Patriot Acts I and II.
But, the fact that the government is beginning to move on the Internet is one more indicator that the end of the period before Antichrist arises is closer than many believe.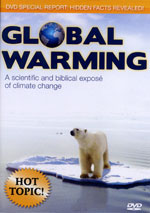 DVD
V. The hoax of Global Warming is getter harder and harder to maintain!
A respected US Navy scientist (Retired) warns that the Earth may be headed for unparalleled cold and freezing!
NEWS BRIEF: "US Navy Physicist warns of 'several decades of crushing cold temperatures and global famine' ", By Retired U.S. Navy Physicist and Engineer James A. Marusek , Ice Age Now News, 2 April 2009
"The sun has gone very quiet as it transitions to Solar Cycle 24. 'Since the current transition now exceeds 568 spotless days, it is becoming clear that sun has undergone a state change. It is now evident that the Grand Maxima state that has persisted during most of the 20th century has come to an abrupt end."
"(The sun) might: (1) revert to the old solar cycles or (2) the sun might go even quieter into a 'Dalton Minimum' or a Grand Minima such as the 'Maunder Minimum'. It is still a little early to predict which way it will swing. Each of these two possibilities holds a great threat to our nation. 'We are now at a crossroad. Two paths lie before us. Both are marked with a signpost that reads 'Danger'! Down one path lies monstrous solar storms. Down the other path lies several decades of crushing cold temperatures and global famine'."
"Climate change is primarily driven by nature. It has been true in the days of my father and his father and all those that came before us. Because of science, not junk science, we have slowly uncovered some of the fundamental mysteries of nature."
Scientists all over the world have warned people not to believe the Global Warming propaganda because real hard science does not support this claim; indeed, the reality is that real science possesses real hard evidence that Global Cooling lies in our future.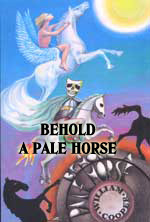 Behold A Pale Horse
But the Illuminati will not be detered by real science. Its Mass Media continues to trumpet "evidences" of Global Warming. The Obama White House has brought scientists who support the Warming mantra on to his Cabinet. Soon, we will hear of a concerted push to pass "green" laws, which are laws supposedly friendly to Mother Nature (Gaia).
These new laws will bring America into conformity with global treaties like the Kyoto Accords. Remember the 1917 plan of the Illuminati, as it is being worked out mightily in our Daily News.