Unique New DVD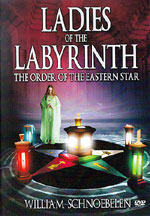 " Ladies of the Labyrinth: Order of the Eastern Star"
New DVD by William Schnoebelen
The Order of the Eastern Star is the major women's auxiliary body of the Freemasonic Order, open to both Masons and their unsuspecting female relatives.
William Schnoebelen, former 32 degree Mason, draws from extensive Biblical knowledge and history of the Lodge to expose the secret dangers of this perilous, but seemingly innocent, group. Shedding light on the sinister historical roots of the organization, Bill also reveals why the insignia of the Order is the most evil inverted Pentagram, a well-known symbol of the church of Satan and of the dark goat-god, Baphomet!
Although presented as a fine Christian association for women, where cherished old hymns are sung and stories told about famous female Bible heroes, Bill demonstrates dark hidden occult perils to the Order of the Eastern Star.
This video uncoils Satan's tactics to draw unsuspecting women into an evil labyrinth and terrifying spiritual bondage. But now you can TAKE BACK your spiritual freedom, and lead others out of the horrific Labyrinth of the Eastern Star. http://www.cuttingedge.org/detail.cfm?ID=2512
---
Special Cutting Edge Ministries Appeal
Cutting Edge Ministries really needs your help today. Our total income from subscriptions, donations, and bookstore sales continue to fall below minimum levels. But, our daily readership remains very steady at historically high levels, about 45,000 people per day, reading a combination of the weekly newsletter, Daily News Updates, Headline News Analysis Articles, and articles from our special sections.
This extremely high level of people daily visiting our website has vaulted Cutting Edge into the top 1% of all websites worldwide.
We know what is causing this sudden downturn, an economy which has forced so many people out of work and has caused working people to fear that they might not have a job. Many who do have a job are afraid the economy is going to collapse. We understand this reality. But, we also know that other Cutting Edge readers are not so terribly impacted, and it is to these people we are making this appeal.
We are especially appealing to the 98% of people who read us regularly but never support us.
The harsh reality is that Cutting Edge has never been able to retain a cash cushion of more than 7-10 days of average income for the entire 17 years we have been an Internet ministry. Contrary to false rumors circulating the Internet, we have never been a "deep pocket" ministry; in fact, the opposite has always been true, as we have operated successfully during these years as a "Daily Bread" ministry, dependent upon daily income to meet our needs. And, this brings us to our dilemma. Of the 45,000 people who consistently visit Cutting Edge, the income continues to be far less than we need to meet our minimal operating costs. This is a formula for Cutting Edge running out of operating capital. We have already been forced to let one of our people in Customer Service go.
The threat is that our cash reverses will be totally depleted if income does not increase soon. If you are one of the people who enjoy our site but do not support us regularly, please consider what you can do at this time. We need your help to progress onward. We have tried to earn your support:

1) We have cut prices on numerous items in the Bookstore -- Special Offers -- plus Big Savings on Closeouts and sale items 215 Items marked down, some up to 75% off! We also attempt to bring in 1-3 new items per week, in order to keep the Bookstore fresh. . http://cuttingedge.org/on_sale.cfm
2) we are going to continue our special $25 per year subscription fee promotion, for which you will get a FREE DVD / CD for every $25 of support. For example, if you can give $150, you get all six free. To see the six titles available, go to this link. https://pegweb.com/secure/cuttingedge/subscriptions/support.html
This promotion is also available for those who wish to renew their subscriptions, and for people giving a subscription to someone else as a gift.
If you wish to make a contribution, you can use our electronic Subscription Form from the link above, call us at 800-451-8211, or mail a check or money order to:
Cutting Edge Ministries, 1792 South Lake Drive, Lexington, SC, 29073.
We really need your assistance and we need it now. Can you help?
---------- This Week's Hot News-------
DVD
I. North Korea is giving signs that it may test a three-stage rocket on or before Monday, April 15.
World Net Daily is warning that the North Koreans are going to attack America with an EMP (Electro-Magnetic Pulse). Is that possible? probable?
NEWS BRIEF: "N. Korea Preparing Fourth Nuclear Test: South Korea - May stage a provocative missile launch ", Israel National News, 4/8/2013
"North Korea appears to be preparing a fourth nuclear test as well as a provocative missile launch, South Korea said on Monday, despite an unusually blunt call from China for restraint. Unification Minister Ryoo Kihl-Jae told lawmakers there were "signs" that another test was in the pipeline, with intelligence reports showing heightened activity at the North's Punggye-ri atomic test site."
" 'We are trying to figure out whether it is a genuine preparation for a nuclear test or just a ploy to heap more pressure on us and the US', the JoongAng Ilbo daily cited a senior South Korean government official as saying."
"Intelligence reports suggest Pyongyang has readied two mid-range missiles on mobile launchers on its east coast, and is aiming at a test-firing before the April 15 birthday of late founding leader Kim Il-Sung."
"The mid-range missiles mobilized by the North are reported to be untested Musudan models with an estimated range of around 1,860 miles (3,000km) that could theoretically be pushed to 2,485 miles with a light payload. That would cover any target in South Korea and Japan, and possibly even American military bases on the Pacific island of Guam. The North has no proven inter-continental ballistic missile capability that would enable it to strike more distant US targets, and many experts say it is unlikely it can even mount a nuclear warhead on a mid-range missile."
World Net Daily is reporting that North Korea might use its demonstrated three-stage missile capability to launch an EMP warhead high above the United States and set it off, destroying the electronics of most of Eastern and Midwestern America.
We believe this scenario to be highly unlikely for the following reasons:
1) EMP weapons were widely reported during the early days of President Clinton. Since then, key electronics for both defense and economic centers have been hardened to protect the electronic systems. The EMP explosion is an old scare.
2) The North Korean nuclear scare is designed by the Illuminati, as part of their global plan to overthrow this old civilization so that the New World Order could be established. Listen to the wording of this part of the plan:
Globalist Plan: "THE SCRIPT HAS NOW BEEN WRITTEN ... A hair-raising nuclear confrontation in Korea may, towards the end of the period, threaten man's very survival"([Peter Lemesurier, "The Armageddon Script", p. 223]
Notice that this nuclear scare from North Korea is part of the Illuminati Plan. A script has been written that the North Korean dictator, Kim Jong-un, is being forced to follow. He is not a madman following his own desires or impulses. He will not miscalculate and he will not make a mistake which could cause the situation to "run out of control".
As usual in the outworking of the Dialectic of the Elite, the Illuminati controls both sides of this conflict. While the result may become bloody ultimately, it will not become bloody before the time has arrived for every other part of the Elite Plan is ready to launch (Read full details in NEWS2489, entitled, "World War III Will Be History's Greatest Lynchpin Event!")
Therefore, I expect that this nuclear scenario from North Korea will end in less than climactic fashion because the Illuminati is not ready to bring this script to its planned bloody conclusion. We might learn that North Korean ballistic missiles can reach the United States, and that might cause consternation, but nuclear warheads are unlikely to fly against Western targets.
3) An EMP attack and/or nuclear warhead explosions against South Korea, Japan, or the United States will immediately cause the economies of all three nations to instantly collapse. This is NOT the Illuminati Plan (NEWS2489), for this present time period.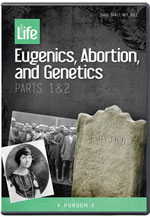 DVD
II. The State of Kansas has taken a very bold step to protect life within the womb!
NEWS BRIEF: "Kansas set to enact life-starts-"at fertilization" anti-abortion law ", Yahoo News, April 6, 2013
" Kansas is set to enact one of the most restrictive abortion laws in the nation which defines life as beginning "at fertilization" and imposes a host of new regulations. The Kansas House of Representatives passed the bill 90-30 on Friday night, a few hours after the Senate backed it on a 28-10 vote. Strongly anti-abortion Republican Governor Sam Brownback is expected to sign it into law. Republicans hold strong majorities in both houses."
"In addition to the provision specifying when life begins, the bill prevents employees of abortion clinics from providing sex education in schools, bans tax credits for abortion services and requires clinics to give details to women about fetal development and abortion health risks. It also bans abortions based solely on the gender of the fetus."
We cannot applaud the Kansas Governor and legislators enough to boldly take this most Biblical stands on the sanctity of human life. Christians all over the world must keep these men in prayer for they are going to be attacked on every level from every angle.
Do you know who else believes that human life begins at conception? Satan and his dedicated followers believe it wholeheartedly. You see, Satan considers that the younger a human sacrifice is, the more power its sacrificial death delivers. Therefore, Satanists love abortion because it is very young human sacrifice. Further, they consider the abortion prevention pill that kills a tiny baby shortly after conception to be the most powerful human sacrifice possible!
Former Satanist Doc Marquis told me emphatically that Satanists have this precise viewpoint. Doc further said that Satanists believe hundreds of millions of human beings must be sacrificed before the New World Order can be established and before Antichrist can arise on the world scene.
When Antichrist finally sets foot on Mother Earth, his appearance will have been mightily aided by the human sacrifice of Abortion on Demand!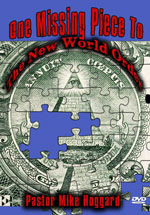 DVD
III. Surprisingly, "Old Joe" Biden spoke glowingly of the New World Order.
Both Presidents Bush and Obama have carefully avoided this inflammatory term.
NEWS BRIEF: "Vice President Joe Biden used the term 'New World Order' ", Gawker News, April 7, 2013
"... Vice President Joe Biden used the term 'New World Order' when describing trade laws at the Export-Import Bank Conference in Washington. Speaking as he was turning the page of a mostly unscripted speech, Biden said the following: 'The affirmative task before us is to create a new world order because the global order is changing again...' "
The goal of the Illuminati since the days of Queen Elizabeth I and Sir Francis Bacon has been to organize the entire world into a global dictatorship, a global economy and a global religion, and then to stage their own Masonic Christ (Antichrist). This modern genesis of this plan named "NOVUS ORDO SECLORUM" on the back of our One Dollar Bill thus goes all the way back to 1590, when the Queen and her son, Sir Francis Bacon, began to plan for the greatest nation in the world to be created out of the North American Colonies - Bacon later named this great country "America".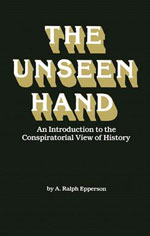 Thus, every generation of American, British and European leaders for the past 423 years has been focused on this grand plan of the Secret Societies, the "New World Order". Since every succeeding generation of leaders has been intent upon the same exact plan, we know that President Jefferson's definition of 'conspiracy' has been met. Are you familiar with this most famous, and most accurate, of all definitions of what constitutes a 'conspiracy'?
""... a series of oppressions, begun at a distinguished period and pursued unalterably through every change of ministers, too plainly prove a deliberate, systematical plan of reducing us to slavery." ["The Unseen Hand", by A. Ralph Epperson, p. 196]
Whether the White House and the Congress are controlled by Democrats or Republicans, the "unalterable" march through "every change of ministers" continues toward the New World Order. There really is not one scintilla of foundational difference between Democrat and Republican. The leaders of each party are equally committed to the New Order and are simply reciting their script to enable the Illuminati to meet the New Order agenda.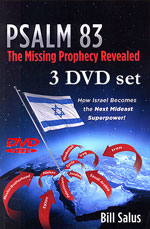 IV. As Israel commemorated the anniversary of the Nazi Holocaust, Jewish leaders repeated the age-old belief in the priceless value of having their own nation.
"The Holocaust cannot be repeated as long as the Jew has their own nation - Israel".
NEWS BRIEF: "Ultimately, Israel is the Safest Place' ", by Elad Belari, Israel National News, 4/8/2013
"The anti-Semitism in France will increase every year. The economy is not going to improve and Islam is taking over France. Aliyah to Israel is inevitable. Ultimately, Israel is the safest place."
During the intense debate from 1945 - 1948 over whether the Jews should be re-established in their ancient land, Zionist leaders adamantly stated, over and over again, that the only way in which the world could permanently prevent another Holocaust would be to allow the Jews to live in their own land. A strong nation would act powerfully and decisively to prevent any Jew within her borders from being sent to a gas chamber.
But, even more compelling was the argument that Jews under persecution in another land could flee to Israel. As World War II was unfolding, and as Adolf Hitler was intensifying his efforts to murder all Jews in Europe, America and Great Britain were denying entrance visas to Jews desperately trying to flee. Untold thousands of Jews thus rejected entrance into Western countries were sent back to Europe, where most died in the gas chambers.
Once Israel was re-established, Zionist leaders were exultant, because now they had the most important weapon with which to protect the Jews from a future Hitler -- the Jewish state.
Ironically, Russia voted to support Israel returning to her land, even though Russians historically have been among the most vociferous in putting Jews in ghettos and in murdering them. Even the word "pogram" was of Russian derivation.
Russian leaders hated the Jew, especially Josef Stalin.
Since Russia wielded a veto power in the United Nations Security Council, she could have singlehandedly stopped Israel from ever being formed. Certainly, her Arab allies were depending upon Russia to cast that veto.
But, God's prophecies clearly state that the Jews would return to their land at the End of the Age; what did God do to persuade the Russian leadership under Stalin to not cast their veto? God used Stalin's hatred of the Jews against him.
God caused Stalin to contemplate how the Jews could be annihilated by the next holocaust. The Russian dictator reflected upon the enormous amount of manpower, time, rail cars, and gasoline expended just to get the Jews from their home to the gas chamber.
Josef Stalin then concluded that the best way to annihilate the Jews was to persuade them to all gather into one place. A physically tiny nation of their own seemed the logical course.
Israel was thus born in one day, in fulfillment of Old Testament prophecies.
Can you imagine this thinking? God caused Stalin to support Israel's return to her ancient land by causing him to come to the conclusion that the best way to annihilate all Jews was to get them to voluntarily congregate in one tiny nation!
Since May, 1948, Israel has been incredibly powerful against her Arab enemies, even though the Arab population vastly outnumbers the Jewish. Now, God is preparing tiny Israel to be His anvil of Judgment upon which countless thousands of Arabs are going to die. (Joel 2-3, Zechariah 12)
Such is the wonder of Almighty God!
---
"Church in the End Times DVD: Weathering The Coming Storm"
by Dr. Chuck Missler
What are Christians called to do during these turbulent times? How can you make a difference in your family, among your friends, and within your community?
This DVD follows the wonderful success of the 'Weathering the Coming Storm' series where Dr. Chuck Missler and Ron Matsen dealt with global, national, and personal issues impacting all of our lives today.
'Church in the End Times' serves as the NEXT STEP in equipping ourselves with the tools and insights we need to be a guiding light to a world coping in the Last Days darkness of chaos and deceit.
Over 2 hours - http://www.cuttingedge.org/detail.cfm?ID=2507
---
NEW Countdown To Eternity - Volume 5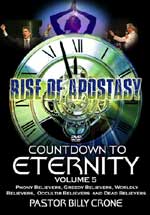 "Countdown To Eternity" DVD: Volume 5
"Phony Believers, Greedy Believers, Worldly Believers, Occult Believers, Dead Believers"
Regularly $39.99, Now Only $19.99
Pastor Billy Crone alerts Christians to several more key prophecies which are uniquely coming to pass right now, in Today's News!
These are the key prophecies he covers:
* Phony Believers
* Greedy Believers
* Worldly Believers Part 1
* Worldly Believers Part 2
* Occultic Believers and
* Dead Believers
Pastor Crone lists major prophetic signs God has given to lovingly wake us up so we'd repent and be saved before it's too late. These prophetic signs are many, but there are 10 REALLY IMPORTANT ones to which we seriously need to pay attention.
Nearly four hours long, 2-DVD Set -- http://www.cuttingedge.org/detail.cfm?ID=2508
NEW COUNTDOWN TO ETERNITY COMBINATION DVD OFFER
"COMBO OFFER: Countdown To Eternity End Times" DVD's
by Pastor Billy Crone
Regularly $79.96, Now Only $49.96 in this Combination Offer
The 'Countdown' To Eternity 5-Volume series takes a look at 10 major prophetic signs God has given to lovingly wake us up so we'd repent and be saved before it's too late. This fresh look at world events through the lens of prophecy is intended to convince unbelievers that the End of the Age is upon us NOW and to urge them to repent while the Age of Grace is still being offered by Jesus.
Each Volume has 2 DVD's lasting 4 hours, so this combination offer has 8 DVD's lasting 16 hours! http://www.cuttingedge.org/detail.cfm?ID=2505
---
More Powerful NEW Headline News Articles For Our Faithful Supporters
Your faithful support enables us to keep Cutting Edge free for everyone else. Our readers have always loved the indepth correct news analysis found in our "Headline News Analysis".
The Federal Government Has Bought Almost 2 Billion Rounds of Ammunition. Is It Planning To Go To War With The American People?
As frightening as this scenario sounds, we will demonstrate that the Government is NOT planning to go to war with the American people, as they have a far different plan in mind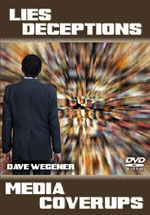 "10th Anniversary of the Iraqi War: At Last, Mass Media Is Admitting The War Was Launched On Lies And Is A Monumental Failure"
Cutting Edge was trumpeting this fact months before Bush's invasion! We knew the Illuminati had planned this war at the 1954 Bilderberg Meeting and we had filtered this knowledge through Bible prophecy and found a precise match.

Iraq's "Operation Enduring Freedom" meant only the 'freedom of the grave" for millions, but the worst is yet to come.
Part 1 of a Series Entitled, "Iraq War: Mad Dash On The 33rd Parallel"
"Powerful Current Positive Proof That America's Economy Is Fascist"
Capitalism is dead and buried. It will take less than a decade to move the entire economy to a Fascist economic system. This development is a major step toward the New World Order.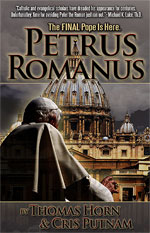 Is The Planned Moment Arriving For The Pope To Preside Over The Building of A Combination Worship Center For All Monotheistic Faiths In Jerusalem?
Israel has signed an historic agreement with the Vatican, giving the Pope a seat at King David's Tomb. Is Rome planning to soon move the throne of the Papacy to Jerusalem? Moving the Papal throne from Rome to Jerusalem would carry enormous End Times religious global implications.

President Obama's State of the Union Address - February 12, 2013 -- Utopian Socialist / Elitist Vision
America's 44th President set forth a Socialist / Elitist vision of a future America which will thrill the Liberals and infuriate the Conservatives. Get ready to be infuriated
"America Is Leading Western Powers In A Full-Scale Invasion of Africa!"
Now that the wars in Iraq and Afghanistan are winding down, the West is in full invasion mode destabilizing a major part of the "Non-Functioning Gap" region of the world. The "Pentagon's New Map Strategy" is being brilliantly followed. Have you noticed? Mass Media is either clueless as to what is occurring or they are part of a worldwide coverup.
==============================================
Support this ministry today with your subscription and get access to this article and ALL headline news articles at Cutting Edge. Your subscription will help us reach a lost world for Jesus Christ. Here is how.
If you will send in a new subscription or renew an existing one, we will give you your choice of the following gifts FREE. Subscribe Now
---
More Values On The Net
Select From 105 Titles!
$9.99 DVD's - Up to 75% Off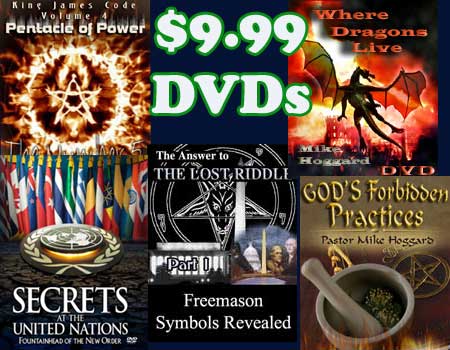 NEW TITLES $9.99 DVD Selection
Also Visit our $4.99 Offers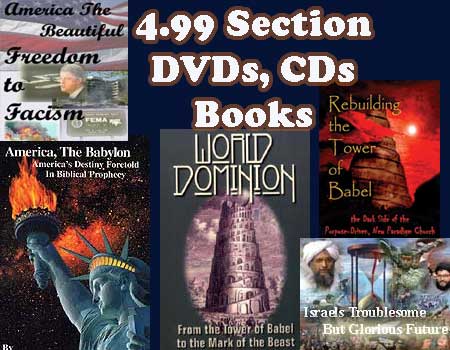 ---

---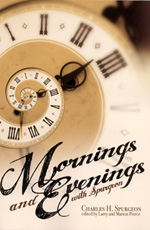 --------Concluding Inspiration ---------"All we like sheep have gone astray; we have turned every one to his own way; and the Lord hath laid on Him the iniquity of us all." Isaiah 53:6

Here a confession of sin common to all the elect people of God. They have all fallen, and therefore, in common chorus, they all say, from the first who entered heaven to the last who shall enter there, "All we like sheep have gone astray." The confession, while thus unanimous, is also special and particular: "We have turned every one to his own way."
There is a peculiar sinfulness about every one of the individuals; all are sinful, but each one with some special aggravation not found in his fellow. It is the mark of genuine repentance that while it naturally associates itself with other penitents, it also takes up a position of loneliness. "We have turned every one to his own way," is a confession that each man had sinned against light peculiar to himself, or sinned with an aggravation which he could not perceive in others. This confession is unreserved; there is not a word to detract from its force, nor a syllable by way of excuse. The confession is a giving up of all pleas of self-righteousness. It is the declaration of men who are consciously guilty—guilty with aggravations, guilty without excuse: they stand with their weapons of rebellion broken in pieces, and cry, "All we like sheep have gone astray; we have turned every one to his own way."
Yet we hear no dolorous wailings attending this confession of sin; for the next sentence makes it almost a song. "The Lord hath laid on Him the iniquity of us all." It is the most grievous sentence of the three, but it overflows with comfort. Strange is it that where misery was concentrated mercy reigned; where sorrow reached her climax weary souls find rest. The Saviour bruised is the healing of bruised hearts. See how the lowliest penitence gives place to assured confidence through simply gazing at Christ on the cross!
---
Directory of all news articles
Free Radio Transcripts

Free Headline News Archives

Freemasonry

What Saith Rome

Teachings from the Catechism

Bookstore

Meet the Staff

Weather Control


May Jesus Richly Bless You,
David Bay, Director
866-909-2850 Toll Free Customer Service - Order Line
803-356-2850 Customer Service - Order Line - For Out of Country Customers
803-356-2860 Fax
Thank you for visiting and Please feel free to E-mail Cutting Edge Ministries if you have any questions about our outreach ministry.