Light (white) overpowers darkness (black). This is Zoroastrian tradition, which is reflected in this manner of dressing. Thus, Bush and his entourage are symbolizing that they consider the Pope to be spiritually superior to them!
Zarathustra was a Luciferian Messiah who wore only white!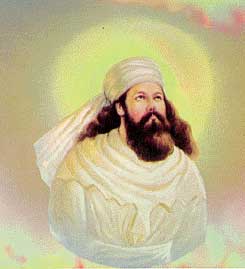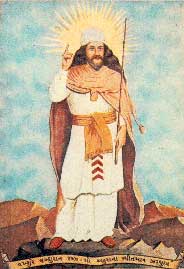 Further, in the third picture of him, we see Zarathustra making the "mudra", a hand gesture with the thumb extended to the right and slightly up, and the forefinger pointing upward. This gesture is defined by the Dictionary of Mysticism as "a mystic seal of Oriental occultism; a series of occult signs made with the fingers, and considered to have magical effects ." [Quoted by Dr. Burns, "Masonic and Occult Symbols Illustrated", p. 231; Emphasis added]
But, then, Dr. Burns tells us that this "mudra" is a method of telling us that a person is a supernatural being, a god. "In addition to mantras and yantras, the third way of representing deities is through gestures (mudra)". [Ibid.]
Now -- notice the Sun behind Zarathustra's head, another symbol of the Divine! The Sun behind him is also a symbol of God, the Sun-God. The Master standing in front of the Sun reflects the glory and the power of the Sun. But, Satan the Hydra Serpent is also symbolized by the Rising Sun! [Cisco Wheeler, Former Black Magick Satanist]
Thus, Zarathustra is saying in this picture that he is Deity, he is God, the Lucifer Sun-God ! [Ibid.]
Finally, notice that Zarathustra is carrying a Staff of Authority, or a Rod, in his left hand. This Rod is also a symbol of the Lucifer Sun-God . There is tremendous Satanic power behind a Staff -- Rod -- of Authority.
But, the fact that Zarathustra is carrying the staff of authority in his left hand - this symbolizes that this Lucifer Sun God is pursuing the evil, "left-hand path"!
Therefore, by adhering to this symbolism, President Bush is signaling his acceptance of the Illuminati plan at this moment in time, in elevating the Pope to the position of spiritual superiority over him and all political leaders. In fact, Bush is symbolizing that he considers the Pope to be God!
In this vein, consider this most shocking news story.
NEWS BRIEF: "Bush Says He Sees God in Eyes of Pope", Zenit.org, April 13, 2008
"U.S. President George Bush said that when he looks into Benedict XVI's eyes, he sees God. The president made this affirmation Friday when he answered the last question posed him during an interview with Eternal Word Television Network (EWTN) anchor Raymond Arroyo ... Finally, Arroyo asked him, 'You said, famously, when you looked into Vladimir Putin's eyes you saw his soul. [...] When you look into Benedict XVI's eyes what do you see?' "
"And Bush answered immediately, 'God'."
However, this symbolism does not mean that the Roman Catholic Pope will be Antichrist. Revelation 13:1 reveals that Antichrist is the "first beast", a political beast arising out of the "sea". Revelation 13:11, we see the False Prophet arising out of the "earth"; further, we see that this second beast "had two horns like a lamb", which means he shall present himself to the people as a Christian leader and will be accepted as such. But, his heart will be Satanic, as he "spake as a dragon".
Revelation 13 also reveals that, while the second beast possesses the same demonic power as the first beast, he is subservient to the first beast. A review of verses 12-15 reveals that all his miracles were directed to the first beast, the Antichrist.
Therefore, when the Illuminati stages their Masonic Christ, the Pope will be his False Prophet. Indeed, that is the Plan, as revealed in our archived article, NEWS1052, where I heard with my own ears in August, 1991, the New England Director of the House of Theosophy declare that the Illuminati had just formally decided that the Roman Catholic Pope would be the future top leader in the global New World Order Religion! That designation means that the Pope will be the future False Prophet!
These news pictures of Bush and Pope Benedict demonstrate that the Plan of the Great White Brotherhood is on schedule and on track!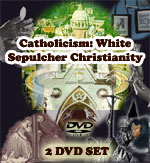 DVD
III. As Pope Benedict traveled to the United States, a huge cloud of scandal hung over his head -- the horrific and very widespread sexual abuse of children by Roman Catholic priests.
Pope Benedict tried to diffuse the scandal.
NEWS BRIEF: "Pope voices shame, regret", Detroit Free Press (freep.com), April 16, 2008
"ANDREWS AIR FORCE BASE, Md. -- Pope Benedict XVI arrived Tuesday to a presidential handshake and wild cheering, hours after saying he is 'deeply ashamed' of the clergy sex abuse scandal in the U.S. church."
" 'It is a great suffering for the church in the United States and for the church in general and for me personally that this could happen ... It is difficult for me to understand how it was possible that priests betray in this way their mission ... to these children," the pope said. 'I am deeply ashamed and we will do what is possible so this cannot happen again in the future'."'
Then, in order to underscore his determination to prevent this kind of sex abuse of innocent children in the future, the Pope said, " 'We will absolutely exclude pedophiles from the sacred ministry', he said in English. 'It is more important to have good priests than many priests'."
However, many relatives of sex abuse victims were not satisfied with the Pope's remarks.
NEWS BRIEF: Pope Fails to Placate Sex Abuse Victims", The New York Times, April 16, 2008
"Far from tamping down emotions, Pope Benedict XVI's expression of remorse on Tuesday for the church's sexual abuse scandal prompted an angry and skeptical response from victims, who said they wanted actions, not words from the Vatican."
" 'He talks about feeling shame for the scandal but it's a far cry from the shame that victims have had to live with our entire lives', said Becky Ianni, 50, an abuse victim who joined a vigil in front of St. Dominic's Catholic Church here."
How widespread is the sex abuse problem?
"Speaking to reporters on his flight to the United States, Benedict addressed the scandal that has produced more than 13,000 sexual abuse victims and cost the church more than $2 billion."
We can understand Benedict's determination to prevent pedophiles from becoming priests so this type of sexual abuse can never occur again. However, unless he can stamp out normal human sexuality, I seriously doubt that he deliver on his promise to prevent this kind of abuse in the future.
You see, "Forced Celibacy" unleashes the hounds of hell in the heart of the man who trains for the priesthood. We explain this principle thoroughly in our archived article, NEWS1679, entitled, "Celibacy In Catholicism Is Not The Issue: 'Forced Celibacy' Is The Issue. Major Understanding".
Quoting briefly from this most important article:
First, we have reiterated the Biblical truth that teaching Celibacy is a "doctrine that demons teach" [1 Timothy 4:1-3], that is taught by people who have turned away from the truth [verse 1], that it is taught by "liars" [verse 2], that is it taught by liars whose consciences have been rendered useless -- un-working -- because they have been "seared as with a hot iron" [verse 2]. Then, the Apostle Paul states that one of these teachings is "forbidding people to marry" and teaching them to "abstain from certain kinds of food which God created to be received with thanksgiving" [verse 3].
Secondly, we have consulted very old books written 50-100 years ago, to demonstrate that Celibacy has consistently produced a moral disaster in the Catholic Church for many centuries.
Thirdly, we quote some very old Catholic books written by Catholic leaders bemoaning the fact that the Catholic seminaries actually produced sexual perverts.
"Forced celibacy, auricular confession and some aspects of the priest's training, render a Roman priest a sexually-abnormal person or a sex pervert." (Father Vinet, in his book, "I Was A Priest")
Now consider this testimony, from a highly ranking Catholic official, in 1844!
"Fifteen hundred years of EXPERIENCE prove the impracticability of a pure celibacy in the greater part of the clergy. Is there any one who will pretend that continence is practiced by the greater portion of the clergy? Let us grant the very least, that one hundredth part of the priests are incontinent ... among 50 priests, there would scarcely be found one who did not live in a state of notorious concubinage." Page 63] ("Demonstration of the Necessity of Abolishing A Constrained CLERICAL CELIBACY, Exhibiting The Evils of That Institution and The Remedy", by the Right Rev. Diogo Antonio Feijo', Senator and Ex-Regent of the Empire of Brazil, Bishop Elect of Marianna, Translated from the Portuguese, with an Introduction and Appendix, by Rev. D.P. Kidder., A.M., published 1844, Philadelphia, Sorin and Ball." [Capitalization in the title was present in the original]
In other words, virtually every priest in 1844 maintained a mistress; further, the only reason living with a mistress would be considered "notorious" is because the parishioners of the priest knew he had a mistress, and were scandalized because of the disparity between the public facade of celibacy versus the private reality of a priest living carnally with a mistress! The faithful knew!
Therefore, Pope Benedict will have to change human nature if he is to deliver on his promise to prevent sexual abuse by Catholic priests in the future.
But, is there something beyond human sexuality at work here? Yes, there certainly is. To understand the foundational reasons Roman Catholic priests have been sexually aggressive for the past 1,200 years, you have to understand the teaching in the Cutting Edge video, above, "Catholicism: White Sepulcher Christianity", the only video in which I have ever taken the lead part.
This is the kind of explanation which is only possible because I have studied Witchcraft for 20 years and understand it well. I role-play a demon which Satan had assigned to the Pope of the Catholic Church in the 5th Century. My goal was to lead the young Catholic Church into a practice of White Magic Witchcraft and then, at the End of the Age, into a practice of Black Magick Witchcraft.
As this demonic being, I reveal that each of the pagan practices and doctrines which the popes brought into the church over the next 1,500 years makes complete sense once you understand that the Roman Catholic Church is simply practicing Witchcraft.
This video has proven to be an excellent soul-winning tool for Christians to witness to Roman Catholic loved ones and acquaintances.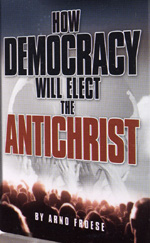 IV. Senator Obama managed to alienate up to one million gun owners plus several million religiously observant voters in Pennsylvania by one single sentence!
NEWS BRIEF: "Will Obama Pay for 'Bitter' Flap? ", Time/CNN News, April 14, 2008
"After the last few days he has endured over his controversial comments about "bitter" small-town America, Barack Obama can only hope that the Pope's arrival in Washington on Tuesday steals some of the spotlight. But given the hits he took from both the Clinton and McCain campaigns over his questionable choice of words, that may be too much of a miracle to ask for."
What was his choice of words that has gotten him into such trouble? Obama was being interviewed and was speaking of the plight of rural Americans.
" 'You go into some of these small towns in Pennsylvania, and like a lot of small towns in the Midwest, the jobs have been gone now for 25 years and nothing's replaced them', Obama said. 'And they fell through the Clinton Administration, and the Bush Administration, and each successive administration has said that somehow these communities are gonna regenerate and they have not. And it's not surprising then they get bitter, they cling to guns or religion ..."
In one fell swoop, Obama alienated two very important voting groups in Pennsylvania:
1) One million gun owners -- American gun owners are a very defensive group during the past 10 years or so, as they rightly recognize that many politicians have plans to forcibly take their guns away. Obama is saying that Pennsylvania citizens are turning to their guns as they become more bitter over losing their jobs.
The first picture in my mind is that of a gun nut surrounded by deputies in a militant standoff. Doubtless, many gun owners in Pennsylvania are conjuring up the same type of mental picture. However, the greatest impact may be in the fall election, should Obama be the Democrat candidate. Republican John McCain can easily create a blockbuster nationwide campaign ad which could turn tens of millions of gun owners against him.
2) Several million citizens who are religiously observant -- All American citizens in Pennsylvania who are religiously observant have now been put on notice that the only reason they exercise their religious faith is because they consider it to be a "fire escape" during tough economic times!
Obama has impugned the religious faith of several million Pennsylvania citizens and many tens of millions nationwide. He has strongly implied that, were the financial situation in good shape, no one would want to own a gun or practice their religion.
Finally, the issue is NOT whether he spoke the truth about citizens being bitter over their financial situation. The issue is that Senator Obama has unmistakably implied that gun owners and religious people cling to their guns and their faith only as a protection against hard times.
THAT is despicable.
V. When the Illuminati creates a deliberate crisis, they always have two major goals in mind: Global Government/Global Regulation and Global Economy.
The effects of the subprime mortgage crisis and of high fuel prices is driving the world into precisely this direction.
Please examine the "Bank Merger" card at the far left, above. This Illuminati Card Game card demonstrates that the smaller American bank (Green fish) is being swallowed by a larger British bank (Yellow Fish) which is being eaten by yet a larger Japanese bank (Blue Fish), who is about to be eaten by the really huge global bank.
The current mortgage crises is certainly causing smaller, weaker banking institutions to be gobbled up by larger ones. Do you remember how JPMorgan bought Bear Sterns for a fraction of its market value? That certainly is a good example of how the forced trend toward globalization works. This current crisis will force a significant number of smaller and/or weaker banking institutions out of business so that the trend toward the globalization of all banking will continue.
Now, examine the card on the right, entitled, "Bigger Business". As in the banking industry, the Plan is to force all major businesses to merge into larger corporations and, eventually, into a global company. Let us examine one instance in which two airline companies are being forced to merge because of high fuel prices.
NEWS BRIEF: "Northwest, Delta airlines thrust into merger", Los Angeles Times, April 15, 2008
"The deal, which would form the world's largest airline, comes as jet fuel prices soar and the U.S. economy totters. Delta Air Lines Inc. and Northwest Airlines Corp. agreed to a merger Monday that would create the world's largest airline and could trigger a wave of industry consolidation and fare increases. The pact came amid one of the industry's most tumultuous periods as three airlines collapsed in one week and American Airlines, currently the largest carrier in the world, canceled thousands of flights because of missed aircraft inspections."
I did notice that, at the moment when airlines were suffering the most because of high jet fuel prices, the FAA stepped in with a sudden demand that airlines put their airplanes through a rigorous physical inspection -- even though there had been no airliner accidents. Supposedly, an anonymous "whistleblower" had complained to the FAA that airlines were skimping on required maintenance schedules.
The timing of these sudden inspections could not have come at a worse time for the airlines. They had to cancel hundreds of flights and ground many airplanes. This action cost them untold millions of dollars in lost revenue on the one hand plus sharply increased maintenance costs on the other hand.
If it is true that "the power to tax is the power to destroy", it is also true that "the power to regulate is the power to destroy".
Forced globalization can also be seen in the giant retail market. Already, some specialty retailers like "Sharper Image" are filing for bankruptcy. When the dust settles on this industry, there will be far fewer retailers than America has right now. Wal-Mart and Target seem to be the favored retailers so I expect them to only get larger as the specialty trade withers.
V. Iraq is continuing to develop a lot like South Vietnam.
Its army and police forces are proving no match for the Iraqi insurgency.
NEWS BRIEF: "Iraqi Unit Flees Post, Despite American's Plea", The New York Times, April 15, 2008
"BAGHDAD — A company of Iraqi soldiers abandoned their positions on Tuesday night in Sadr City, defying American soldiers who implored them to hold the line against Shiite militias. The retreat left a crucial stretch of road on the front lines undefended for hours and led to a tense series of exchanges between American soldiers and about 50 Iraqi troops who were fleeing."
"Capt. Logan Veath, a company commander in the 25th Infantry Division, pleaded with the Iraqi major who was leading his troops away from the Sadr City fight, urging him to return to the front. 'If you turn around and go back up the street those soldiers will follow you," Captain Veath said. 'If you tuck tail and cowardly run away they will follow up that way, too'. Captain Veath's pleas failed, and senior American and Iraqi commanders mounted an urgent effort to regain the lost ground. An elite Iraqi unit was rushed in and with the support of the Americans began to fight its way north."
When American commanders announced the Administration plan to rebuild the Iraqi Army, news reports warned that militants by the many thousands were joining this new force, even in the higher officer ranks. Of course, one of the dangers of having militant sympathizers in the army was that they would turn tail and run just as soon as the fight got tough.
Apparently, this is exactly what is occurring now. In the last few years of the Vietnam War, the Nixon Administration highly touted its rebuilding program with the South Vietnamese Army and Police. However, Communist sympathizers joined as well, and when the final battle was joined, the entire South Vietnamese military and police forces simply collapsed, like the proverbial "house of cards".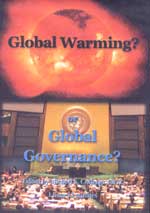 DVD
VI. President Bush is about to sell out all true Conservatives on the Global Warming issue!
NEWS BRIEF: "President Bush to revise climate strategy", The Associated Press, April 16, 2008
"WASHINGTON (AP) — President Bush is proposing new targets for curtailing the nation's greenhouse gas emissions in an attempt to short-circuit what aides call a potential regulatory 'train wreck' if Congress doesn't act on climate change. The president was expected to lay out a revised climate strategy Wednesday by calling for "realistic" emission reduction targets and "principles" he believes Congress should follow in crafting global warming legislation."
When President Bush urges "realistic" emission reduction targets, he is validating the spurious argument that Global Warming is real and that human activity is the culprit. Republican Conservatives have always argued that Global Warming is false and that no human activity can possibly alter the climate.
Therefore, President Bush is AGAIN selling out Conservatives on this most important issue. Why did I say "AGAIN"? Because in his first term, Bush began the sell-out on this issue! His stance even made Rush Limbaugh furious!
We posted a Headline News article at the time in June, 2002, NEWS1663, "President Bush Six-Stepping America Into The Global Warming Issue". Quoting pertinent portions: