WEEKLY UPDATES FROM Cutting Edge Ministries, www.cuttingedge.org
4/22/2006      Over 1,400 Articles Posted! Nearly 150,000 People Downloading A Salvation Page Per Year! (Psalm 127:1)
---
---------- Inspiration For the Week------- Cutting Edge Statement of Faith
For over 20 years, Cutting Edge has fervently prayed that the Holy Spirit will use the insights into the occult and into the Illuminati Plan that He has given us, so that sinners would be saved and so that lukewarm Christians would realize the lateness of the prophetic hour and turn in repentance to Jesus Christ. I personally understand that I will stand before Jesus one day to give account of what I have done with the insights the Holy Spirit has provided me. After all, Jesus warns:
"For unto whomsoever much is given, of him shall be much required". (Luke 12:48)
On my Daily Prayer list, I pray for discernment and for accuracy in what I say. It is never my intention to mislead anyone at any time on any issue. On occasion, when people write in to tell me that I have made an error, I immediately correct it. I love the Lord Jesus Christ with all my heart, mind, and soul, and wish only that people are saved as a result of what they read or hear from Cutting Edge. Right now, we are seeing 150,000 people downloading a Salvation Page per year to find out how to be saved. Cutting Edge is translated into five languages: English, Spanish, Portuguese, Finnish and in limited amounts, French.
Please pray daily that the Holy Spirit will throw a Hedge of Protection (Job 1:10) around Cutting Edge, for "he who calls upon the name of the Lord shall be saved" (Acts 2:17-21). I pray daily that the Lord will save this ministry to fight another day, against all enemies which Satan might throw against us. Since we have reached such a high number of Salvation Pages being downloaded (about 5 months ago) spiritual warfare has gotten really intense. Even some Christians have unfairly come against us.
Please pray daily for this ministry.
David Bay, Director
---------- Resource Update ---------- New Items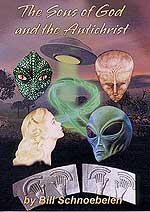 * "Sons of God & The Antichrist" - DVD
Did you know that Fallen Angels have their own DNA? And, did you know that plans are in place to start mixing Fallen Angels DNA with human DNA? Nephilim are among us, just as in Genesis 6 and are marrying and cohabitating with human women. When that happens, Satan will be corrupting the human race just as it was corrupted in Genesis 6
Research is also going forward to make human DNA into a viral substance so humans can be implanted through VACCINATIONS!!
Bill Schnoebelen shows pictures of physical evidence of these Sons of God. Then, Bill demonstrates how this new development ties directly into the coming Antichrist, the Mark of the Beast, the counterfeit Gospel, and the apostate worldwide church
When these Sons of Gods manifest themselves, they will lead hundreds of millions of people into adoration of Antichrist
2 hours, 40 minutes long -- http://www.cuttingedge.org/detail.cfm?ID=1289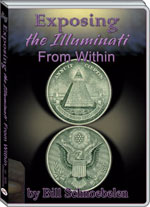 * "DVD - Exposing The Illuminati From Within 2-DVD Series
Powerful four hours of video in which Bill reveals hidden components of Satan's "New World Order" for these last days from a former insider's point of view!
As Cutting Edge has demonstrated, the clearest information of the plan to produce Antichrist is to be found on the inside, from within the occult itself. As a former member, Schnoebelen reveals much of the "Oral Tradition" that has been passed down generation to generation and kept from public scrutiny. Discusses Masonry, Illuminism, Ritual Abuse, government black operations, UFO's , and the Alexandrian Cult in end-times deception -
Provocative! 2-DVD Series -- http://www.cuttingedge.org/detail.cfm?ID=1284
Hundreds of Millions Will Be Deceived By This Masonic Christ -- How A Person Can Know The Truth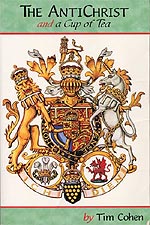 * "Antichrist & A Cup of Tea" - DVD -- 4/Pack DVD Set
I was highly skeptical that anyone could know the precise identity of Antichrist before he arose on the world scene. Can the saints of God in Christ recognize the AntiChrist now? Could this truly be possible? Yes! Tim Cohen reveals hard evidence in THE ANTICHRIST AND A CUP OF TEA DVD Set. Cohen presents his evidence in three DVD's, while the fourth DVD contains his interview with God's Learning Channel
This DVD set contains all the key points of his book plus significant new material. Since DVD's retail for between $20-25 each, getting a 4-DVD set for only $69.95 represents a great value.
While Cutting Edge is a pre-Tribulation Rapture ministry, we heartily recommend this DVD set, for the material Cohen presents to prove that Antichrist will come from the House of Windsor is precious. Runs 5 Hrs, 46 minutes!
Also available as 443-page book -- http://www.cuttingedge.org/detail.cfm?ID=1262
Also Available As Book -- Always, books contain more detail and more facts and more illustrations than is possible in a video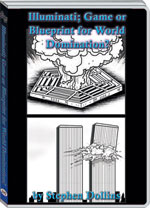 * "DVD - Illuminati Card Game: Just A Game, Or A Blueprint For World Domination?"
In nine pertinent playing cards of the "Illuminati New World Order" Game, how did the inventor know -- in 1995 -- the three events comprising the 9/11 attacks? How did he know also the correct plan in the near future? Why do his cards predict the appearance of Antichrist and the Rapture as the last two events of the Illuminati Plan?
Events are occurring now, weakening the Old World Order so the New can be established. You will be surprised to learn how many of the recent events of our society are designed to enhance the new global dictatorship of which Antichrist will take control. It is later than you think! Events foretold In The 1995 Illuminati Card Game -- "Stage Being Set"
One of the major cards is a "Messiah" and a "Rapture" card, confirming our teaching that the Illuminati knows the Rapture of the Church is real
Additional Cards of Interest: Natural Disasters, Hurricanes, Tornados, Earthquakes, Weather Control, Mind Control -- all designed to bring the Masonic Christ (Antichrist) to power. NOTE: Stan Johnson is charismatic, not Baptist as is Cutting Edge. Most of the material offered on this tape is correct and vital knowledge, making it worthwhile to view even if we disagree with Prophecy Club on charismatic issues and the Rapture of the church. -- http://www.cuttingedge.org/detail.cfm?ID=1133


* COMBO OFFER: Book "Masonic & Occult Symbols Illustrated" PLUS DVD "Masons: Friend or Foe"
Regularly $41.94, On Sale For $37.94
Freemasonry is one of the most deceptive organizations in history! Since 1792, Masonry has directed the global plan to produce their spiritual superman -- Antichrist. Yet, they claim to be Christian, benevolent, and full of good works. Since knowledge is power, we offer this combination
Masonic & Occult Symbols Illustrated demonstrates the truth that symbols teach! Dr. Burns proves that Freemasonry uses exactly the same symbols in their teachings that Satanists use! She uncovers the hidden meanings behind these symbols, and allows you to recognize that you come in contact with many of these symbols everyday of your life!
Dave Wegener in the video, Masons: Friend or Foe To The Born Again Christian?, that you should be worried about the many oaths and allegiances to which Masonic leaders -- including those in government office -- take. What are these leaders pledging their allegiance to and how deeply entrenched are their goals to America today? Since Freemasonry has attempted so strenuously to claim that they are just a good old boy fraternity that does good works and has a good time, most Americans would be shocked to learn the bitter truth behind that facade. -- http://www.cuttingedge.org/detail.cfm?ID=1035
Also available in VHS Combo with the book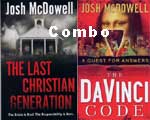 * COMBO OFFER: Last Christian Generation Book PLUS DaVinci Code Book FREE
Best Book Offer Ever! Two books for only $12.99!
"Last Christian Generation" - The majority of our churched young people do not believe Jesus is the Son of God, that the Holy Spirit is a real entity, and think 'doing good' earns them a place in heaven. Just as disturbing is that their attitudes and behavior are virtually no different than those of non-Christians.
In this defining message of his 40 years of ministry, Josh McDowell strikes at the heart of the problem and offers a clear solution. "We must bring this new generation face to face with who Christ really is, They know the facts, but they don't know Him, believing distorted views of Christianity.
"The Last Christian Generation" documents the urgency of the crisis but also provides a fresh revelation of the heart of God
"DaVinci Code: Quest For Answers" - Novel has sold over 36 million copies in 44 languages. The movie is certain to shatter box office records. The story makes many assertions that defy foundational Christian beliefs: - that Jesus was not the Son of God and was not born of a virgin. - that Jesus was married to Mary Magdalene, and they had children. - that Jesus was just a man and a charismatic leader, and the early church manipulated historical accounts of Him and made Him a God just to challenge other religions of the day.
http://www.cuttingedge.org/detail.cfm?ID=1280
Other New Items To Our Bookstore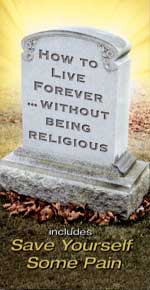 * "How To Live Forever -- Without Being Religious" - by Pastor Ray Comfort
This book includes "Save Yourself Some Pain", which has sold 150,000 by itself.
Pocket-sized book, quick-study manual for evangelism for a Christian --- with a surprising twist.
Pastor Comfort uses his lesson to a lead into the Gospel of John. Comfort's powerful book suddenly, without a pause, moves into a particular book of the Bible.
112 pages, only $5.99 -- http://www.cuttingedge.org/detail.cfm?ID=1287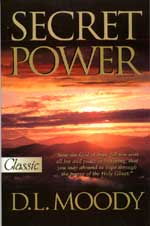 * "Secret Power", by D.L. Moody
No Classics library is complete without this work from the pen of the venerable Evangelist D.L. Moody. This particular work was originally penned in 1881.
Contains many rare photos from the Moody family personal collection.
184 pages -- http://www.cuttingedge.org/detail.cfm?ID=1285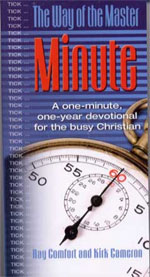 * "The Way of the Master Minute" - by Pastor Ray Comfort
A one-minute, one-year devotional for the extremely busy Christian. Too busy for a daily devotion? Got a minute ... but only one? Perfect! This book is for you.
Taken from the daily transcripts of Ray Comfort's radio program, "The Way of the Master", heard nationwide on Sirius satellite radio.
384 pages of devotions -- http://www.cuttingedge.org/detail.cfm?ID=1286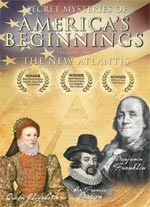 Secret Mysteries of America's Beginnings - 4 Volume Series
Since "Secret Mysteries of America's Beginnings" has been so well received by Christian and secular audiences, it is time to discuss the remaining three volumes in this 4-Volume series.
Volume 2 -- "Riddles In Stone: The Secret Architecture of Our Nation's Capital"

Volume 3 -- "Eye of the Phoenix" -- A study of America's 'Living Documents', including the One Dollar Bill


Please be in much prayer for this series, as already we are seeing Satan counterattacking this ministry in a variety of ways. If you have not yet bought this exceedingly wonderful video, please do so now, as we believe it represents the best documentary in the Christian market. And, we have designed it to also communicate to the unsaved world the essence of the kind of global danger the world is now facing, and that the end goal of this entire Plan is to stage the Masonic Christ.
Nowhere else will the unchurched hear this warning. We also plan to be more precise in Volumes 2, 3, and 4.
Here is how you may order Volume One: "Secret Mysteries of America's Beginnings: Volume One -- The New Atlantis" -- DVD - VHS
Once more, we reiterate that we submitted "Secret Mysteries" to the New York Film Festival only because we wanted technical film experts to give us their opinion as to the technical quality of our video. We never coveted any award from Hollywood. However, our action in submitting the award has had the unanticipated effect of plunging us into the competition since the preliminary review panel gave the documentary a 4+ rating on a scale of 1-4.
We never thought their film technical experts would think so highly of the technical quality of "Secret Mysteries". We never thought that they would state that the historical information was as good as anything the History Channel produces.
This now places us in the dilemma now of carrying through with the process. Withdrawing is not possible. Therefore, we were embarrassed when the film festival assigned us the date of Sunday at 11:00am to show our film -- that is Sunday morning service! Chris Pinto and I are researching churches in the area to find one which has an early service, which we certainly plan to attend. Once we find an early service, we shall pass that information on to you.
We certainly want as many Cutting Edge people attending this showing as possible. It is not often that unchurched people will hear any Biblical truth about End Time events. God has provided us with the opportunity to reach these unsaved people with the End of the Age message and warning.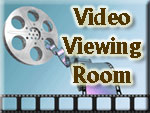 We have added a new section to our web site for video trailers. The Cutting Edge Reading Room was so well received for our books that we have added this feature for videos. We presently have three trailers for you to watch online which include
1. Da Vinci Decoded, Truth or Myth
2. Secret Mysteries of America's Beginnings
3. The Shocker - This most recent addition is filled with clips that are so shocking, you will want to see all of the video in this 2 DVD set.
Visit the Video Viewing Room Today!
---------- This Weeks Hot News ----------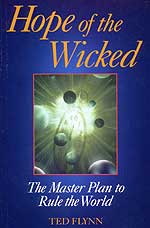 I. President Bush's many scandals are beginning to give Fundamentalist Christians such a bad reputation that it would not take too much to drag us down to the point where we could be persecuted by a new administration.
Cutting Edge has long warned that President Bush could conceivably set Fundamentalist Christians up to be persecuted by a future administration. You see, since Mr. Bush has claimed to be a Fundamentalist Christian, since too many Evangelical pastors have erroneously led their flock to believe Mr. Bush is a fine Christian, and since many in the Mass Media have repeatedly claimed that Bush's aggressive foreign policy is the result of his understanding of Biblical prophecy, if the President is brought down by a combination of scandals, he could so discredit real Christianity that we could be persecuted by Mr. Bush's successor.
In February, 2004, Cutting Edge noted the beginning of a campaign which seemed to be designed to discredit President Bush. We warned then that genuine Christians are being discredited right along with President Bush and could be set up for persecution if his perceived crimes were bad enough. This opinion column, below, shows that some people have come to the conclusion that, because of our association with President Bush, Fundamentalist Christians are dangerous and downright evil.
NEWS BRIEF: "The Most Evil People In The World", By Doug Soderstrom, Countercurrents, 19 April, 2006
"I have come to the conclusion that the Christian fundamentalists, also known as the religious right, are the most evil people in the world. Others (such as those of various Islamic terrorist groups) were considered, but after due consideration, the Christians won……. hands down. In fact it was no contest. However, in order to support my assertion that those of the religious right are such a nasty crew, it is necessary that I clarify what I believe it means to be evil. The minimal test of evil is, of course, one of awareness, an intent, an abject willingness to be malicious, a willingness to go out of one's way to harm others, a lack of concern for the welfare of another person, an unwillingness to place one's self into that of another's shoes, a grudging reluctance to acknowledge the pain one may have caused another."
"... having become psychically blind, effectively unable to face up to what one has done. Such is more depraved since it represents a loss of integrity, an existential unwillingness to take responsibility for one's behavior ... as we will see, the Christian fundamentalists seem to exemplify such folks at the apogee of evil, the nadir of civilized life, in that they preach to the world while yet living the life of a barbarian!"
Since Cutting Edge puts 50-100 articles daily in Daily News Updates, most of which are from foreign news sources, we have been well aware over the years that people in foreign lands do equate Bush's policies with Christian Fundamentalists. When President Bush is accused of genocide in the spreading of Depleted Uranium throughout the Middle East, Christian Fundamentalists stand in the dock of public opinion with him! When the President is accused of extensively torturing prisoners since 9/11, Christian Fundamentalists stand in the dock with him. In fact, in every scandalous issue facing President Bush right now, Christian Fundamentalists are smeared with the same broad brush.
And, the fact that we do hold a high standard of life and morality makes the matter worse, because we are branded as hypocrites of the highest degree!
Now, let us return to this most revealing article:
"All of the great religions of the world indicate ... that we follow the Golden Rule. However, considering this the gold standard for how we ought to live our lives, it is quite clear that Christian fundamentalists have missed the mark! Regardless of all the wonderful things they have claimed to have done for the world, it is apparent that the fundamentalists have been unable to live up to the most minimal standards for that of a decent life, almost as if they have gone out of their way to "cast a speck out of their neighbor's eye, while refusing to recognize the enormity of the plank in that of their own." With no apology, nor even a hint of remorse, they continue on their way running roughshod over others, with little or no concern for how their victims might feel. Rather than caring for others, disregard and disrespect has become that which defines them as a people.'
The author then launches into what a Fundamentalist Christian truly believes. Neither time nor space allows us to reprint this section, but please go to this article and read it for yourself. You will see the kind of a propaganda discrediting campaign now being launched against Fundamental Christianity. Look at the portions of this tirade which point to the reality that a "Christian America" has created such turmoil and such disaster in the world for decades now.
"... Christian fundamentalists have, by choice, chosen to disregard the fact that 'From 1945 to 2003, the United States attempted to overthrow more than 40 foreign governments, and to crush more than 30 populist-nationalist movements fighting against intolerable systems. In the process, the U.S. bombed some 25 countries, caused the end of life for several million people, and condemned many millions more to a life of agony and despair'."
"... the United States of America has been blessed by God enabling fundamentalists to fully support our country's many wars of aggression (Viet Nam, a multitude of military intrusions into Latin American, the war in Kosovo, the Persian Gulf War of 1991, and, of course, the egregious invasion of Iraq in 2003); an acceptance of the idea that the United States has the right to overthrow any and all governments whose interests are in conflict with that of our nation's foreign policy..."
At this point, the author goes into another tirade about our repressive domestic policies. We encourage you to read this entire article, with the understanding that the views this author is expressing is held by untold tens of millions of Americans and even more tens of millions of citizens of foreign countries. The peoples of the world believe just the way Doug Soderstrom writes. Most Democrats believe this, and they comprise 42% of the American electorate.
Follow this campaign to discredit President Bush carefully, for it is the portent of the persecution to come.
For the record, President Bush shows virtually no "good spiritual fruits" which would back up his claim to be a Christian. If you have not read our table showing "President Bush's Evil vs Good Fruits", please take a moment to do so now.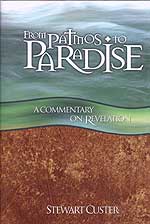 II. Bible scholars believe that the "Army of the East" which is prophesied in the Book of Revelation is the Chinese Army, because only China could possibly field a 200 million man army. Bible prophecy is being fulfilled in our daily news!
NEWS BRIEF: "China: Too Many Men", CBS News, April 16, 2006
"With more than a billion people, China has too many men. According to the latest census, an average of 120 boys are born for every 100 girls, the greatest imbalance in the world ... the root of the problem is a traditional preference for sons. In China, as in other Asian countries, it is sons, not daughters, who usually take care of their parents in old age. To deal with its population explosion, China imposed its strict and harshly enforced one-child policy in the 1980s, and that's when things started going out of whack, as couples, faced with having only one child, went to great lengths to ensure it was a boy .... 60 Minutes visited Linchuan, a small village in Jiangxi province in southern China, where the absence of girls is most acute. When Stahl went to the No. 10 high school here, with its 7,000 students, the problem was clearly visible: there were far more boys than girls. For every 100 girls, there are 150 boys."
This statistic means that boys comprise 60% of the population, while girls comprise only 40%.
Since the estimated population of China in July, this year, is expected to be 1,313,973,713 the men comprise 60% of that total, or 788,384,227 men! This figure does represent the greatest imbalance of population in world history. Later in this article, we see that jobs are very hard to get for all these Chinese men.
"The one-child policy is 25 years old, so the first generation is just now reaching marriage age, and for China that's a big problem because it is estimated that as many as 40 million of its young men could spend their lives as bachelors. Some of these men have joined the country's floating population — 140 million migrants who move to the cities like Beijing in search of work. The 60 Minutes team came upon a group of men on a street corner, where they gather every day, illegally, hoping for day jobs." (Ibid.)
Since there are so many extra Chinese men, and there are insufficient jobs for all of them, the logical way to absorb all these extra men is to simply draft them into the Army. We believe this is setting the stage for a most startling fulfillment of Bible prophecy. Please allow us to explain:
The major prophetic implication in this entire episode is that this population imbalance in favor of men may be enabling China to fulfill some very major Biblical prophecies concerning the End of the Age!! Let us examine the pertinent prophecies, to see if these things might be so.
"And the sixth angel sounded, and I heard a voice from the four horns of the golden altar which is before God, Saying to the sixth angel which had the trumpet, Loose the four angels which are bound in the great river Euphrates. And the four angels were loosed, which were prepared for an hour, and a day, and a month, and a year, for to slay the third part of men. And the number of the army of the horsemen were two hundred thousand thousand: and I heard the number of them." [Revelation 9:13-16]
This incredible prophecy tells us that one of God's punishments is to loosen four great demonic "angels" which have been bound somewhere in the vicinity of the River Euphrates, probably in that extra-dimension in which angels and demons exist. These angels lead a great army of men numbering 200,000,000 [200 million] strong.
This is not the only time we see demonic beings leading a great army to battle during the Great Tribulation Period. In Revelation 16:13-14, we see that demonic spirits possess the Antichrist and the False Prophet, and go throughout the world to deceive the leaders of the world to gather in the Valley of Meggiddo for the Battle of Armageddon. We are getting a little ahead of ourselves here, but we wanted to establish the fact that demonic beings are going to be allowed to really and truly deceive the minds of human leaders during the Great Tribulation, to persuade human leaders to act in such a way as to fulfill God's prophecies.

Now, let us go back to Revelation 9:13-16. We see that the 200 million man army will be allowed to kill one-third of the population of the world!! In other words, this 200 million man army will be well equipped with weapons of mass destruction. We consider weapons of mass destruction to be of three (3) types: nuclear, chemical, and biological. This unbelievable army, comprised of an unprecedented number of men, will possess the firepower capable of killing one-third of all the inhabitants of the Earth!
Finally, notice that God reveals, in this passage, that He has prepared these mighty four demonic angels for a specific time: This specific time is described as "an hour, and a day, and a month, and a year". In other words, God has determined, a long time ago, the exact day, of the exact month, of the exact year that this invasion will occur! God is in total control. All we know is that it will occur in the 7-year Tribulation Period, and most probably the last part of the 3 ½ years known as the Great Tribulation.
Now, when we return to our passage in Revelation 9, we get further insight as to who this army may be, and from whence they might be coming. Let us now to the next verse, to get more information on this unprecedented army.
"And thus I saw the horses in the vision, and them that sat on them, having breastplates of fire, and of jacinth, and brimstone: and the heads of the horses were as the heads of lions; and out of their mouths issued fire and smoke and brimstone. By these three was the third part of men killed, by the fire, and by the smoke, and by the brimstone, which issued out of their mouths. For their power is in their mouth, and in their tails: for their tails were like unto serpents, and had heads, and with them they do hurt."
Most Bible scholars have had great difficulty in understanding this passage, as this army is described by the Apostle John in a manner which is not absolutely clear to us. Before we attempt to ascertain the meaning of this description, let us go forward in Revelation, to the point where we see this army coming up to the great River Euphrates.
"And the sixth angel poured out his vial upon the great river Euphrates; and the water thereof was dried up, that the way [road] of the kings of the east might be prepared." [Revelation 16:12].
In this Vial Judgment, we see that the Euphrates is dried up for the specific purpose of allowing the "Kings of the East" to cross with their 200 million man army -- the Kings of the East. What country is East of Israel that is capable of fielding a 200 million man army? There is only one country: China.

When you count their Militia, in conjunction with her active Army, China can field an army of 200,000,000 men!! In the last several decades, China has enforced the draconian decree that each family can only have one child. Since the traditional Chinese culture prefers boys over girls, Chinese parents have quietly been killing girls so they can get pregnant again to have boys. China is now in the situation where she has tens of millions more men than women. "This sexual imbalance will result in an excess of over seventy million young men in China by the year 2000, with no women for them to marry ... This situation could fulfill the prophecy of John about the two-hundred-million-man army from the East that will fight in the Battle of Armageddon." ["The Signature Of God: Astonishing Biblical Discoveries", by Grant Jeffrey, Frontier Research Publications, Inc, Toronto, Ontario, Canada, 1996, ISBN 0-921714-28-9, Page 198]
If we understand that this army from the East, totaling 200,000,000 men, is Chinese, then let us look at the difficult passage in Revelation 9:17-19. We are told that the riders of these "horses" wore breastplates of "fire, jacinth, and brimstone", we have to ask ourselves what kind of colors would this be?
"Fire" ranges from yellow to bright red, and usually shades in between
"Jacinth" is defined in the dictionary as being "Reddish Orange"
"Brimstone" is defined as being "Bright Yellow"
If you have viewed Chinese art, you will discover that these very colors are used abundantly! These colors are traditional Chinese colors.
We see the parallel plan to this prophecy, from the New World Order Plan. Peter Lemesurier, writing in his monumental work, "The Armageddon Script", page 223, states, "Eventually the Chinese invasion, it seems, will split into two prongs ... Chinese forces will eventually reach the Middle East ... Above all, there will be the Great Chinese War ... the initial skirmishes will take place in South-East Asia and India ...".
These regions are likely where China will fight as her 200,000,000 man army marches toward Israel and where she will kill one-third of mankind. India, with her billion-plus population, is likely to be destroyed.
This is just one more example where New World Order Plans parallel Biblical prophecy! And, this Part of the Plan closely parallels our proposed scenario, above,
Thus, the New World Order Plan envisions a Chinese invasion of the Middle East, and it will happen precisely as the Bible states it will. This current news story simply tells us that China will have no trouble fielding the prophesied 200 million man army, with which to march to the Middle East, and cross the Euphrates River, and along the way destroy one-third of mankind. For this reason, China is now armed to the teeth with the latest military hardware, even Scalar Weaponry (Ltc. Bearden, "Oblivion: AMERICA At The Brink -- Scalar Weaponry Explained, Illustrated")
III. Public rhetoric against Iran again struck both sides of the issue. One side implied military strikes were still an option, while the other side said that Iran was years away from gaining a nuclear weapon. Russia weighed in again on Iran's side. And, of course, we Bible-believing Christians must hold to a strict interpretation of Ezekiel 38 and 39, which portrays Persia (Iran) as marching with Russia in her attack on Israel.
NEWS BRIEF: "Rice hints at 'coalition of the willing' to tackle Iran", Iran Focus, 20 April 2006
"London, Apr. 20 – United States Secretary of State Condoleezza Rice said on Wednesday that Washington was seeking international partners to put political and economic pressure on Iran for refusing to heed the call by the United Nations Security Council to suspend its sensitive nuclear activities. Rice told an audience at the Council on Foreign Relations in Chicago that U.S. President George W. Bush 'doesn't take his options off the table' in tackling the Iranian nuclear issue ..."
"I think that we have options at our disposal that are not even necessarily fully within the Security Council. You know that there are states that have been saying that if we don't get meaningful measures inside the Security Council, perhaps a coalition of the willing will think about other financial or political measures that could be taken', Rice said." (Ibid.)
The phrase, "coalition of the willing" should strike a chord with discerning people, because this was the phrase President Bush used to describe the number of nations who were going to participate in the March 20, 2003, invasion of Iraq. What Secretary Rice is intimating is that the United States needs to assemble a group of nations to "tackle the Iranian nuclear issue". And, of course, Rice included President Bush's standard line that "all options are on the table".
The world understands that this phrase means that America still might attack Iran. Thus, oil prices continue to skyrocket.
Russia weighed in on this issue tremendously, opposing sanctions.
NEWS BRIEF: "Russia rules out Iran sanctions", YNET News, 04.21.06
"Russia continued to stress its differences with the United States over the Iranian nuclear crisis Friday, with Moscow saying it was too early to speak of sanctions. 'One can speak of sanctions only after the appearance of concrete facts proving that Iran is not engaged exclusively in peaceful nuclear activities', the ITAR-Tass news agency quoted Foreign Ministry spokesman Mikhail Kamynin as saying .... He also said that 'force and sanctions alone cannot remove the world community's concern over Iran's nuclear program', ITAR-Tass reported."
Not only does Russia not believe that Iran should ever be attacked for its nuclear power plant program, Foreign Ministry Kamynin stated that the plant in question was not even involved in uranium enrichment.
"Kamynin's latest statement followed Moscow's rejection Thursday of a U.S. Call to end cooperation in constructing the USD 800 million Bushehr nuclear power plant in southern Iran. Kamynin said Thursday that the plant had no relation to Iran's work in uranium enrichment. 'The adoption of a commitment on ending cooperation with this or that state in some sphere lies exclusively in the competence of the U.N. Security Council', he said in a statement. 'Up to now, the Security Council has taken no decision on ending cooperation with Iran in nuclear energy'."
This next segment reveals the extent of the opposition which Russia and China are presenting to the American-led effort to convince the world to attack Iran.
"U.S. Undersecretary of State Nicholas Burns told reporters Wednesday in Moscow that the U.S. had called on countries to end all nuclear cooperation with Iran, including work on the Bushehr plant. He also said that countries should stop all arms exports to Iran - Russia is supplying Iran with sophisticated air defense missiles ... But Russia and China, both permanent members of the U.N. Security Council, continue to show resistance. China, too, renewed calls for a negotiated settlement Thursday.
" 'We hope relevant parties will exercise restraint and show flexibility to properly handle the Iranian nuclear issue, to create conditions for the solution of the issue through negotiations', Chinese Foreign Ministry spokesman Qin Gang said at a regular briefing in Beijing." (Ibid.)
As long as both Russia and China stand firmly against any attack, there will likely be no attack. Furthermore, we believe Iran is protected by the Ezekiel 38-39 prophecy, because Persia (Iran) is foretold to be marching with Russia against Israel at the End of the Age. Therefore, while it is feasible for Iran to be attacked without overthrowing the current anti-Israel, anti-West government, we doubt that will happen, for Russia, China, and Iran can cause such military and economic havoc that the entire Western world -- especially the global economy -- will immediately fall to its knees.
Since Israel's withdrawal of her 80,000 settlers is the key event which determines the timing of the final world war which will produce Antichrist, the Illuminati cannot allow Iran to be attacked unless it is ready for the Third World War to begin.
IV. Liberal Mass Media is portraying President Bush as being extremely unstable, and like a desperate gambler, willing to bet his entire Presidency on an attack on Iran. Don't believe it for a moment.
NEWS BRIEF: "Chips down, Bush prepares a Hail Mary bet", by Mark Morford, SF Gate Editorial, April 19, 2006
"It's just like playing blackjack in Vegas. Invariably, sitting right next to you is some guy, eyes shifty and body twitchy and making weird sounds with his mouth and smelling vaguely of sawdust and horse manure and dead dreams, with a huge pile of chips he is quickly turning into a very small pile of chips. He is suffering. He is playing terribly, grumbling, sneering at the dealer, talking to the cards like they were his personal slutty harem, complaining to his very angry God who is apparently no longer coming through for him. He is getting desperate. He is sweating, glancing around, wondering where all his drunken fraternity friends scurried off to. Soon he is down to his last chips. He makes one final stab, but his final bet tanks. He is out, the pile is gone.
"He then does what every miserable, lunkheaded gambler does at this point: In a fit of alcoholic rage and demonic encouragement, he says, "Screw it" -- and digs into his pocket, pulls out his last remaining crumpled $1,000 bill and slaps it down on the table in one big final gesture meant to turn his fortunes around all at once, damn the wife at home and forget a decent meal and forget every ironclad rule of gambling because damn it the gods owe him and he's long overdue for a change in fortune. Yes. Right. Sure he is.
"Sure enough, the lug loses his big Hail Mary bet. He is broke."
At this point, Mr. Morford compares a desperate President Bush to this hypothetical desperate gambler. President Bush is portrayed as just as desperate as this gambler, because he is beset with scandals and troubles, a restive public, and he decides to play the "Hail Mary" card, by attacking Iran.
"Now, here he is, sitting right next to all the other countries at the Big Table, representing America, it's little Dubya Bush, stewing in his own juices, his poll numbers hovering right n ear Nixon levels, mumbling to himself, smelling vaguely of sawdust and horse manure and dead Social Security overhaul plans. He is pockmarked by scandal, buffeted by storms of disapproval and infighting and nascent impeachment. He authorized the leak of classified security information merely to smear an Iraq war critic, he lied about WMD and lied about Saddam and lied about making the United States safer and lied about, well, just about everything, on top of launching the worst and most violent and most expensive, unwinnable war since Vietnam. His pile of betting capital is down to a tiny lump .... What's to be done? Why, do what any grumbling, furious, confused, underqualified alcoholic gambler does: reach down deep and ... pull out one more desperate, crumpled war from deep in your pants, slap it on the table and hear the world moan.
"But this time, try to make it serious. Do not rule out the use of tactical nuclear weapons. Do not rule out another massive air strike, ground troops, special forces, a strategy so intense it makes Iraq look like a jog in the park. Think of yourself as creating a masterful legacy, going down in history as the guy who 'saved' the world from Iran's nukes while protecting American oil interests." (Ibid.)
Mr. Morford then describes how the public rhetoric is screaming that the President is planning to attack Iran, and quotes Establishment Media who dutifully writes whatever the Illuminati wants them to write.
Listen now to Mr. Morford's conclusion:
"For Dubya, now is the time. One last, desperate gamble. Slam that last drink, scrunch up your face, screw the rules and let the bombs fly. What, you don't think he could do it? Don't think a nuclear attack on Iran is possible? You haven't looked into the tiny, ink-black eyes of Dick Cheney lately. You haven't seen Rumsfeld's arrogant sneer, seen Bush looking confused and lost, wondering where all his 'capital' went, desperately hunting for a legacy and finding only irresponsibility and self-righteousness and death." (Ibid.)
We find two major issues which render this scenario improbable:
1) The Bible (Ezekiel 38-39) foresees Iran marching with Russia at the End of the Age in the prophesied attack on Israel. This means that Iran will not be destroyed by nuclear weapons beforehand -- as we discussed, above.
2) The Illuminati Plan firmly controls President Bush. Since 9/11, President Bush has completely followed the Illuminati Plan perfectly -- from the aggressive wars in Iraq and Afghanistan to the dictatorial Patriot Act. President Bush cares nothing about opinion polls, nor about hurting the Republican Party, simply because he knows the Democrats are just as intently committed to the Plan as are the Republicans.
If the Plan calls for President Bush to be thoroughly discredited and brought down -- even to the point of being impeached -- Bush has willingly accepted this as part of his role. He will not act impetuously. He will act according to the script laid down for him.
Remember the insight from New Age author, Peter Lemesurier: