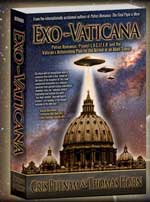 "Exo-Vaticana: Shocking Proofs That The Vatican Is Preparing To Receive An Alien Savior!"
NEWS BRIEF: "Vatican astronomers are searching for alien life", Ecumenical News, April 9, 2013
"... Jesuit astronomers at a Vatican-owned observatory in Arizona are using their telescope and another one called LUCIFER to search for extra-terrestrial life ... the Vatican is awaiting an alien savior."
At this point, I feel the need to interject the truth, that the Vatican is not passively "awaiting" an alien savior; they are preparing a comprehensive argument that will lay the theological foundation to persuade people all around the world that the coming Masonic Christ (Antichrist) is an alien being!
New Age teachers and authors have taught this lie for decades, but now the Roman Catholic Church is preparing to present the same lie to the world, but this time, the lie will be wrapped in respectable theological christian language that will persuade tens of millions to accept the coming Antichrist.
"The records in the Vatican go back centuries," said Putnam, who is a theologian. "I read two chapters of history concerning the Vatican's interest in extra-terrestrials. They have a whole theology developed around what they call the Principle of Plentitude, meaning anything God could do he would do', said Putnam. 'So they consider the existence of aliens the inevitable consequence of God's omnipotence'."
This "Principle of Plentitude" is sheer nonsense and is clearly an invented theology. These Catholic theologians are "adding to God's Word" and will pay an eternal price as they will deceive hundreds of millions -- maybe billions -- of souls, leading them straight to Hell.
The Bible is clearly correct when it foretells that the future False Prophet of Revelation 13:10-18 will have "two horns like a lamb"; in other words, he will pretend to be Christian and will be accepted as one by the masses of people. Mankind truly trembles as it approaches the time of the appearance of Antichrist.
The sudden appearance of a systematized theological argument that the coming Christ is an Alien is one of those "Signs of the Times"! New Trailer For This Book
Related Bookstore Items
---
---------- This Week's Hot News-------
II. Former Satanist Doc Marquis states that the Plan of the Illuminati is to so constantly bombard us with bad news that our mind will finally be overloaded and our emotions will collapse.
The news lately has taken on this kind of a scenario. Are you getting overloaded with continuously bad news?
Watch the dates of these bad news events.
NEWS BRIEF: "North Korea's Brinkmanship: Same As Before, More Dangerous Or Both? NPR News, April 3, 2013
"... Kim Jong Un, North Korea's leader, is "young, relatively new ... and inexperienced at brinkmanship," Louisa said. So there is a case to be made that while North Korea's rhetoric and some of its actions are familiar, the chances of a misstep are higher.'
North Korean propaganda hinted strongly that either a missile test launching or a nuclear warhead test would occur on April 15.
NEWS BRIEF: "After weeks of fiery language, North Korea calm on key holiday", CBS News, April 15
"As North Koreans celebrated the birthday of their first leader Monday by dancing in plazas and snacking on peanuts, the government made a new threat of military action ... Yet there was no sense of panic in the North Korean capital today ... Girls in red and pink jackets skipped along streets festooned with celebratory banners and flags and boys on inline skates took a break to slurp up bowls of shaved ice, at the start of the two-day holiday celebrating the birth of the nation's founder, Kim Il Sung."
The dreaded April 15 deadline came and passed without any kind of war-like action from North Korea.
But, just as the often seen war rhetoric calmed down, and people began to breathe a sigh of relief, a terrorist attack occurred at the Boston Marathon!
NEWS BRIEF: "Deadly explosions rock Boston marathon", CBS News, April 15, 2013
"Two bombs exploded near the crowded finish line of the Boston Marathon on Monday, killing three people and injuring more than 140 others in a terrifying scene of broken glass, smoke and severed limbs, authorities said."
Boston was gripped by a powerful fear as reports were issued where police were in a gun battle with the suspects, resulting in the death of an M.I.T. policeman. Bombs were reportedly thrown from the suspect's car. Chaos reigned supreme in Boston for five full days. But, the militarized police intensified the feelings of fear and chaos when they announced that the entire Boston area was being "locked down".
NEWS BRIEF: "Analysis: Boston Lockdown", by Yaakov Katz, The Jerusalem Post, April 20, 2013
"Millions of residents were ordered to stay in a "lockdown" on Friday as police hunted down the second Boston Marathon bomber ... With time on my hands as I walked the empty streets, I had the opportunity to think back to the aftermath of terrorist attacks I had covered in Israel before leaving for a sabbatical at Harvard University ... There was no lockdown in Israel and there was no order by the mayor to seek shelter."
"Instead, people were out in the streets, filling up coffee shops right next to the one that had been bombed or standing at bus stops waiting for the next bus from the same line that had just exploded. This has always impressed me as a sign of true resilience, of a refusal to allow terrorism to change our way of life."
I concur entirely. Authorities in Boston and in Washington D.C., evidently decided to seize this crisis and lock down an entire major American metropolitan city -- Boston, Massachusetts. We covered this scenario in an earlier newsletter, but suffice it to say that this crisis provided a great opportunity to train militarized police forces to lock down a major American city. While this type of military control over a civilian city has never been done before, during World War III, when Antichrist is almost ready to step on the world scene, planned terror attacks are going to occur in multiple American cities. At that time, a good number of cities are going to be locked down tightly within 72 hours.
This crisis provided an excellent training tool. "Never let a good crisis go to waste" (Illuminati Doctrine)
The American people had little time to assimilate the Boston Marathon Bombing when they were bombarded by news of another spectacular tragedy, at a giant fertilizer plant in West Texas.
NEWS BRIEF: 'Like a nuclear bomb': Deadly fertilizer plant blast devastates Texas town - Possibly 60 to 70 dead', CNN News, April 18, 2013
"Some 35 people -- including 10 first responders -- died in a massive explosion Wednesday night at (4/17) a fertilizer plant in West, Texas ... More than 160 people were injured.he area around the site of the massive explosion at a fertilizer plant that flattened much of the small Texas town remains "very volatile" due to the presence of ammonium nitrate, McLennan County Chief Deputy Sheriff Matt Cawthon said Thursday."
"Authorities searched through mounds of rubble in hopes of finding survivors of the blast that left shattered homes and wreckage in a wide swath of the town, which has only 2,800 people. 'It's overwhelming to us', said Smith. As he spoke to CNN affiliate KCEN, blood was spattered on his face from injuries he suffered. 'It was like a nuclear bomb went off', said Mayor Tommy Muska."
DVD
Was this deliberate sabotage or an accident? My first instinct was that this massive explosion was an accident; after all, fertilizer plants are inherently dangerous. But, then news of a Monsanto tie-in rattled my mind.
NEWS BRIEF: "Before the Fertilizer Plant Blast, West Fertilizer's Monsanto Lawsuit", The Wall Street Journal, April 18, 2013
"As details emerge about the Texas fertilizer plant that was the site of Wednesday's fatal explosion and fire, a few tidbits can be gleaned from a 2007 lawsuit that the plant's owners filed against agribusiness giant Monsanto Co. The suit, filed as a potential class action in U.S. District Court for the western district of Texas, claimed that Monsanto had artificially inflated prices for its herbicide Roundup through anti-competitive actions."
The owners of this West Texas fertilizer plant were actively suing the giant Monsanto Corporation? That is either gutsy or downright stupid. Monsanto is the most favored privately owned company in America and possibly the world. Just a few days ago, President Obama signed into law a bill which shielded Monstanto from this kind of lawsuit.
You have to make up your own mind: was this massive fertilizer explosion an accident or a Monstanto "pay-back"?
Suddenly, we read that Canadian authorities thwarted a terrorist attack on one of their passenger trains.
NEWS BRIEF: "Canada thwarts train terror plot", Euro News, April 22, 2013
"Canadian security forces have charged two residents they say were involved in an al Qaeda-linked plot to "carry out a terrorist attack" against a passenger train. The Royal Canadian Mountain Police (RCMP) named the two suspects as Chiheb Esseghaier and Raed Jaser, from the Montreal and Toronto areas respectively ... US security sources said they planned to blow up a rail line between Toronto and New York city."
War continued to explode throughout the Middle East.
NEWS BRIEF: "President Assad warns 'fire' in Syria could reach Jordan", Alarabiya News, 18 April 2013
NEWS BRIEF: "Iran test-fires new land-to-sea missile in Gulf", The Jerusalem Post, April 16, 2013
NEWS BRIEF: "Ex-MI Head: Iran has Passed Nuclear Red Line", Israel National News, 4/23/2013
NEWS BRIEF: "'US arms improve Israel's long-range strike ability' ", The Jerusalem Post, 4/22/2013
Cutting Edge has been saying for several years now that the World Is On Fire In The 'Non-Integrating Gap'
At no time has this fact been more true than today. The peoples of the world are being subjected to really bad news every single day -- on purpose! When the Masonic Christ steps on to the world scene, he shall find a citizenry who is sick to death of all this bad news and will jump at his proposal to solve all these problems through the creation of the "New World Order".
---
Unique New DVD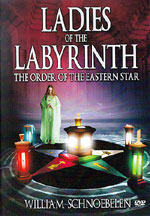 " Ladies of the Labyrinth: Order of the Eastern Star"
New DVD by William Schnoebelen
The Order of the Eastern Star is the major women's auxiliary body of the Freemasonic Order, open to both Masons and their unsuspecting female relatives.
William Schnoebelen, former 32 degree Mason, draws from extensive Biblical knowledge and history of the Lodge to expose the secret dangers of this perilous, but seemingly innocent, group. Shedding light on the sinister historical roots of the organization, Bill also reveals why the insignia of the Order is the most evil inverted Pentagram, a well-known symbol of the church of Satan and of the dark goat-god, Baphomet!
Although presented as a fine Christian association for women, where cherished old hymns are sung and stories told about famous female Bible heroes, Bill demonstrates dark hidden occult perils to the Order of the Eastern Star.
This video uncoils Satan's tactics to draw unsuspecting women into an evil labyrinth and terrifying spiritual bondage. But now you can TAKE BACK your spiritual freedom, and lead others out of the horrific Labyrinth of the Eastern Star. http://www.cuttingedge.org/detail.cfm?ID=2512

---
"Freemasonry: FATAL In The First Degree"
New DVD by Bill Schnoebelen, Former Mason, Satanist
Once viewing this video, you will never again believe that your loved one can safely pass through the first degree of Freemasonry!
Bill demonstrates that Freemasonry is Satanic from the First Blue Lodge Degree right up through the 33rd Degree. The first degree of Masonry is taken directly from the first degree of Satanism, where the initiate bows his knee to Baal and Lucifer and MARRIES Baal! The first initiation degree is a spiritual marriage to the god Baal.
When your loved one completes the first degree there is a very high chance he will be demonically possessed or at least demonically afflicted. But, to make matters much worse, your loved one will bring these newly found demonic 'friends' right in the front door of your home, where he will begin to afflict all relationships within the home -- Spousal, siblings, father-children, spiritual. Every meaningful, cherished relationship will abruptly come under severe and continuous attack. Suddenly, there will be no peace in relationships and in your home.
But, there is more spiritual horror! When the new Mason begins a memorization program called 'Posting', his mind begins to change, as his mental programming is quietly and subtly reprogrammed through a mental virus very similar to a computer virus. Suddenly, he is not the same person. His relationships begin to change and he will grow spiritually colder.
Bill then Biblically guides you through the spiritual steps necessary for a person who is already caught by Masonry's trap to be free of the spirit of Masonry and full of the Holy Spirit.
Finally, Bill shows how you can be set free from any spiritual bondage if Freemasonry is in your family background, father, grandfather, mother or grandmother. Spiritual deliverance is thoroughly discussed. http://www.cuttingedge.org/detail.cfm?ID=2459
---
"Church in the End Times DVD: Weathering The Coming Storm"
by Dr. Chuck Missler
What are Christians called to do during these turbulent times? How can you make a difference in your family, among your friends, and within your community?
This DVD follows the wonderful success of the 'Weathering the Coming Storm' series where Dr. Chuck Missler and Ron Matsen dealt with global, national, and personal issues impacting all of our lives today.
'Church in the End Times' serves as the NEXT STEP in equipping ourselves with the tools and insights we need to be a guiding light to a world coping in the Last Days darkness of chaos and deceit.
Over 2 hours - http://www.cuttingedge.org/detail.cfm?ID=2507
---
NEW Countdown To Eternity - Volume 5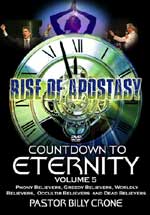 "Countdown To Eternity" DVD: Volume 5
"Phony Believers, Greedy Believers, Worldly Believers, Occult Believers, Dead Believers"
Regularly $39.99, Now Only $19.99
Pastor Billy Crone alerts Christians to several more key prophecies which are uniquely coming to pass right now, in Today's News!
These are the key prophecies he covers:
* Phony Believers
* Greedy Believers
* Worldly Believers Part 1
* Worldly Believers Part 2
* Occultic Believers and
* Dead Believers
Pastor Crone lists major prophetic signs God has given to lovingly wake us up so we'd repent and be saved before it's too late. These prophetic signs are many, but there are 10 REALLY IMPORTANT ones to which we seriously need to pay attention.
Nearly four hours long, 2-DVD Set -- http://www.cuttingedge.org/detail.cfm?ID=2508
NEW COUNTDOWN TO ETERNITY COMBINATION DVD OFFER
"COMBO OFFER: Countdown To Eternity End Times" DVD's
by Pastor Billy Crone
Regularly $79.96, Now Only $49.96 in this Combination Offer
The 'Countdown' To Eternity 5-Volume series takes a look at 10 major prophetic signs God has given to lovingly wake us up so we'd repent and be saved before it's too late. This fresh look at world events through the lens of prophecy is intended to convince unbelievers that the End of the Age is upon us NOW and to urge them to repent while the Age of Grace is still being offered by Jesus.
Each Volume has 2 DVD's lasting 4 hours, so this combination offer has 8 DVD's lasting 16 hours! http://www.cuttingedge.org/detail.cfm?ID=2505
---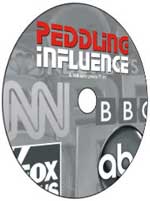 DVD
"Peddling Influence DVD
Exposing The Covert, Sinister Side of Media"
Only $12.99
From the blatant falsifying of news to the lack of real integrity in the media this film touches on several pieces of information that have shaped our opinions and our thoughts, and most have been based on deception, persuasion and money... instead of the basic facts.
Chapter headings are powerful - 1) Who is responsible when the media fabricates the news? 2) Where does our mainstream media get their news? Is it accurate? 3) How many wars have been directly influenced and driven by the media? 4) How does our media choose its experts? 5) Does advertising play a roll in what media decides is newsworthy? 6) How does our media use crises to push the government agenda?7) How do we correct the problems that exist in the mainstream media?
Watch the Trailer http://www.cuttingedge.org/detail.cfm?ID=2511
---
New Powerful NEW Headline News Articles For Our Faithful Supporters
Your faithful support enables us to keep Cutting Edge free for everyone else. Our readers have always loved the indepth correct news analysis found in our "Headline News Analysis".
Iraq -- Ancient Babylon -- is nearing the End Times' final annihilating judgment just as God foretold 2,700 years ago in Isaiah 13.
"Mighty Babylon" is falling and her days shall not be prolonged!
The clock of death continues to tick, and soon, Iraq will be history's first "Dead Nation", a place where no person or animal can possibly live. Mighty Babylon is clearly succumbing to God's inexorable judgment -- and Skull & Bones George W. Bush drove the prophetic stake through the heart of the ancient nation of Nimrod!
The Federal Government Has Bought Almost 2 Billion Rounds of Ammunition. Is It Planning To Go To War With The American People?
As frightening as this scenario sounds, we will demonstrate that the Government is NOT planning to go to war with the American people, as they have a far different plan in mind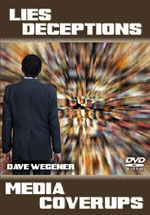 "10th Anniversary of the Iraqi War: At Last, Mass Media Is Admitting The War Was Launched On Lies And Is A Monumental Failure"
Cutting Edge was trumpeting this fact months before Bush's invasion! We knew the Illuminati had planned this war at the 1954 Bilderberg Meeting and we had filtered this knowledge through Bible prophecy and found a precise match.

Iraq's "Operation Enduring Freedom" meant only the 'freedom of the grave" for millions, but the worst is yet to come.
Part 1 of a Series Entitled, "Iraq War: Mad Dash On The 33rd Parallel"
"Powerful Current Positive Proof That America's Economy Is Fascist"
Capitalism is dead and buried. It will take less than a decade to move the entire economy to a Fascist economic system. This development is a major step toward the New World Order.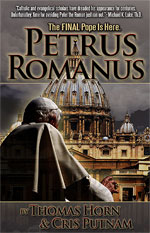 Is The Planned Moment Arriving For The Pope To Preside Over The Building of A Combination Worship Center For All Monotheistic Faiths In Jerusalem?
Israel has signed an historic agreement with the Vatican, giving the Pope a seat at King David's Tomb. Is Rome planning to soon move the throne of the Papacy to Jerusalem? Moving the Papal throne from Rome to Jerusalem would carry enormous End Times religious global implications.
"America Is Leading Western Powers In A Full-Scale Invasion of Africa!"
Now that the wars in Iraq and Afghanistan are winding down, the West is in full invasion mode destabilizing a major part of the "Non-Functioning Gap" region of the world. The "Pentagon's New Map Strategy" is being brilliantly followed. Have you noticed? Mass Media is either clueless as to what is occurring or they are part of a worldwide coverup.
"World War III Will Be History's Greatest Lynchpin Event!"
Many major events are planned to occur just as World War III begins.
Mankind will be systematically hit with unparalleled disasters of every kind as this planned global war unfolds.
But, none of these events will occur until the lynchpin called "World War III" is pulled.
This article is perhaps the most important we have ever written!
---
May Jesus Richly Bless You,

David Bay, Director

Cutting Edge Ministries

800-451-8211